Find cheap split train tickets online with traintickets.com
Posted on
Welcome to our blog post about split ticketing and how it can save you money on train tickets. Travelling by public transport is great for the environment, but the high prices of train tickets can be off-putting. However, there are ways to get cheap train tickets online, and split ticketing is one of them. In this post, we will explain how split ticketing works and how you can use it to get cheaper train tickets with traintickets.com. With this method, you can save money on your train journeys without compromising on your travel plans. So, let's dive in and find out how you can start saving on your train travel today!
What are split tickets?
We all know that travelling by public transport is better for the environment, but often the sky high prices of train tickets can be off-putting. Luckily there are some ways to get cheap train tickets online and one of these methods is called split ticketing. In this blog post I will explain how you can get cheap advance train tickets using this method with traintickets.com.
You'd think that buying a direct train ticket from point A to point B would logically be the cheapest option, but unfortunately in Britain that is not always the case. With several train carriers up and down the country charging different prices, you can often end up paying a premium for the convenience of booking just one ticket and travelling with different railways.
Often it is cheaper to buy split tickets for the same journey or even two single tickets instead of one return.
Here's an explanation from traintickets.com on how split ticketing works:
"Rather than buying a single ticket to cover a trip journey from London to Glasgow, you might buy three - one from London Euston to Milton Keynes Central, one from Milton Keynes Central to Coventry and another from Coventry to Glasgow Central"
Quite unbelievably, doing this could save you quite a bit of money as the total of all three tickets could cost around £60 less than if you purchased a single train ticket for your entire journey. I've just tested this out pretending I need a train next week from Bristol to Glasgow and they were able to save me over £30 each way by splitting the tickets.
You can still travel on the same train as your tickets will cover each stretch of the journey; it just means you need to buy three separate tickets instead of one to make the saving.
If you travel regularly on the train then you can begin to see how this method will save you hundreds of pounds each year!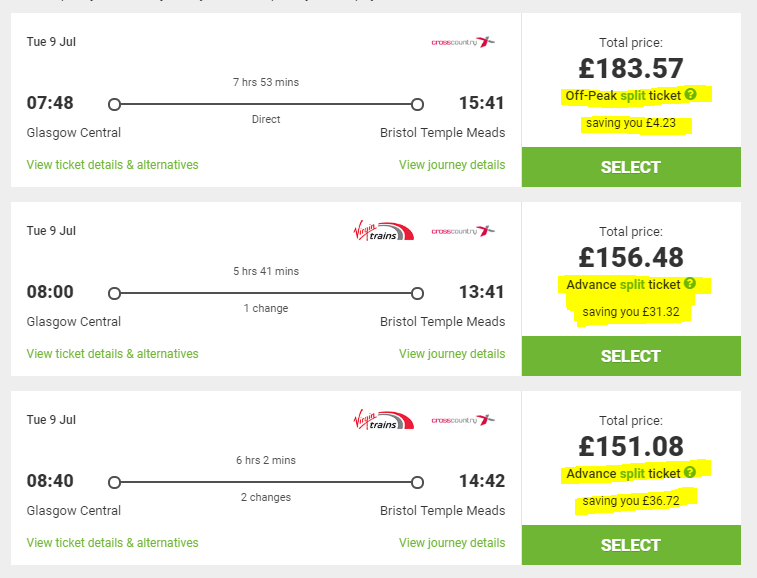 Why should I choose traintickets.com?
Buying split tickets isn't complicated as there are online split ticketing sites like traintickets.com that do all the hard work for you to find the cheapest train tickets. You simply need to enter your travel details and they will find all the possible split tickets for your journey.
You'll see exactly how much you can save on the split tickets so you instantly know you are making a great saving!
Here are some more benefits of traintickets.com:
No booking or processing fees - they simply take 10% of whatever saving they find you to make their money, but this fee is not shown to you. You'll just see exactly what you can save with no surprise fees added when booking. If they can't find a saving then they don't take a cut at all.


Easy spit ticket savings - they do all the hard work for you with their easy to use software. It only takes a moment to find the cheapest split tickets for your journey.


No hard sell - they're only in the business of selling you the cheapest train tickets and nothing else, so you won't be badgered to try and book a hotel or car hire whilst you're on the site! The site is straightforward with one purpose in mind - cheap split train tickets!
Final word
In conclusion, buying split train tickets can be a great way to save money on your train journeys. With traintickets.com, it's easy to find the cheapest split ticket options for your route, and you can see exactly how much you'll save before booking. Plus, with no booking or processing fees and no hard sell, you can be sure you're getting the best deal without any extra costs or hassle.
Split ticketing could save you a small fortune each time you travel by train. Make sure you check out traintickets.com before purchasing any tickets to see how much you can save.
Happy travels!