How To Plan A Ski Trip On A Budget
Posted on
Skiing and snowboarding breaks have got a name for themselves in the travel sphere as being an expensive holiday. We're here to demystify this statement! Too many people are missing out on the magical and majestic mountains by thinking a ski holiday is out of their price range. There are many top resorts, and accommodation providers, in the French Alps who offer holidays to suit the budget-savvy traveller. Read on for lots of insider tips for how to plan a ski break on a budget.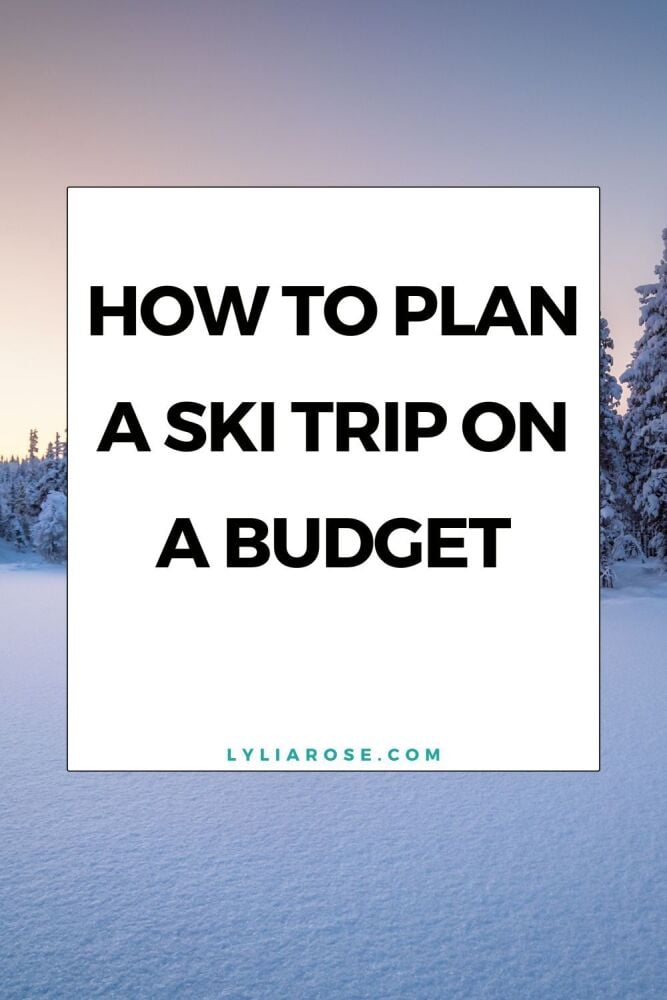 How To Plan A Ski Trip On A Budget
In this guide, you'll be privy to insider tips to spot and secure a budget ski holiday that's perfect for you and your wallet. Plus, there's a special Hucksters Ski Lodges discount code at the end!
Monitor the sales
Every ski company will offer incentives throughout the year to encourage people to book their holidays. Check the time of year that sales become typical within the industry. You may find this is in the run-up to the ski season which starts in December, New Year sales or promotion for empty booking slots before or after the half term peaks. Travel operators typically reward early bookers or those who book last minute with the best deals, so you want to aim to be one or the other depending on your schedule, flexibility and organisational skills. Talking of deals, Hucksters have several last-minute offers which you can check out on their website if you fall into the latter group.
To ensure you stay up-to-date on the sales, sign up to newsletters or follow social media profiles to make sure you don't miss out on the deals that are first come, first served.
Early bird deals
Early bookers also get the benefit of flight deals which can reduce the overall cost of their ski holiday. Flights from the U.K. to France are relatively inexpensive anyway, but for every pound shaved off, you can put towards enjoying the après lifestyle like drinking at the bars, buying gifts in the village markets or visiting a spa. Early bird deals are also applicable to ski passes, so the more time you have to plan your holiday, the more you are likely to save in the long-run.
Travel out of peak times
If you can be flexible with your dates, you may find the price of your ski holiday will drop significantly. Peak times like Christmas, New Year, and school holidays attract more people and are therefore more expensive. Travelling outside of peak times will not only save you money on ski accommodation but also the travel costs associated with this kind of holiday, including Geneva to Avoriaz Transfers. The best times to pick up a ski bargain and still make the most of the snow on the slopes is early to mid-January after the New Year rush, or in early February.
This isn't to say that you won't find a bargain for skiing at Christmas. Companies will offer appealing last-minute deals to fill up their rooms for this festive season, but these opportunities are rare and if found, you should jump on them! For example, Hucksters are offering Christmas ski dates in Serre Chevalier's half-board accommodation for 2019 at just £469 per adult!
Travel as a group
Ski travel operators want groups because they will take up whole chalets or large apartments. To encourage this, tour operators will offer large groups irresistible deals like Hucksters buy 12 places get 1 free! If you're desperate to get out to the slopes, why not see if you can turn it into the holiday of a lifetime with friends and/or family?
Consider cheaper resorts or ski areas
Some resorts will come in cheaper than others. Prices will range depending on whether you go for luxury or budget-friendly accommodation, but the resort will also impact the cost. You may find you get a cheaper, quieter and just as amazing deal if you go for a ski holiday that's not in the popular resort areas. Vallandry is just down from the popular Les Arcs resorts, with a ski lift connecting the two. Staying in Vallandry will undoubtedly offer you a cheaper stay, ski-in ski-out accommodation with Hucksters, but also the opportunity to ski the popular slopes of Les Arcs too!
Kids offers
If you're taking the kids with you this holiday, look out for ski operators that offer a good price for children. There are many operators that offer half price (or even more) for children between certain ages as there may be rooms in the chalets where an additional bed can be taken by a child.
Opt for the half-board chalets
When you stay in a half-board chalet, you won't have to work out additional budgets for food (which can be pricey in the Alps). Half-board accommodation includes breakfast options, afternoon tea and dinner every day except for one. For Hucksters, this is on Wednesdays when hosts have a day off!
Short breaks
If you want to do a ski break on a tight budget, have you considered booking a short weekend break instead? Prices for weekend ski are considerably cheaper than week-long stays. The bonus is that it won't cut much into your holiday allowance at work meaning you could do multiple ski breaks in one year if you wanted to! And just because you're cutting your holiday in half, it doesn't mean you will be missing out. As the travel times to the French Alps are very reasonable, you will have plenty of time to ski and be merry.
Hucksters Ski Lodges discount code
One final tip is to source a discount code. Hucksters Ski Lodges have kindly shared a £20 reduction on any holiday booked by my readers! Simply quote BLOG1 on booking to receive this exclusive offer.
Roundup of how to save money on a ski trip:
Monitor the Sales: Keep an eye out for sales and promotions from ski companies, especially during specific times of the year. Early bookings and last-minute deals often come with enticing discounts.

Early Bird Deals: Booking your ski holiday in advance not only secures great accommodations but can also lead to discounted flight prices. This means more money for enjoying the après-ski lifestyle.

Travel Out of Peak Times: If your schedule allows, consider traveling during non-peak times, such as early to mid-January or early February, to save on both accommodation and travel costs.

Group Travel: If you're traveling with friends or family, take advantage of group deals offered by ski operators. You might even get one free spot with deals like "buy 12 places get 1 free."

Consider Cheaper Resorts: Some ski resorts are more budget-friendly than others, and choosing a lesser-known resort can lead to significant savings without sacrificing quality.

Kids Offers: Look for ski operators that offer discounted rates for children, making family ski trips more affordable.

Half-Board Chalets: Opt for half-board chalet accommodations to include breakfast, afternoon tea, and dinner, reducing the need for additional food expenses.

Short Breaks: If you're on a tight budget and short on vacation days, consider booking a weekend ski break. These are often more affordable and won't eat into your holiday allowance at work.

Hucksters Ski Lodges Discount Code: Don't forget to use the exclusive £20 reduction code "BLOG1" when booking your holiday with Hucksters Ski Lodges. It's a special offer for our readers.
In summary, planning a budget-friendly ski trip is all about timing, flexibility, and making smart choices. By following these tips, you can hit the slopes without breaking the bank. So grab your gear and get ready for an unforgettable ski adventure that won't leave you out in the cold financially. Happy skiing!
Want some great money-saving tips?
Find some great deals on my voucher codes and 80+ ways to get free money pages!
Learn how to get free food and heavily discounted food.
Check out my list of UK apps that turn receipts into cash and also this list of UK cashback sites to maximise your free cashback and savings.
Subscribe to our newsletter for the best free money offers, money-making and money-saving tips we discover!