Banister Makeover Ideas For All Budgets
Posted on
If you live in an older house, built in the 60s or 70s then, like us, you might be looking for banister makeover ideas. We went through the process of updating a 70s staircase (twice) and the transformation is really quite staggering. Our before and after photos will demonstrate what is possible with a dated 70s staircase, but we will also share some of our favourite banister ideas for you to explore, as our final design might not be right for everyone.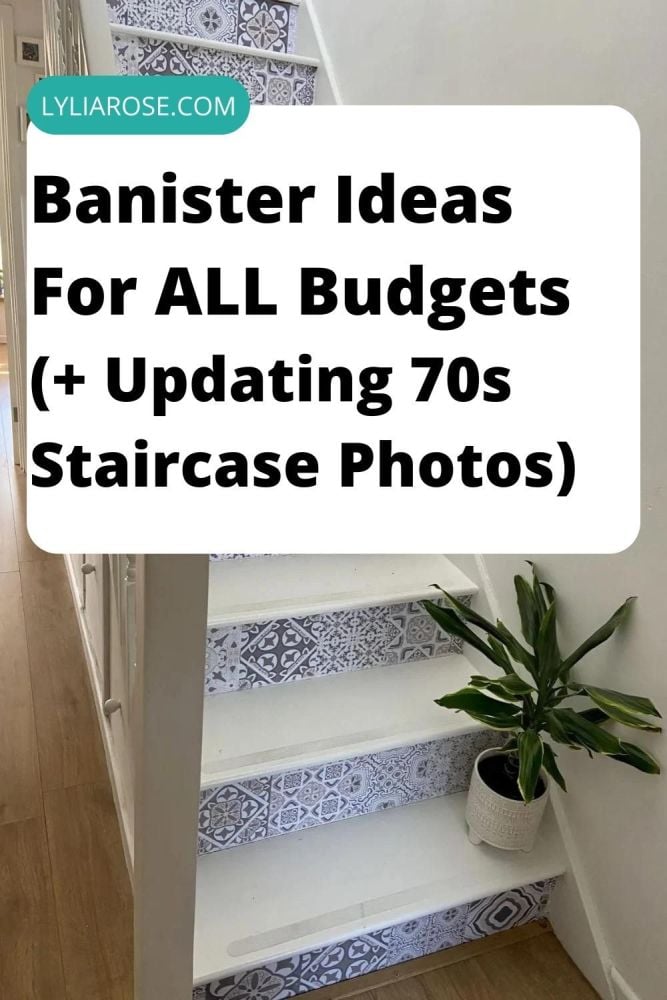 Banister ideas for all budgets (+ updating 70s staircase photos)
In this post we will cover:
1970s staircase makeover on a budget
Replacing the 70s staircase banister
Updating our staircase treads and risers
Before and after pictures of our 70s staircase
How much does a staircase makeover cost
Low budget staircase makeover ideas
Luxury banister ideas
Quirky banister and staircase ideas
Top tips for remodelling your staircase
1970s staircase makeover on a budget (2 part makeover!)
The first stage of this staircase makeover was achieved on a modest budget. We focused our efforts on refurbishing the banister which was looking very dated and well-used. The makeover refreshed and restored the original banister whilst keeping the 70s styling.
For the second part of this makeover, (several years later) we completely renovated the whole staircase for a new look and feel. The rest of the house was quickly changing and the retro 70s style was quickly becoming obsolete. We ended up removing and replacing the whole banister and updating the staircase. Read on to see this incredible two-stage staircase transformation in more detail.
Structurally, everything was in good shape, but with 50 years of use, several layers of paint and the rest of the house being modernised it was in bad need of renovation.
The original staircase was still in place some 45 years after it was built. Ben actually quite liked the retro style and wanted to try and restore what was already there. He put hours of sweat and tears into sanding back the many decades of paint that covered it.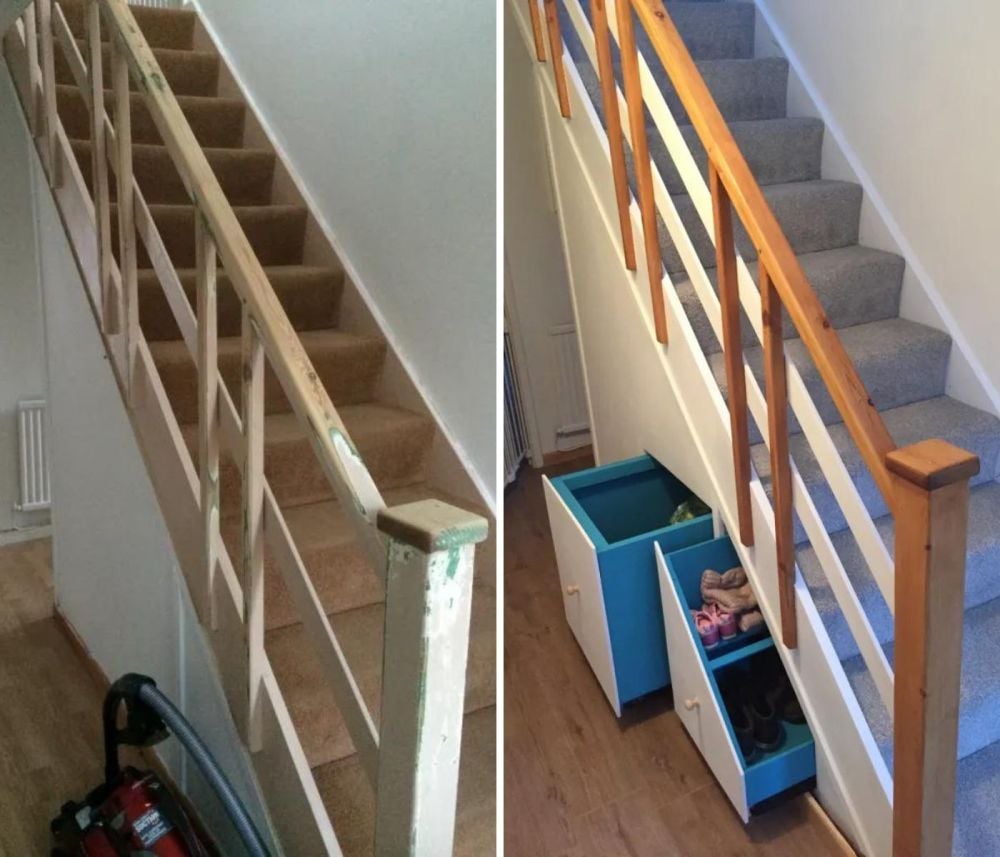 By sanding back all the paint, staining the original wood and painting the baluster runners white, we were able to transform this banister. This was by far the cheapest way to achieve a brand-new look. It took several hours of sanding and some paint stripper to remove tougher bits but it did achieve what we set out to accomplish, whilst keeping the 70s style.
Ben even added some DIY under-stair drawers to take advantage of the unused space underneath. As you can see, the very ugly beige carpet was also replaced with a modern grey carpet.
Replacing the 70s staircase banister
Whilst we managed to update the staircase and make it look nice on a budget we were never 100% happy, especially when the rest of the house renovation began to take shape. Therefore, several years later we returned to update the staircase. This time we wanted to modernise the banister and move away from the 70s styling. Nothing else in the house followed this theme so we went for a completely new look.
This again was achieved on a reasonable budget. We kept the original handrail and newel posts but replaced all the spindles (also known as balusters). We managed to pick up some pine Edwardian-style spindles from B&Q for a good price. The old spindles and runners were cut out and the new spindles were carefully cut to size and fixed in place. It was important to follow building regulations here, ensuring the gaps in between the spindle were less than 9.9cm. (This is to ensure young children don't get their heads stuck!)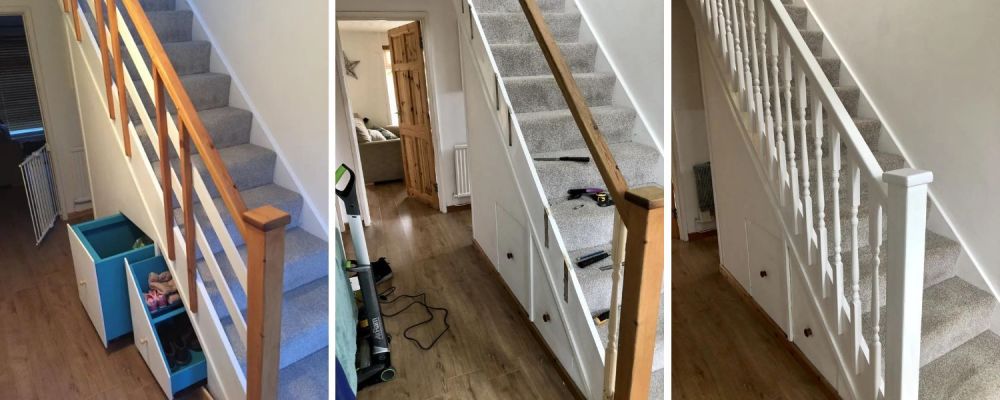 We opted for pine rather than oak as this kept the costs to a minimum. We also planned to paint the spindles so it didn't make any sense to go for a more expensive oak spindle.
The newel posts (large end posts) were kept original as these can be a little trickier to replace. We decided they were fine and fit with our design as they were. You can replace these without any structural work if you decide to go down this route. By cutting the original post just above the string you can insert a large dowel and fix a new post into place. There is a great guide here if you are interested in replacing the newel posts.
Updating our staircase treads and risers
With the banister remodel complete we turned our attention to the staircase treads and risers. It was time for a dramatic change! It was time to retire the carpet and switch to a painted wooden staircase.
With the staircase being from the 60s/70s, it was made from strong, tough and durable wood. We're not exactly sure what type of wood it was (maybe oak or hemlock), but it was perfect for sanding and painting. Modern build houses tend to use chipboard which is not good for this kind of makeover. You would need to replace the treads to achieve a similar look.
We loved the look of a patterned tile on the risers. There is a great choice of Moroccan or Istanbul style tiles perfect for this look. It's also sometimes referred to as Zellij, is a form of Morrocan architectural pattern.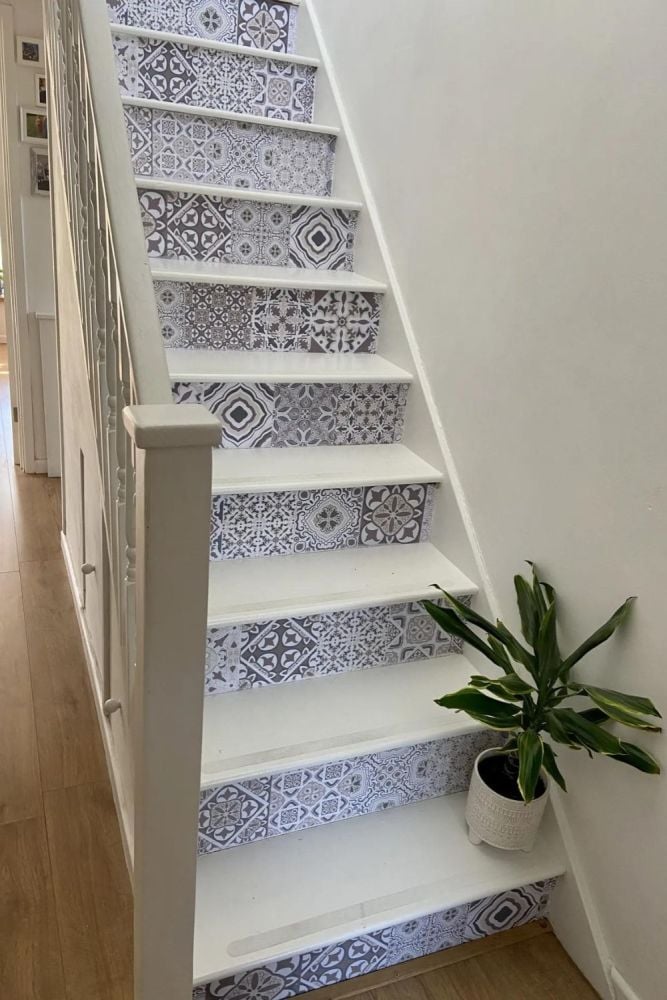 Updating and modernising our 70s staircase
The first step was to remove the carpet and carpet grippers which left a number of small nail holes in the wood so we filled the holes with some wood filler. After the filler had dried, we used an orbital sander to smooth over the wood. A damp cloth was used to prepare the surface for painting. Two coats of floor and stair paint were applied for a strong, durable finish on the treads.
We decided to save some money for the tiling and found some tiling-effect vinyl stickers. They are very realistic and look great on the stairs. They're also very easy to install. Our friends and family thought they were real tiles. If you're on a budget these are a great option. You can find them here on Amazon.
For safety, the final step was to add some grippy strippers to the edge of each tread. You can find these on amazon here and they make a huge difference to the grip. Smooth-painted wood can be a little slippery, especially when wet so it's important to add these. They are clear in colour and barely visible when applied.
Before and after 70s staircase banister photos!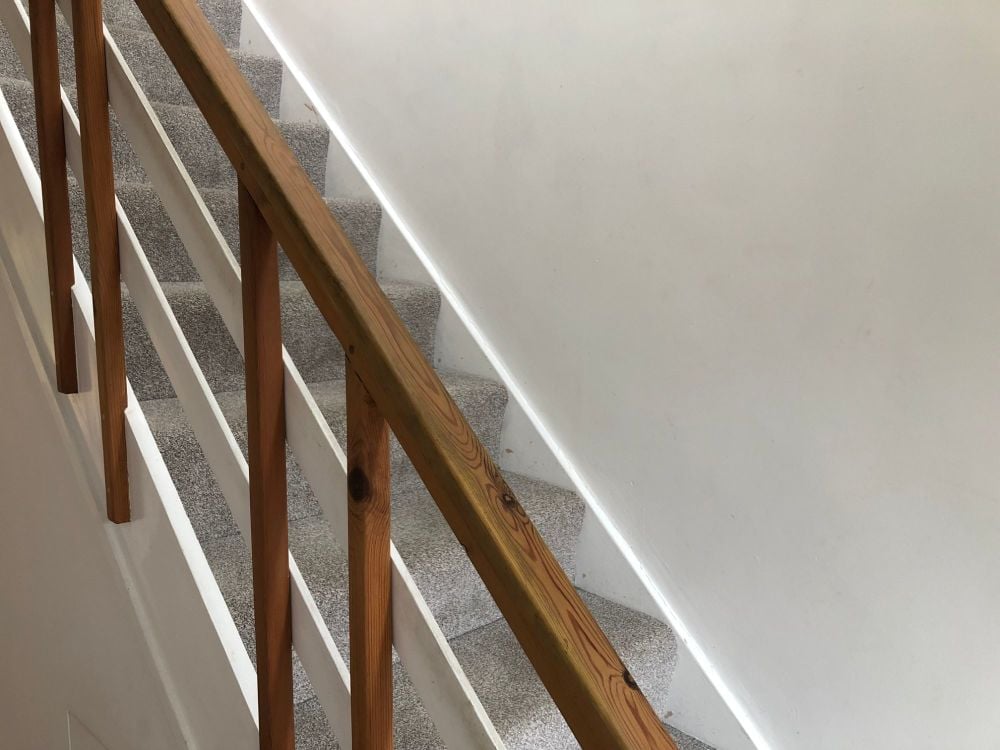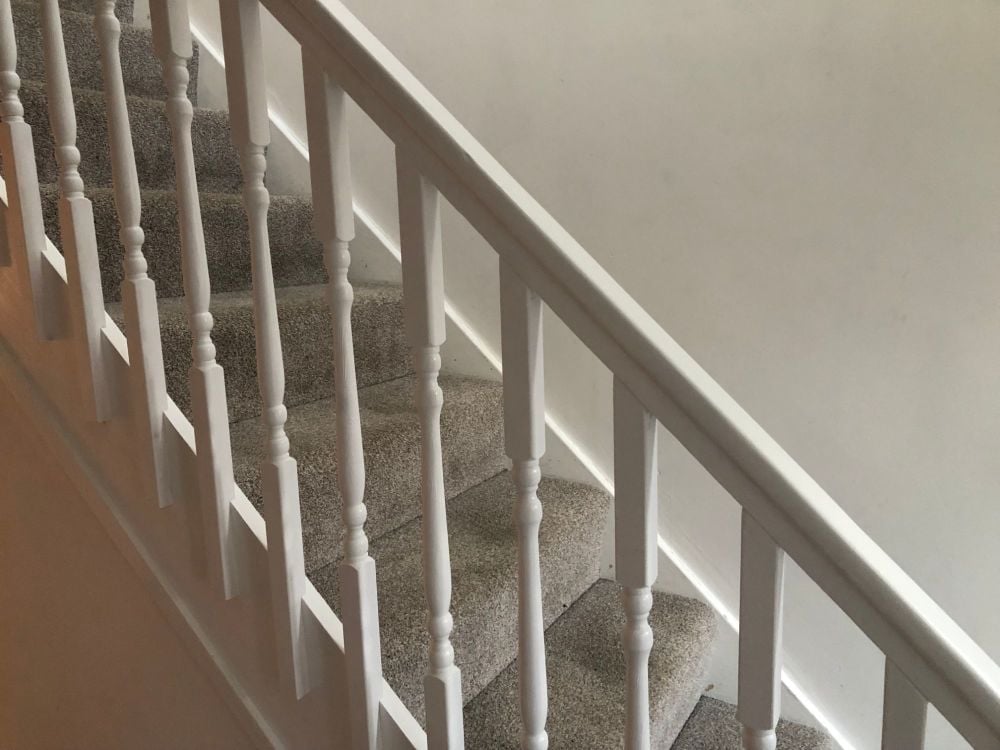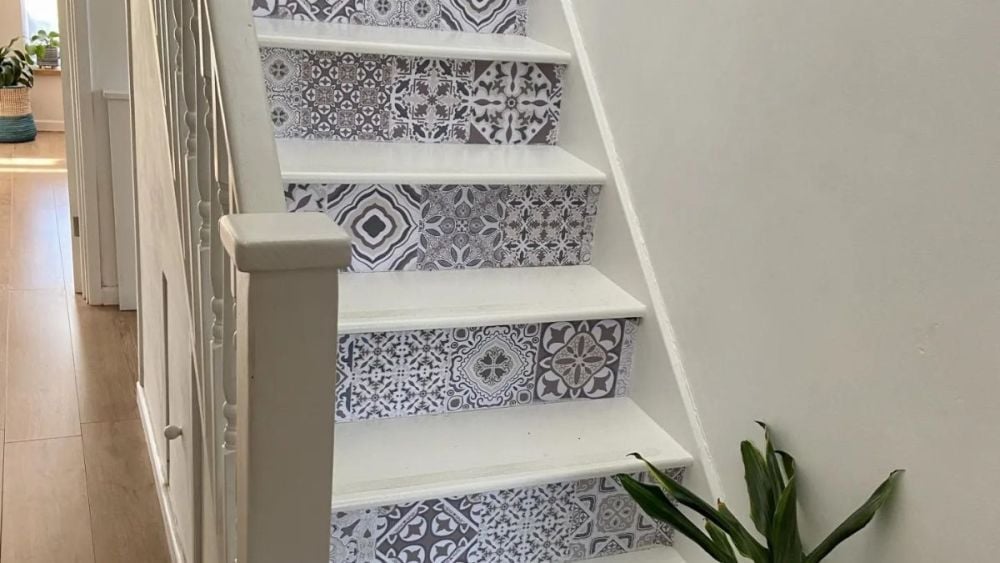 How much does a staircase makeover cost?
Depending on the extent of the transformation, a staircase makeover can cost anything between £30 and up to ££££ (thousands). Sometimes, simply sanding and repainting a staircase can massively change the look, and it will only cost you the materials. If you want to take things further the sky is your limit.
Here are some costs for the materials we used on our budget makeover at the time we did it, obviously costs are always changing and it depends on how much you want to shop around:
We replaced all our spindles at the cost of about £70
The carpet replacement cost about £400
Floor and stair paint is near £40
Morrocan Tiling effect stickers (x13) cost £26
Transparent stair grip strips were about £10
Wood filler and sandpaper - £10
A new banister can cost as little as £70 if you are willing to do the work yourself and only replace the spindles. If you want to take things further and replace the whole lot you can achieve this for around £200. (Plus labour)
It's a total staircase transformation, even with just the banister complete. Our hallway feels so much more homely and inviting. It no longer feels dated or like someone else's staircase.
There are lots of ways to update staircase railing and we pondered over a few ideas before we decided on upcycling what we could with paint and changing all the spindles. Read on for several banister replacement ideas suitable for all budgets.
---
3 low budget banister makeover ideas
If you're trying to achieve a new look on a budget then here are some more interesting ideas to think about.
1. No banister
A friend actually suggested this to us. He thought it would really open up our hallway if we had no banister at all. It's an interesting idea, but it's important to remember that you will need a handrail on one side to meet building regulations.
A banister is a safety feature of a staircase so if you have young children or your mobility isn't great then this might not be the best idea for your staircase.
Of course, if you don't have either of these things then it is a great way to really open up a space and you can simply add a handrail to the wall. This is also one of the cheapest options as all you need is a handrail which will cost around £60.
2. Upcycle the existing banister
Sanding and staining the existing banister, or painting it, will be much cheaper than replacing parts. If you are happy with the shape and style of the existing banister, then upcycling is very affordable. In some cases, you may just need to stain the banister or even paint directly on top of the wood. A new colour can make all the difference in updating a banister and making it feel like new.
3. Update spindles only
This is definitely an affordable option and the one we chose. Single spindles in a simplistic straight design start from £1.50 in many DIY stores. You'll also need some paint or stain, as well as a way of fixing them and removing the old spindles. It's a great DIY task if you're skilled in this way, otherwise, you'll need to factor in labour costs too.
When we looked at the newels they were fine, as was the handrail. These might just need sanding, staining or painting to give them a new lease of life, but can save money if they are salvageable.
---
3 luxury banister replacement ideas
If you have some money set aside for a banister replacement and you don't need to watch the pennies, then there are lots of ways to create an amazing banister design a little out of the ordinary. Here are three of my favourites.
1. Choose a glass banister
If you have some cash to splash for your banister upgrade and want a modern stair railing then take a look at some stunning glass balustrades staircase ideas. These look very slick and contemporary with the added bonus of opening up the space and light, but still providing the security of a banister.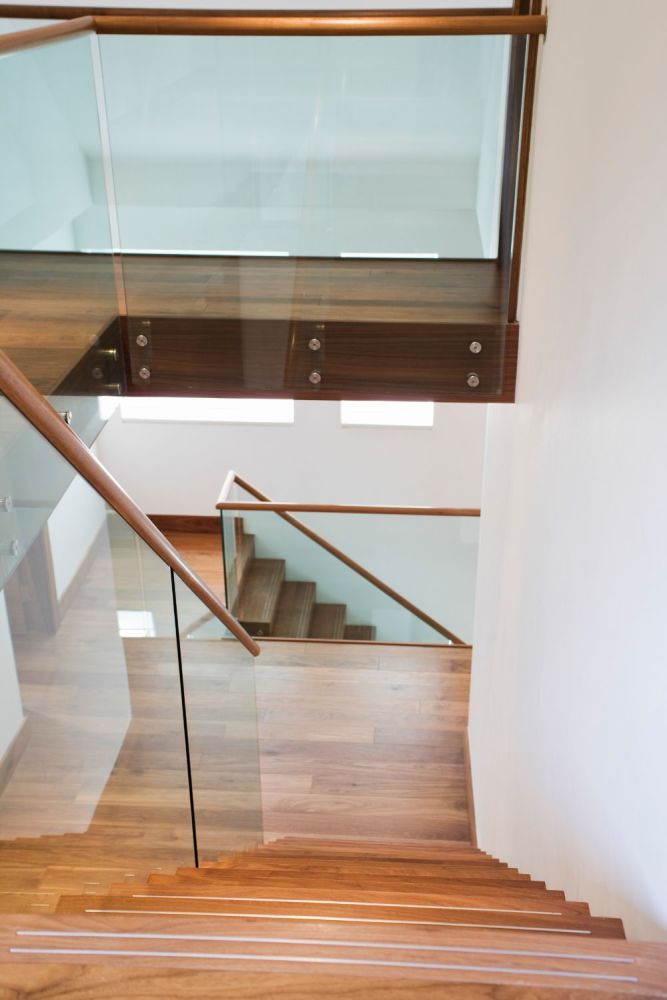 Entire glass panels can give the effect of almost no banister, or the glass panels can be broken up with chunky wooden posts for a cosier feel. You can buy readymade staircase panels from DIY stores, but specialist companies can make them to your exact design requirements.
2. Wrought iron banister
Usually associated with outdoor railings, iron railings can actually bring a very unique look to indoor staircases. To white interiors, they add a contrast that can really become a centrepiece to your home. They can be decorative, unique and bring a new dynamic to your interior.
Again, you can keep it within a low budget by purchasing readymade railings from budget DIY stores or you can go a little wilder and have some ornamental custom-made iron railings made. These wrought iron banister images will give you an idea of what can be achieved and how beautiful they can look.
3 Stainless and brushed steel banister
Modern in every way, these banisters can really look the part in a contemporary-style home. They can be designed and installed as a complete steel banister or the frame can be incorporated with glass panels. Thick steel wires can also be incorporated into the steel frame and if you really want something special then you can order handrails with LED lighting built in.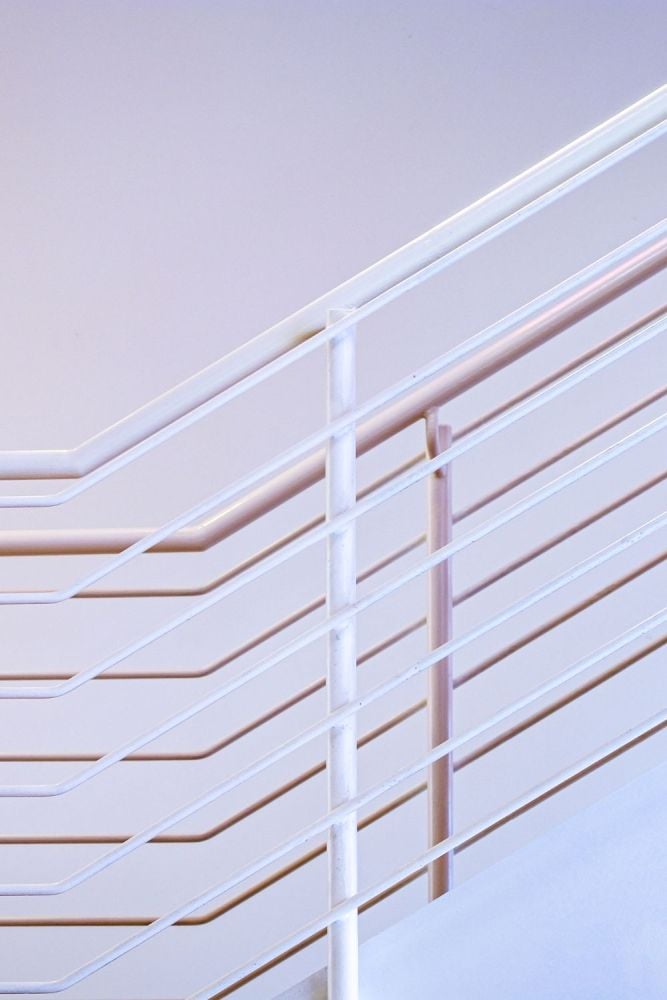 ---
3 quirky and unique banister ideas
Rope banisters
Yes, I'm really getting wacky now! If you want something really different to everyone else then a rope banister really is a thing! Check out this video to see an installation of a rope banister at the top of a staircase. It looks great and would be perfect for beach and rustic-style houses.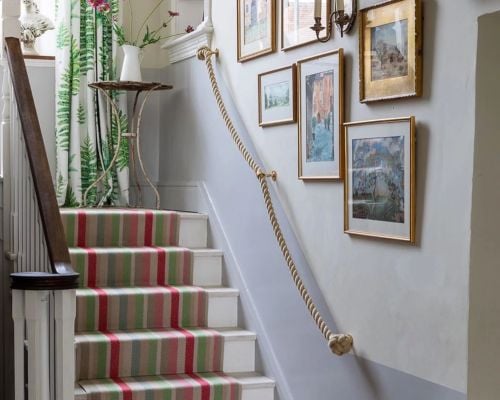 Natural Jute Bannister Handrail Stair Rope
2. Copper banister
Copper is a great material for a banister but yet, very uncommon. Spindles can be formed into unique shapes and you can create a feature staircase for everyone to talk about. Combine copper with a natural element like oak, leaving you with a stunningly beautiful banister. Take a look at this contemporary design for a custom-made staircase.
3. Wood carving banisters
Wood carving experts can incorporate their skills into staircases and banisters for a one-of-a-kind piece that isn't just a functional element of your home, but also an art piece to be admired by everyone that visits. Wood carving artists like Mike Kenney specialise in wood carving for staircases. If you can find a local carving expert you can commission them for this unique natural look.
---
Top tips for remodelling and modernising your staircase
The best way to modernise a staircase will depend very much on how far you are willing to take it and how far your budget will go. We completely transformed our staircase and banister on a tight budget so don't feel like you have to spend thousands on a complete remodel. The following tips will give you ideas to get the best out of a new staircase.
Stairs are usually very boring and just serve a purpose. But, this doesn't have to be the case. It is possible to completely rip out and replace your stairs or simply remodel them.
Consider the design
Start by taking a look at these stair design ideas. You can find a new design of staircase that will completely change the look and feel of your home. There are so many places to find inspiration from. The important thing to remember is to keep the design in keeping with the rest of the house.
You may need to consider rebuilding the whole staircase depending on your design idea and what you already have there to work with. A new staircase can be fitted by yourself although you may prefer to get professional help.
Remove the carpet
As with our design, a simpler idea that many people opt for is to remove the carpet. Constant wear and tear can quickly make any carpet on your stairs look tired. By removing it your stairs and stairwell will feel open and more spacious. You may find that they are a little noisier but this won't matter in many households.
Remove the risers
You'll need to verify that you can remove the risers without affecting the structure of your stairs, but if this is possible it can be a great way of opening up the stairs and the space behind them. You can easily make your hallway feel 2 times the size. However, this might not be the best idea if you need storage.
Lighting
Light is important in any home and the lighter your stairs are the more appealing this space can feel. If you have any windows that can let light onto the stairs, make the most of them. Fitting mirrors on walls to bounce the light around the stairs and surrounding areas.
You can also consider a hanging light that will provide light down the stairs; the light could even be suspended halfway down the stairs. This would be a great addition to double-height staircases as it creates a focal feature within the space.
---
Want to save as much money as possible on your staircase or banister update?
Check out my list of UK apps that turn receipts into cash and also this list of UK cashback sites to maximise your free cashback and savings.
Find more great deals on my voucher codes and how to get free money pages!
Subscribe to our newsletter for the best free money offers, money-making and money-saving tips we discover!