Banister makeover ideas for all budgets
Posted on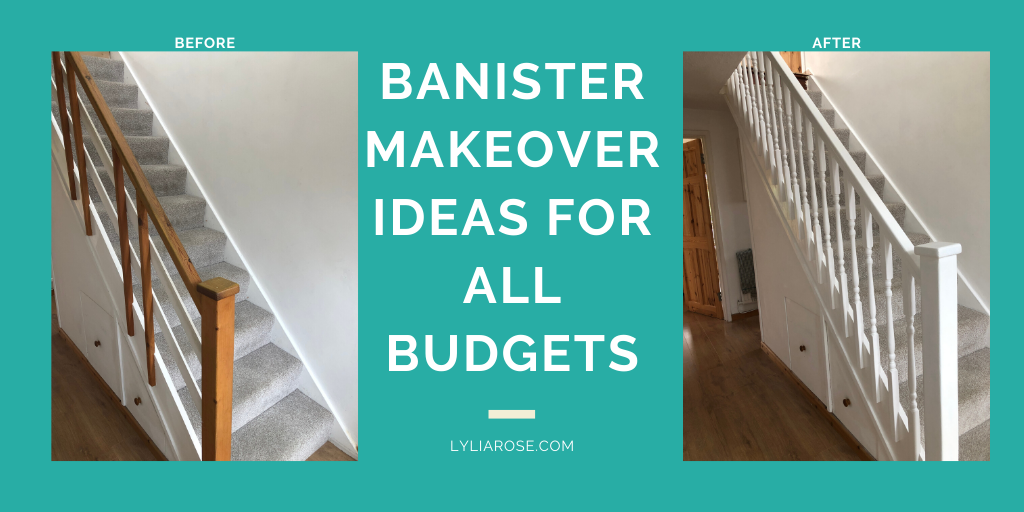 Banister replacement ideas - on a budget
We are in the middle of updating a 70s staircase with a DIY banister and white painted step. Well, it might be the 60s, as I think our house was built right at the end of the 60s. Either way, originally it was a very dated banister that I really hated.
Ben, my husband, actually quite liked it, which is why we've had it for the five years we've lived here. He put some sweat and tears into sanding back the many decades of paint that covered it when we moved in. He was very proud of his handiwork, so we stuck with it, until now.
I always said our banister looked like 'go faster stripes'. It wasn't homely to me and it wasn't 'cool' retro looking… just plain ugly! Finally Ben got on board with my idea to change the spindles once we changed our landing carpet for laminate and I plan to do an entire staircase makeover.
So far we have changed our carpeted landing for laminate which matches the laminate in the three bedrooms. It looks a lot neater as the same flooring flows through the upstairs rooms. We plan on removing the rest of the carpet from the stairs and then we'll be a 100% carpet free household - my dream!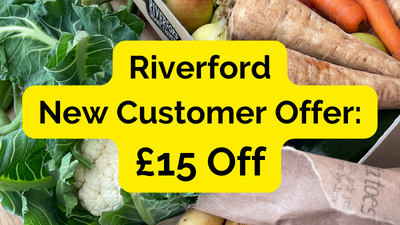 The stairs will be painted white and we have some vinyl tile effect strips for the kick boards in light grey and white with a patterned tile image. I can't imagine we'll paint the stairs until after Christmas now as we are running out of free time.
We have, however, managed to update the banister and the spindles. We were able to reuse the existing newel posts and handrail so only had to purchase new spindles and paint. We spent around £60 on a pack of spindles and £10 on white gloss paint. Luckily my husband loves DIY so we saved on labour costs by completing the work ourselves. Ben removed the old spindles, cut the new spindles to size and fitted them. I painted.
It's a total staircase transformation, even with just the banister complete so far. Our hallway feels so much more homely and inviting. It no longer feels dated or like someone else's staircase. I can't wait to paint the staircase and add the tile kickboards as it will feel like a new home… our home!
There are lots of ways to update staircase railing and we pondered over a few ideas before we decided on upcycling what we could with paint and changing all the spindles. Here are several banister replacement ideas suitable for all budgets.
Our before and after banister photos: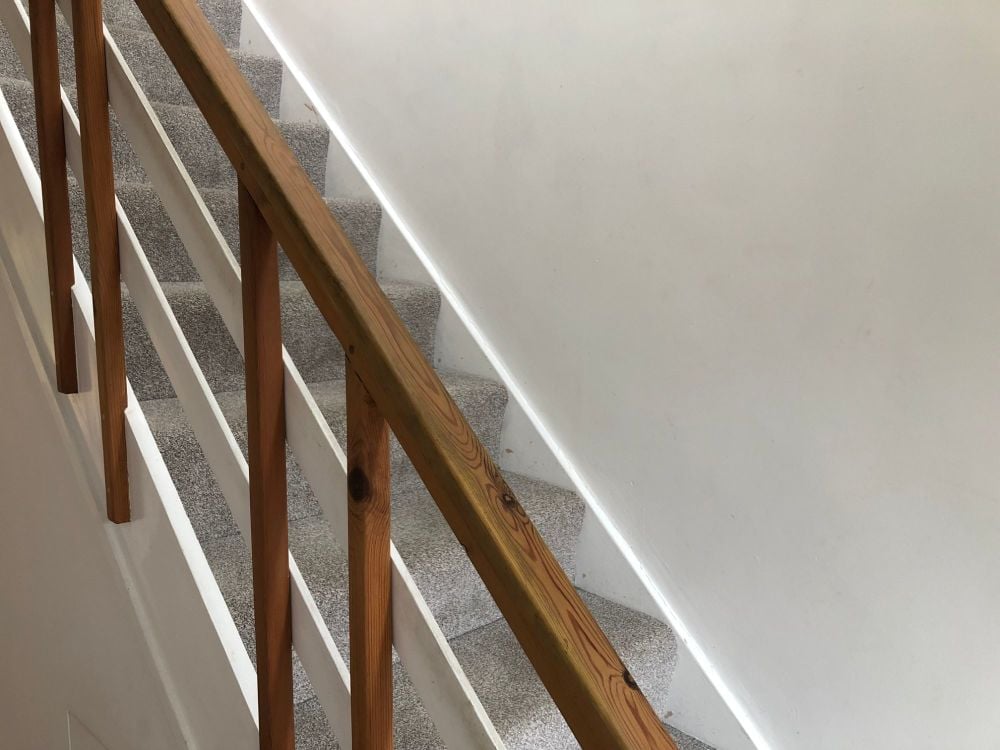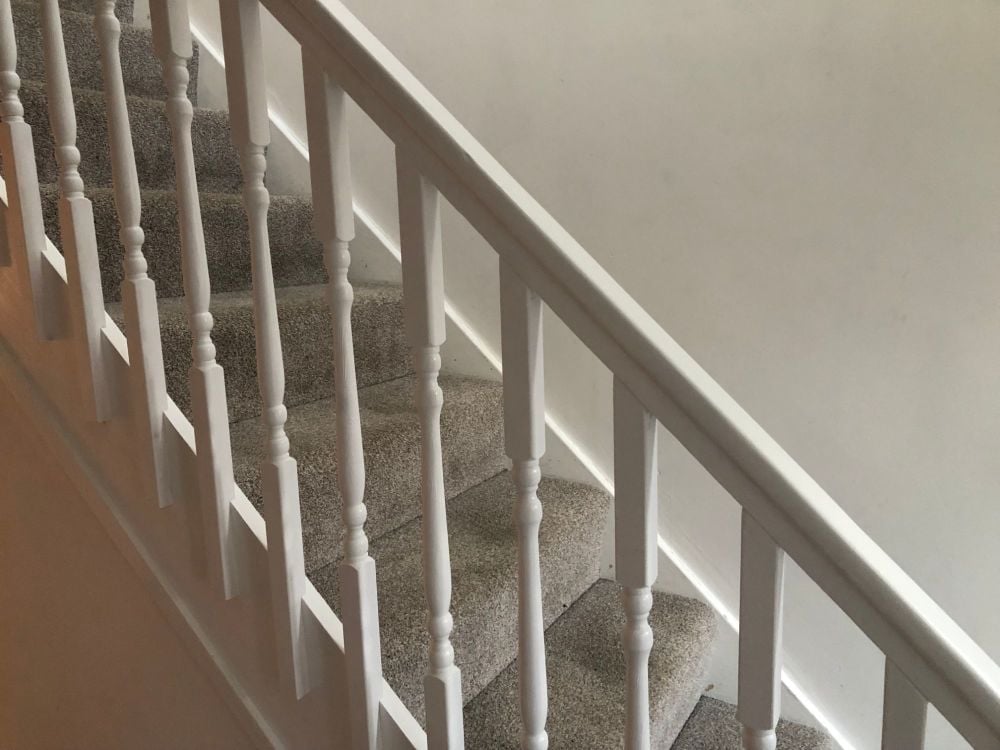 Banister replacement ideas - on a budget
A friend actually suggested this to us. He thought it would really open up our hallway if we had no banister at all. It's an interesting idea, but with two primary school aged kids I felt it was a little risky. If you have young kids or difficulty walking then it's better to have a banister for safety reasons. Of course, if you don't have either of these things then it is a great way to really open up a space and you can simply add a handrail to the wall. This is also the cheapest option at £0 as you won't need to buy anything if you're not having a banister!
Upcycle the existing banister
Sanding and staining the existing banister, or painting it, will be much cheaper than replacing parts. If you are happy with the shape and style of the existing banister, then upcycling is very affordable. In some cases you may just need to stain the banister or even paint directly on top of the wood. A new colour can make all the difference in updating a banister and making it feel like new.

This is definitely an affordable option and the one we chose. Single spindles in a simplistic straight design start from £1 each at B&Q. You'll also need some paint or stain, as well as a way of fixing them and removing the old spindles. It's a great DIY task if you're skilled in this way, otherwise you'll need to factor in labour costs too.
When we looked at the newels (they're the posts at either end) they were fine, as was the handrail. These might just need sanding, staining or painting to give them a new lease of life, but can save money if they are salvageable.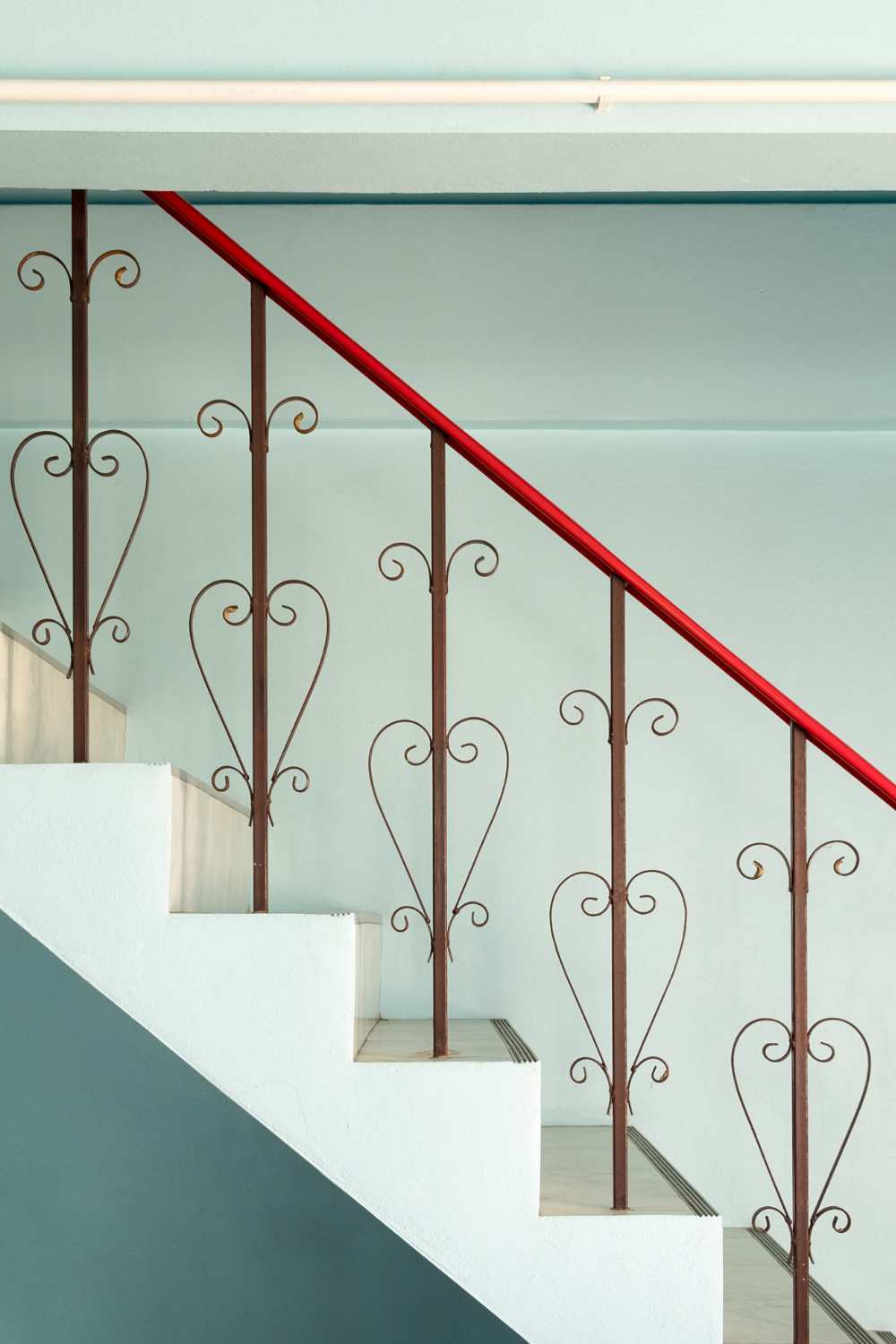 Banister replacement ideas - cash to splash
If you have some money set aside for a banister replacement and you don't need to watch the pennies, then there are lots of ways to create an amazing banister design a little out of the ordinary. Here are three of my favourites.
If you have some cash to splash for your banister upgrade and want a modern stair railing then take a look at some stunning glass balustrades staircase ideas. These look very slick and contemporary with the added bonus of opening up the space and light, but still providing the security of a banister. Entire glass panels can give the effect of almost no banister, or the glass panels can be broken up with chunky wooden posts for a cosier feel. You can buy readymade staircase panels from DIY stores, but specialist companies can make them to your exact design requirements.

Usually associated with outdoor railings, black iron railings can actually bring a very unique look to indoor staircases. To white interiors they add a contrast that can really become a centrepiece to your home. Again, you can keep it within a low budget by purchasing readymade railings from budget DIY stores or you can go a little wilder and have some ornamental custom made iron railings made. These wrought iron banister images will give you an idea of what can be achieved and how beautiful they can look.
Yes, I'm really getting wacky now! If you want something really different to everyone else then a rope banister really is a thing! Check out this video to see an installation of a rope banister at the top of a staircase. It looks great and would be perfect for a beach house.
Whether you're on a tight budget or have money to spend, there are so many ways to create a banister that's perfect for you and your home. Keep an eye on my Instagram as I'll no doubt share the entire staircase makeover once we've completed painting the steps and adding vinyl tiles!
Please pin me!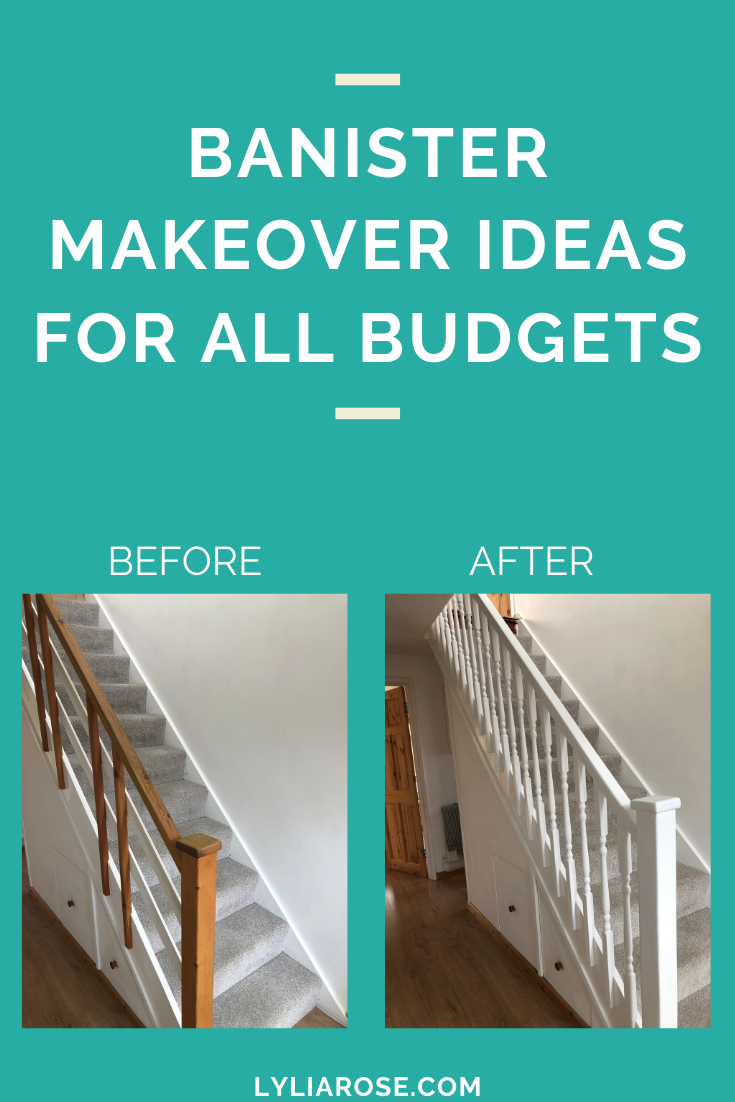 What to read next
Families save an average of £316 on energy bills with Migrate
Improve or move? Save money by altering your house to accommodate your growing family
Popular pages
Lots of ways to get free money