Tastecard launches 50% off Pizza Hut Delivery!
Posted on
I have an amazing Pizza Hut promo hack to share with you today!
If you're looking for a great way to get half price pizzas delivered from Pizza Hut Delivery every single day then read on.
There is now an amazingly easy way to save 50% off your Pizza Hut Delivery order without needing to scour the internet for a Pizza Hut delivery code.
Discover this great Pizza Hut promo hack below...
Enjoy 50% off Pizza Hut Delivery, 7 days a week with no delivery fee!
The UK's largest hospitality membership scheme, tastecard, is adding food delivery to its portfolio by partnering with Pizza Hut Delivery!
Sign up for your 2 month free trial now by clicking here!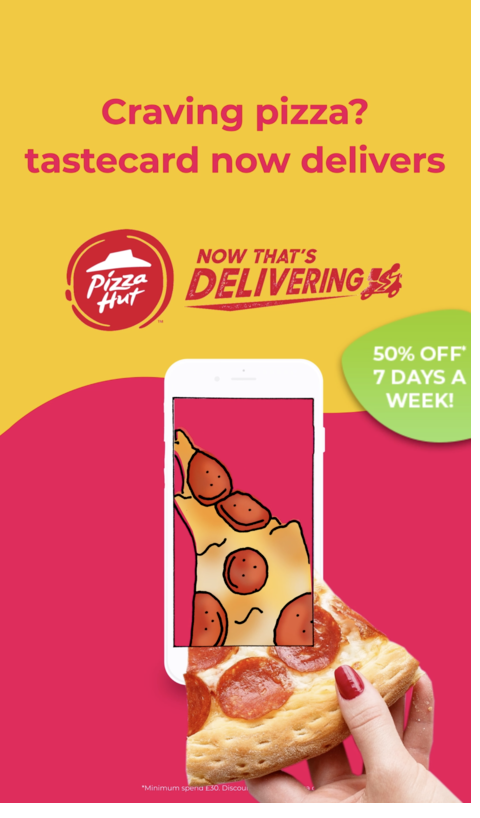 We're a big fan of pizzas in this household and luckily Pizza Hut sell some amazing vegan options so we treat ourselves a few times a year to some delicious Pizza Hut vegan pizzas! Yum!
Available across 390 Pizza Hut Delivery restaurants, tastecard is bringing the best of Italian- American cuisine to members anywhere from Brighton to Glasgow. Members can choose from favourites like the classic Stuffed Crust Pizza and Deep Pan Base Pizza and I highly recommend the vegan options to reduce your meat intake and help the planet.
Matt Turner, founder of tastecard, said: "tastecard members have always enjoyed incredible discounts when dining out, and now for the first time ever we are delighted to diversify into the food delivery sector so our members will enjoy the same great discounts in the comfort of their own homes, seven days a week, which is an all-round win!"
I'm very excited about tastecard adding delivery options to their offering and can't wait to see who else they get on board. We typically order a takeaway 1-2 times per month and it will be great to save 50% easily every time.
There are of course a few limitations to the Pizza Hut Delivery offer such as a £30 pre-discount minimum spend, which is easily done and means if you spend £30 then your order will only be £15. Bargain!
It also cannot be used in conjunction with any other offer or redeemed by presenting your tastecard in store.
Customers will simply need to sign up to tastecard and search for Pizza Hut Delivery to gain access to the exclusive offer.
Try tastecard for free for 2 months
Not only can you get a whopping 50% discount on your Pizza Hut Deliveries, but I have a special offer for you to get a two month free trial at tastecard. This will give you access to discounts in numerous restaurants and pubs across the UK.
Wondering what the benefits of a tastecard are?
You'll get 50% OFF or 2 FOR 1 at 5,616 restaurants!
If you eat out regularly, or order takeaway pizza, then you can make some great savings! After the free trial the membership is only £4 per month if you don't cancel your card. It will automatically renew so just let them know if you'd like to cancel after the free trial, or fill out the online cancellation form.
If you eat out a lot, or even once per month, then it's worth keeping the membership. You'd literally need to eat out at one of their restaurants once per month to make your membership fee back!
Sign up for your 2 month free trial now by clicking here!