Win a dinner in this free daily giveaway
Posted on
If you love giveaways, free daily lotteries and free food then Win a Dinner is perfect for you!
Brought to you by the masterminds behind the popular free daily lottery Pick My Postcode, Win a Dinner is a similar concept, however you can quite literally win a dinner!
Read on to learn what Win a Dinner is in my review and how you can enter for free every single day.
How can I win a dinner?
It's really simple to sign up to Win a Dinner .
Simply sign up with your email and choose a username. You can also upload a photo or profile image if you like - I'd recommend doing this as it will be easier for you to spot if you've won when scrolling through the daily draw page each day. However, you don't have to add an image if you don't want to.
Then, make sure you have the daily email notifications turned on so you'll be emailed once per day when the new winners have been drawn.
Simply check the daily draw page using the link from the email and see if you've won!
The daily draw page at Win a Dinner looks like this: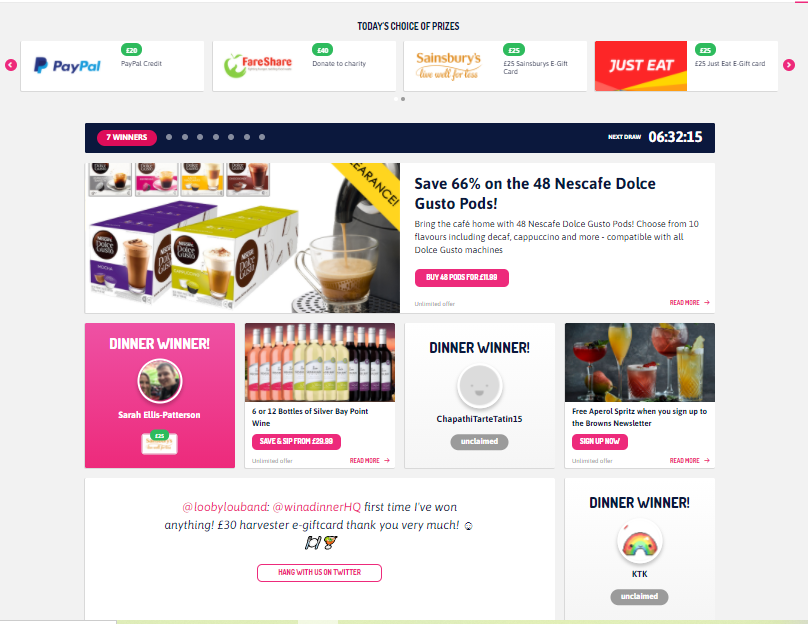 You can see the prizes for that day at the top of the page and the winners are mixed in amongst some promotional advertisements - which is how the site funds itself and pays out the prizes.
This is why it's a good idea to upload an image so you can scroll through and easily spot if you are a winner.
Otherwise, make sure you remember your username so you can see if you have won. Your Win a Dinner username will be in your daily emails, just in case you forget!
When someone claims their prize their square turns pink. If prizes aren't claimed then they roll over to the next day and a new winner has a chance. You only have 24 hours to claim your prize once the daily draw has started.
The daily draw takes place at 4pm every day.
If you have won then you'll see a claim button and your prize will be sent via email.
What are the prizes on Win a Dinner?
All of the prizes at Win a Dinner are gift vouchers for food related companies such as a gift voucher for Just Eat or Sainsbury's.
There is also a PayPal voucher so you can choose whichever dinner you like, or you can spend the money on something else!
You can see the choice of prizes at the top of the daily draw screen each day.
Is Win a Dinner legit?
Absolutely! You can join in with the chat from users at the bottom of the daily draw page and if you scroll through you'll see some winners sharing their happy news.
It's brought to you by Pick My Postcode who are a legitimate free daily lottery website who I also recommend you sign up to here!
How do I sign up to Win a Dinner?
That's easy. Simply click my Win a Dinner link and enter a few details and you'll be in for a chance to win a dinner every day!
Good luck!
Here are some more sites with free daily lotteries and prizes: