How to use sssTwitter to quickly download videos from Twitter
Posted on
This article shows you how to download videos from Twitter in seconds. The sssTwitter Chrome extension is free and easy to install, and it allows you to save videos with a click or two.
Ever wondered how you can download a Twitter video for free and with ease, to your computer? The sssTwitter app can be used for downloading videos from Twitter, right to your desktop! Read on to learn how easy it is.
Why might you use sssTwitter to download videos from Twitter?
For personal use to watch again later
Sometimes you are busy and want to watch a video later, or even save a video to watch again. The timeline on Twitter moves quickly and whilst you can save a screenshot of an interesting tweet, you can't do the same for a video.
You can of course choose to retweet a video to your timeline if you find it interesting, but if you're a bit of a tweetaholic then your timeline will quickly be filled with your own tweets, conversations and retweets, making it hard to find that video you really want to show your friend later on.
A great solution is to download a video from Twitter so you can store it on your desktop with ease and watch at a later date, without worrying about losing the tweet in a sea of tweets and retweets on your timeline!
For business use
Perhaps you work in digital marketing, PR or journalism and you want to save a video for a client or even share a video you have been given permission to share from Twitter. This offers a way to save the video in MP4 format to your computer to use as your business needs.
Of course, you will need permission from the video owner to use any videos on your own website or social media channels.

How to download videos from Twitter with the sssTwitter website
It's really easy to use sssTwitter for your Twitter video download needs.
Simply enter the video URL in the search bar at the top of the sssTwitter website and then tap on the desired video size you wish to download.
On my MacBook it opens in a new Chrome window, then I click the three dots to the bottom right of the video to download to my laptop.
It only takes a few seconds to save a video from sssTwitter.
Make it even faster to save Twitter videos with the sssTwitter Chrome extension
To make it even quicker and easier to download Twitter videos, I recommend installing the sssTwitter extension. Then you don't have to worry about entering their website address every time you want to download a video, as you can simply click on the extension to be taken there instead.
First download the sssTwitter Chrome extension. Go to https://ssstwitter.com/en and click Chrome extension at the top of the webpage to find the extension in the Chrome web store.
Once installed, you will be able to download a video right from Twitter. The green download button will appear as soon as you start watching a video on Twitter.
You'll be taken to the download page on the sssTwitter website so you can choose your download size.
Here's how the download button appears on videos on Twitter once you have the browser extension installed: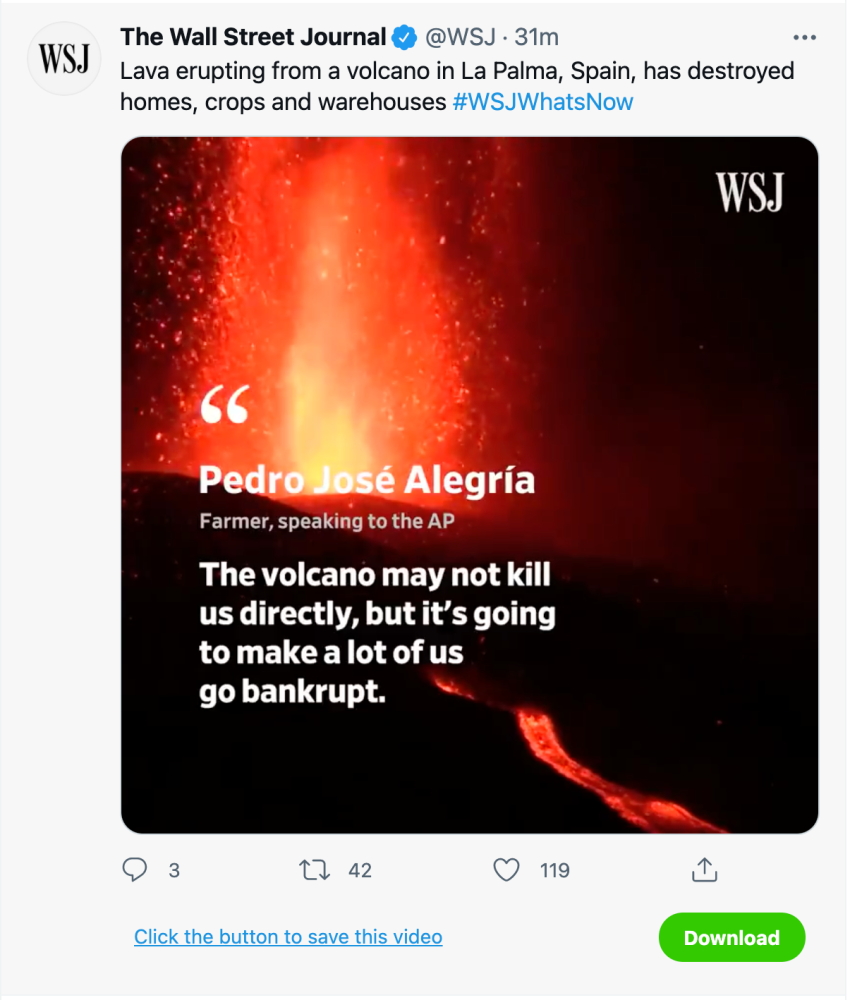 The benefits of sssTwitter for downloading Twitter videos
It's easy to use

You can choose to use the website or the browser extension

The downloads are super fast

You can pick your download video size like this: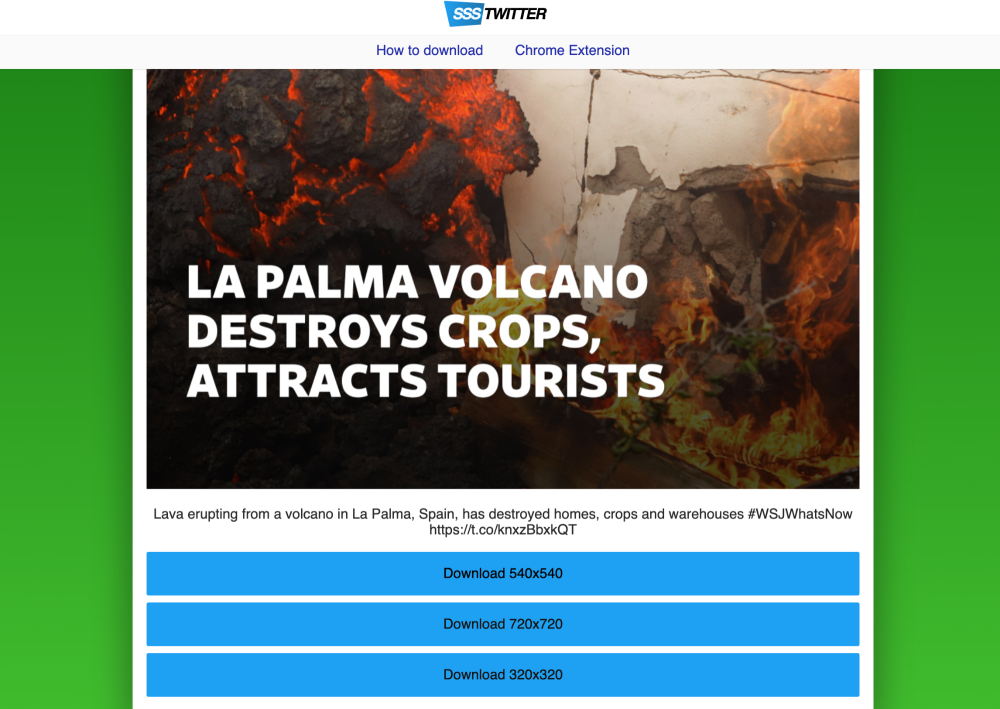 For more Twitter tips check out the first five things a Twitter business should do