Creative DIY book nooks to make your bookshelf look amazing
Posted on
Bookshelves are not just for books, as they serve many purposes within a home. They are a great place to share your favourite family photos or even the trophies that were won in days gone by. But all too often, shelves are left full of books, without any kind of decoration at all.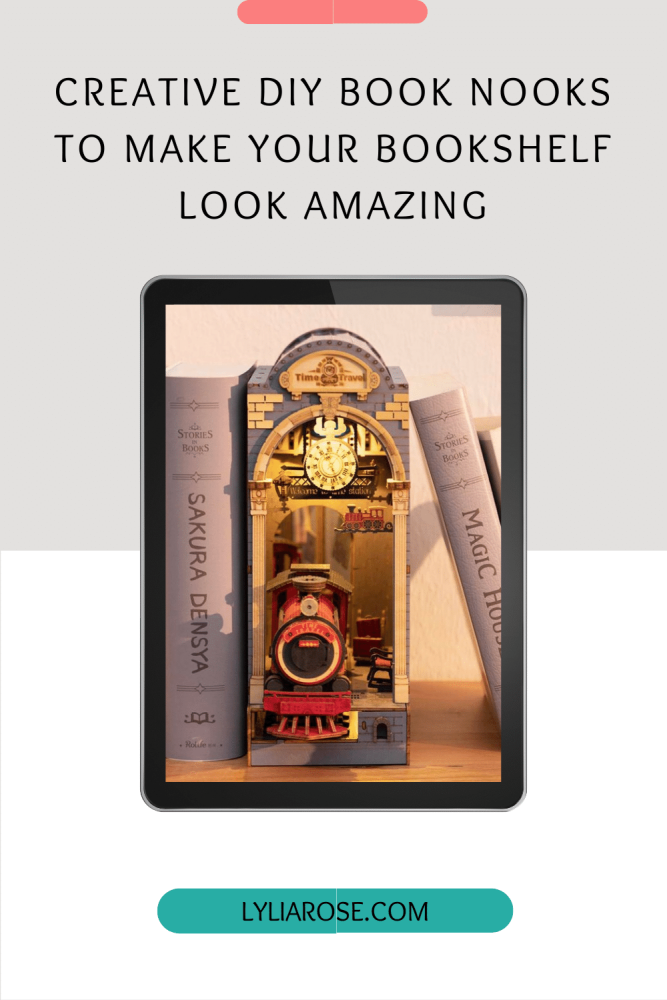 A book nook is a popular decoration that can be tucked away between your favourite books and gives your visitors something special to talk about. Here are some of the amazing Robotime DIY book nook collections that will add magic to your bookshelf and upscale the look of your space.
Sakura Densya Book Nook
The Robotime Sakura Densya book nook features a train and a beautiful spring scene and Tokyo. It is an excellent hands-on gift that comes pre-coloured. In all, there are 340 pieces which would take the average person about 4 to 6 hours to fully assemble. Unlike other 3D puzzles, the Sakura Densya will require two AAA batteries in order to properly light the scenery. Once complete, it can easily be slid in between your favourite reading books.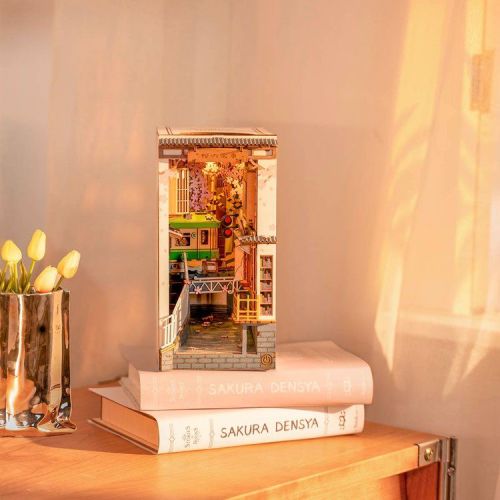 Sunshine Town Book Nook
The Sunshine Town is a beautiful miniature house that features a town scene complete with a tree, a clock tower, and a bookshop. This DIY miniature house kit includes over 246 pieces and will take an adult roughly 4 to 6 hours to assemble. Although the kit is great for people of all ages, the recommended age is 14 or older. Most of the parts come pre-decorated, but you may need to do some detailing of your own. Once assembled, it can be tucked away on your bookshelf.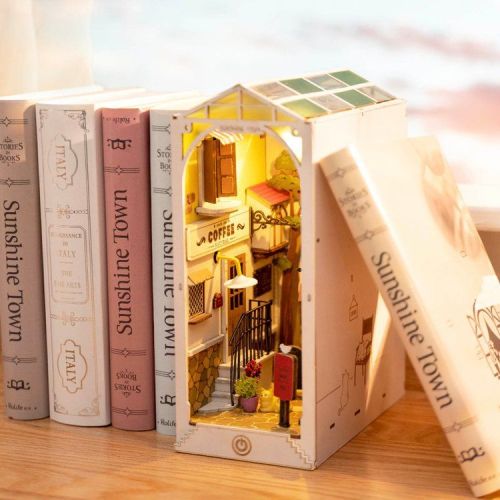 Magic House Book Nook
The Magic House features a mysterious alley where the magic truly does happen. The warm, welcoming light is enchanting and pulls people in to take a closer look. This book nook is composed of 216 pieces and takes about 4 to 6 hours in order to complete. While most of the parts come completely decorated, there may be a need to add a little something here and there. Because it will be lit up, you will also need two AAA batteries to turn it on.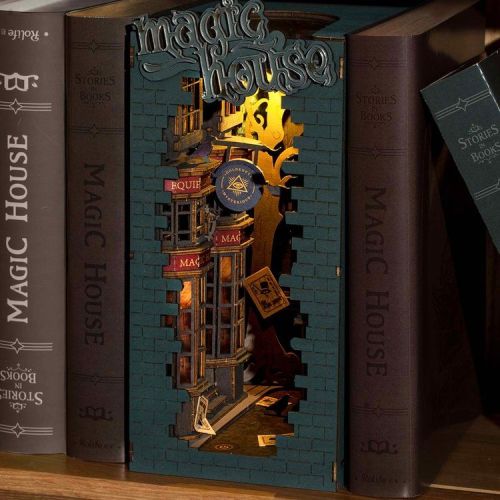 Time Travel Book Nook
The Time Travel DIY miniature house book features an old-world train station and a beautifully decorated steam locomotive that appears as if it's getting ready to drive right off your bookshelf. The wooden kit comes with 258 pieces and may take as much as 6 hours to fully assemble. Before the train leaves forever, take the time to decorate it and add your own flair before tucking it away on your bookshelf.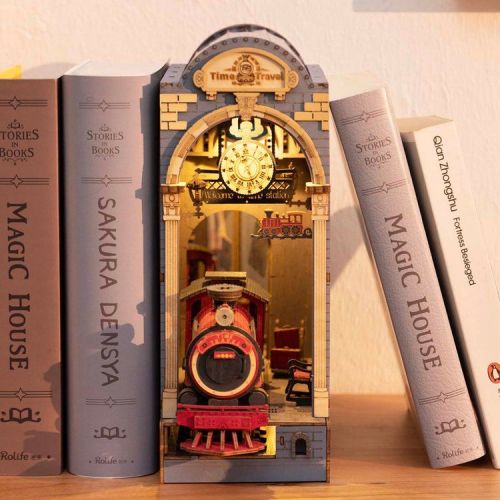 A colourful and enchanting book nook is a great way to decorate any bookshelf that is full of old, worn-out books. Adding a self-assembled 3D wooden book nook to any shelf will draw the attention of your visitors, and give them something to really talk about. While they are great gifts for people of all ages, they are very popular gifts for teenage girls. Have fun decorating your own space and enjoy a wonderful DIY experience with Robotime!