Experience Heaven on Earth at Eden Beach Resort & Spa
Posted on
Advertorial feature.
Tranquility, the sound of water gently lapping against the edges of what seems like an infinity of turquoise-colored ripples, and seeing the sun set behind the horizon is just a glimpse of what you can experience when visiting Khao Lak.
This oasis of calm is nestled between luxuriant vegetation and epitomizes the Gardens of Eden explorers have searched for, for centuries. If you want the getaway of a lifetime to forget the outside world and enjoy one of life's greatest pleasures then booking your resort vacation as soon as possible is a must.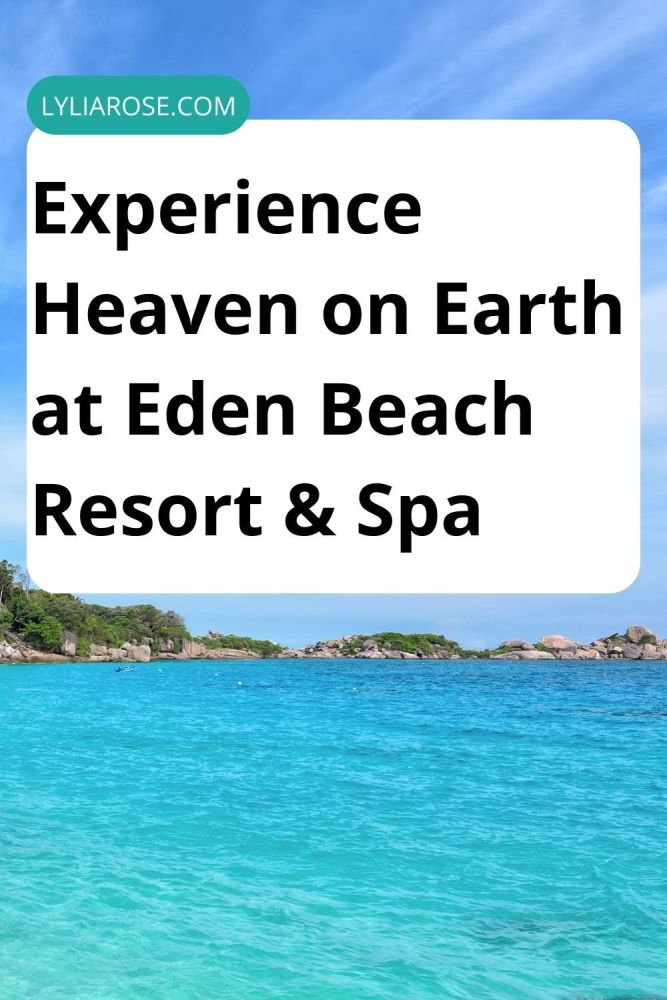 The Lopesan Hotels
When luxury and nature collaborate we see beauty become a reality, picturesque landscapes and villas brought to life, and leading industry experts such as The Lopesan Collection Hotels have found the best design in elegance to make dreams we can only imagine, turned into homes away from home holidays.
A spa resort is like no other experience and with personalized and customizable hotel services you will soon understand why the Eden Beach Resort & Spa is heaven on Earth. You can not only relax in the sun privately with room service but explore everything the resort has to offer with trips and day excursions tailored to your every need, all set against the endless Andaman Sea backdrop.
Embracing the 5-stars
There is nothing more exotic than being pampered and waited on than experiencing 5-star service, and a beach resort is a perfect place to fulfill your dreams.
It is no secret that a spa treatment from an experienced native will do you the world of good. Releasing you from the stresses and pressures we endure daily, while staying at the resort you can enjoy this 5-star service in your room, at the wellness center, or even better, on the beach with the sound of the waves as your theme song plays to a gentle breeze.
So, is 5-star worth all the hype? Well, the following reasons are only a handful of what you can enjoy while vacationing at a beach resort & spa, and will most likely be all that you need to discover to begin searching for vacation dates and times.
Amenities – We all want to drop our luggage on arrival and explore the room and area, and with rooms that host sea views or tropical vegetation for as far as the eye can see it is like stepping into another world. Luxury is effortlessly felt on the sheets which are like silk on your skin and seem to hypnotize you, drawing you into them to be enveloped in elegance and affluence.
Activities – When you stay at a seaside location like the Eden Beach Resort & Spa, a Lopesan Collection Hotel your bucket list of things to do can suddenly become your itinerary and you can enjoy all the fun activities you have always only read about in magazines.
Sailing in a bamboo boat in clear waters as the ocean life passes you by or adventuring on a sunset cruise while sipping champagne under the stars, nothing is impossible. Try paddle boarding for the first time, swimming with dolphins, or snorkeling amongst the reefs, and end the day with a gourmet culinary extravaganza as you taste the local cuisines tweaked to perfection.
Beach – Saving the best for last. A stroll along the endless white sands in the morning while the air is fresh and crisp is invigorating, it gets the heart rate up, and you welcome the day while smelling the salty air and listening to the sea birds cry their melodic tunes. You may opt to spend the day on the sand staring out at the water, a great spot for a moment of meditation, and a true soul-cleansing occasion.
Don't wait, the time is now
There is certainly no time like the present.
We know life can become busy very quickly and at times overwhelming, and more often than not we don't allow ourselves to take much-needed time off. However, a break from the hustle and bustle of work and personal life will bring an energy of renewal and rejuvenation into your life leaving you feeling refreshed and motivated, and what better place to awaken your soul and aura than a beach resort?
Make the time to treat yourself and a loved one, and embrace life for the beauty that is Mother Nature. Serenity can be more than a simple word but rather energy of peace that washes over you, the Eden we all need and deserve.
Click for more travel blog posts.