6 Ways To Upgrade Casual Clothes Into Formal Outfits
Posted on
Are you tired of feeling underdressed at formal events, or just want to add a little more sophistication to your everyday look? It's easier than you might think to transform your casual wardrobe into formal wear with just a few simple upgrades without sacrificing comfort. In this post, we'll share six tips for turning your everyday staples into chic, formal outfits that are perfect for any occasion where you need to dress a little more presentable. Whether you're looking to dress up for a wedding, or a job interview, or just want to elevate your everyday style, these tips will help you achieve a polished and put-together look. So how do you turn casual clothes into formal wear if you want to be comfortable, but look smarter? Read on and we'll tell you.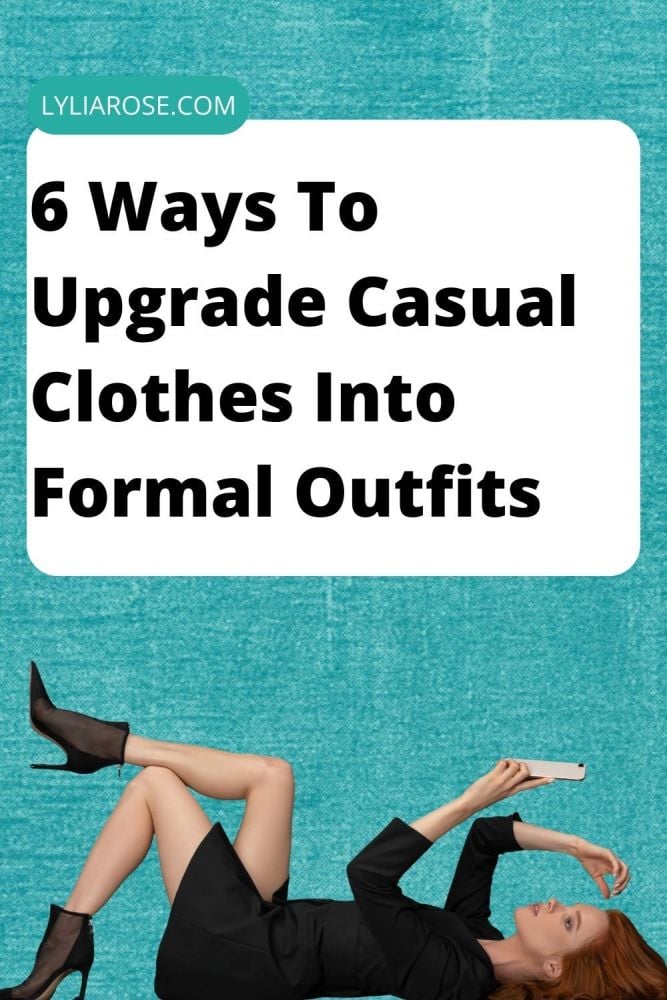 How do you turn casual clothes into formal?
If you enjoy the comfort of your casual clothes, here are some upgrades you can make to look more put-together.
Level up your dresses with formal accessories
When it comes to easy everyday wear, nothing beats dresses. Dresses are a versatile and convenient choice for everyday wear, and they can also be easily upgraded for formal occasions. Shirt dresses and sweater dresses offer comfort and style and can be dressed up with the right accessories.
To make them more suitable for a dressy-casual affair, you can upgrade dresses by wearing them with more formal accessories. You can shop tights in dark or neutral colours, then slip on a pair of patent faux-leather pumps. Choose either a statement necklace or some dramatic drop earrings to give your outfit more flair. Consider giving your hair a blowout and putting on some makeup to complete your look, easily taking your overall look from casual to formal.
More ideas to make a dress more formal:
Wrap dresses, sheath dresses, or A-line dresses are easy to dress up. These dresses tend to have a more structured or tailored fit, which makes them more suitable for formal occasions.

Cinch in the waist to give a dress a more defined silhouette. This can help to create a more polished and put-together look.

Choosing the right shoes will determine whether the dress looks casual or formal. Opt for heels or smart pumps to add a formal touch to your outfit. Avoid sneakers or sandals, which can make the outfit look too casual.
Add a structured blazer for instant sophistication
Sometimes, subtle additions can turn casual outfits into elevated ones. If you like wearing a plain t-shirt and denim pants, for example, you can still wear them to formal events. All you need to do is put on a structured blazer. A structured blazer is a must-have in any wardrobe, as it can instantly elevate any outfit and add a touch of sophistication.
A structured blazer can instantly make a simple denim outfit look polished. Its defined shape adds a formal touch to casual attire. While a black blazer works on many occasions, a lighter colour like cream or tan is perfect for daytime events. Pair the ensemble with the same colour of shoes as your blazer, and you have an elevated casual outfit.
Whether you opt for a classic black blazer or a bold statement piece, a blazer is a perfect way to dress up a casual outfit. Be sure to choose a blazer that fits well and is made of high-quality materials, as this will ensure that it lasts for years to come. And don't be afraid to experiment with different styles – from single-breasted to double-breasted, there are endless options to choose from.
Dress up in a relaxed suit
Suits are a classic choice for formal occasions, but they don't have to be stuffy or uncomfortable. Instead of opting for a traditional, tailored suit, try choosing a relaxed fit suit for a more casual, comfortable look. A relaxed-fit suit is a great way to dress up a casual outfit without feeling too constricted or formal.
Try pairing a relaxed-fit suit jacket with a simple t-shirt and jeans, or wear it with a button-down shirt and chinos for a more polished look. You can also play with different colours and patterns – try a bold plaid or a pastel hue to add some personality to your outfit. And don't forget to accessorize – a statement belt or a pair of dress shoes can take your relaxed suit to the next level.
Many outfits are deemed casual attire because of their loose fit. That's why relaxed suits are often considered more dressed-down options compared to the typical structured ones used in business settings. To keep your look smart and not slouchy, wear a ribbed shirt with a relaxed suit.
Ribbed tanks and shirts hug your body comfortably, so they contour to the curves of your torso. This balances the loose fit of the relaxed suit and gives it more polish. They also provide a formal look to the casual staple. Stay comfortable and on-trend by completing your outfit with chunky sneakers.
Elevate your casual to formal look with accessories
Accessories are a quick and easy way to dress up a casual outfit and elevate it to a more formal look. Some ideas for formal accessories include statement necklaces, dramatic earrings, or a statement belt. You can also add some polish with a pair of dress shoes or a clutch bag. A scarf or a pair of gloves can add some warmth and style to a winter outfit, while a hat or a pair of sunglasses can add some flair to a summer look.
When choosing accessories, be sure to consider the overall tone of your outfit – opt for classic, understated pieces for a more formal look, or choose bold, eye-catching pieces for a more casual, edgy vibe.
Wear the right kind of jeans
Skinny jeans look great with almost anything. But when you wear them with a dressy blouse and pumps, they may not look appropriate for more formal occasions. This may be due to the body-hugging features of the jeans. Instead, choose a dressier pair such as a straight fit which looks more formal due to their cut.
Avoid jeans with too much distressing or fading, as these tend to look more casual. Wearing dark-washed, high-waisted jeans can be work-appropriate. In offices that don't require strict formal attire, you can still look business-ready wearing these jeans in a straight-leg cut. The structure, length, and dark hues offer a more polished look. Pair them with a silky blouse and pumps, and you'll be ready for the day. It's the ultimate laid-back meets dressy look that's easy to pull off. Smart casual can be achieved even with jeans!
Switch your footwear
Footwear can make a big impact on the overall tone of an outfit, and switching out your casual shoes for more formal options can take your look from casual to chic in no time. When choosing footwear for a formal occasion, opt for dress shoes or heels rather than sneakers or sandals. Classic options like pumps or oxfords are always a safe choice, but you can also experiment with more modern styles like ankle boots or pointed-toe flats.
Be sure to choose a pair that fits well and is comfortable to wear, as you don't want to be preoccupied with sore feet while trying to enjoy the event. And don't forget to consider the overall style of your outfit – choose footwear that complements your look and adds the right touch of sophistication. Choose shoe designs that feature patent faux leather, soft faux suede, or metal embellishments like buckles for a more stylish take.