Is Spain Good For Camping?
Posted on
Spain is a popular vacation destination known for its beautiful beaches, vibrant culture, and delicious cuisine. But is Spain a good choice for camping? In this article, we will explore the advantages and drawbacks of camping in Spain to help you decide if it's the right choice for your next outdoor adventure.
In this article we will discuss:
Is camping popular in Spain?

The advantages of camping in Spain

The disadvantages of camping in Spain

Is camping in Spain safe?

Can you camp freely in Spain?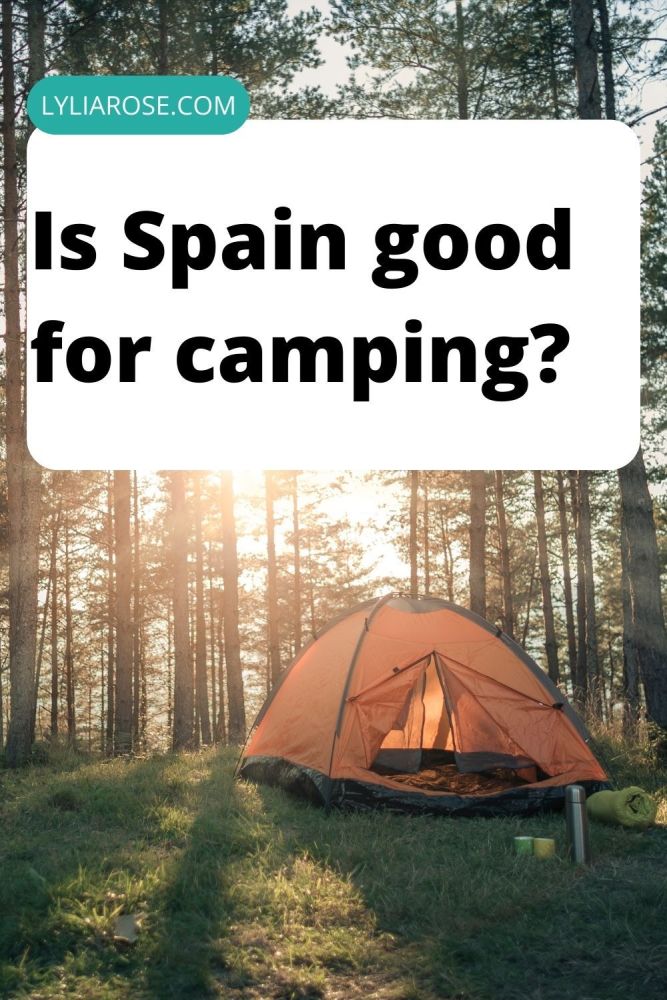 Is camping popular in Spain?
Yes, camping is a popular activity in Spain. With its diverse and beautiful landscape, good weather, and affordable prices, Spain is an attractive destination for campers. There are a wide variety of campsites available throughout the country, ranging from small, rustic sites in the countryside to large, resort-style facilities with amenities such as swimming pools and restaurants.
You can find some of the best campsites in Spain on the website Canvas Holidays who explain that camping holidays in Spain are "a glorious combination of sunshine, sandy beaches, rocky coves and traditional fishing villages, side-by-side with lively modern resorts. Couple that with the fact that campsites in Spain are of a fantastic quality and you have the recipe for a great holiday in the sun."
Spain is home to several national parks and protected areas that offer excellent camping opportunities, such as the Pyrenees, the Sierra Nevada, and the Picos de Europa. These areas offer beautiful scenery, hiking trails, and other outdoor activities for campers to enjoy.
In addition to traditional campsites, Spain also has a growing number of glamping (glamorous camping) options, which offer a more luxurious camping experience with amenities such as hot tubs, private bathrooms, and fully-equipped kitchens.
Overall, camping is a popular and well-established activity in Spain, with a wide range of options available to suit different preferences and budgets.
The advantages of camping in Spain
One of the biggest advantages of camping in Spain is the country's stunning and varied landscape. From the sandy beaches of the Mediterranean to the lush forests of the Pyrenees, there is no shortage of beautiful locations to pitch a tent. Additionally, the good weather in Spain makes it a great place for outdoor activities like camping, with temperatures ranging from the mid-60s to mid-80s Fahrenheit in most parts of the country.
Another advantage of camping in Spain is its affordability compared to other vacation options, making it a great holiday choice if you're looking for things to do with kids in Spain. Campsites and other facilities for campers, such as restrooms and showers, are widely available and can be a more cost-effective choice than staying in a hotel or resort.
The drawbacks of camping in Spain
However, there are also some drawbacks to consider when it comes to camping in Spain. One issue is the crowds and busy tourist areas, which can make it difficult to find a secluded camping spot. Some campsites may also become overcrowded during peak season, which can be a challenge for those seeking a peaceful and quiet camping experience. Additionally, depending on the location, you may encounter problems with wild animals such as snakes or ticks, which can be a concern for some campers.
Is camping in Spain safe?
Camping in Spain is generally considered safe, as long as you follow some basic safety guidelines and take common-sense precautions. Here are a few things to keep in mind:
Choose a reputable campsite: Look for campsites that are well-maintained and have good reviews from previous campers. This can help ensure that the facilities are clean and well-equipped and that the site is safe and secure.
Protect yourself from the sun: Spain has a hot and sunny climate, so it's important to protect yourself from the sun's harmful rays. Wear sunscreen, a hat, and protective clothing, and try to stay in the shade during the hottest part of the day.
Be mindful of your surroundings: Pay attention to your surroundings and be aware of any potential hazards, such as steep cliffs, fast-moving water, or wild animals. Follow any safety guidelines provided by the campsite or park, and be careful when hiking or exploring.
Keep your campsite clean: Help prevent the spread of disease by keeping your campsite clean and tidy. Dispose of garbage properly, and follow any guidelines for disposing of human waste.
Use common sense: Trust your instincts and use common sense to stay safe. If you feel uncomfortable or unsafe in a particular situation, leave the area or seek help from a trusted authority.
Overall, as long as you take these precautions and follow basic safety guidelines, you should have a safe and enjoyable camping experience in Spain.
Can you camp freely in Spain?
In general, it is not legal to camp freely in Spain. However, there are some exceptions to this rule, depending on the location and the specific regulations in place.
In many parts of Spain, camping is only allowed in designated campsites, which are generally equipped with facilities such as restrooms, showers, and electricity. These campsites typically charge a fee for overnight stays. There are also some areas, such as national parks and protected areas, where camping is allowed in designated areas but may be subject to certain restrictions, such as a limit on the number of nights you can stay or the need to obtain a permit.
In some parts of Spain, it is possible to camp "wild" or "free" in certain designated areas, such as in certain parts of the Pyrenees or the Sierra Nevada. However, these areas are generally remote and may not have facilities such as restrooms or running water, so it's important to be prepared and follow Leave No Trace principles to minimize your impact on the environment.
It is generally not legal to camp on private property or in public areas such as streets, parks, or beaches without the owner's permission. It is also illegal to camp in some natural areas or protected areas, such as nature reserves or national parks, even if you are not causing any damage.
Overall, it is important to research the specific regulations in the area you plan to visit and to follow the rules for camping in Spain to ensure a safe and enjoyable trip.
In conclusion…
Spain is a beautiful and diverse country that offers many options for camping. With its affordable cost, good weather, and varied landscape, it can be an excellent choice for those looking for an outdoor adventure. However, it's important to consider the potential drawbacks such as crowds and busy tourist areas, as well as the potential for encountering wild animals, before deciding if camping in Spain is right for you. To find the best campsites and avoid crowds or other issues, it's helpful to do your own research and consider your own preferences and needs.