No cook raw brownies - super chewy!
Posted on
Being vegan doesn't have to mean giving up chocolate!
In fact, with raw cacao powder there are so many exciting and delicious no bake cacao recipes you can make, including raw brownies and even chocolate cakes!
It's really easy to make these 5 ingredient no bake raw vegan brownies and they'll satisfy any chocolate craving you might be having. They don't even require any baking!
Raw vegan brownies are not the same as regular sugar filled and animal product containing brownies. No, they don't taste the same. Instead raw brownies are made with all natural ingredients (fruits, nuts and seeds) quite rightly have their own taste and own style.
Calling them 'raw' means they are made with natural wholesome ingredients in their original form and the ingredients don't need to be cooked. This means they retain as many nutrients as possible.
Some of the tastiest vegan brownie recipes call for the luxurious and very expensive medjool dates, but I have made this raw brownie recipe without medjool dates and they are still super delicious!
Read on to make your own easy vegan raw brownies at home.
Delicious

no bake raw vegan brownies recipe
Ingredients
2 cups soaked pitted dates
1/2 cup cacao powder
1/2 cup cashews
1/4 cup raisins
1/4 cup almonds
About the dates - Most of the raw chocolate brownie recipes I've seen require medjool dates. Well, they are very tasty, but very expensive for a small quantity. I had huge 1kg bags of regular pitted dates in my cupboard so wanted to see if these made some just as well. And, they do.
Simply soak the dates in a bowl of slightly cooled boiled water whilst gathering the rest of the ingredients. This helps to make them sticky which really helps to bind everything together.
Method
Put all the ingredients into a food processor & pulse until they form a big sticky lump!
You might get to the point where you think it's not happening and then suddenly it all clumps together into a lovely big ball. Hurrah!
Press the mixture into a relevant sized freezable tub and freeze for one hour before transferring to a fridge.
Cut into squares and eat! Yum!
Super chewy vegan brownies!
These are super duper chewy thanks to the addition of raisins, which in my opinion are the best kind of brownies! Of course brownies need a crunch too so this comes from the creamy cashew chunks.
If you want less chunky nuts, just grind these up into smaller pieces in the food processor before you add the other ingredients.
Sticky, chewy, chocolatey, healthy raw brownie goodness you can't resist!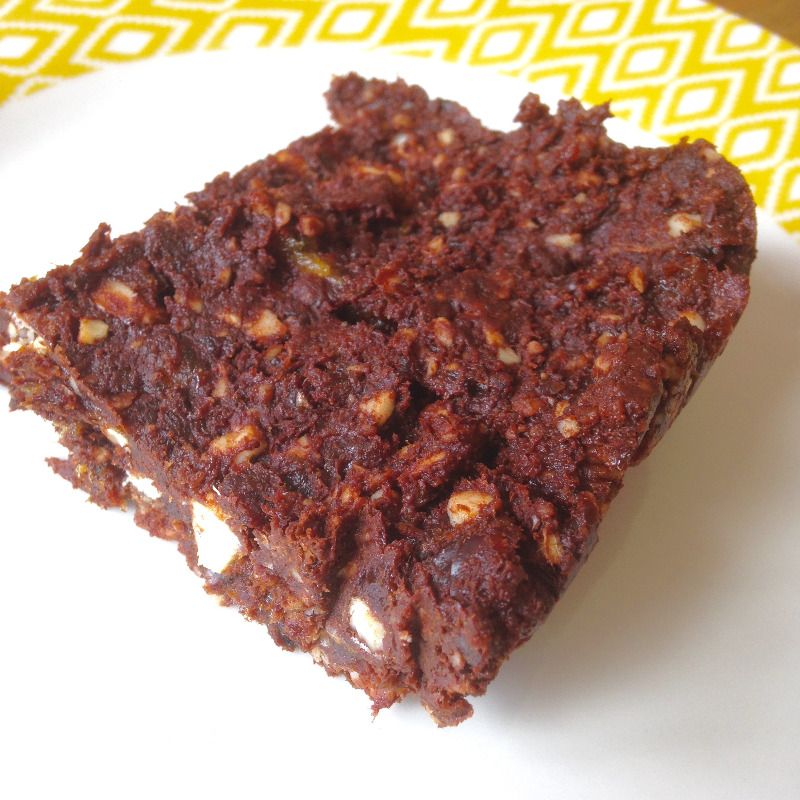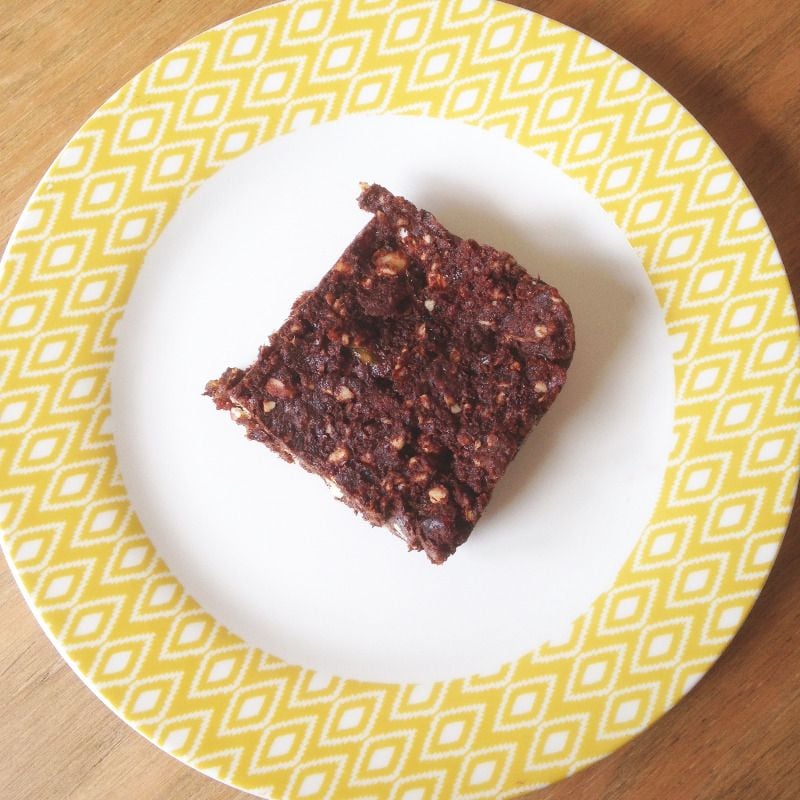 What are the health benefits of raw cacao?
Raw cacao powder is similar to cocoa powder, but it is cold pressed and much more unrefined. Therefore it is a lot better for you as it retains many of the nutrients that would otherwise be lost when a lot of processing occurs.
Cocoa powder is usually heated by roasting which reduces its nutritional value.
Cacao is a superfood as it has a very high nutrient content, including many antioxidants.
Here are some of the health benefits of cacao powder:
More antioxidants than red wine and green tea
A rich source of minerals, especially magnesium
Also a source of vitamins including vitamin C
They contain Omega-6 fatty acids
Can make you feel good thanks to its phenethylamine (PEA which is a neurotransmitter responsible for the feeling of love) and serotonin content
It has a low GI so won't spike your blood sugar levels
Boosts energy and therefore reduces fatigue
Can I use cocoa?
Of course you can! It won't have such a rich chocolatey taste, but it will still be yummy I'm sure!
The ingredients I listed are all quite easy to find, especially online with fab online health food companies like The Raw Chocolate Company or Nutriseed selling them as well as well-known Holland and Barrett. You can even get raw cacao powder in most supermarkets now, usually by the nuts and seeds.