Growing patio veg update
Posted on
Oh my, oh my, oh my! I'm actually growing things and they are really growing! I have been super excited the past week as I have been growing vegetables in pots and sacks on my patio and the vegetables are actually beginning to appear and take shape!
I am an absolute beginner at growing vegetables and have never done it before. I had no idea if it would work. I live in the UK and growing things is quite seasonal. I was so worried I might have planted the seeds too early or potted the plants outside when it was still too cold or maybe even too late and the seeds wouldn't sprout or the plants would just die.
Before now I couldn't even keep a cactus alive, but the old me is gone and the new green fingered me has taken hold!
It's all thanks to having a garden that is my own for the first time ever. I have the opportunity to grow things and I don't think there's anything better than being able to grow food to eat.
I now spend a considerable amount of time in garden centres, as well as online grow your own veg forums attempting to clue myself up with some basic knowledge. I have stuffed my brain with so much beginner's knowledge about growing patio veg the past few weeks. I am starting to feel as though I can actually offer a little advice, or enjoy a conversation about the topic at the very least!
I really wanted to find some fast vegetables to grow so me and Bella didn't have to wait for ages to see the fruits of our labour, but I also wanted some easy to grow vegetables. I'm a busy working mum so kind of just wanted something that didn't take a lot of effort! Lazy vegetable growing if you will :)
Here are some photos of our potato sacks, courgettes and tomatoes that are all growing. Yay!
Growing vegetables in pots on the patio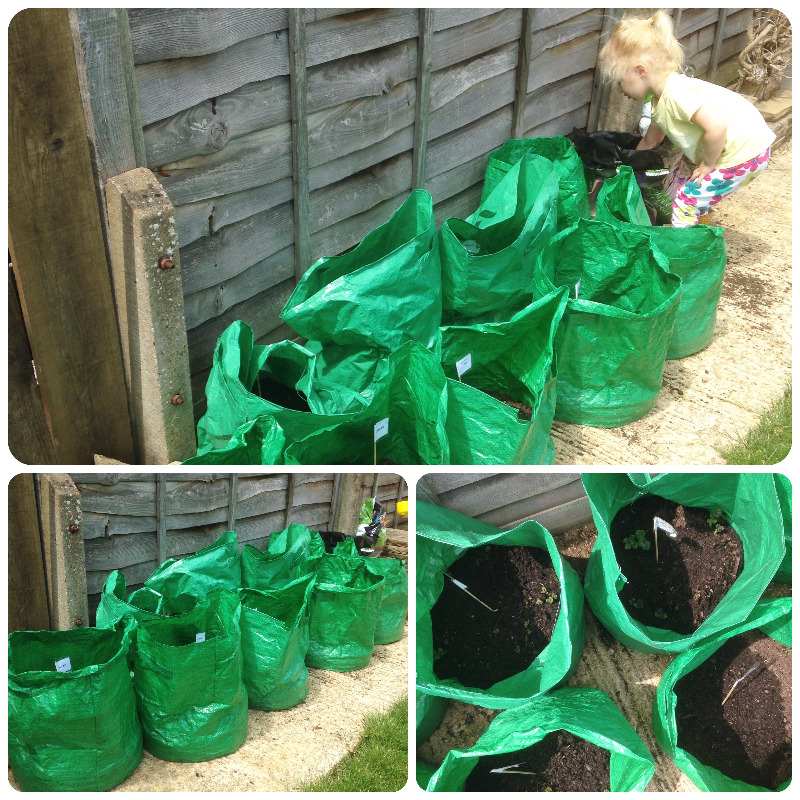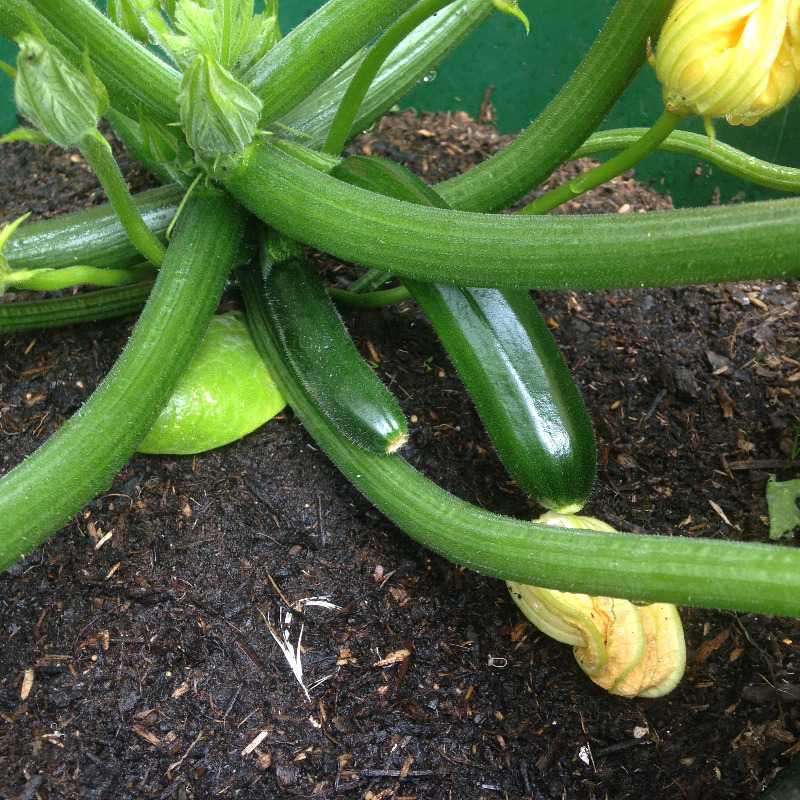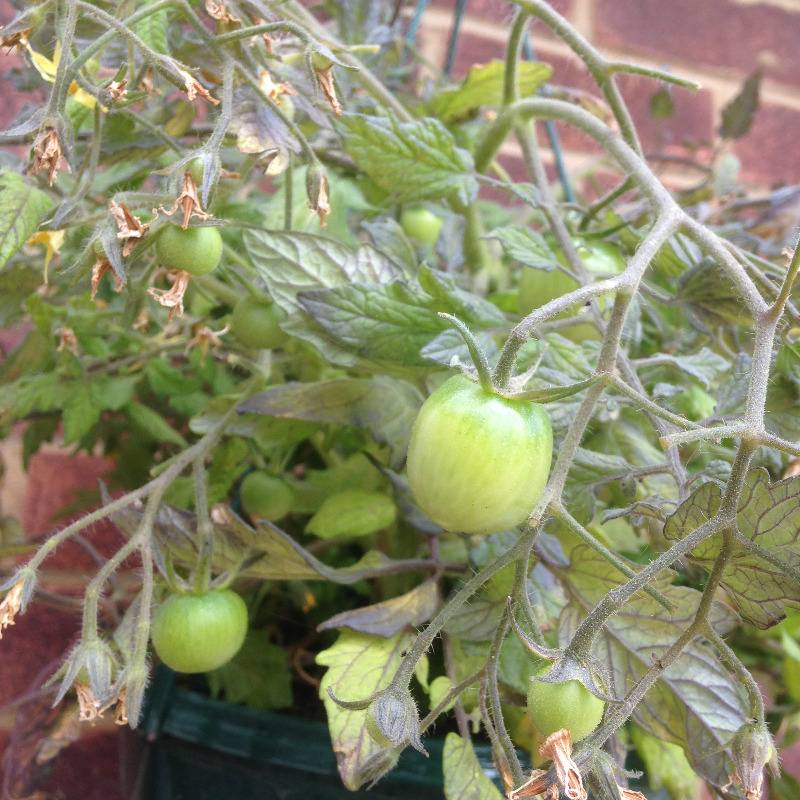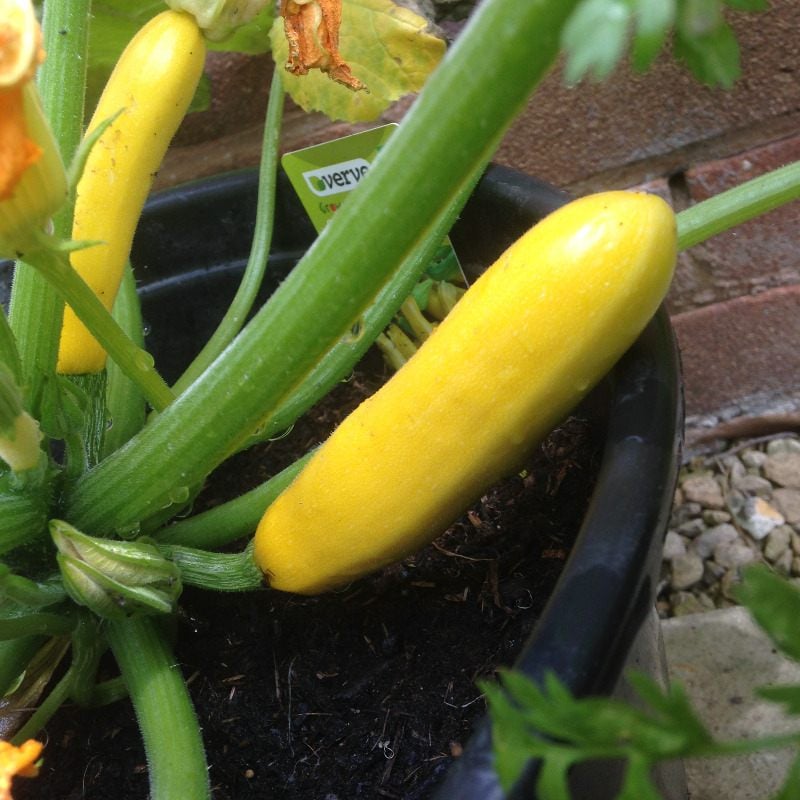 I wasn't too worried about the potted veg (carrots, courgettes, peppers and tomatoes) as these had already started growing, so I just had to water. Easy peasy!
If you're a total newbie like me then it's a lot easier to buy some vegetable plants that have already started growing from the garden centre. Plus it's good for the kids as they can see something right away!
All you have to do is remember to water them.
What about planting from seed though?
The potatoes were another matter though. I planted these from seed and had no idea if they would grow. Yep, I've heard they are super easy to grow, but this is me who knew absolutely nothing about growing veg and has never grown anything from seed before. I kept eagerly checking each day, well, perhaps a couple of times per day and not much seemed to be happening...
Then, boom!
Out of nowhere most of my ten sacks had three inch shoots and leaves shooting up through the compost.
How do they suddenly grow so fast? It's astonishing!
With the potatoes as soon as the green leaves start coming through I have to simply cover them with soil until they poke through again and keep doing this until I'm at the top of the sack. This encourages them to keep growing and growing and creating more potatoes!
Braving it with more seeds
Feeling excited with my success so far, I searched for something I could plant from seed outdoors this month.
I chose Kale Cavolo Nero (black kale) which is supposed to be quite hardy and should be ready to harvest in autumn. I've planted some seeds in small pots and I have my fingers tightly crossed they will germinate!
I've also planted carrots and leeks which should be really easy to grow from seed. Fingers crossed!
Update - the carrots and leeks are really easy to grow from seed! I ended up purchasing some vegetable trugs and growing lots from seed. I cover the trugs with insect mesh netting until the seeds have sprouted to a few inches so the carrot fly can't get at them until they're big enough to fend for themselves. The leeks are really hardy and grow right through winter and autumn surviving frost, so these will be a great vegetable to grow in the winter months to enjoy some homegrown veg once summer and autumn is over!
More grow your own blog posts
Easy grow your own vegetables for children through the seasons
Growing your own: a goal for the New Year? Tips to get you started
Is it time for you to grow your own vegetable garden?
6 benefits of allotment gardening