Inspiral cacao nibs energy balls
Posted on
I finally purchased my first bag of cacao nibs! I've been using cacao powder for a while now and enjoying making lots of healthy chocolate recipes, but I really wanted to make some cacao nibs recipes too as they are like healthy chocolate chips!
I ordered my cacao nibs from a food brand called Inspiral directly from their website. I've mentioned these nibs previously in a lot of my food posts and have kept saying I'll get some. Well, I finally did it and they are great!
In this blog post I'll share a delicious cacao nibs energy balls recipe I have made. It's so easy - it doesn't even require any baking. Perfect for lazy bakers like me! I love easy, quick, delicious recipes.
Vegan no bake cacao nibs energy balls
I've eaten them in lots of raw food snacks I've purchased so I knew I liked them already. They are so handy as a substitute for unhealthier chocolate chips or just thrown onto muesli for a much more exciting breakfast. I have even made some new energy balls with them!
Cacao nibs come from just inside the cacao bean when the skin is peeled back. They have a rich, slightly bitter, dark chocolate flavour and an addictive crunch. Being cacao nibs, they are 100% raw, meaning they are not roasted to high temperatures (like cocoa) and no other ingredients are added. Here's a great article I read all about the benefits of cacao nibs.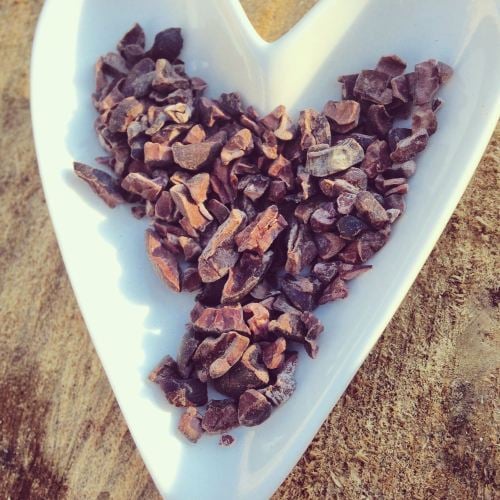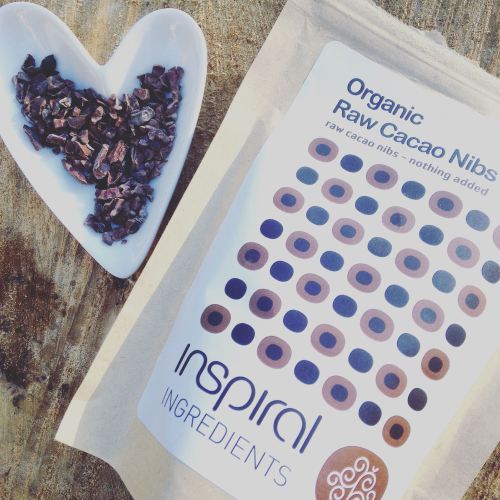 Cacao nibs energy balls recipe
Since making my first few batches of bliss balls such as these delicious no bake peanut butter balls, I have become obsessed!
They are so easy to make and the perfect wholesome treat for adults and kids.
They always last really well in the fridge too or even in the cupboard if they are drier balls.
I've made all sorts of energy balls using various concoctions of ingredients from our cupboards. All sorts of dried fruits, nuts and seeds.
Whilst it's great to nibble on some raw cacao nibs for a quick chocolate fix, they are amazing added to recipes like energy balls as they add a chocolate crunch! They are the chocolate chips of the raw healthy chocolate world!
Ingredients
1 Jar Meridian Cashew Butter (or your favourite small jar of nut butter)
1 Small Mixing Bowl's worth of Dates (soaked in warm water for 20 minutes, then drained)
1 Cup Oats
1 Cup Milled Flaxseed
1 Scoop of Goji Berries,Cacao Nibs, Cacao Powder, Chia Seeds, Pumpkin Seeds and Sunflower Seeds (these can be switched for whatever seeds and dried fruit you have available)
This made a big batch of these yummy balls!
Method
I popped everything, except the dates (which were soaking whilst I gathered the other ingredients and did this), into my food processor and processed until they had mixed really well.
Once the dates had soaked in warm water for at least twenty minutes to make them really sticky, I added them to the mixture gradually. I processed for around 20-30 seconds each time I added some, until they were all in. I probably processed for around 4-5 minutes in total, but in 20-30 second intervals with a rest in-between. My machine processes for a maximum of 60 seconds in one go, so I didn't want to tire it out!
Eventually, the mixture will come together in a big ball and it's ready. I roll them into chunky balls and pop into paper cupcake cases. You can eat them straight away, but I think they're much tastier eaten directly from the fridge the next day.
Eat and enjoy!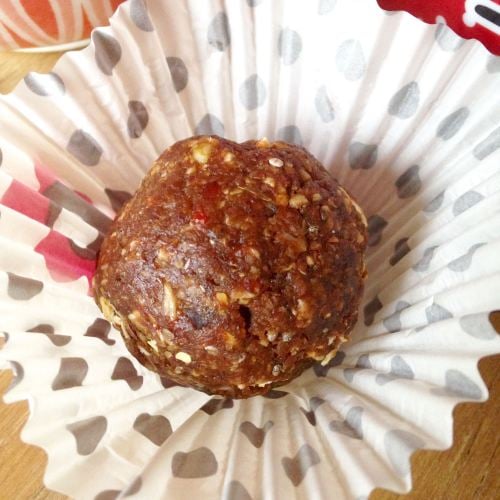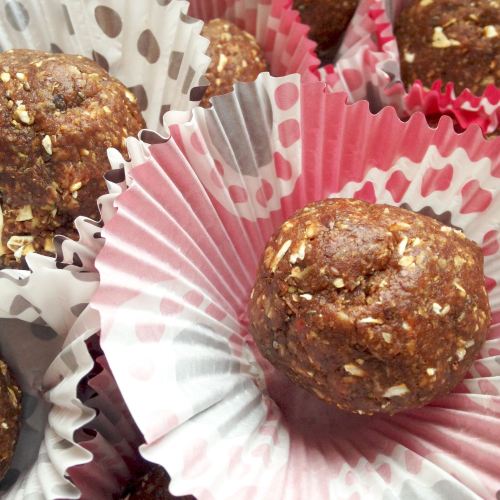 These are fantastic for a quick healthy energy boost or to satisfy a sweet snack craving at any time of the day. In little paper wrappers, tied in a box, they also make a wonderful homemade gift for a loved one.
What are the benefits of raw cacao?
There are many health benefits of raw cacao powder. Here are a few to give you some insight:
More antioxidants than red wine and green tea
A rich source of minerals, especially magnesium
A source of vitamins including vitamin C
Contains Omega-6 fatty acids
Can make you feel good thanks to its phenethylamine (PEA which is a neurotransmitter responsible for the feeling of love) and serotonin content
It has a low GI so won't spike your blood sugar levels
Boosts energy and therefore reduces fatigue