My Pumpkin Lantern & Pumpkin Soup Recipe!
Posted on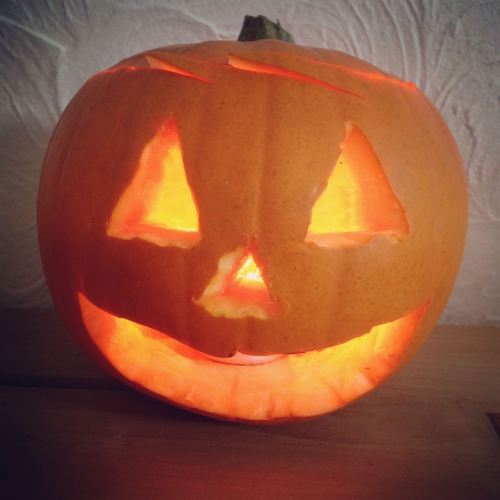 My Pumpkin Lantern & Pumpkin Soup Recipe!
For the first ever time yesterday, I carved a pumpkin! So, it's not a masterpiece, but I was still pretty chuffed with my beginners efforts! Bella absolutely loved it too, so I'm going to make carving a pumpkin a yearly tradition and let the children help me as they grow older.
Not wanting to waste the insides I scooped out, I decided to make pumpkin soup. Bella excitedly chanted 'pumpkin pie, pumpkin pie' as this is a story from Peppa Pig! Not being a pie maker, but instead a pretty awesome soup maker, I convinced her otherwise! Pumpkin soup, shall too, be a yearly tradition for us. We supped away at it on our spoons whilst enjoying the flickering glow of our freshly carved pumpkin head. It was quite a magical halloweeny themed evening (or pumpkin party as Bella called it) and I look forward to enjoying this moment each and every year from now on.
Easy Spiced Pumpkin Soup Recipe (for three)
Ingredients
As much of the flesh and pulp as you can scoop out of an uncooked smallish pumpkin!
2 parsnips
2 carrots
½ white onion
1 sweet potato
A spoonful of stock powder
A sprinkle of cinnamon
A small piece of ginger (approx. 1x1cm)
Method
Peel and chunkily chop all the veg and add to a pan.
Cover with water – enough so the veg are just covered.
Add the ginger, cinnamon, stock and mix in until the stock is dissolved.
Bring to the boil.
Turn heat down, add lid and simmer for around one hour until everything is super mushy and smells delicious.
Carefully pour into a heat resistant blender jug and blend until smooth.
Best served with chunky slices of warm homemade wholemeal bread (I make ours with four ingredients, simply water, wholemeal bread flour, butter and yeast and it's super tasty with no sugar or nasties)
Enjoy!