Healthy snacks: white mulberry, cocoa and chia balls recipe
Posted on
I received this rather nutritious and delicious bundle from Nutriseed yesterday. It felt like Christmas! For me a package like this is ideal. It gets me super excited! As much as I can imagine another woman squealing with delight over a new pair of shoes, I squeal with delight over a box of superfood ingredients! So much so, that for my birthday and Valentines Ben will present me with a brown paper bag filled with goodies from Wholefoods! He knows me well.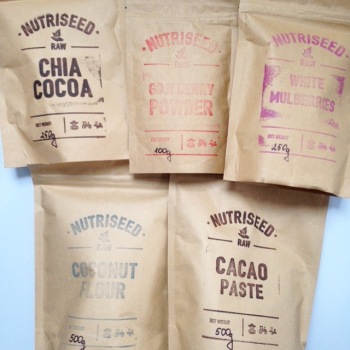 Nutriseed have a bunch of new ingredients including the five I received – dried white mulberries, goji berry powder, chia cocoa, coconut flour and cacao paste. I was especially excited to see the dried mulberries (as you may have gathered!) as I've had these many times before and they are delicious. They're like tiny chewy toffee flavoured sweeties, BUT, they are a superfood! They are a dream!
The other ingredients are all new to me. I've had goji berries, but the powder is a fab idea. Chia cocoa is a mix of two fabulous superfood ingredients making chia puddings even easier to make. Cocount flour just sounds superb and it smells divine. The cacao paste is solid, rather than a paste, but can be grated into so many recipes or a chunk melted into a luxurious hot choccie – yum!
I first made some rather delicious white mulberry balls. I already had the idea in my head before the package arrived and just had to see straight away if it would work. I thought perhaps the white mulberries would act as the glue and stick my balls together. This sadly didn't work and I resorted to my trusty dates to bind the ingredients into a sticky scrumptious mass. I did think about using nut butter, but I didn't want to mask the white mulberry taste, my star ingredient for these balls!
If you love a naughty midmorning nibble or a cheeky biscuit with a cup of tea, these are a perfect healthy alternative! They are so quick to make and taste incredible.
White Mulberry, Cocoa and Chia Balls Recipe
Ingredients
1 cup of Nutriseed dried white mulberries
1 cup soaked dates (I use regular dates soaked in boiled water for a short while to make them super sticky)
¼ cup Nutriseed chia cocoa
1.5 tablespoons of Nutriseed coconut flour (and a teaspoon extra to dust the balls)
1 tablespoon of Nutriseed goji berry powder
Method
Once the dates have been soaked for a few minutes, drain them and pop them in your food processor. Add all the other ingredients and blend away! Around 30 seconds should do it. Roll them into balls in your hands, roll in some coconut flour and roll again in your palms to rub it all over the ball. Voila! Yummy white mulberry chocolatey slightly crunchy chewy balls!
These are good to eat immediately or you can pop them in the fridge for a while if you prefer a firmer texture. I find the softer texture a little easier as I'm wearing a brace currently, so I'm keeping these in an air tight container in my cupboard. This mixture made eleven balls. I'll be doubling it up soon to make another batch as they are so tasty!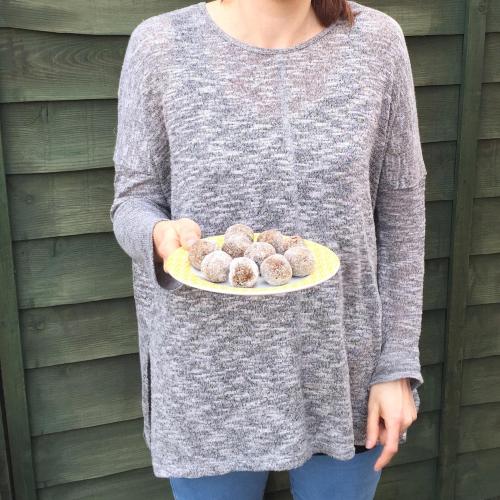 White Mulberry Benefits
Contain a decent amount of fibre contributing to healthy digestion
Excellent source of vitamin C which is good news for your immune system
High in iron, which is unusual for fruit, so great for blood and circulation
Packed with antioxidants which help to prevent cancer
Native to eastern and central China
Contain vitamins A and E which are fab for healthy skin
Contain chemicals which slow the breakdown and release of sugars in the gut, so can be beneficial for people with diabetes
A decent source of protein for a fruit – 3.5g per 100g
And the best fact is they are totally delicious!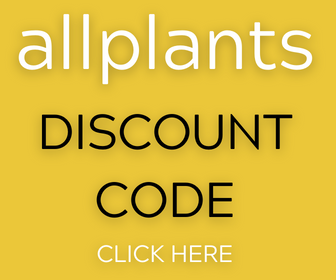 Save