Choosing The Right Location For a Family Home
Posted on
Are you considering moving to a new location with your family, but struggling to decide where to go?
Choosing the right location for your family home is a crucial decision that requires careful consideration. After all, you want to ensure that your family is happy, safe, and has access to all the amenities they need.
In this blog post, we'll provide you with some helpful tips to help you choose the best location for your family's new home. From schools and safety to affordability and leisure activities, we'll cover all the essential factors you should consider before making a decision.
So, let's get started and make your move a stress-free and enjoyable experience for you and your family!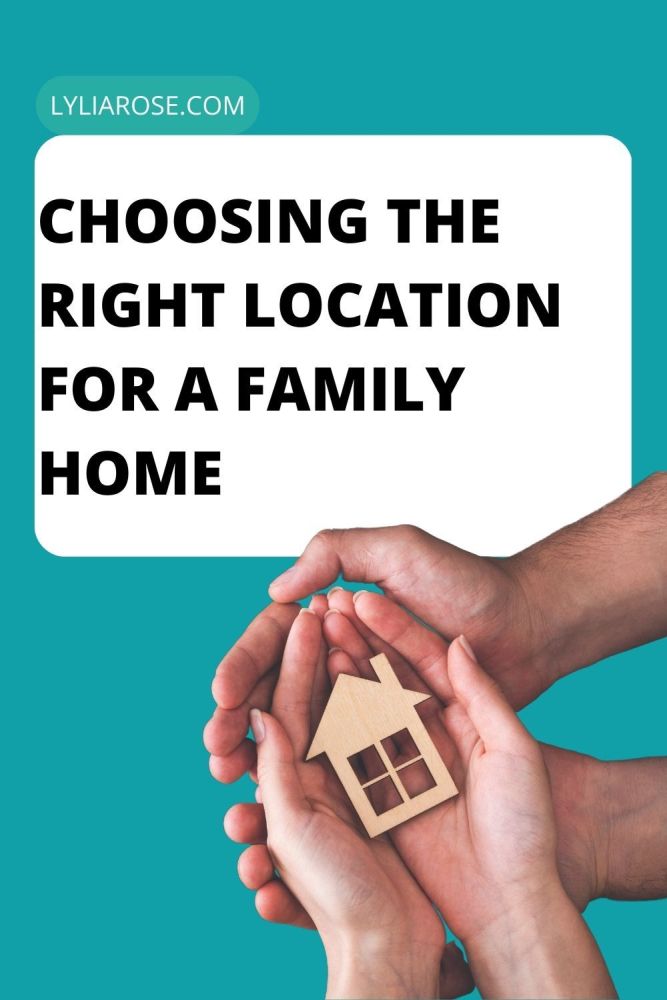 Tips for choosing a good location for a family home
When you have a whole family to think about, deciding where to move to can be a real headache. There are so many things that have to be taken into consideration. But it's certainly worth keeping these things in mind when you're choosing the location. Because if you don't, your family life could suffer later on. Perhaps you already bought your first family home and now you are moving to accomodate your growing family or as the children are getting bigger. Whatever the reason, here are the things to think about when choosing a good location for your new family home.
Schools
Before taking the first steps towards moving to a new location, you should consider your children. A move is always going to have an impact on their lives unless they're still too young to be affected. But you can make it easier on them and better for them by choosing a location with a good school. Look at the school reports and choose an area that would allow them to get access to the best local school. Think about primary schools and also how easy it is for them to get to their preferred secondary school.
Distance from work
You'll need to be as close to work as you can be without being too far away from the children's school. It's a difficult balance to get right, but it's an important one. When you are driving long distances between home and work, your commute can take a long time. And the longer your work commute is, the less time you'll have to spend at home with the family. That can be a real strain on your family, so it's something you'll have to consider carefully.
Safety and security
Everyone wants to keep their families safe all year round. That's why it's vital to think about the safety of an area before moving there. Of course, nowhere is completely safe, and crime occurs everywhere. But you can get a good idea of how safe a town or neighbourhood is by looking at the crime statistics. It's perfectly understandable that you, as a parent, would want to move to a place that has less crime. You can add your own securities measures to the home when you move in too.
Affordability
Budgets can be stretched whenever you're buying a home. But we all know that they're stretched even more when you have young children to feed and cater for. They take up a large amount of your income, and you'll need to find a house that's affordable. But some locations are more affordable than others. And you might be able to get slightly more for your money if you think about moving to a slightly less popular part of the country.
Leisure activities
Kids need to be kept entertained during school summer breaks and weekends. So, that means that you'll need to find a place that offers them leisure activities that they can enjoy. If you're living out in the middle of nowhere and there are no activities for them to enjoy, then you could be in trouble. That would mean that you have to keep them entertained at home all the time, which isn't easy. Research what kinds of leisure activities are on offer before deciding to move to a particular location.
Community
The sense of community is an important factor to consider when choosing a location for your family home. A strong sense of community can provide a support network for you and your family, especially if you are new to the area. Look for neighbourhoods that have active community organisations and events, such as block parties, neighbourhood watch programs, or local volunteer groups.
Proximity to family and friends
Being close to family and friends can be an important factor for many families. Consider the proximity to extended family members and close friends when choosing a location for your family home. Being near loved ones can provide additional support and help when needed, as well as provide a sense of familiarity and comfort.
Outdoor space
Outdoor space is an important consideration for families with children, especially for those who enjoy spending time outdoors. Look for neighborhoods that have parks, playgrounds, or other outdoor recreational spaces nearby. Also, consider the size of the garden and whether it is suitable for children to play in.
Transportation
Access to public transportation is an important consideration for families who do not have a car or for those who prefer not to drive. Look for neighbourhoods that have good access to public transportation, such as buses or trains. Also, consider the walkability and bikeability of the neighborhood, especially if you have children who will need to walk or bike to school.
Local amenities
Consider the local amenities available in the area, such as grocery stores, restaurants, and shopping centres. Having these amenities nearby can make life easier for busy families who need to pick up groceries or run errands quickly.
Final word
In conclusion, choosing the right location for your family home is a crucial decision that requires careful consideration. Taking into account factors such as schools, proximity to work, safety and security, affordability, leisure activities, community, outdoor space, transportation, and local amenities can help you make the best decision for you and your family. By doing your research and planning ahead, you can ensure that you find a location that meets all of your family's needs and enhances your quality of life.