9 healthy ways to use overripe bananas
Posted on
We either seem to run out of bananas before the week is up, we have far too many, or they ripen really quickly. There's never a happy medium! But, fear not if you have loads of overripe bananas as there are some super quick and healthy ways you can use them.
Don't throw them out! Instead, here are 9 easy ways to use overripe bananas: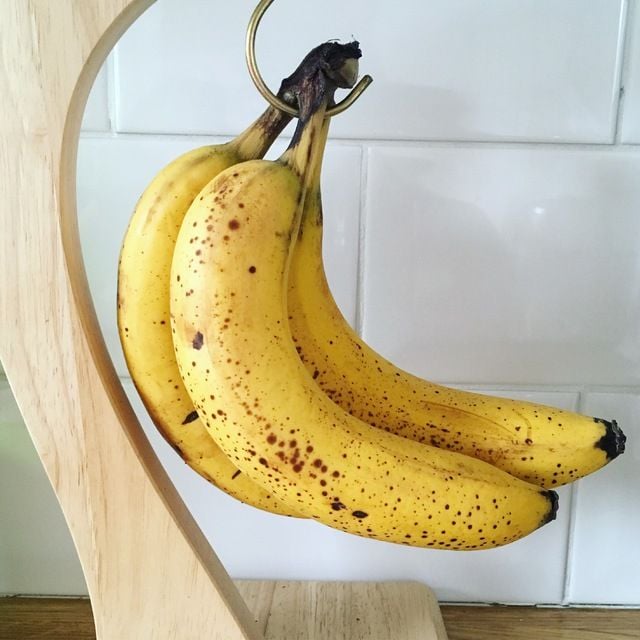 Freeze them – if you're not feeling overly peckish and won't use your too ripe bananas any time soon, just peel them, chop them into halves (or slices), lay them out on a tray or in some freezer friendly Tupperware and freeze them. Yep, you can freeze bananas! Once frozen, you can use them for some of the fabulous ideas below. Just make sure they're not touching too much or they'll really stick together!


Smoothie – so easy and quick if you have a blender or smoothie machine (I love the Nutri Ninja). Chuck a couple of bananas in with your favourite green fruit & green salad, top up with water, blend and hey-presto! A delicious and nutritious green powered smoothie. The bananas help to create that smooth smoothie texture.


Banana milkshake – for the best banana milkshake blend a frozen banana or two with lots of milk (or mylk). Quick and easy. My daughter's favourite drink!


Banana ice lollies - blend the bananas with milk (or mylk) on their own or add your favourite berries for extra fruity goodness. Pour into ice lolly moulds and freeze. Perfect for little ones (and big ones) on hot summer days.


Rice cake topping – great for kids too. Mash up the bananas and spread onto wholegrain rice cakes for a great energy fuelled snack.


Banana Pancakes – mush them up and spread onto warm pancakes. Delicious! Why not make your own pancakes and make a banana pancake wrap?


Banana bread – add mashed up banana to your bread mix for a delicious banana-ry loaf! Even easier if you have a bread maker – just chuck them in and let the machine do the mixing.


Banana ice cream – almost the same as making the milkshake above, but use more frozen bananas so it's super thick and to help freeze the mixture. If you don't have enough frozen bananas, try throwing in some ice cubes to freeze the milk. A fab healthy frozen treat that's ready in no time at all.


Eat them! If you are feeling hungry or reaching for a naughty snack, then stop and eat those ripened bananas instead of something unhealthy. Your body will love you for it.
What are your favourite ways to use overripe bananas? Let me know in the comments!