Thermae Bath Spa review
Posted on
Read on for my honest Thermae Bath Spa review. I went as a couple with my husband and these are our thoughts.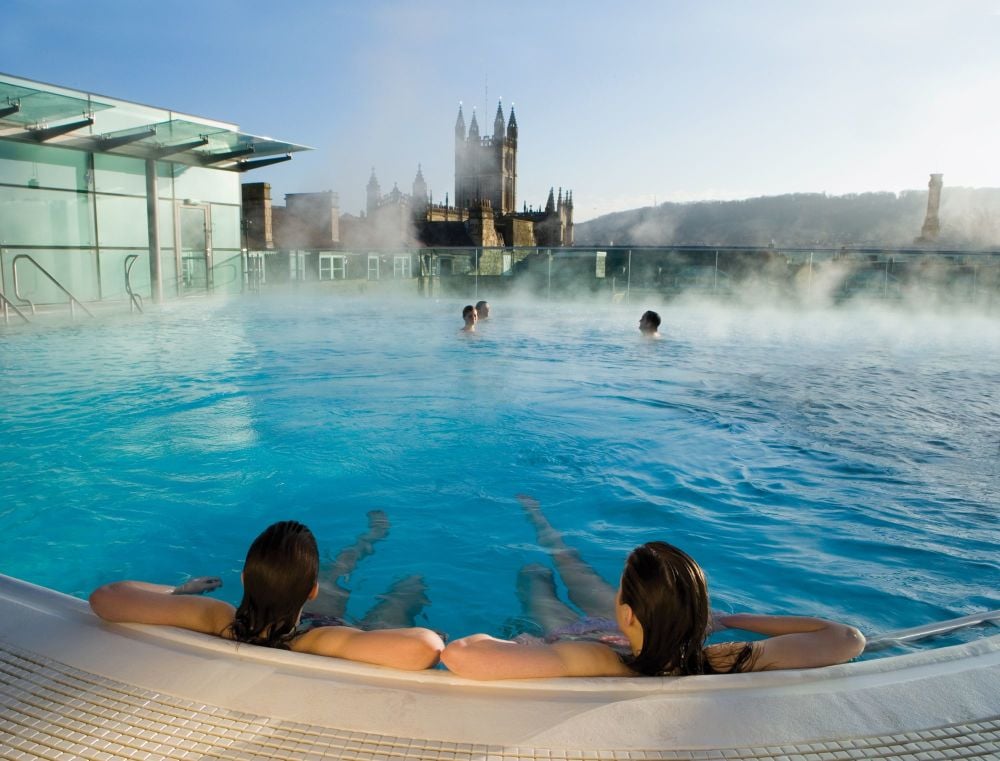 Image Credit: Matt Cardy & Thermae Bath Spa
Thermae Bath Spa review
Thermae Bath Spa is somewhere I've wanted to visit for a long time. I'd seen several photos of their incredible rooftop pool online which looked so amazing!
We finally arranged childcare at the end of September and treated ourselves to a 'Thermae Welcome' package in the New Royal Bath.
The package included a 2 hour spa session, luxury robe and slippers for, at first glance, a pricey £37 each. Since going, I now think this price is totally worth it in my opinion for a once in a while indulgent treat! I'd misread the website and thought we had a 4 hour session, so was surprised it was only 2, but actually this was more than enough.
We even left a little earlier than the two hours feeling relaxed, refreshed and rejuvenated!
If you eat at the spa restaurant your time counter stops so you won't lose any spa time.
Unfortunately the only vegetarian meal contained alcohol so we didn't eat there, which was a shame as I really wanted to experience eating my lunch in a restaurant in a robe and slippers!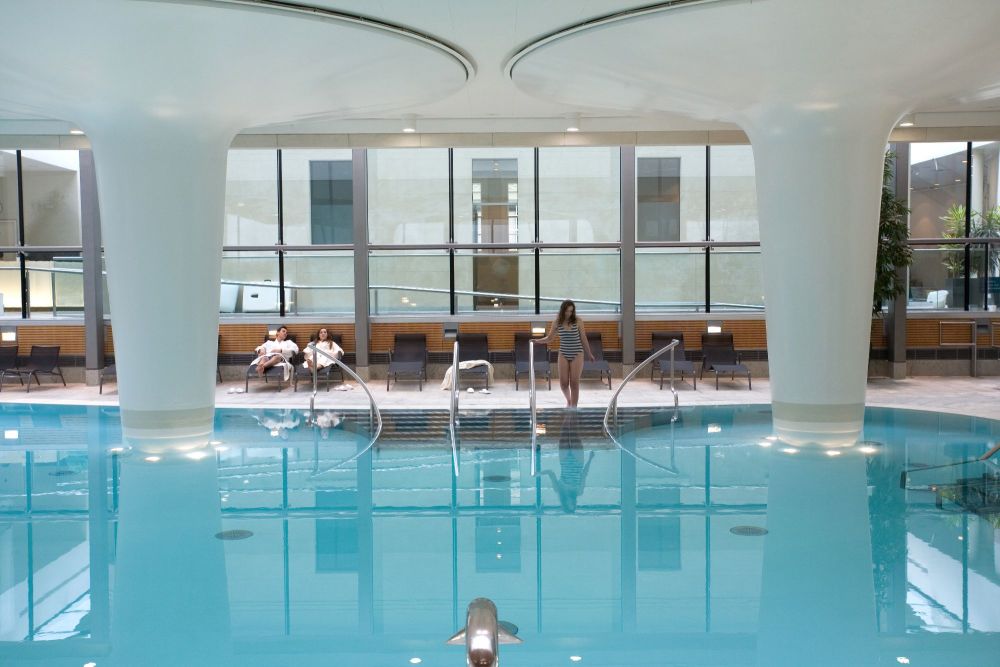 Image Credit: Dave Saunders & Thermae Bath Spa
After changing into our robes and slippers we used the very white staircase to walk to the Minerva Bath. I wanted to giggle on the steps as the experience is quite bizarre!
It's super white everywhere and feels quite futuristic or like we were in a film as we passed several other people dressed in white robes and white slippers!
I felt like I could be in one of those films about lucid dreaming or something and we were on our way to have our brains zapped! Perhaps this is a more normal experience of a spa day for you, but the ones I've been to before only have one level so it's more of a pool experience, out of the changing rooms and straight into a pool. This is the first time I've been to one on several levels.
As soon as we entered the water we were so impressed. It was so warm! I must have said to Ben at least ten times 'why don't they make all swimming pools this warm?'
Obviously this is a spa, but I can't stand when I go to a swimming pool and the water is so cold I spend most of the time with goosebumps and emerge with blue lips.
The temperature of this water is so much more satisfying!
The Minerva Bath has a lazy river which was great fun! Grab a float, lie back and let the jets move you along – super relaxing. We spent a lot of our time just bobbing about in here enjoying the warmness.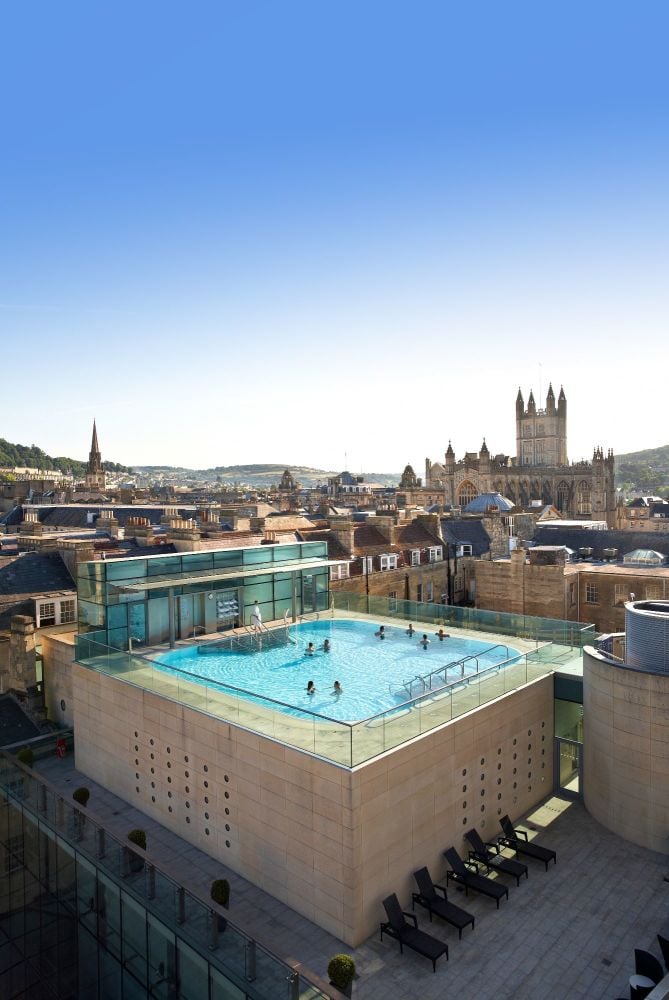 Image Credit: Philip Edwards & Thermae Bath Spa
Next we went up to the pool I had been eagerly awaiting to see the whole time – the open-air rooftop pool! It was pretty busy, but we luckily managed to grab a spot next to the side with a view over Bath and the countryside hills – perfect!
Although it was the end of September and quite nippy outdoors, the sun was shining and felt so warm on our faces. With my eyes closed I could have almost convinced myself I was abroad on holiday! It really was so pleasurable I could have stayed in this pool for the entire time and happily paid the £37 to do so for an escape from everyday life and a short break from being Mummy!
It has also convinced me that we need a holiday abroad with a pool that isn't freezing ASAP!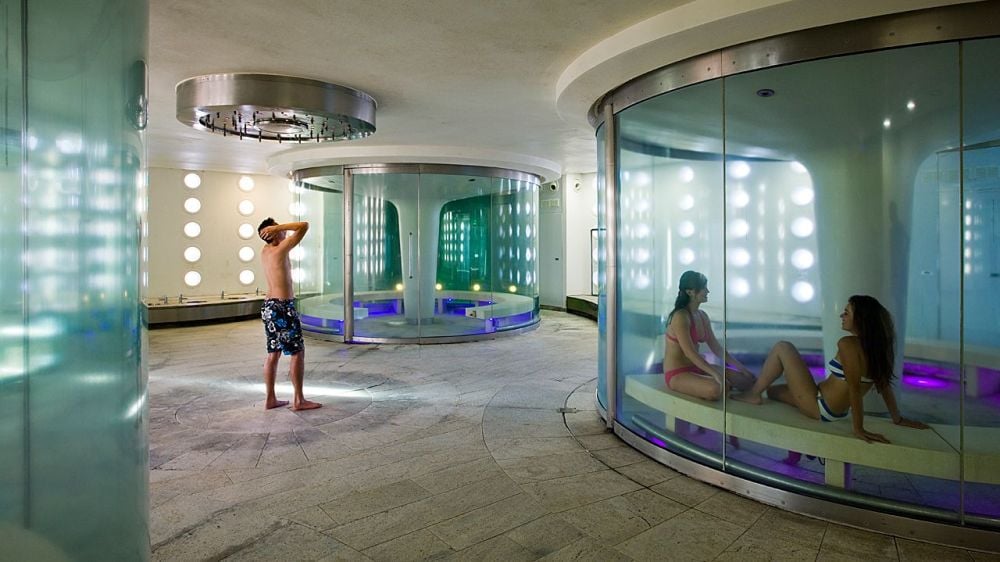 Image Credit: Rob Slade & Thermae Bath Spa
After Ben convinced me to leave this pool, we tried the Aroma Steam Rooms. These also had a futuristic feel as they were giant glass pods!
There were four in total, each infused with a different aromatic essence. I'm not a huge fan of steam rooms as I feel like I can't breathe properly, but gave each one a go, if only for a few minutes each! It's such a strange sensation not feeling like you can breathe fresh air and instantly sweating!
I do feel like the sweating does something good for my skin though. The vapours in these steam rooms also make it a more pleasant experience.
At the time of visiting they had Eucalyptus, Lemon Grass and Ginger, Sandalwood and Lotus Flower. My favourite was the Lemon Grass and Ginger - I could have smelt this all day!
If you love steam rooms then you'll really love these. I think perhaps for me it's something I need to get used to.

Image Credit: Matt Cardy & Thermae Bath Spa
Before leaving we had another visit to the Minerva Bath for another go on the lazy river. There's also a super powerful jet spray which we stood under to give our shoulders and neck what felt like a super intense massage!
My favourite part was the rooftop pool by far. I felt so relaxed with the sunshine warming my face and staring out over the views or even closing my eyes for minutes at the time that I completely forgot all life's little daily stresses and worries.
I definitely want to return for another session and make it perhaps a once a year treat. I'd love to try the evening package with food (when they have a more suitable veggie option for me) to see the contrast at the spa between night and day - I'm certain visiting at night time would reach a whole new level of relaxation!