Essential Teatox | Detox Tea Review & Giveaway *
Posted on
Please note, the giveaway has ended, but you can still read my review!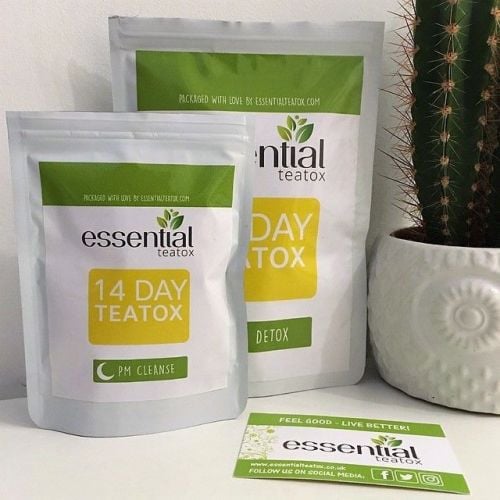 Essential Teatox | Detox tea review & Giveaway

Many of us are guilty of overindulging over the Christmas and New Year break. Even if we resist excess eating, we may still choose to make less healthy choices than usual. This makes January the perfect time to start the fresh New Year with a health kick and rid our bodies of all the toxins from December! An Essential Teatox is the perfect way to kick-start your new healthy routine.
I was very kindly sent a 14 day Essential Teatox for the purpose of this review. If you're a regular reader of my blog you'll know I love herbal tea and am a big fan of a natural wholefood type diet, so an all-natural tea with detoxing benefits is something I couldn't resist! The 14 day detox includes an AM tea to drink first thing every morning and a PM tea to drink every other evening before bed.
The tea contains 100% natural ingredients. Body loving and awesome detox ingredients such as burdock root, ginger, oolong tea, liquorice and dandelion leaves to name but a few. The ingredients have been carefully selected to pick those which purify the blood, act as a diuretic to improve kidney function (making you pee lots to flush the toxins out), anti-inflammatories, and lots of liver protecting and detoxifying ingredients. It's also a nutritious combination which will provide so much more goodness than just a detox.
Many people look for a detox for the sole purpose of losing weight. Well, I'm happy with my weight so this is never my goal. Maintaining my weight is perhaps a goal of mine, but I wasn't expecting to lose any weight with this teatox. I prefer the cleansing qualities of a tea detox and the nutritional boost it gives to my body. I felt more energised, slept better and my skin looked so much healthier whilst drinking this tea. I think I've had the least spots I've ever had in the past few years! I replaced my usual hot morning cuppa with the AM tea and still felt alert and ready to tackle the day, if not more energised than usual a few days into the trial. Toilet trips were a lot more regular; hopefully a good sign that lots of pesky toxins were going down the drain instead of damaging my body!
I'm used to drinking herbal teas daily so the taste was quick for me to get used to. I still only brewed it for a maximum of two minutes or else it was too strong and too sweet. I did find it very sweet, so it's perfect for those of you who would usually add naughty sugar to your drinks (which you should definitely stop doing, see my article Beating Sugar Addiction). I would never normally add sugar or a sweetener so the tea was a bit sweet for me, due to the natural stevia. Stevia is calorie free and helps to lower blood pressure, so I did put up with the sweet taste knowing its benefits!
It's worth noting that I exercise every day and already eat a mainly wholefood vegetarian diet. Drinking a detox tea will definitely enhance the benefits of such a lifestyle. If you usually consume a lot of junk (refined and processed foods) and don't exercise then this tea could be a good kick-start to a healthier lifestyle, but it won't replace a healthier lifestyle and results may not be as effective. If you're feeling sluggish, bloated and tired all the time, it could be time to overhaul your lifestyle and start reaping the benefits of cutting out the crap!
For your chance to win a 14 day Essential Teatox worth £19.99 enter here!
Ends 00:00 15/01/2017, UK only. Full T&Cs in the widget.
***THIS GIVEAWAY HAS ENDED***
WELL DONE TO WINNER J.HEWLETT
Save
Save
Save
Save