Today I saved big on my car insurance and MOT. Here's how…
Posted on
I realised last week it must be time for my MOT and car insurance renewal. Gah! I hate this time of year. It always springs itself upon me, but luckily this year I knew exactly where to search. I also managed to make myself a huge saving on both my MOT and car insurance by booking them through a cashback site.
Read on to see just how much I managed to save and how you can get a great discount on your car insurance and MOT too.
How I saved loads of cash on my car insurance & MOT
This time last year I wasn't getting cashback on my purchases, but now I get cashback with Top Cashback on nearly everything we buy. It's not just goods, but insurance too! I've even received cashback and a discount off my MOT today! Read on to find out how.
Save money on car insurance with annual payments and cashback offers
For the past year I've been paying my car insurance monthly. Stupid I know, as it costs more. But this time last year I'd forgotten all about my renewal and we were still paying Christmas off, so monthly payments seemed the easier and more affordable option. Luckily I budgeted for Christmas this time, so I can afford to pay my car renewal quote in full this time. For the past year I've been paying £33.43 per month, so over £400 in total! I expect the first month's payment was even more, as they usually are, so I've spent a small fortune.
My renewal quote came through today at £289 for the year if paid in full. Already quite a saving, but I decided to shop around.
I'm glad I did.
Firstly I used Top Cashback to search on confused.com for a quote. I got £2.31 cashback just for searching for a quote! Yep, you don't even need to buy anything; just search and you'll get £2.31.
The best quote there was £200, so already half of my insurance for the past year, plus £90 cheaper than my renewal quote.
I decided to also search using GoCompare via Top Cashback as they were offering £27 cashback if I went ahead with a policy from their search.
Amazingly the cheapest quote there was also £200 so I went for it! I got my car insurance for just £178 (ish) after cashback! Less than half the price of last year and over £100 cheaper than my renewal quote.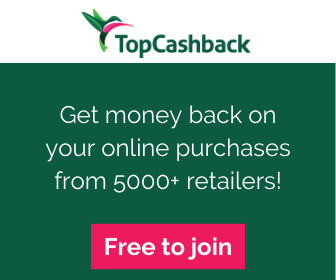 Grab a bargain MOT through Top Cashback too!
I also searched to book a MOT. Formula One are on Top Cashback and you can book online. They also have discount codes sometimes and there was one for 10% off MOTs.
I managed to book it for just £26.55 after discount and get £3.05 cashback on my MOT. My MOT will cost £23.05 after cashback.
So all in all I got a year's worth of car insurance and a MOT for just over £200 thanks to Top Cashback. Not bad right?


Click here to use my Top Cashback referral link and start saving now!
Save
Save