A bottomless brunch with Bookatable
Posted on
On Sunday I spent a rare afternoon with my Mum and sister. Not rare because I saw them, but rare because I saw them on my own without my children in tow! I don't usually eat out quite so often, but last week I had a bit of an eating out frenzy and enjoyed four restaurant meals. If only I could afford to live like this all the time it would be bliss. No washing up and being waited on hand and foot - sounds perfect to me. On Sunday we went to All Bar One in Cheltenham to review their Bottomless Brunch deal thanks to Bookatable.
All Bar One Bottomless Brunch Review, Montpellier, Cheltenham
Bookatable have some great offers online at the moment for loads of top restaurants including Free Flowing Bubbles, Free Flowing Afternoon Tea and Free Flowing Food to name a few. We chose the Bottomless Brunch as it was the only offer local to us, but if you live in a larger city you'll be spoilt for choice. With these offers you pay a set price and get either unlimited food or drink for a set time in the restaurant. We were allowed to pick a meal from a special menu for the deal which included several breakfast, brunch and lunch items and could have unlimited Bloody Marys, Prosecco or Mimosas for two whole hours for just £20.
The restaurant was ever so accommodating. Before booking I rang to see what the menu was like as I'm super healthy fussy. I spoke to two staff members on the phone and they were both so friendly and sounded like nothing would be too much trouble. I also don't drink alcohol so I wanted to confirm I could have unlimited juice instead. No problem at all!
Upon arrival we were shown to our seats and asked if we'd like our first drinks before we chose our food. This is perfect service, meaning you really can start the unlimited drinks from the moment you arrive and there's no waiting around. To ensure customers don't take the mickey, drinks are only served once you've finished one, so you cannot order multiple drinks at a time. This is fair enough and we weren't planning on getting wasted at a Sunday brunch so were quite happy to finish each drink and wait for our next. The barman Michael was on it! As soon as he saw we were nearly finished he'd come and take our order for our next round of drinks. His service was faultless.
Between us we managed 5 proseccos, 4 mimosas and 5 juices. Phew! Just the drinks alone would have cost near £60 and the meals were around £10 each, so the deal is a great saving. My mum and sister wouldn't usually drink so much alcohol at lunchtime, but as it was a special treat and part of the unlimited deal, so why not! I somehow managed 2.5 pints of juice and could not stop visiting the toilet! It was kind of a great feeling to not ration my drink and just have as much as I liked without any extra cost, which I guess is the beauty of a deal like this.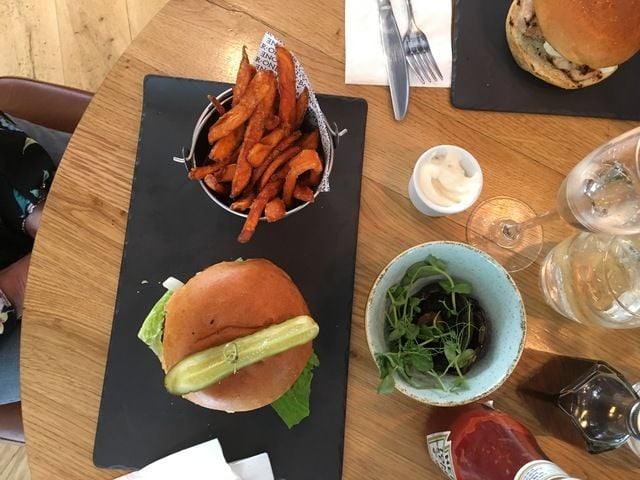 Our food was spot on. As I'm veggie and avoiding sugar and my mum is also veggie, we can seem quite fussy when we go out to eat, especially when choosing off a smaller set menu with limited choice. Lucky for us they said we can customise our meals and choose veggie options instead. They didn't seem fazed by our requests at all and just wanted to accommodate us however they could. We really were very impressed by their standards and service. Some places make you feel ever so awkward, but we just felt totally relaxed and as though nothing was an inconvenience.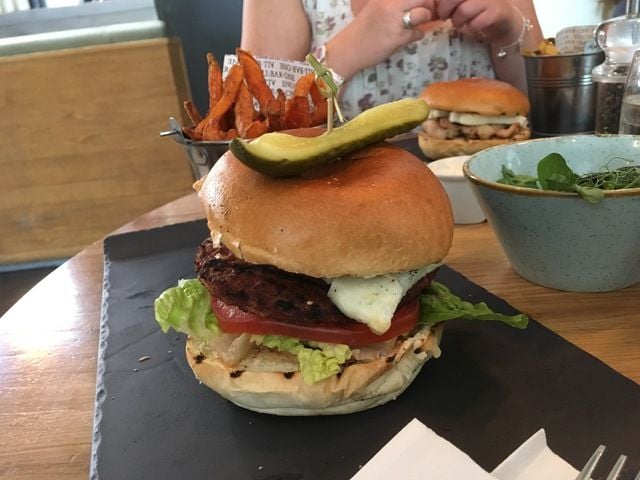 I went for a sundried tomato, beetroot and mozzarella burger without the bun, a fried egg as an extra and sweet potato fries. It was divine! Runny eggs and sweet potatoes are two of my favourite things. I could have sat there eating this meal all day. My mum had the burger with the bun and added halloumi. She gave it the thumbs up. My sister had a classic burger and regular chips and it got her approval.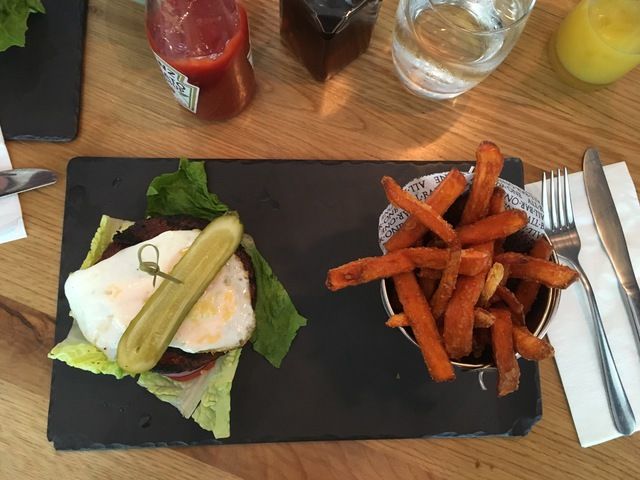 Being my first experience of All Bar One and Bookatable's Bottomless Brunch deal, I am very impressed all round. The deal is great value and easy to book a table through their user friendly website. All Bar One exceeded my expectations by being so flexible with our choices, ensuring we were never waiting for our next drinks and seeming genuinely friendly and wanting to provide a good service.
You may also enjoy my review of The Langton, Cheltenham
Save