Iroha Nature charcoal tissue facemask review
Posted on
When I started my original blog over four years ago, I had a weekly series called Facemask Friday. I'd review a facemask every single week and it was the perfect excuse to indulge in a little me time. Since I stopped the series I've rarely taken the time out to have a facemask and I have actually pretty much stopped purchasing them. I kind of forgot about them. It's silly really because when I was regularly reviewing a face mask I really did see the benefit to my skin. I was reminded of my previous love of face masks this week when Iroha Nature sent me some of their products to review, including the famous black peel-off detox mask!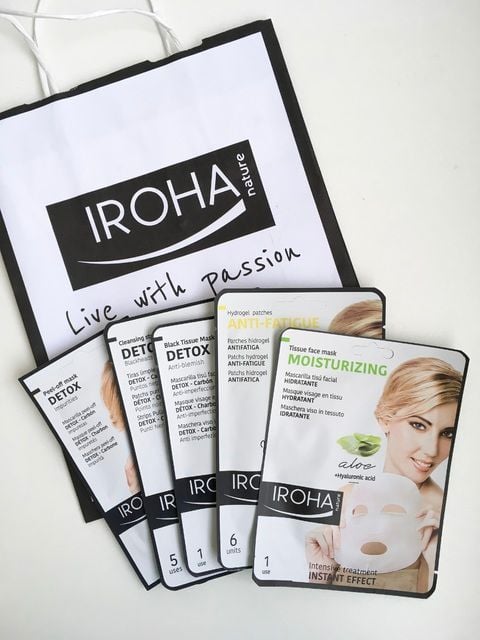 Iroha Nature kindly sent five products for me to test including their charcoal range. I did once try a black face mask and it was agonising peeling it off! As I've recently had rhinoplasty and I'm still in the not allowed to exfoliate my nose stage, I thought I'd better save their peel off mask for a later date in case it's like the one I used before! If you do use a super stuck on black face mask my advice, based on previous experience, would be to only use it on your forehead, nose and chin. I dare you to use it on your cheeks. I'm sure you've seen some of the YouTube videos?!
I've not managed to try all of the products just yet and it's probably best to only give your skin an intensive treatment once or twice a week, so here are the two products I have tried so far: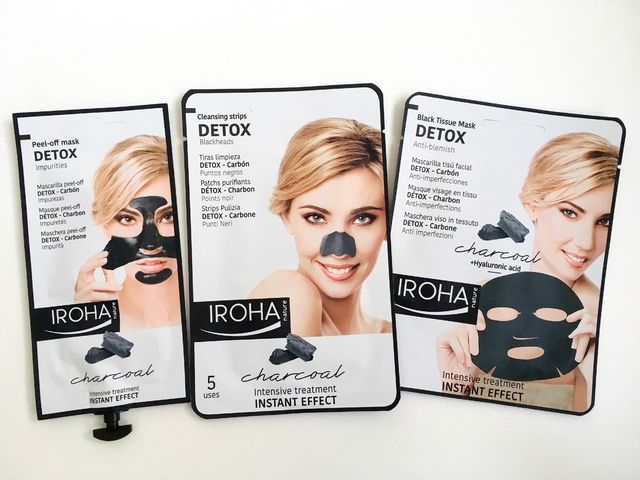 Iroha Nature Black Tissue Mask - DETOX
Luckily Iroha Nature does a charcoal tissue mask as well as the peel off version. If you follow me on Instagram you may have spotted my rather burglar-esque photos with the tissue mask! It's a great way to get the goodness of the charcoal without the pain of the peel off mask.
It's an intensive at-home treatment which promises instant results. I've not experienced many facials, in fact only one at a spa I think, so I'm no expert, but lying on my bed with cooling serum all over my face and my eyes closed for 15 minutes felt quite dreamy and spa-facial like to me!
Though it's not exactly a facemask, the whole sensation is kind of the same whilst wearing the mask and relaxing. As the mask contains serum there is no requirement to wash it off once you feel your time is up, just massage the serum into your face and leave it to soak in.
My skin did feel much squidgier (soft and supple) and super clean, even though I didn't wash anything off it which surprised me. Charcoal is supposed to have both a detoxifying and cleaning effect so it's true to its claims. The mask also contains green tea; a powerful anti-oxidant, anti-inflammatory and with anti-ageing properties. I'm not sure I looked ten years younger after one treatment, but I enjoyed the experience as a whole, taking some tranquil timeout with soothing natural goodness on my face.
I'm sure my face looked much fresher the next morning too and I even went totally make up free to detox my skin further. Isn't it funny how we detox our bodies inside, but we never think about detoxing our face? Daily makeup and constant cleansing must really put our facial skin through quite a lot over time, so it's probably a good idea to have a face detox and wear no make-up every now and then to let the skin breath. This mask is a great kick start to a make-up free detox.
Just remember to shut your bedroom door if you have kids. My 15 minutes of relaxing was interrupted by an excited five year old boinging on my belly midway through, followed by an springy two year old shouting 'mummy bouncy castle!'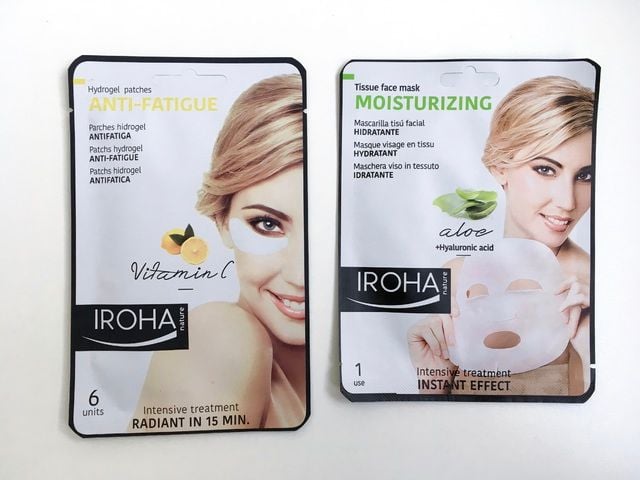 Hydrogel Eye Patches – ANTI FATIGUE
These cooling under eye anti-fatigue patches were a very well received product to review, being a busy working mum of two young children who never gets enough sleep or rest! I suffer terribly with what I call 'mum bags' (under eye dark circles). I've always had these dark circles under my eyes, even with enough sleep. I've been told it can be thin skin, hereditary or even lactose intolerance. Though they always seem to be there, I'm pretty sure a really good night's sleep does make some difference.
I popped a pair on first thing in the morning, the day after doing the tissue mask, and left them in place whilst I got the kids breakfast. I set an alarm for 15 minutes, but it was more like 30 by the time I acknowledged the alarm and took them off! I'm sure my eyes needed the full 30 minutes anyway.
The first thing I noticed was how cool they were, not how cool I looked, but how refreshingly cool they were. The super citrus scent was revitalising and the perfect pick me up first thing in the morning. Weirdly, they felt quite nice – I quite wanted to leave them on even longer than half hour, but I'm not sure what the other parents on the school run would have thought!
I'm pretty sure I saw an instant difference in my under eyes and the skin looked much less dull. I'm sure my skin was much brighter under my eyes and blended in with the rest of my skin tone, far more than normal. Sometimes piling on concealer only seems to intensify my dark circles and look obvious I'm trying to cover them up, but after the patches I didn't even feel I needed to put any on.
Brave enough to go make up free
I decided to do a makeup detox and went totally makeup free for two days after using these products. I'm not sure whether the products really made a massive difference to my skin after only one try, but I certainly felt like my skin looked fresher and more appealing without make up on. I'd love to give myself an Iroha Nature treatment at least once a week to really give my skin a much needed boost. My skin is normally so tired and drained looking and with these products I'm convinced it looked more healthy and alive. Even if that's all in my head, I loved the cooling sensation of both products, especially on these hot summer days, and the chance to take a little me time whilst nourishing my skin with natural goodness.
Their products are available with great savings at All Beauty!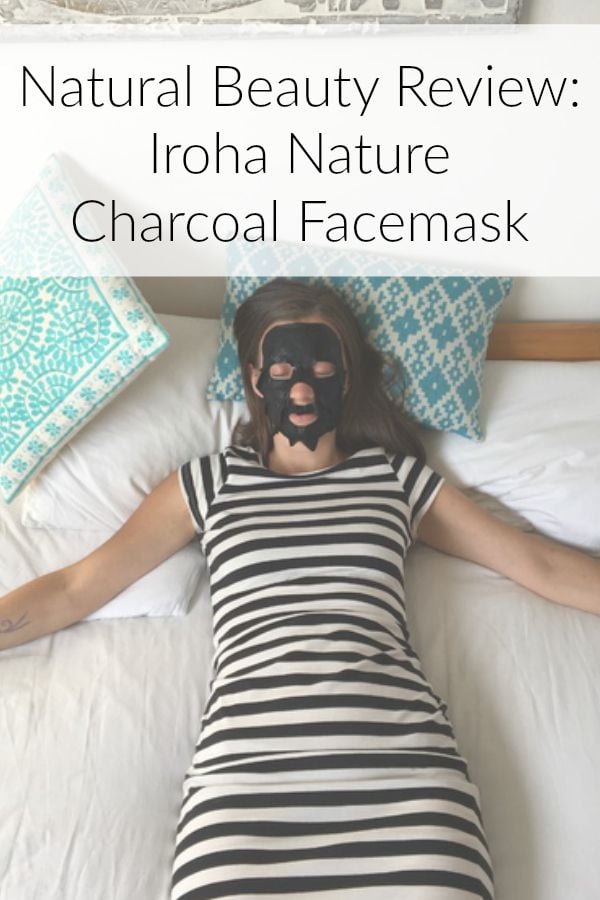 Save