Mistakes we've made with our renovation
Posted on
Hats off to interior designers and home renovation professionals – I find it quite impossible to imagine what a room will look like, until the products are in there and it actually looks like it! It's then that perhaps I realise we should have chosen something else, but a little too late! Maybe this is why people keep telling me we'll never be finished with our home. I'm always told 'once you've finished, you'll start again!'
Renovating an entire home is a huge project. If I'd had it my way we would have purchased a new build and been done with it. Ben was adamant he did not want a new build, so a tired 1960s home it was that had not one bit of decoration to our taste. Think different coloured worn carpets in every room, office style vertical blinds, large board fire doors, Artex and every room painted a different colour from peach to yellow to navy blue, a huge ugly stone fireplace, an old bathroom and dark and dingy kicthen.
We had our work cut out!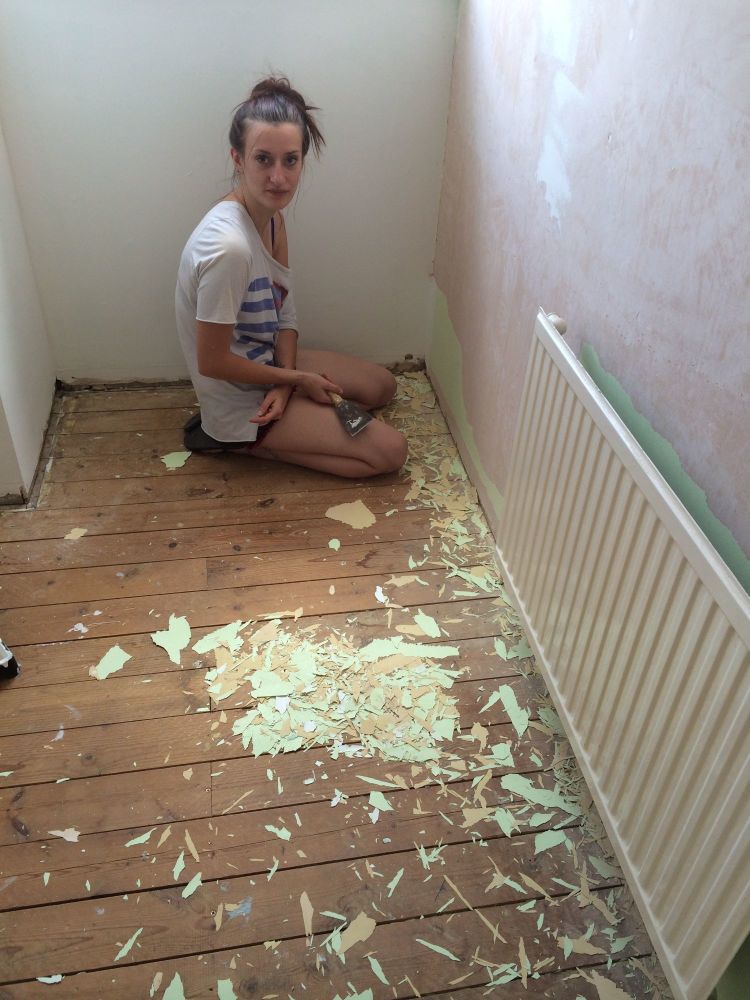 June 2014 - carpets up, skirting off, me not having fun scraping the last bits of seemingly super glued on paint and wallpaper!
I'm sure we were wearing our rose tinted glasses when we viewed the property or were blinded by how amazingly large the garden was. When we moved in we suddenly realised the enormity of the project we'd signed up to. Even Ben had said a lick of paint and we'll be done in six weeks!
Three years on and we're still going. Being our first project like this, ever, we have made a few mistakes along the way. Here are the things I would do differently if we could turn back time:
Choose the right skirting
We went for short natural wooden skirting downstairs which was possibly a mistake. Some of the boards warped and aren't seamlessly flush together. They are approx 20mm deep from the wall and are the perfect dust collector because of this! As the walls are white and downstairs has low bungalow ceilings, I really feel we should have gone for some white Lambs Tongue skirting to give the impression of taller walls, a cleaner finish and the shape looks like it has less of a dust collecting ledge!
Don't go for the cheapest doors
We cut costs with the doors and chose the cheapest natural pine doors we could. I wish we'd spent a little more and gone for the white cottage style doors with vertical lines down, do you know the ones? They look lovely. Our pine doors look nice at first glance, but like the skirting they are not perfectly straight and have warped, meaning several of them have never opened or closed properly.
Sort out the Artex before decorating
There are three Artex ceilings and four of the living room walls are covered in the horrific stuff. Not only do I think it's an eyesore, but it also catches the dust and cobwebs seem to stick so well in it! This really should have been something we sorted as soon as we moved in, but we thought the costs would be ginormous. We will be getting some quotes soon, but I fear it will be a bit of an inconvenience and possibly a dusty mess to fix it now. It would have been a sensible idea to do it before we decorated the rooms and added furniture.
Have ceramic sinks delivered to the home
Thinking I was being clever, in case I was out, I decided to order our new double ceramic sink via click and collect – big mistake! I should have ordered it to home as they are super heavy! Ben went to collect it after work and unfortunately it was far too heavy for one person and we ended up having to buy another sink after the first one was smashed, twice...
In three years (and considering we have undertaken nearly all the home improvements by ourselves) I don't think we've made too many bloopers. We're still going though, so there's plenty more time for more!
If you enjoyed this blog post, you may also like: My top tips to prepare for a house move