My very honest CBeebies Land Hotel review
Posted on
On the first Sunday of the October half term we drove two hours on a 'mini holiday' which is what we told the kids we were doing. I'd actually booked a trip to the new CBeebies Land Hotel back in June I think and decided to keep it a surprise. We'd not ever surprised the kids before, so I was looking forward to seeing Bella and Reuben's reactions.
We set off before 8am for the two hour journey. When we arrived Bella was, at first, excited to see some CBeebies signs as we drove towards the car park. But then, once we pulled up to the hotel itself, she started to cry and say she wanted to go home! Oops!
I don't believe she really wanted to go home, but was a little overwhelmed with the surprise and didn't know how to react! This in turn set Reuben off.
Oh brilliant we thought! Last time we surprise you with a £500+ treat! Yep, it cost us almost £550 for one night's stay in the Octonauts room, a two day pass to the waterpark and two day pass to the park itself. A huge amount of money, but perhaps because it was half term and they had their Scarefest event on in the main park, so I expect demand was higher than usual for a room.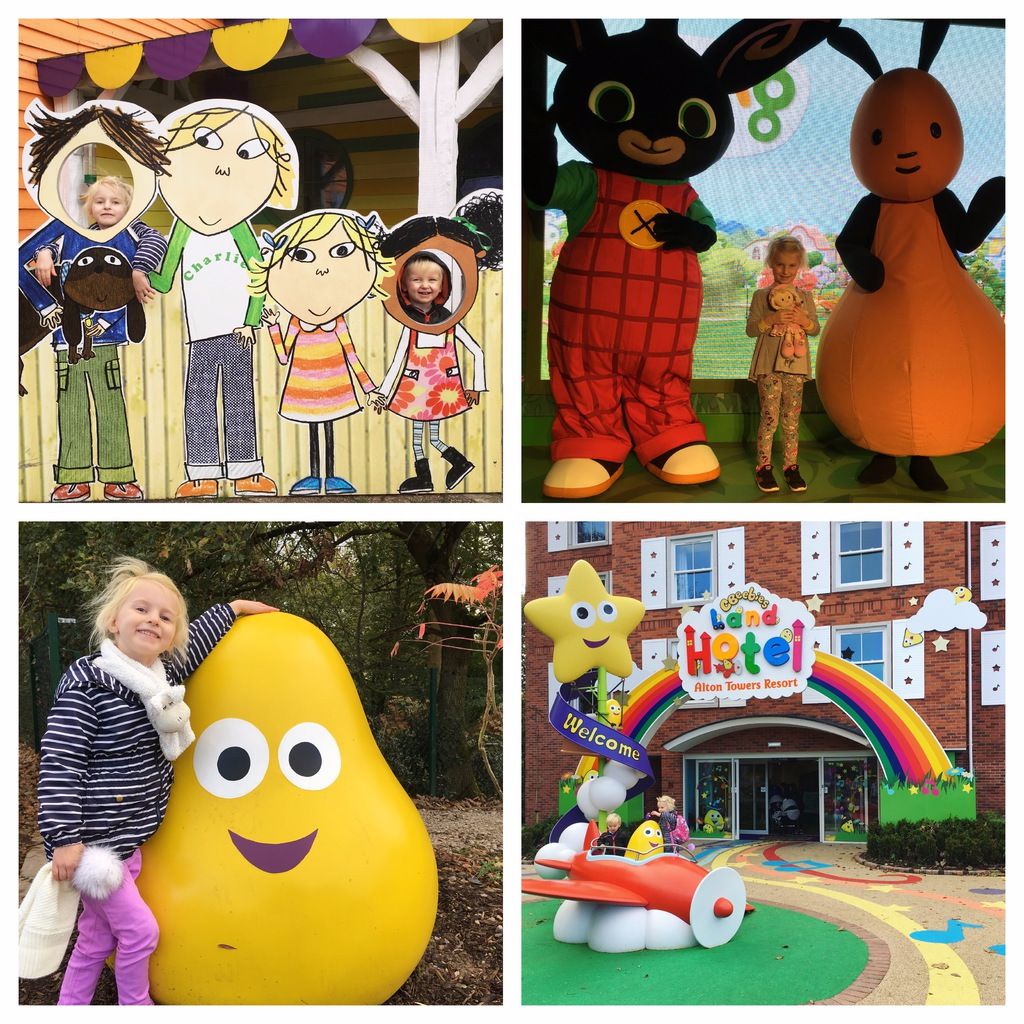 From the outside the hotel looks great. The signage is just amazing and so magical for a child. It's colourful and totally aimed at children. As soon as we walked into the hotel and they both saw how absolutely amazing it was, they thankfully relaxed and began to get excited about our trip. Even Reuben who probably doesn't totally get what CBeebies is (he's two) was shouting CBeebies, CBeebies excitedly copying Bella! Since returning home all he's on about is CBeebies!
The hotel is quite extraordinary. It's totally for kids. We've only ever stayed in 'adult' hotels where nothing is set up for children and sometimes you feel out of place taking children, so it was refreshing to stay in a 'kids' hotel. The floors are colourful and patterned like you're in a cartoon. In the reception there were steps up to the check in desk so children could see. The staff talked to the children at the check in desk making them feel involved and welcome right away. There are interactive walls in the entrance to entertain the children.
The best thing about the CBeebies hotel is the entertainment. Alton Towers have a few hotels which you can go into, but the CBeebies hotel is exclusive to CBeebies guests which meant it wasn't overcrowded and it made the extra price a little more worth it. From 7am until 9pm is non-stop interactive entertainment with all the CBeebies characters. The kids LOVED it. If we had one hour to spare in-between the park and dinner, for example, we could go and take part in whatever was going on right then. There was no time to be bored and always something exciting for the children to see and do.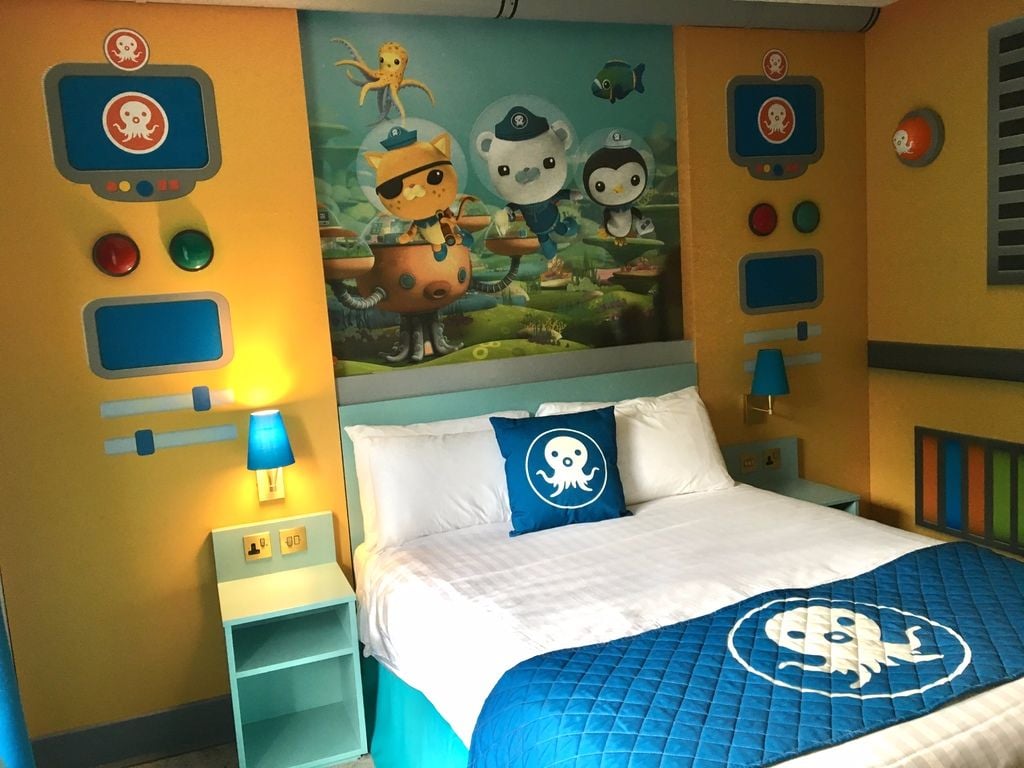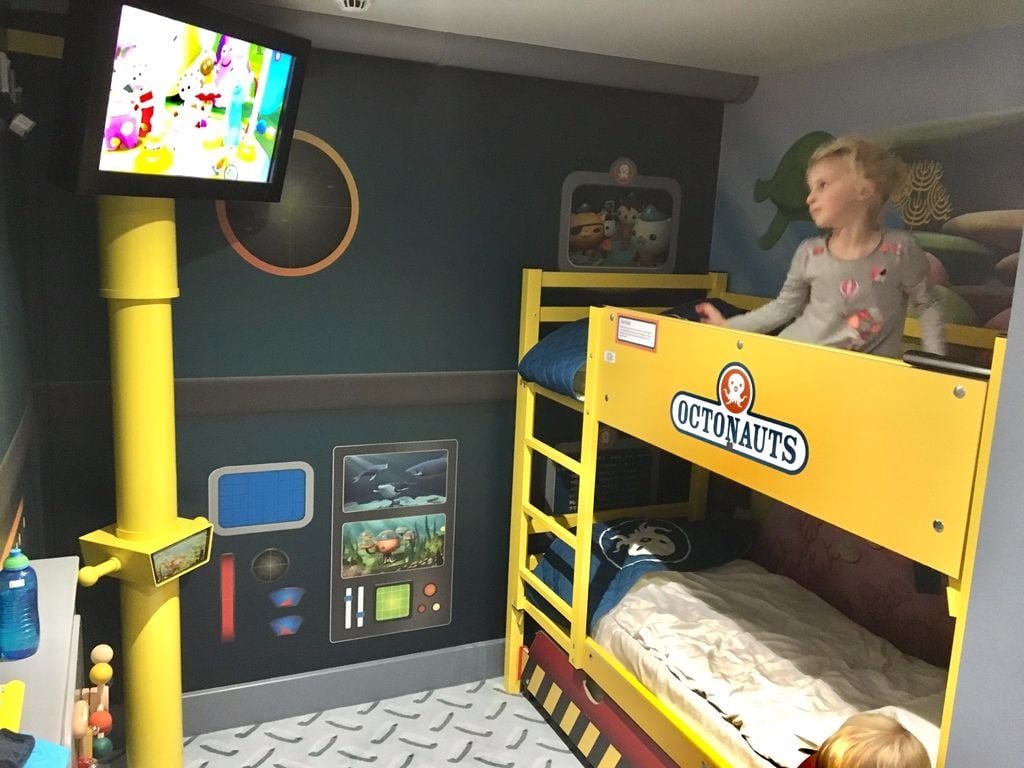 The hotel scored top marks with us because of this entertainment. The staff were so enthusiastic too. It really made staying in this hotel worth it for us and is the main reason we'd return. It must have felt to the children like they were in CBeebies itself! We were also allowed to take photos of the children with all their favourite characters and never felt rushed. They let us take as long as we like and seemed so happy to see the children so happy.
We stayed in the Octonauts room which the children loved. They were probably most excited they got to have a bunk bed for the night and their own TV! The room was pretty amazing, but next time I'll just book one of the buggies rooms as they're a little cheaper and I think the children will be just as impressed. If your children love one of the characters from the themed rooms then it's probably worth the extra. If they had a Peppa Pig room, for example, then there would be no question of me booking that as they're both obsessed! But for us they're not overly into the characters they did have so next time we'll downgrade a little. For our first time we decided to go all out though and book an Octonauts room.
I've been to Alton Towers several times myself for the rollercoasters, but it was the first time I've been to the kids part of the park. My favourite part was the live Furchester Hotel experience and the Mr Bloom. These are both interactive and again, must have felt to the children like they were in an episode of each! Plus, we didn't have to queue for more than 5 minutes for these. We arrived at a good time! The Go Jetters ride was also great fun and Bella loved the buggies ride best. Reuben's favourite was Postman Pat. Some of the rides had 50 minute waits which is just ridiculous for toddlers and young children. I also felt some of the rides were very tired looking and needed a good lick of paint and a clean (particularly the Numtums and In the Night Garden)! I think if we had only gone for the CBeebies Land park itself we would have been a bit disappointed, but the hotel itself really made our trip amazing. There's definitely room to improve the park and add more rides which would hopefully also reduce the queue times.
We spent around two hours in the waterpark and it will be a lot better when the children are older. They had an amazing time, but we didn't get to go on all the slides as they're too young. We're looking forward to returning when the children are older and more water confident so we can make the most of the whole waterpark. The little pool was great though and Bella and Reuben spent nearly the whole time filling up water buckets and pouring them through a funnel over water wheels! The food in the waterpark was quite disappointing. Only fast food and Ben said it was rubbish! It would be nice to see some healthier options in the pool café. Next time we'll probably get dried and dressed and try the café upstairs in the hotel called Flambo's Jambo.
We also visited both The Crooked Spoon and Secret Garden restaurants for dinner. I was impressed with both. The portions were huge in the Crooked Spoon. I had the halloumi salad which came with three huge slabs of halloumi and I couldn't finish it! The Secret Garden had lots of veggie options which are different from the usual rubbish us veggies are usually offered, so that was refreshing. Ben didn't like this menu so much, but probably because he was really fancying pizza that evening so nothing else was good enough!
The best part of our stay was the CBeebies Land Hotel and we would 100% return because of how great the hotel was for children and the all day long entertainment. It's perfect for adults too in the evenings to be able to sit back and relax with a drink, whilst the kids have so much fun being entertained. Even Bella, who can be quite shy in new places, ran straight to the front and got involved with all the activities.
When it was time to leave they were both crying and wailing 'CBeebies, stay, stay' and not wanting to go home; quite hilarious given their arrival performance -crying because we arrived and then crying because they didn't want to leave! After only one night's stay that's pretty impressive. They were really wowed.