Love Layla Designs review: alternative Mother's Day cards and three giveaways
Posted on
I recently reviewed some of the Love Layla Valentines cards and I'm back today to share some of their alternative Mother's Day cards with you. These are not the normal cards you're going to see plastered all over the stores, oh no. There are no fluffy teddy bears, roses or sentimental poems. These cards are for those of us Mums who can take a joke about the not so pleasant side to parenthood, because you have to laugh about it all don't you?
These cards are for the mums who pee when they sneeze, nag their children daily, stress out at the madness of parenthood and reach for a glass of gin when they've 'had it up to here'. Not just mums though, there are alternative Mother's Day cards for single parent Dads, Grandmas and step mums. They've covered all bases and they've found something so true and amusing to say to the parent, whatever their situation. In true Love Layla style there are crude, rude, sarcastic, humorous and borderline cards available. As I said in my last review, you have been warned!
Parenting is hard. It can be a constant battle, a struggle, messy, gross and all consuming. It's not all lovely and rosy and I've found the past year the hardest so far. With my 5 year old acting like a teenager with attitude already, ignoring my every command, and my two year old having a whole year of the terrible twos so far, I do wonder when it will all end. It really does feel like a daily battle just to get the simplest of tasks done sometimes, like leaving the house with everyone dressed and fed after all the tantrums, resistance, refusal, nagging, losing items, getting undressed, making mess, poos in pants, hiding from me and all that chaos! The best way to get through it is with humour. We'd all go mad otherwise. Luckily me and Ben can laugh at ourselves and the funny situations afterwards. If we didn't laugh, we'd just cry and have a meltdown. These cards have really hit the nail on the head and make light of those tough parenting times. You've just got to have a giggle about it all.
Love Layla kindly sent me a selection of their new Mother's Day cards. My only request was 'please don't send me anything with swear words or 'vag' or similar'! The bundle of cards I received is absolutely awesome and I'd love most of them as a Mum myself. The peeing when you sneeze is particularly apt! I can't even do a star jump at my aerobics class without a little dribble. That will teach me for not doing my pelvic floor exercises.
As much as I love these cards for myself, it would be a bit weird giving them to myself or forcing Ben to write me one. Plus I already know what they all say. So, I'm going to give them away! Yep, you lucky readers (if you're still with me and haven't been scared off so far) have a chance to win some Love Layla Mother's Day cards below. Simply enter via the widgets below for the cards you'd like to win.
Mother's Day is on Sunday 11th March 2018 so I'll run these giveaways until Monday 12th February to give you plenty of time to order a card from Love Layla if you're not lucky enough to win one!
You can view their awesome selection of cards here: https://lovelayladesigns.co.uk/
Find THREE giveaways below!
1. Love Layla Giveaway - Mother's Day Gin Pack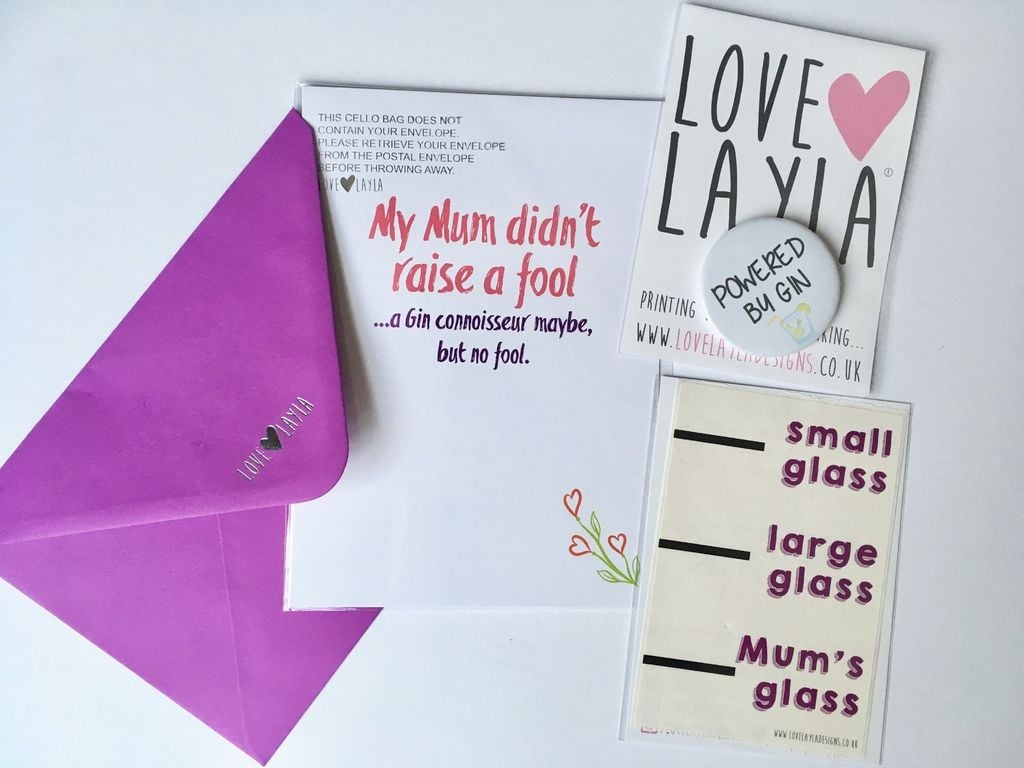 For your chance to win this bundle, enter here:
IT'S OVER! The winner has been notified.
2. Love Layla Giveaway - Mother's Day New Mum Pack
To win the New Mum pack, enter here:
IT'S OVER! The winner has been notified.
3. Love Layla Giveaway - Pick a card or fave child wrap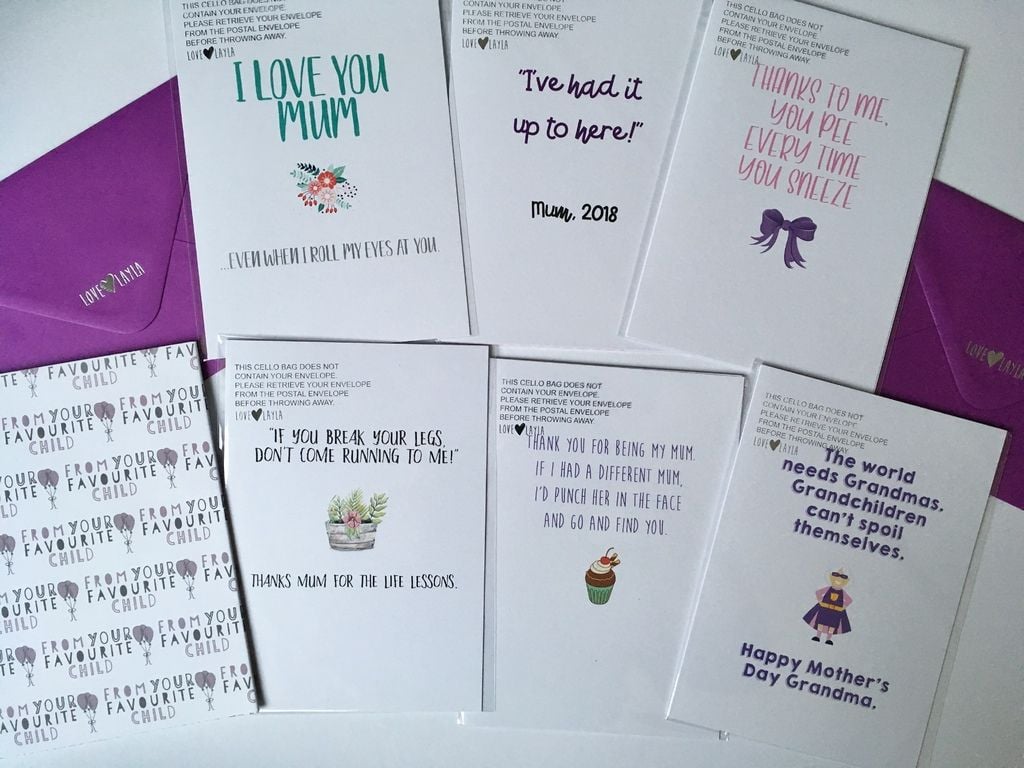 For this giveaway you can choose one of the above items to win. Just let me know your choice when you enter. You can return daily if you want to try and win more than one of the above items and enter again. There will be one winner per item for this giveaway.
IT'S OVER! The winner has been notified.
Good luck!
Terms and conditions:
There will be one winner per giveaway, unless otherwise stated
The prize is the item(s) as shown in the picture

There is no cash alternative

There is no limit on the number of entries per person, follow the instructions to enable multiple entries

Winners will be notified within 7 days

Prizes will be sent out within 7 days of receiving the winners address

The winner must claim their prize within 7 days or it will be forfeited

All entries must be received by the date and time specified

The winner will be picked at random by Rafflecopter & notified by email

Giveaways are open to the UK only

The winner's name and county is available upon request
Entrants will be signed up to the Lylia Rose newsletter to receive blog posts and giveaways. Subscribers are also entered into a monthly prize draw to win a scarf of choice from my online fashion boutique - You can unsubscribe at any time, but this will stop your entry into the newsletter giveaway.