How to save money by making your own organic oat milk
Posted on
One of the first things I gave up a couple of years ago when thinking of reducing or cutting out dairy was milk. By this point there were so many delicious alternatives on the market such as almond, hazelnut, rice and oat milks, it was an easy switch to make. I've since cut out dairy altogether and it's definitely the right choice for my health, being kind to animals and protecting the planet. I did also drink soy milk to begin, but since learning how soya is an endocrine disruptor (that is it mimics oestrogen in your body) I've cut this out too.
I started with Rude Health drinks which are delicious, especially the hazelnut, but I moved onto Oatly for around the past year as they are slightly cheaper. They're still £1.50-£1.80 for a litre carton and we've been buying up to six per week. That's quite a lot! There are a couple of things I've stopped using oat milk in such as porridge and muesli and instead used water only. I was also using oat milk to make my fruit and vegetable morning smoothies, but water works just as well. But some things call for a dash of creamy milk such as raw cacao hot chocolate, homemade vegan cheese sauce (oat milk, nutritional yeast and mustard), a cup of tea and other bowls of cereal. The kids also love a glass of milk every now and again or a homemade milkshake with frozen bananas and a spoonful of raw cacao powder for a chocolate flavour.
So I've continued to buy the Oatly milk cartons weekly and they do cost quite a bit! I suddenly had the revelation I could make my own and perhaps save some money in the process. After all, the ingredients are only oats, water and salt. I'm not even bothered about adding salt to taste and prefer not to, so all I really needed was some oats and water.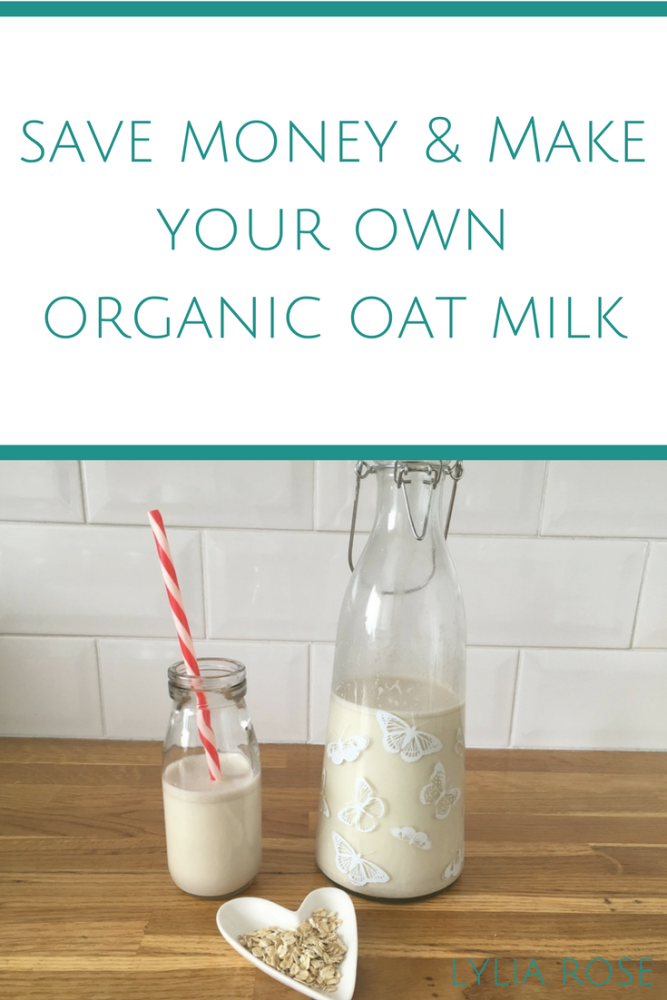 We distil our water at home so use only pure water. I've no idea whether regular tap water could be classed as organic when it has traces of pesticides, chemicals and medicines in it. I purchased a clever little meter that measures how many dissolved solids are in water and our tap water contains 200 parts per million – 200 little dissolved substances per million. I wonder what they are. Apparently 17 parts equals one grain. I tested our distilled water and it only contains two parts per million, so two tiny dissolved substances. I know which I'd rather drink. After a little internet researching it appears that water can never be officially classed as organic which makes me wonder whether food can ever really be organic as the water might contain trace pesticides… but that's an article and discussion for another time.
The point I'm getting to is that I've classed this recipe as homemade organic oat milk as I use organic oats. But then it got me wondering whether the end product could be classed as organic if tap water is used and t­­­hen you can begin to see my trail of thought for the above paragraph!­
The organic oats I buy are either from Tesco, Waitrose or Holland and Barrett coming in at approximately £1.60 in all three places for 1kg. That's the same price, roughly, as 1 litre of readymade oat milk from the store, but I can make at least 8 litres at home myself pretty easily and maybe even more with a kilogram bag of organic oats.
It's so simple to make homemade oat milk, I can't believe I haven't tried before. I have a Kenwood jug blender which is part of my food processor and I also have a Nutri Ninja. I can make this oat milk in both, so if you have a Ninja or Bullet, you can whip up some homemade oat milk in seconds.
How to easily make homemade oat milk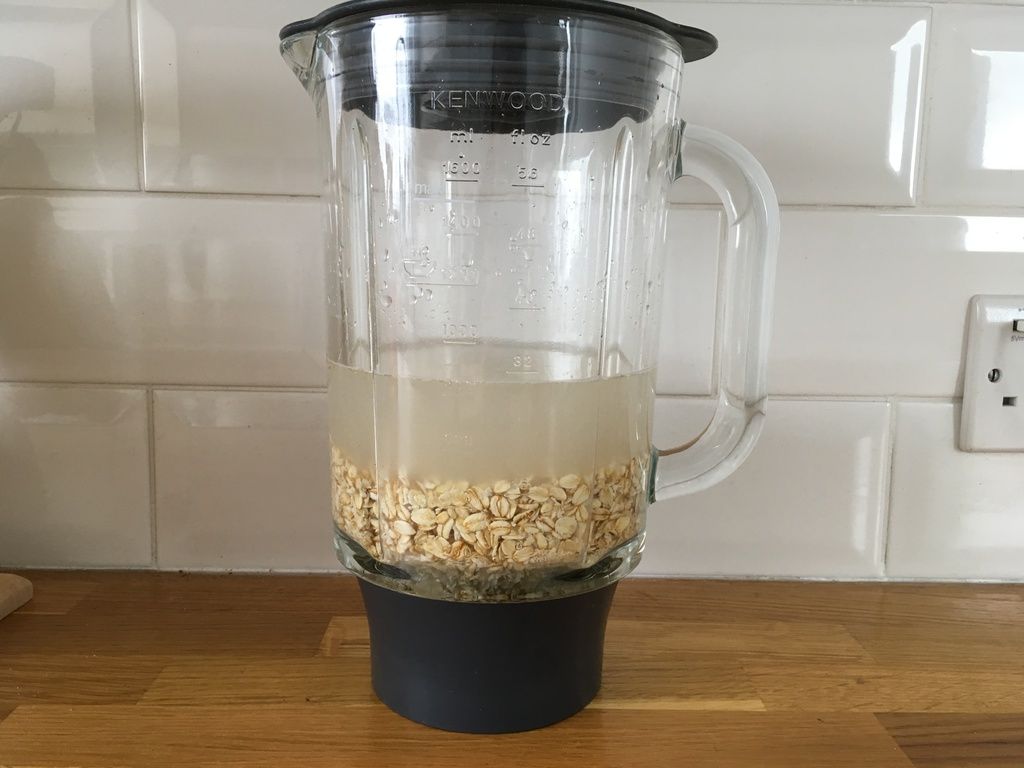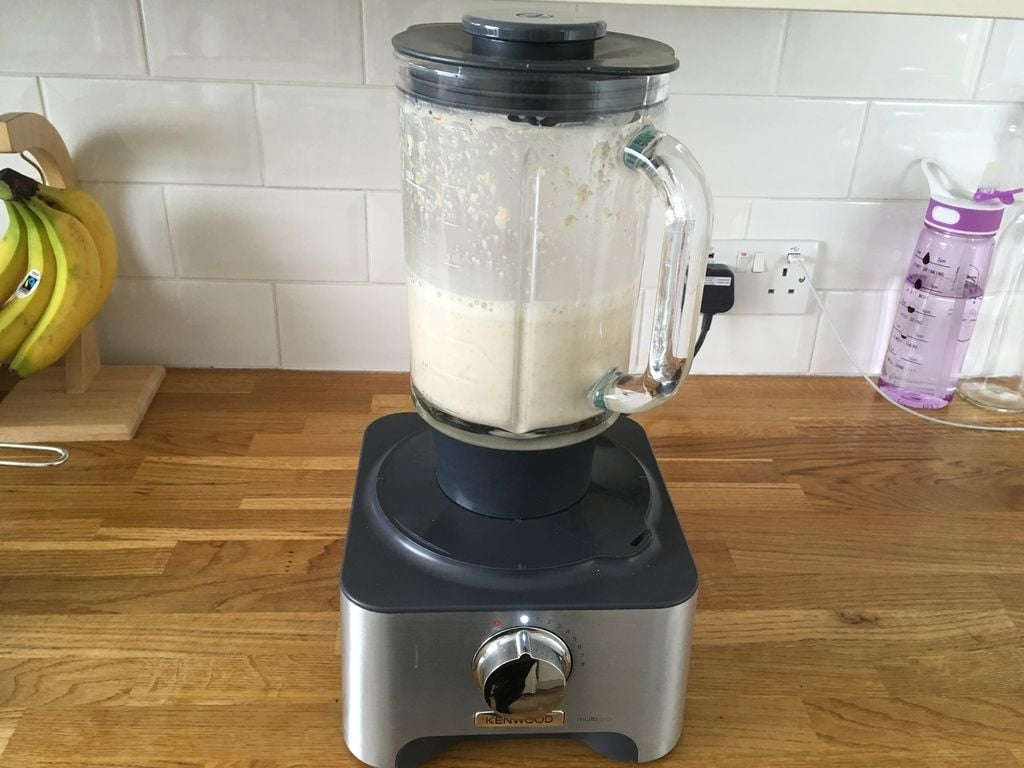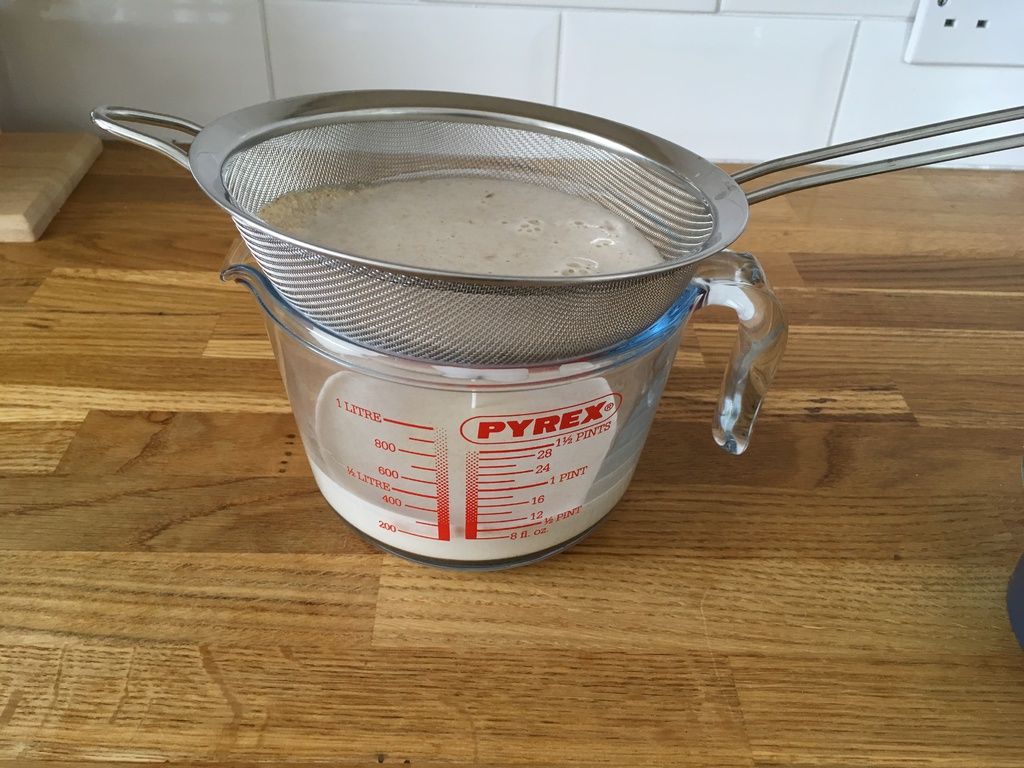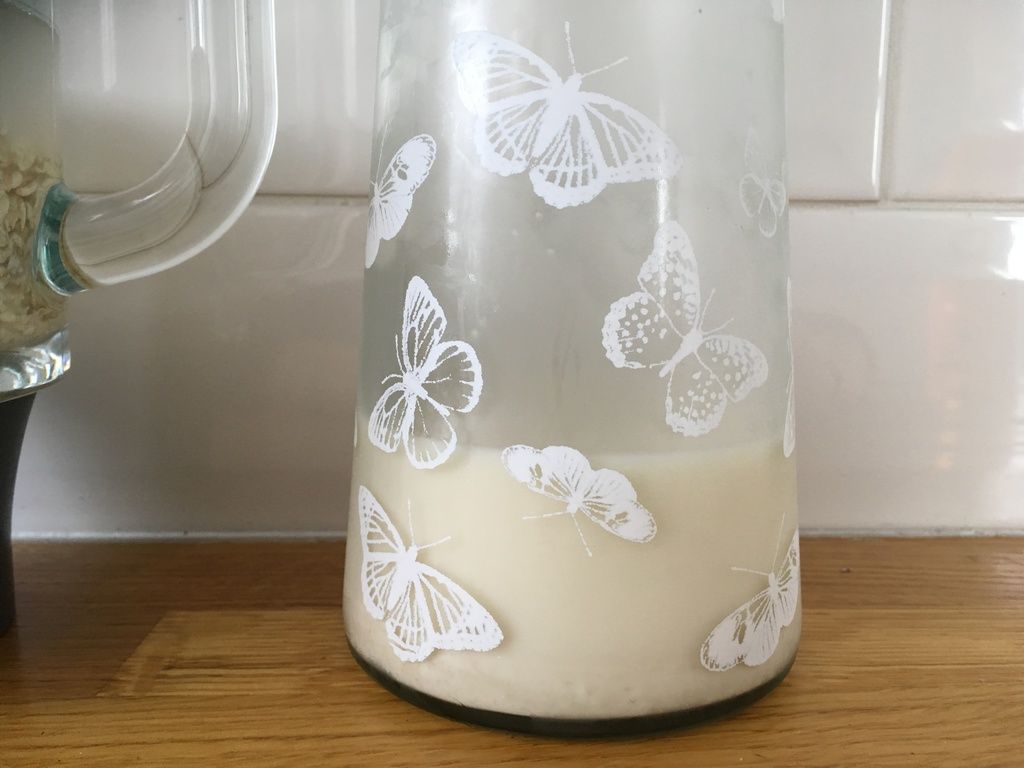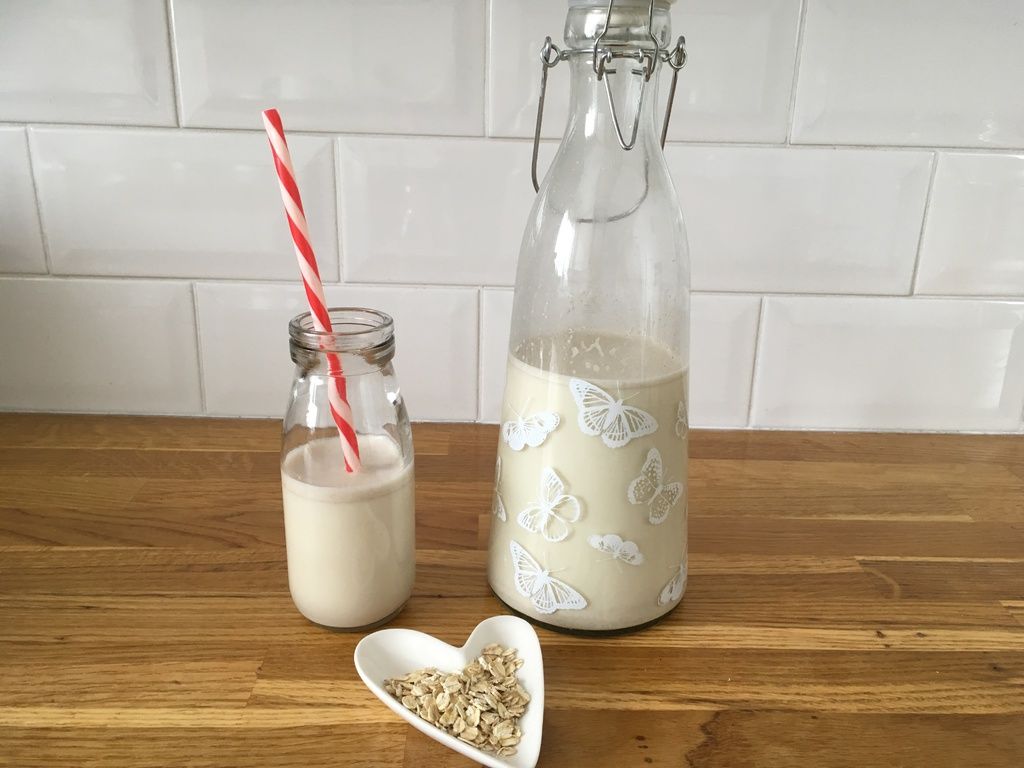 It really is so quick and easy, here's the process:
Measure 1 part oats to 4 parts water. This is negotiable. To make a thicker consistency add more oats to less water and vice versa for a thinner consistency.
Leave oats to soak in water for 30 mins or longer. This is optional. I've also been short on time and left for only 10 minutes, or not at all. I think it's creamier if you leave it longer, but it's still very oaty and milk like if you don't soak at all.
Blitz the mixture in your blender or Ninja cup. Mine takes around 10 seconds to blend in either appliance, but I usually go for 20-30 seconds just to be sure.
Strain the mixture. I use a strainer over a large jug to make it easier to pour into my storage container after. Use a spoon to move the oat residue around to get every last drop of milk out.
Pour into your storage container and refrigerate. I prefer to store in a glass canister – I swear it stays fresher and tastes better!
That's it! So easy. It lasts around 3 days, but the taste is obviously best when fresher. It's totally adaptable so you can use more or less oats to make different consistencies.
You can also add salt to taste or vanilla essence, but I love the simplest most purest oat milk.
It's delicious. Try it yourself and save money on store bought oat milks.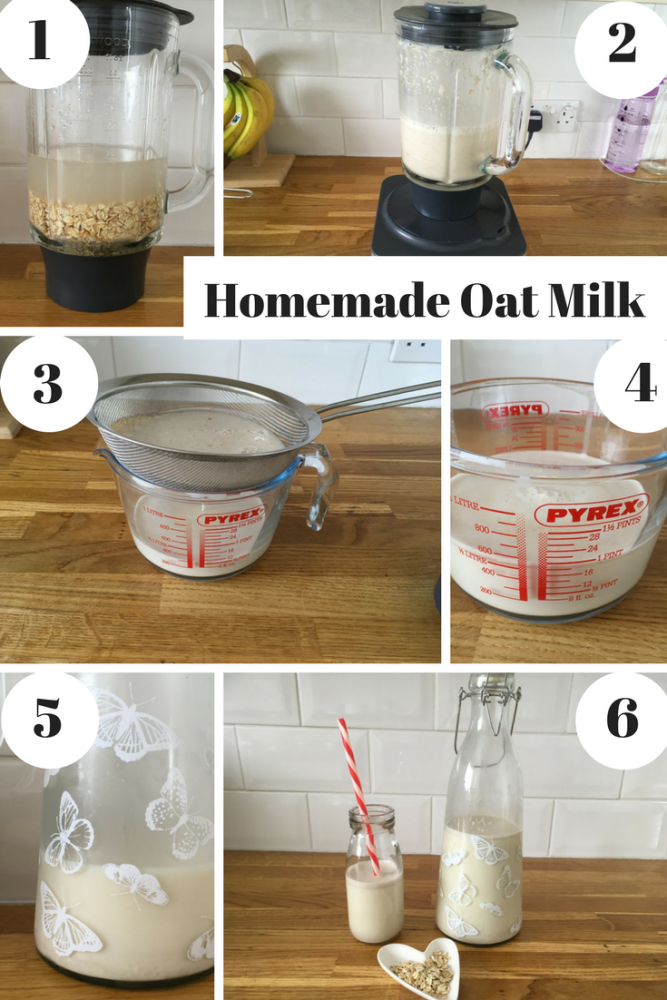 Other fab blog posts:
3 Important Reasons to Choose Organic (other than your personal health)
Organic vs 'Normal' Food
Green Goodness Smoothie Recipe
Peanut Butter Energy Balls