Save Money On UK Family Days Out With Kids Pass
Posted on
The Kids Pass App gives you instant access to 1,000's of offers, including up to 40% off cinemas nationwide (7 days a week, adult and child), kids eat free at 1000's of restaurants, up to 65% off family days out, up to 10% off UK family breaks and up to 50% off Eurocamp holidays!
Want to try Kids Pass for yourself? Click for a £1 trial: Start a £1 trial for 30 days
How to save money on days out in the UK with Kids Pass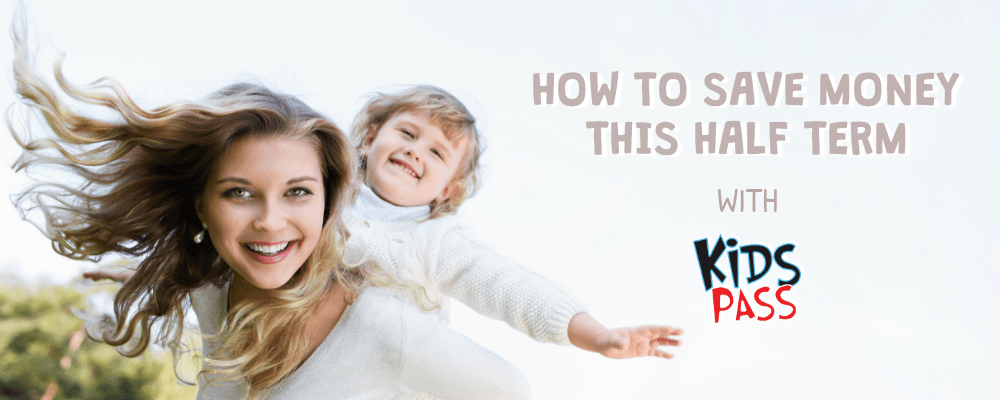 Are you struggling for ideas for days out the next half term that will keep the whole family happy as well as your bank balance? For just £1 you can sign up for a trial Kids Pass membership and gain instant access to 1000's of family friendly offers on the Kids Pass app!

This really is the best £1 you'll spend this half term, as you could potentially save over £90* in just a week…
Planning a trip to the cinema? You'd save on average £10.34 on your cinema tickets
Fancy a meal out? You can cut £15.90 off your food bill
Taking your tot for a sensory day at the aquarium? Average savings of £24.00 on aquarium tickets for the whole family
Off to see furry friends at the zoo? You can save your family £40.00 on zoo tickets
*based on family of four (2 adults, 2 children)

How does it work?
You pay £1 for a 30 day trial membership, after this you can cancel or continue your subscription for £4.99 per month or £39.99 annually. For these 30 days you have full access to all the offers on the Kids Pass app and website.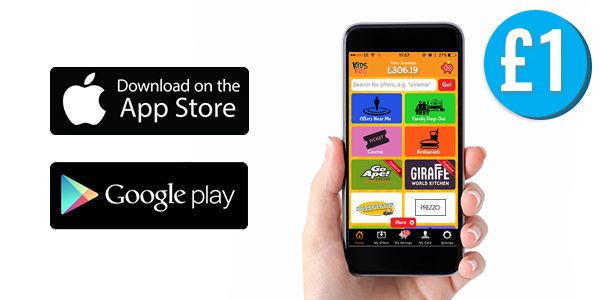 What does it get me?
Instant access to 1,000's of offers, including up to 40% off cinemas nationwide (7 days a week, adult and child), kids eat free at 1000's of restaurants, up to 65% off family days out including leading theme parks, and up to 10% off UK family breaks and up to 50% off Eurocamp holidays.

Does one membership cover the whole family?
Yes! Your Kids Pass covers the entire household, that's Mum, Dad, the kids (whether you have one or ten!), Granny and Grandad too!

How do I use it?
You can download the free Kids Pass app from all major app stores, which is easy to navigate, or you can use the Kids Pass website to search for offers.

How do I redeem offers?
Most of the offers are completely digital meaning that tickets or promo codes can be sent straight to your phone, however some tickets are still paper and will be posted to you via Royal Mail.

What's the catch?
There isn't one! You can cancel your monthly subscription at any time.

Claim your trial
Join over 2 million members and click here to start a £1 trial today!
Try Kids Pass for £1 and make huge savings
Days out with kids are expensive. Just going to a wildlife park as a family of four costs us upwards of £100 and a theme park is way pricier. Cinema tickets are a ridiculous amount now - over £10 per adult at our local cinema! Luckily there are lots of ways to cut costs on family days out, restaurant bills and cinema tickets nowadays. In this blog post I'm going to share with you one of the ways you can make massive savings with a family savings pass from Kids Pass.
Whenever we go out I do always try to look for vouchers to save a bit of cash, especially if we're going to a chain restaurant or well-known attraction. There's usually some money to be saved off the face value of a ticket, but it can involve a lot of scouring the website to find a legit code, if I can find one at all. I'm all for things that make this process a lot easier and less time consuming which is why Kids Pass is a genius idea!
Huge savings on family holidays
I've just signed up and downloaded the app and I'm already amazed at the savings we can make. One that particularly stands out to me is a saving of up to 50% off a Eurocamp holiday. We've recently purchased a campervan and have been talking of a trip to Europe and possibly to stay at a Eurocamp in France. Being able to cut the cost of our holiday in half by using Kids Pass will be amazing! Just this saving alone will recuperate the annual membership fee and more. At the time of writing there are also discounts on Forest Holidays, cottages.com and Hoseasons.
Up to 40% off at cinemas
We aren't big cinema goers at the moment, but mainly because the kids are too young. I'm sure this will change as the kids get a little older as I love the cinema experience! At the moment it's a whopping £31.60 to go as a family of four to our local cinema and no doubt this will rise by the time Reuben, our youngest at age three, is old enough to go. Kids Pass offers up to a 40% discount at over 500 nationwide cinemas. Perfect!
Kids eat free
Eating out is another huge expense with kids, so any money off vouchers are always a bonus. With Kids Pass there are plenty of restaurant savings vouchers or takeaway offers to choose from. Just in our city I can see we can currently save 25% at Bella Italia and kids can eat for £1 at Prezzo. We love these posh pizza places so we'll certainly make use of these. If you prefer takeaway then there are BOGOF offers at both Pizza Hut delivery and Papa John's.
Discounts for family days out
All the major theme parks are listed on the app with savings of up to 57%. There are also activities such as bowling, go-karting, trampolining and more. There are nature centres, wildlife parks, zoos and farms. There is so much to choose from, it's also a great way of finding something to do with the family and you'll get a discount at the same time!
Easy to use app
The app is super easy to use and allows you to search for 'offers near me' allowing you to see all the nearby attractions, restaurants and activities with a discount that are most local. You can also search by category such as Restaurants or Family Days Out if you're looking for something in particular or don't mind going further afield for an attraction.
'Kids Pass is the UK's no. 1 family savings pass with thousands of exclusive offers at the UK's top attractions, cinemas, restaurants and UK holidays. A Kids Pass membership can easily save a family between £500 and £1,000 per year and the cost of a Kids Pass membership can easily be covered by the savings a family can make in just a single day out!'
Try Kids Pass for just £1
Try Kids Pass today for just £1 for a month's trial here:

Final word
There are plenty of testimonials on the website from families making plenty of savings to justify the either £4.99 monthly cost or £39.99 annual cost of membership after the trial. If it's not for you, then simply remember to cancel.
Got kids? Want an exclusive free trial and £10 signup bonus with GoHenry?
Check out our GoHenry review and promo code (UK and US) to see if this pocket money and money management app is right for you and your kids, as well as a free trial and signup bonus with code LYLIA
Want more money-saving tips?
Find some great deals on my voucher codes and 80+ ways to get free money pages!
Learn how to get free food and heavily discounted food.
Check out my list of UK apps that turn receipts into cash and also this list of UK cashback sites to maximise your free cashback and savings.
Find free cryptocurrency offers here and free shares offers here!
Subscribe to our newsletter for the best free money offers, money-making and money-saving tips we discover!
* This article was originally posted in 2018 and prices of monthly memberships updated in Jan 2023.