My Picture personalised photo cushion review
Posted on
I do quite like a personalised item when it's done well, especially for the children. I wouldn't want to fill my home with personalised trinkets, but I think the odd item here and there makes a really unique and of course personal feature.
I usually only use online printing companies to print canvases, but when My-Picture.co.uk contacted me to ask if I'd like to review an item, I had the perfect photo in mind and thought it could even look better on something other than a canvas.
The photo is my son Reuben age 3 at All Things Wild in their dinosaur attraction.
It's of a huge T-rex head roaring over a fence with a little dinky Reuben underneath absolutely chuffed to bits to be next to his favourite dinosaur!
It's probably my favourite photo of my son so far as he really is in his element.
Ever since his big sister Bella wanted to buy him a big box of dinosaurs as a gift for his second birthday, he's been obsessed!
He has pretty much never been without a dinosaur and if he's ever shy in front of a new person all we need to mention is the word dinosaur and away he goes, roaring and talking about dinosaurs with a big smile on his face!
Choosing a My-Picture.co.uk large photo cushion
I just knew I wanted to get Reuben something with this image on and luckily My-Picture.co.uk had a few items to choose from.
I settled on a cushion as he can use it all around the house and even take it on holidays. They sell three different size cushions and I chose the largest as it makes for a great floor cushion too.
The back of the cushion can be plain, coloured or with the photo again so I chose a blue colour which is Reuben's absolute favourite colour! The photo is very green, but Reuben has a blue coat and shorts so it complements this perfectly.
Easy to order at My-Picture.co.uk
The ordering process was so straightforward and self-explanatory even for a technophobe!
I am pretty computer savvy and it took me only a few minutes to upload my chosen photo from my laptop, pick the back of the cushion colour and then to see what my design would look like thanks to a digital impression.
The cushion arrived a few days later packaged well in a large box, arriving as a two piece of the customised cushion cover and cushion filler.
I could already tell how amazing the cushion was going to look just from the high quality printed material of the cover.
It looked brilliant!
I knew Reuben was going to love it and I was so excited to get him from nursery. The cushion looked just perfect placed on his bed surrounded by all his stuffed dino toys!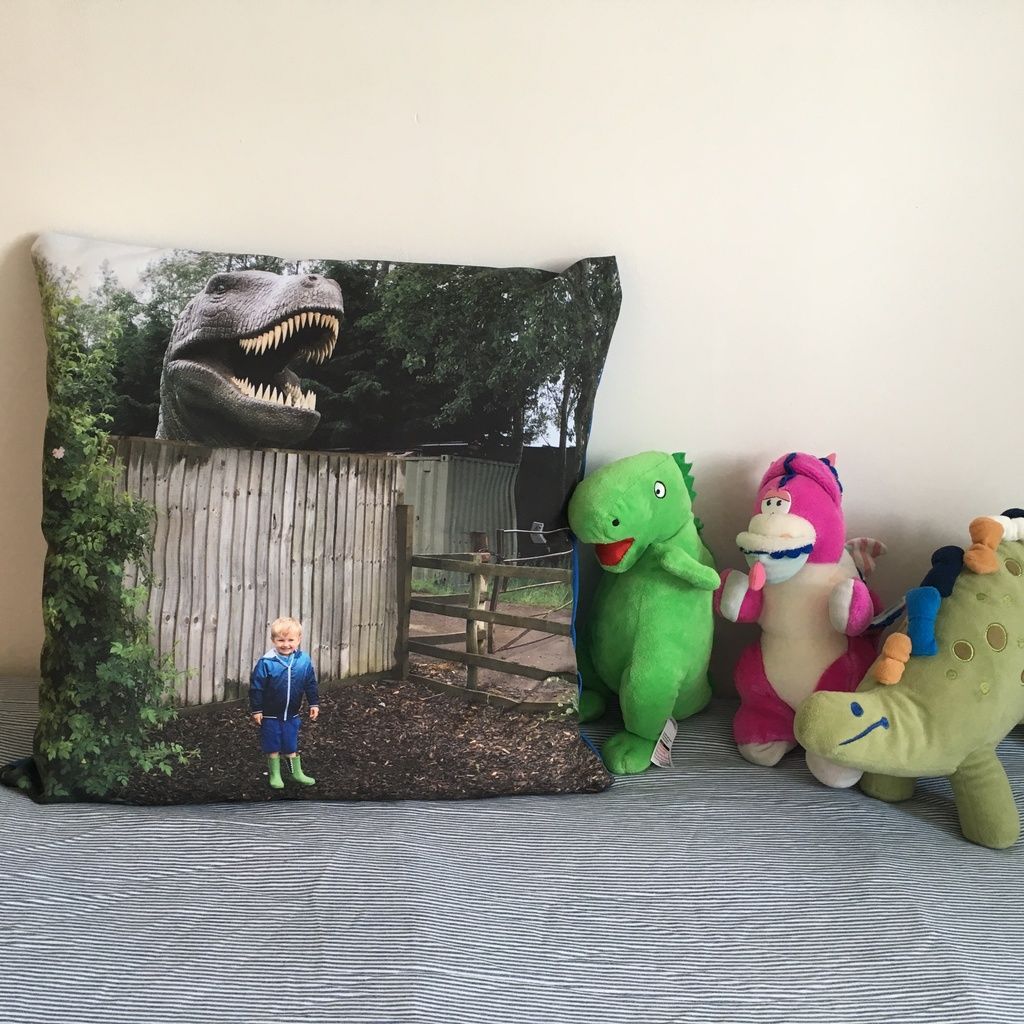 And...
...he does love it!
I know it's going to be his prize possession! He has already brought it downstairs this morning from his bedroom as he didn't want to be apart from it.
He's also asked to bring it on our upcoming holiday, just like I imagined!
Last night he slept on it!
It's fair to say it's a total hit and more so because it has a photo of him and his favourite creature in the world.
Unique decor ideas for kids bedrooms
Cushion Photo Prints are an awesome idea for a kid's bedroom or playroom.
I've already got a photo in mind of Bella that would look perfect on a cushion for her bedroom of her beneath a pink flowering tree with petals and flowers everywhere. A very girl print for her girly bedroom in total contrast to Reuben's roaring photo!
My-Picture.co.uk also sell a range of other high quality custom photo products and gifts such as Acrylic Photo Prints, towels, blankets, canvasses of course and even a children's personalised book.
I am very impressed with the cushion and service I received and would totally recommend them.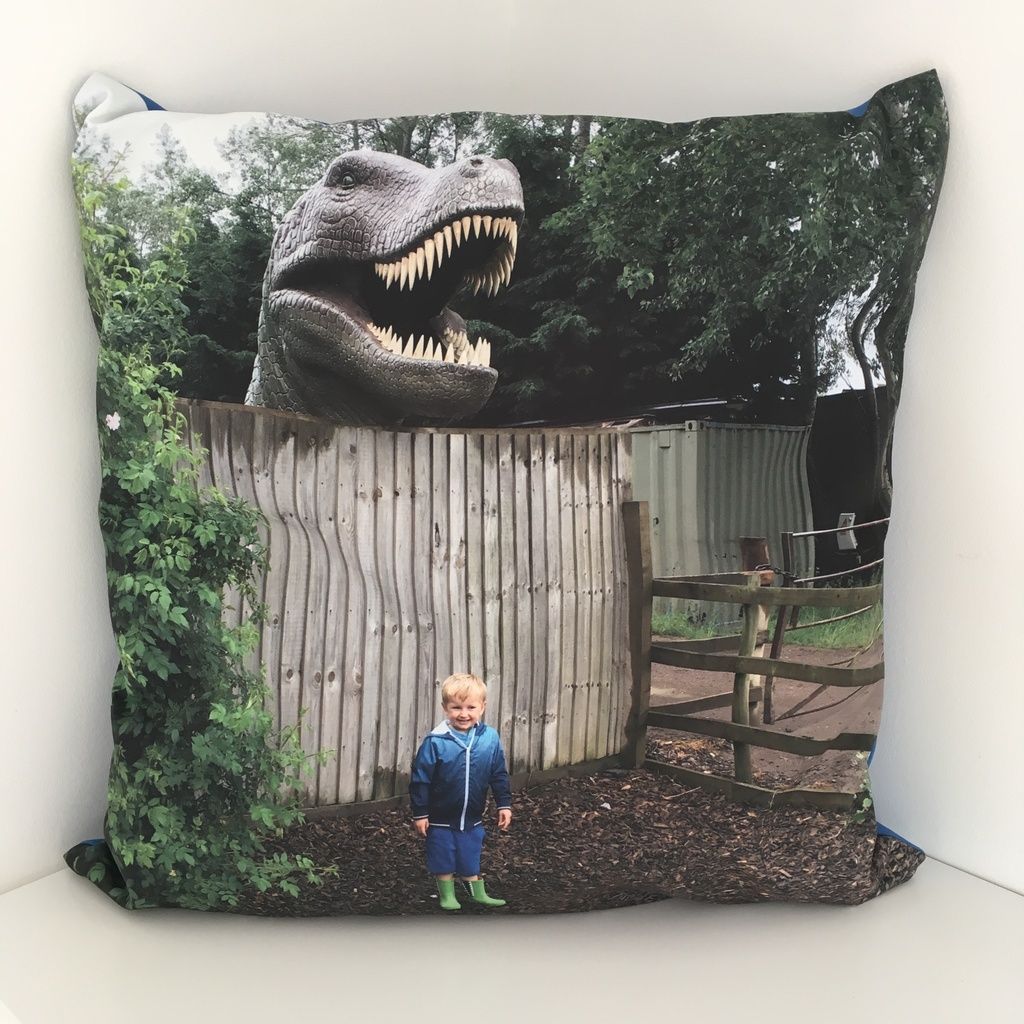 Isn't it just adorable?!
My-picture.co.uk discount
Earn up to 13.6% cashback from My-Picture.co.uk with TopCashback! Click here to see the current cashback for My-Picture.co.uk. Cashback is free money back on your online purchases at no cost to you!