AuCuTee baby soothing sounds machine review
Posted on
I'm back today with my second review of an AuCuTee sound machine product. Not long ago I was sent a sleep therapy white noise machine which seemed predominantly aimed at adults, but today I have their soothing sounds machine which is aimed at babies and small children.
Whilst I no longer have a baby, I do have a three year old and six year old. My six year old daughter, Bella, still soothes herself to sleep with music. Quite often she is able to fall asleep without aid, but she usually wakes at least once per night and I hear her turn her comforting music on to drift back off again.
I thought this product could be perfect for her, or even my younger son, so was happy to review.
AuCuTee Baby Soothing Sounds Machine Review
I've been using the soothing sound machine yesterday and today since it arrived to test it out and gather my thoughts and first impressions. As I sit here typing this, I have it sat on my desk playing lullabies so I can test out the voice activation feature.
It has many great functions that I'll share with you here: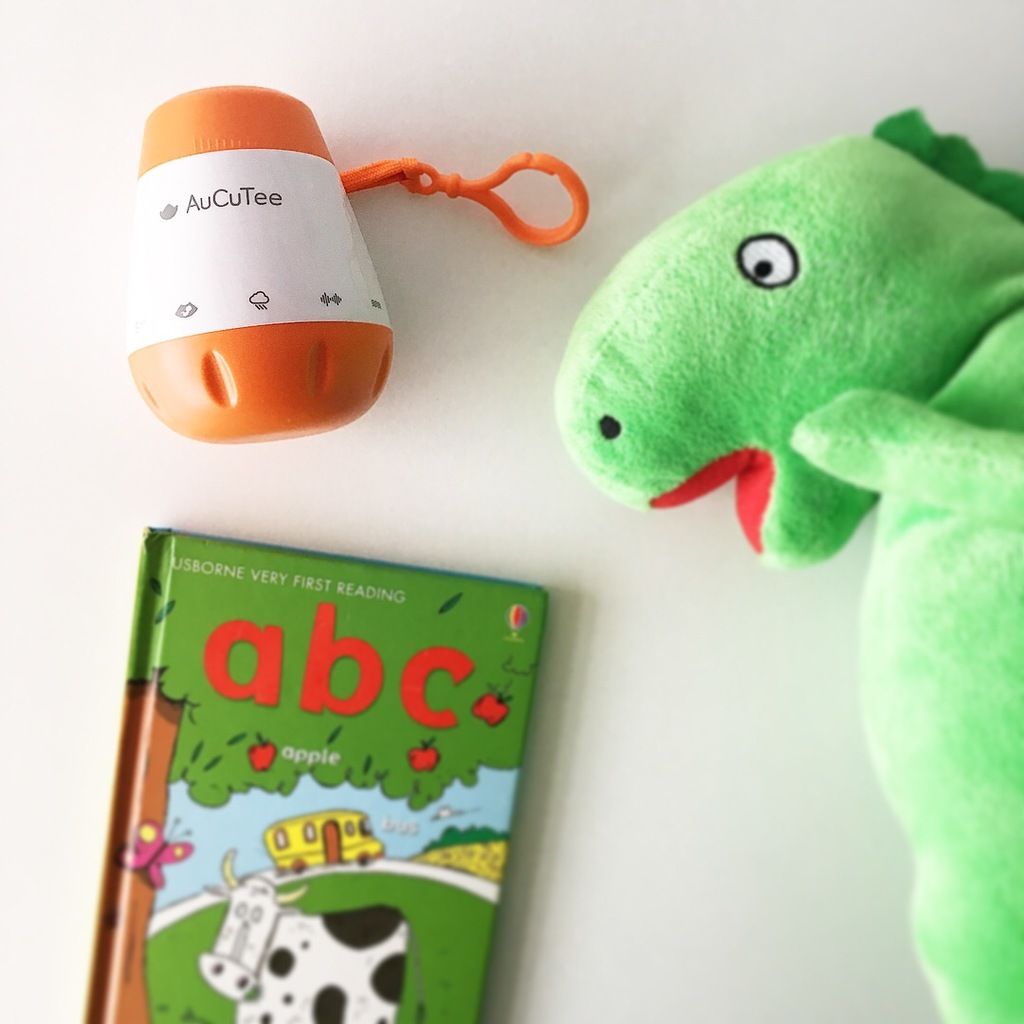 Minimal packaging
The packaging for the product itself is simple and modern. This product arrived in a small box with a transparent sleeve so it could be seen. I immediately thought this would make it a great present for someone who has just had a baby.
Baby safe design
I love the bright orange colour which makes it suitable for a boy or girl and is fun for children. The design is very slick. It's simple, but perfect for a baby. There are no knobs or buttons – simply twist the top for the volume and twist the bottom to choose a sound. This makes it easy for a young child to use by themselves and also prevents a baby from being able to chew any buttons. In fact it is specially made for babies to have chew-safe materials and a round body.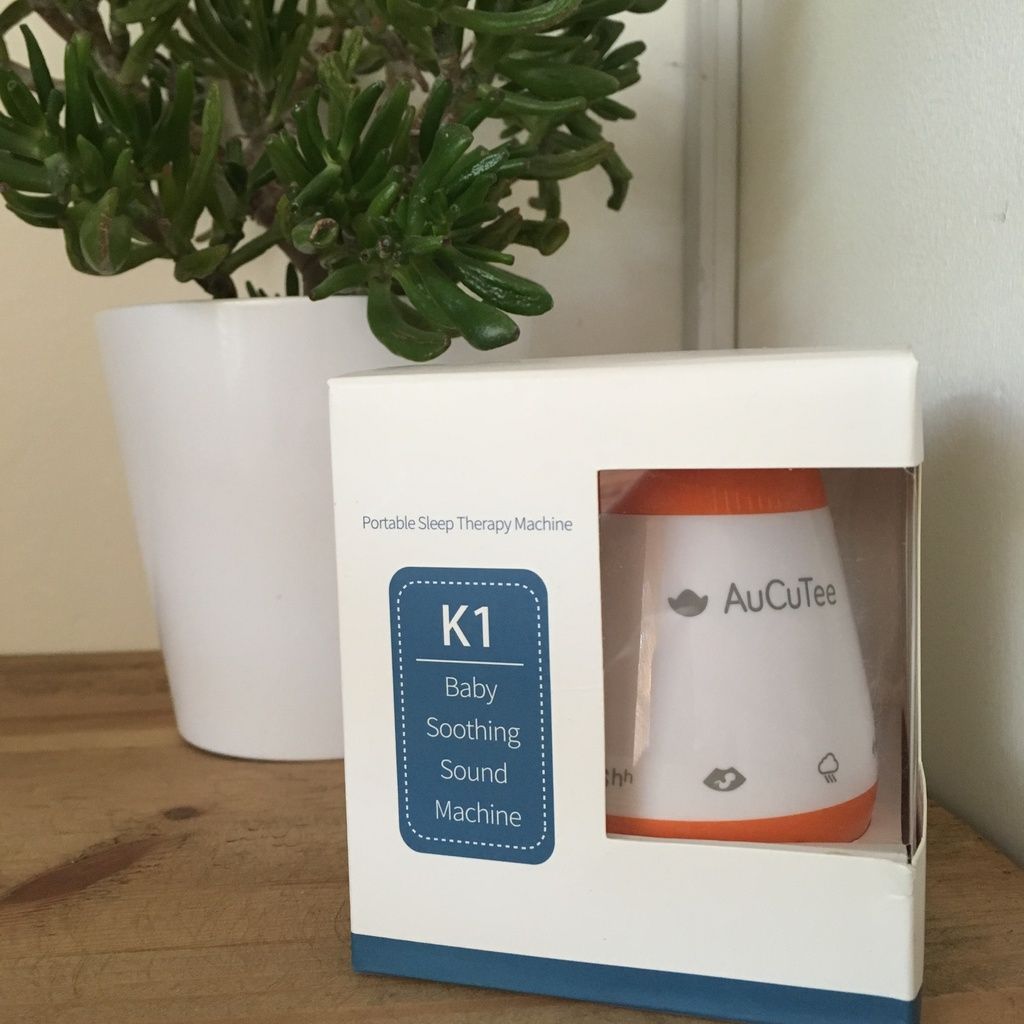 Six perfect sounds
The unit has six sounds which may not sound like a lot at first, but it has everything you need from lullabies to white noise. The options are lullaby, shush, heartbeat, rain, white noise and wave. With my children I've found they develop a favourite and this becomes their soothing sound, so I'm sure one of these sounds will be suitable. As babies my children preferred white noise, but as they've grown they like lullabies more.
Easily portable
It's very small and lightweight with a built-in rechargeable battery so it can be used on the go and for travel. It has a handy clip so it can be attached to a pram, car seat, handle or cot – wherever baby is sleeping or needs soothing.
Sound sensor
The lullabies or white noise sound will play for 30 minutes and then stop. The machine will not turn off, but instead go into a sleep mode in case baby wakes up. If it detects a sound that indicates baby has woken then it will begin to play again automatically. I tested this by simply saying googoo(!) at a normal level when it ran out and it began to play instantly. This is a great function as it will comfort the baby until you arrive or even send them back to sleep.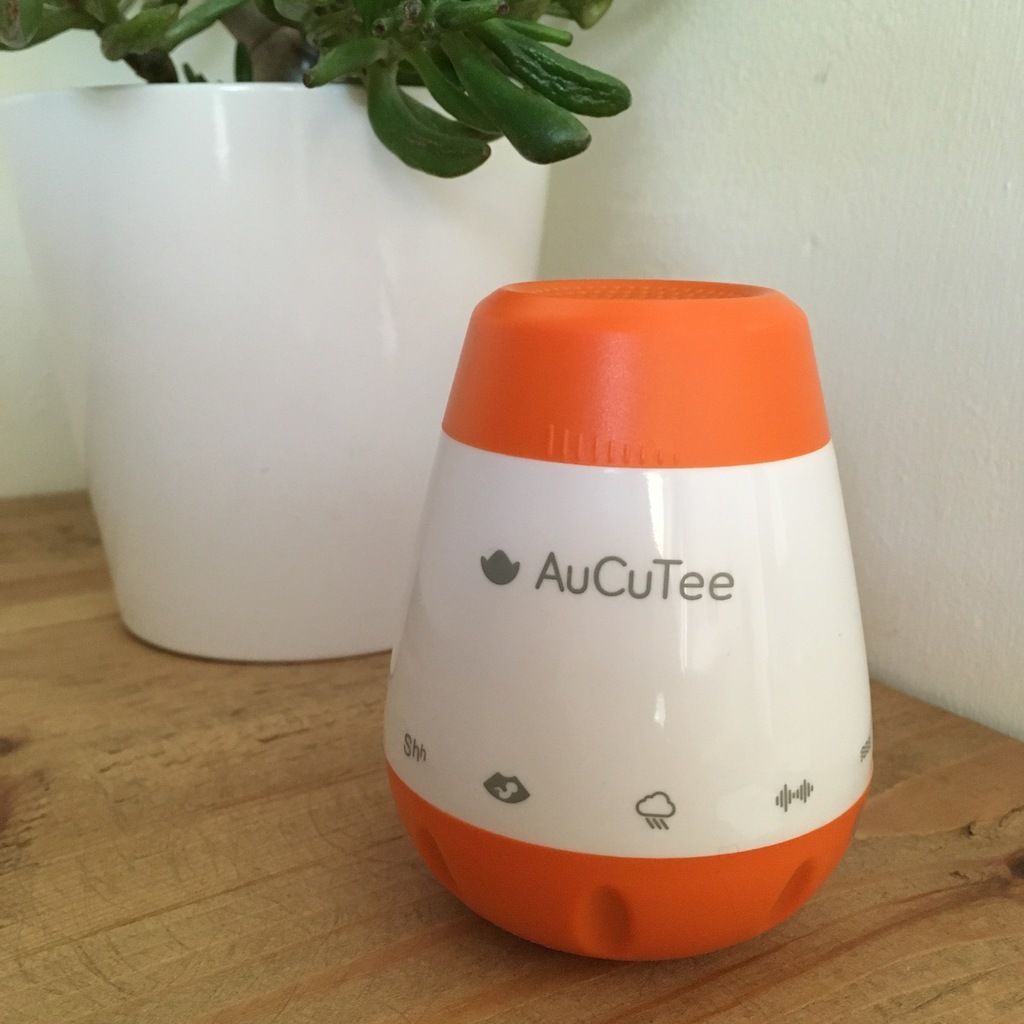 Straightforward to use
I can be a bit terrible at reading instructions unless absolutely necessary and so I just took this out of the box and didn't read them at all. There's no need to though as it's so simple to use. It comes with a charging cable so I first plugged it in until the light on the back was green instead of red. Then it was obvious to twist the bottom to move the arrow to the desired sound symbol. For a second I wondered where the on switch was, but quickly realised to twist the top to turn it on and adjust the volume. Easy.
It's a great product with a simple design which is all it needs. Sometimes things can be too overcomplicated, but this is easy to use, baby-safe and design friendly. It's a perfect nursery addition for babies, but also a wonderful soother for older children who need help getting back to sleep or even off to sleep, plus it's lightweight and portable so ideal for family travel.