11 budget tips to redecorate your kitchen to help sell your house quickly
Posted on
Need to sell your house quickly? Improve your kitchen with these tips!
It's no secret — kitchens sell houses.
When you're preparing to sell your home, it's worthwhile spending time on your kitchen. Particularly, if you want a quick sale.
Don't let the cost be a deterrent. Even though the price of a new kitchen is between £10,000 - £50,000 — you can still make yours look a million bucks without breaking the bank.
If you want to sell your house quickly, here are 11 simple tips to update your kitchen on a shoestring budget.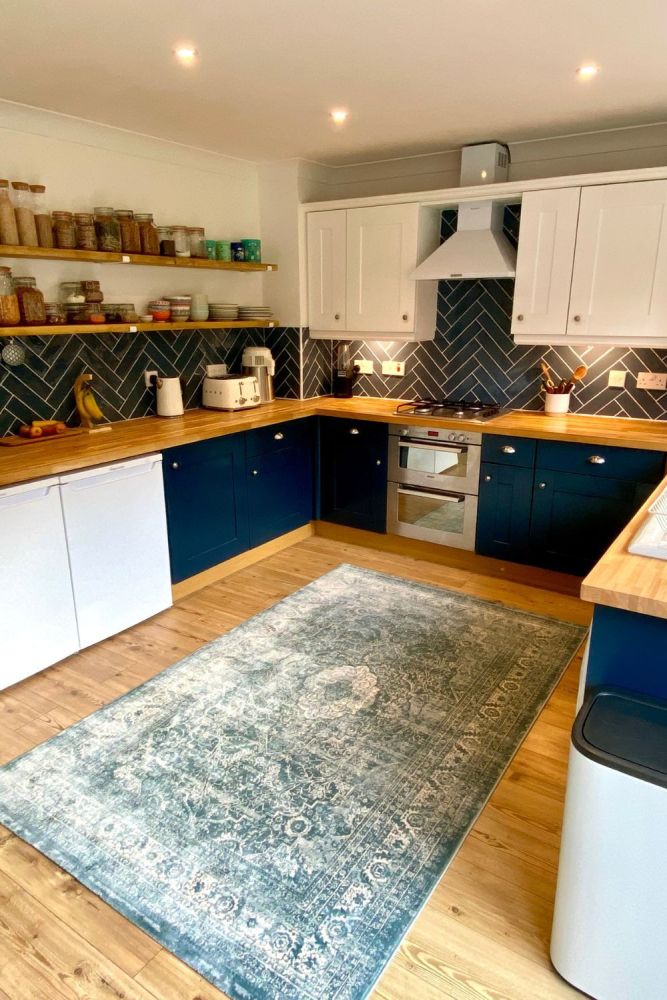 1. Declutter
Kitchens are notorious places for hoarding — let's face it, you don't need three vegetable peelers or multiple spatulas.
Get rid of duplicates, anything that is broken or damaged or you haven't touched in the last 6 months. Also, pack away things like toasters and kettles prior to viewings to create more space on the workbench.
If you have a small kitchen then you really want to make it feel as spacious as possible. Hide the junk and you'll be amazed at how much larger the space can seem.
2. Be creative with storage
Once you've had a good declutter, think about your storage. Great ways to tidy away utensils and kitchen paraphernalia include placing dividers into drawers, adding small shelves, and hanging up pots and pans.
You can also recycle a couple of nice containers and use them as utensil storage. Or, if you want to create a lighter space, remove cabinet doors entirely and have open shelving. You can then display your best plates and bowls.
If you have open shelving then make sure it's a statement. Don't overfill them with packets, tins and jars that look messy or cluttered. Display patterened bowls, plants and cool food storage containers like Kilner jars.
3. Paint
Don't underestimate the magic of fresh paint. But if the idea of redecorating the whole kitchen doesn't appeal, paint one feature wall instead. If your walls are already a light colour, for your accent wall pick a colour a few shades darker to really make an impact. If you have a small kitchen though, stick with light colours. You don't want to make it feel enclosed.
4. Makeover cabinets
New cabinets can be pricey. Why not try painting them instead? Depending on the colour of your worktop, go for light colours like yellow or green to create a neutral warmth.
Of course, not all cabinet doors can be painted. If they're not suitable for paint and looking past their best, then consider replacing the doors. This can totally overhaul the look of your kitchen and make it look new at a fraction of the cost of an entire new kitchen.
5. Replace old handles or pulls
This is hands-down the easiest way to give your kitchen an update. It's so simple and doesn't have to you cost much. You're selling your house, not your interior design tastes so go for something classic and neutral like brushed nickel.
6. Cover-up appliances
This is a particularly great option if you have tired or mismatched appliances. You can buy inexpensive panels for fridges and dishwashers. They come in lots of different colours including steel silver and chalkboard. Some people even DIY chalkboard fridge panels.
7. Update tired flooring
Remember, no matter how great your kitchen looks — an outdated stained floor will undo all your good work.
Don't be put off the idea of replacing flooring yourself. It doesn't have to require a professional.
A good budget option is vinyl flooring. It's self-adhesive, quick and easy to fix-down and comes in lots of different styles.
8. Repair and replace anything broken
Things to check for include light bulbs, taps, drains, faucet, and traces of limescale and grease. If potential buyers see broken fixtures then they could be put off as it's an extra cost they already know they'll have if they buy the property.
9. A new countertop
A tired worktop looks unclean and is off-putting to prospective buyers. A cheap option is vinyl or laminate. These are inexpensive, easy to install and you'll be surprised how great they look.
10. Lighting
Lighting is a vital feature when selling your house. This is doubly important in the kitchen where good lighting can completely transform it. Replace old lighting fixtures with something more contemporary like a pendant light or track lighting.
11. Make it feel homely
The kitchen isn't just a practical space, kitchens are also a social place to spend time with friends and family. Don't hold back adding a few homely touches — just don't go overboard. A few (thriving) plants on the windowsill or a fresh bunch of flowers on the counter will give it a personal touch. This will help buyers imagine themselves living there.
Final word
If you want to sell your home quickly, a kitchen makeover doesn't have to cost you a fortune. With a little creativity, you can impress prospective buyers and get a quick sale. This means you can move into your new home even faster!