How to give your home a personal touch
Posted on
Over the past four years we have been busily doing up our first family home. Whilst it's certainly tempting to make it look like a spread out of a home magazine, it wouldn't feel very personal to us. I think it's really important to make a home feel individual to you.
We do have a very minimal style throughout our home, which is very much my influence. I just feel so much calmer with more space and less things. Even though we only have a few items dotted about, we do have carefully chosen items including many that give our home a more personal feeling.
Many people also make the mistake of following décor trends. Along with 'fast fashion' I think there has also been a surge in 'fast décor' as there are numerous cheap home décor shops and it's so easy to follow a trend and change our minds nowadays, without breaking the bank to do so.
It's much better to think of your personality and reflect this through your homeware choices by choosing items that you truly love and that will have a place in your home for a long time.
Here are some tips on how to give your living space a personal touch by taking inspiration from our living space.
Custom textiles
I was never sure about personalised cushions, but we recently ordered one for the children's playroom/Reuben's bedroom with a photo of my son standing below a T-Rex at a wildlife park. He absolutely loves it and visitors always comment on how much they love the cushion.
Whilst photo cushions are great in a kid's room, they might not be appropriate in the living room if you're opting for a more sophisticated space. Instead you can still personalise your textiles with pillow cover printing with Countryside Art. If you're a dab hand with a paintbrush then design your own cushion covers and have them printed for something really custom and unique to you.
Initial décor
Having your whole name plastered about isn't always so chic, but there are lots of initial home décor products available which are. We have some reclaimed wood candle holders above our fireplace with a B for my husband Ben and a V for my name Victoria on the front. They are just the right amount of personalised in my opinion without being overbearing. I've seen metal initial letters and lamps which also give just enough personalisation without being too tacky and are suitable for main living spaces.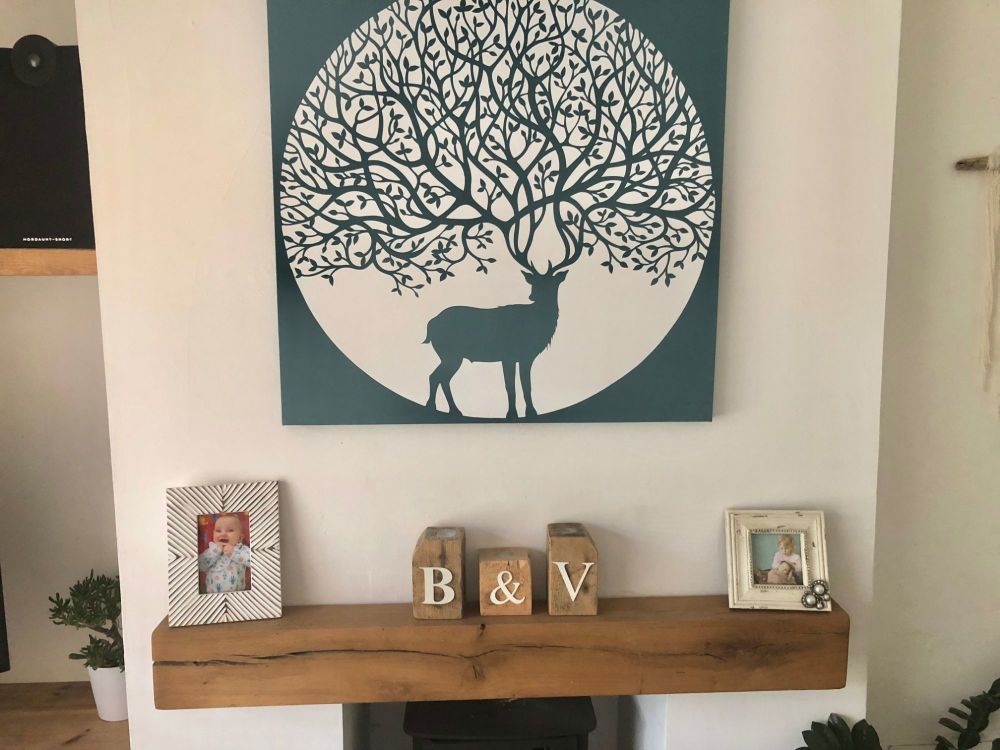 Photos
Next to our personalised candle holders on our fireplace we have some photos of Reuben as a baby and Bella as a toddler.
We also have some canvases up on the wall of the dining part of the room. There's nothing more personal than family photos. Though I have minimal photos in this room I have chosen large canvases in the dining area to create a greater impact. We'll be getting the artex removed at some point, so for now I'm just hanging items where there are existing nails, hence the odd layout on the wall...!
I do also love family photo walls and in our hallway we have a photo collage wall. I've seen others do this above their sofas and it makes a great personal feature wall unique to you and your family.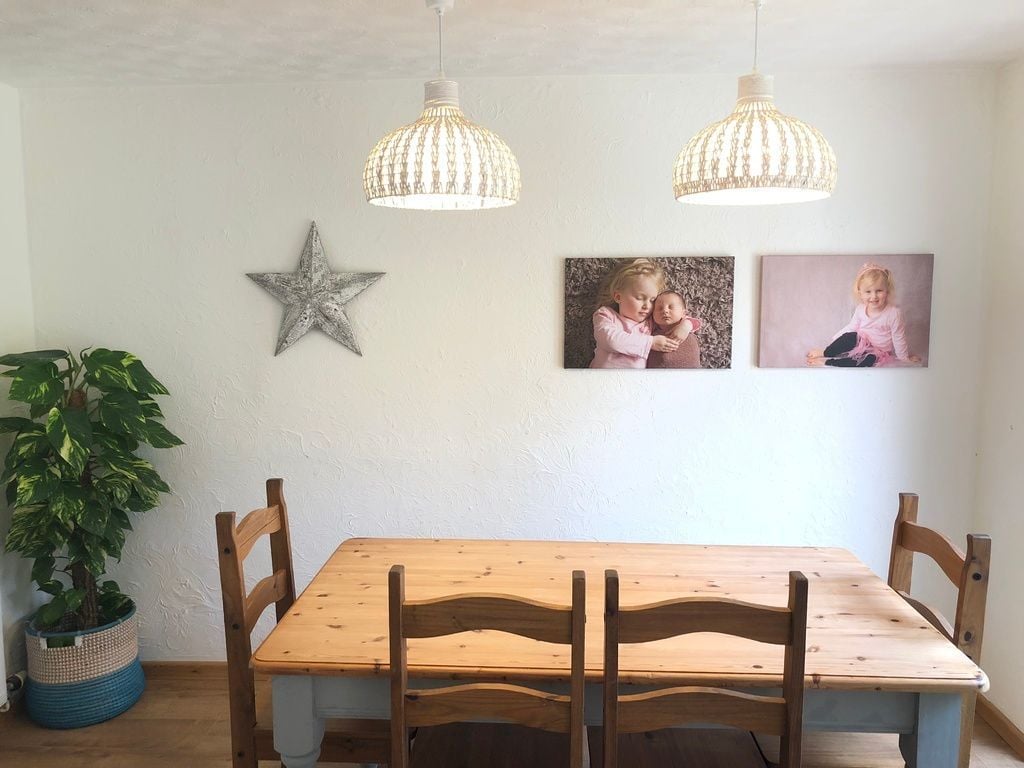 Wall art
I love handmade one of a kind hangings and we have a beautiful macramé wall hanging on the wall of our living room. I have another handmade wall hanging made by a friend in my bedroom. No one else will have these pieces which makes them very personal to my home.
If you are crafty or great at drawing then you can create your own art for your walls. If not then consider having your favourite family photos turned into paintings or drawings.
Shelfies
I've not jumped on the shelfie bandwagon, but I do still like them. The idea is to create a shelf of items you love such as photos, trinkets, lamps, ornaments and anything that represents you and your family.
Lining a shelf with such objects will give your living space a warm and personal touch.
Final word
There are so many ways to make your living space more personal to you. Plus, these ideas don't break the bank and can be suitable for renters too. Happy creating!