How to find a restaurant Christmas menu to suit your budget
Posted on
Christmas is for spending quality time with family and friends, but it's also a time to stay cosy and warm indoors with some great soul-warming comfort food. You may have noticed the Christmas decorations and trees popping up in pubs, shopping centres and supermarkets now it is only six weeks until the big day. This means the eateries are busily promoting their Christmas menus and special festive dishes to tempt your every taste bud!
If you're looking to eat out in a restaurant during the festive season and you want to find the best deals all in one place, then I can recommend searching the festive dining deals at Bookatable. We've booked a few tables at local restaurants throughout the year using this website as they share great value set menus and restaurant deals all year round. There's also an option to check out vegan dining options only which is very handy for us! Though most places now offer vegan menus as standard which is amazing.
To keep things within budget, you can choose to search for deals under £30. A quick look and I can find a 3-course festive set menu for under £20 and a 2-course festive menu for under £15. That's a bargain! It will depend on the areas you are searching to what you will find, as there are different deals and restaurants available in different areas. If you do have some extra cash to splash then you can search for deals over £30 to find a more exclusive setting.
A great tip is to sign up for the Bookatable newsletter from their homepage and receive deals via email for the county you live in! This is how we find all the best deals and get tempted by special offers at the restaurants we love. It's never worth paying the full price off a menu in a restaurant if you can find a special offer or set menu deal that offers better value.
Reviewing the vegan festive menu at All Bar One, Cheltenham
On Sunday Ben and I went to All Bar One to sample their festive menu. They have a great 3-course set menu available which we booked using the Cheltenham festive dining options on Bookatable or select your closest location to see your local Christmas menu options. The set menu sounds absolutely delicious, but there was a little bit of a mix up. I booked our table on Friday, so perhaps at short notice, and unfortunately they would have had to order in our food so we were unable to have the festive menu. They had only just noticed the menu we wanted to order from the day we were arriving to eat. As we had already arranged childcare we couldn't rearrange easily, but they were ever so apologetic and accommodating so we were able to stay for something else. They actually also have a walk in festive menu available with vegan options so we were able to order from this. Phew - as I was feeling all festive and really wanted to sample some of their seasonal offerings!
They have a huge range of vegan options on their main menu too which they proudly showed us. They all sounded delicious and were tempting, but we had festive vibes going on and so stuck to the walk in festive menu which had The Vegan Festive Burger – aubergine and harissa vegan burger with shredded sprout, coleslaw and BBQ cranberry sauce served with sage and onion fries. Wow! It sounded might beasty and also like a sort of burger roast dinner?! I had no idea if stuffing flavoured chips would be good or even if cranberry sauce mixed with BBQ would work, but I was willing to try.
We could have swapped the chips for salad, but couldn't resist trying the sage and onion chips! We also ordered a side of sweet potato fries to share. Partly because we were being greedy and partly in-case we didn't like the burger.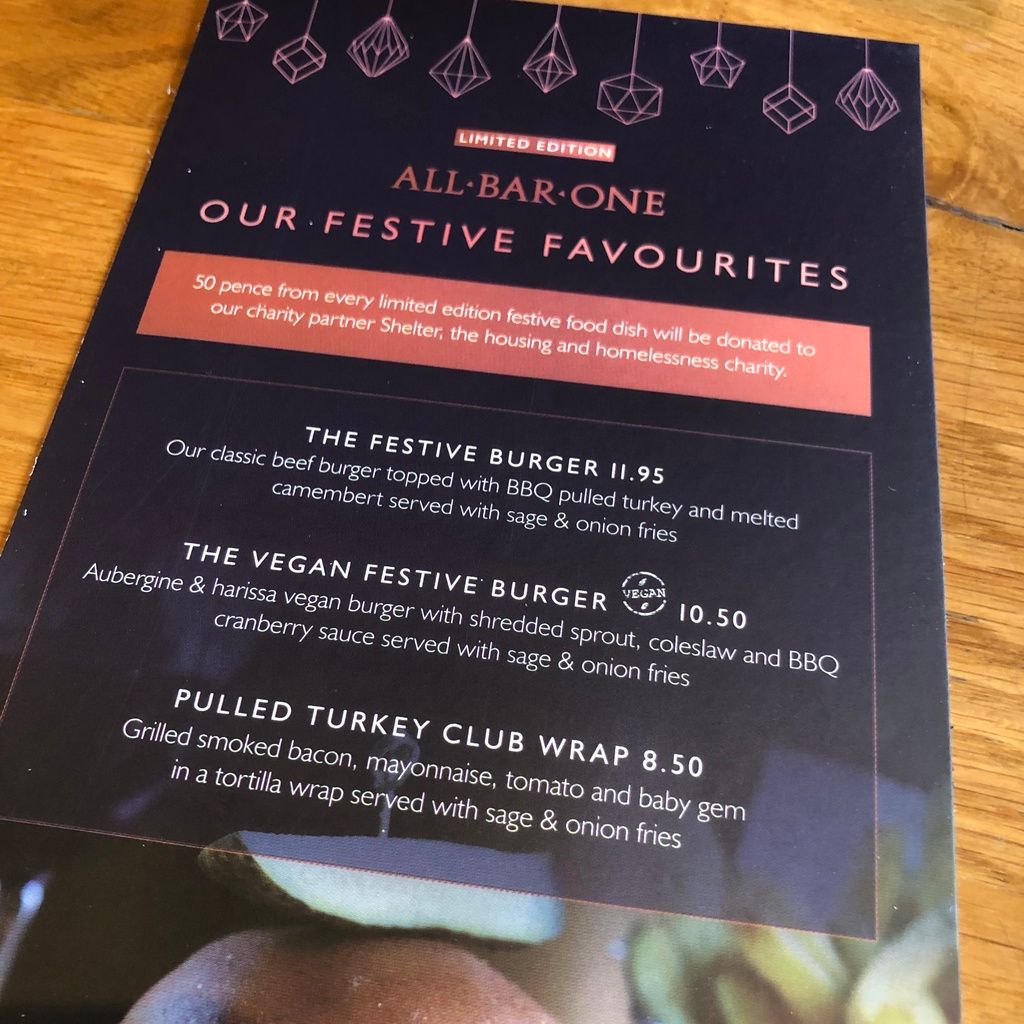 The Vegan Festive Burger review
We needn't have worried as the burger was INCREDIBLE! Oh my goodness. It was so delicious, I have to go back for another. It definitely ranks as one of the best vegan burgers I have had. Maybe even the best.
One of the best parts is that it came with a wholemeal seeded bun. I only choose wholemeal at home, but whenever we eat out this is rarely an option. Burgers always come in white buns as standard. I was so impressed to see a wholemeal bun and a good quality seeded version at that.
The burger was delicious too. I love crispy vegetable burgers, so this was a hit. Ben is also enjoying these types of vegetable burger which is fab. Before he went vegan he would always choose a meat cheeseburger when we ate out – there wasn't even any point in him ever reading a menu as he'd just choose the burger! Recently we had a vegan burger that was very meat-like and I assumed he'd love it. He didn't enjoy it all. He said he actually preferred crispy breaded vegetable burgers now. What a transformation in a year!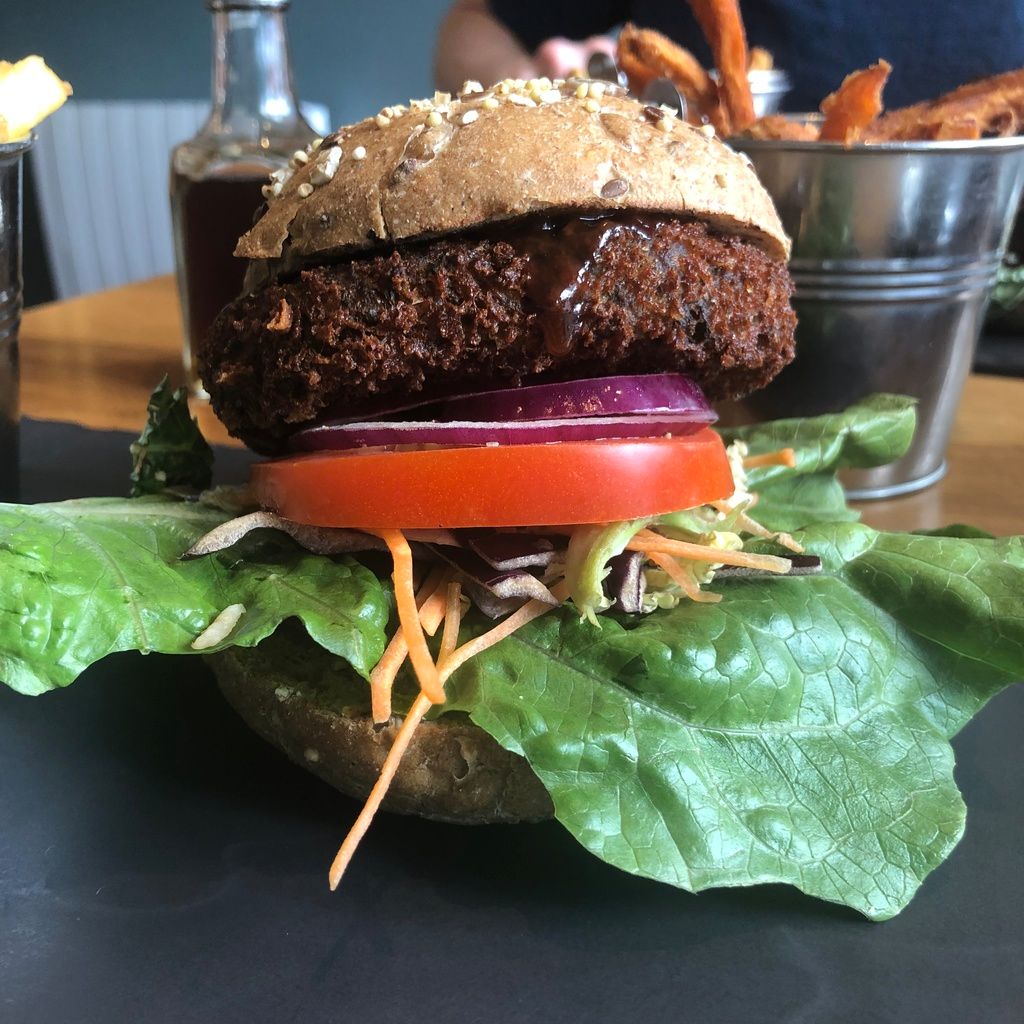 I never used to like BBQ sauce, but it's often on vegan burgers and I've recently stopped asking for mine without and I think I'm developing a liking for it. Perhaps it's just because it's so full of sugar and just tastes so sweet to me. At home I don't buy anything with sugar added, so my taste buds are perhaps really picking up the sugar flavour! This burger had BBQ at the top and cranberry at the bottom. Now let me tell you, I DO love cranberry sauce. It makes a roast dinner perfect if you ask me. And yes, I found a no-added-sugar version by a company called Meridian! The combination of the BBQ and cranberry in this burger was spot on. It was sweet, but it worked really well and made the burger so tasty! Usually I'd love mayo and ketchup in a burger. At home we use Vegenaise or Mayo Rice and tomato puree, so it's all very savoury tasting, so the cranberry/BBQ mix was the total opposite. It made it really sweet, but I really enjoyed the flavour combination.
Stuffing flavour chips as I kept calling them were a hit too. They definitely had that unmistakable sage and onion flavour that is reminiscent of a roast dinner, but again this worked really well. I think when we ordered we thought it all sounded very strange for a burger and chips, but of course festive. Luckily it all worked and we both really enjoyed every bite. So much so that I do want to go back and have another festive vegan burger before the year is out and they stop serving them!