Is it really possible to make money blogging?
Posted on
Are you someone who loves to write and share your ideas, thoughts, and feeling with others?
Are you someone who wants to make their own money? How about a way to be able to do both?
Blogging could be the answer to all of these questions.
I still see people on Twitter asking 'is it really possible to make money blogging?' which surprises me in this day and age as blogging is definitely more popular and in the media a lot more.
I've even featured in The Sun to share how much I make blogging each year and how. I've seen people on TV with 'blogger' next to their name as their profession. It's definitely more commonplace and known about than it was a few years ago.
Can lifestyle blogs make money?
Go back three to four years and I didn't totally know that anyone could make money blogging. Certainly not little old me with my teeny tiny lifestyle blog. I did know there were some famous bloggers who made money, but I assumed this was from big brand collaborations, product placements and ads on their sites seeing as they had so many fans and visitors. I tried ads on my site at the time but only managed to make a whopping £5 at most per month which told me you had to be hugely popular to make an actual living from ads.
Since then I have become a full-time blogger myself and realised that your aim doesn't have to be to become famous through blogging to make a living. As an introvert and someone who doesn't like a lot of attention that's totally not what I aim to do. Rather I love writing blog posts and maintaining a website and wanted a way to make that my job.
Luckily back at the start of 2016, three years after I started my first blog, I randomly discovered some blogger income reports and realised that there were bloggers just like me making money from their blogs! I learned that the types of blogs that make money can be anything and you don't have to be famous or well-known.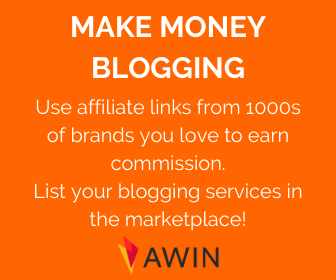 My blog was a lifestyle blog at the time covering a variety of topics and made a full-time wage for two years like this through 2017 and 2018. I have since set up more blogs and I've decided to niche down to a money angle on this blog and my other blogs cover my other favourite topics of home, travel and healthy living. It's definitely going to be interesting to see if these niched down blogs become successful at making money quickly as all the advice out there is to have a niched down blog which I never had.
So ultimately, yes, lifestyle blogs can make money. Mine did for two years and continues to do so even as I niche down and become more strict with the content I write about.
How do lifestyle bloggers make money?
There are lots of ways to make money and once I discovered I could I started taking my blog more seriously. I had been blogging for three years already by this point, so I had a bit of a head start as my metrics had already begun to increase, but I had been making a lot of SEO mistakes such as writing lots of short blog posts that would never even be crawled by Google or rank in their search engines!
I started researching how to make money blogging and which website metrics I needed to improve and how. By increasing my website metrics such as domain authority, website visitors, my social media stats and other metrics like domain rating and trust flow, I was able to start applying for brand collaborations and sponsored blog post opportunities.
People all over the world are blogging about things they know a lot about, wonder about, or just want to talk about. But, if you are serious about your blogging, there are some ways that you can cash in on spreading your message across the internet. There are lots of different ways to make money blogging.
Here are 10 ways that bloggers can make money
Write sponsored blog posts
Accept pre-written paid blog posts
Host brand giveaways
Charge for your time and social shares when reviewing items
Join an ad network
Use affiliate links and banners
Charge for social media ads
Charge brands to use your images
Write content and blog posts for brands and businesses
Offer blogger outreach services
Read about these ways in more detail here: 10 ways to make money blogging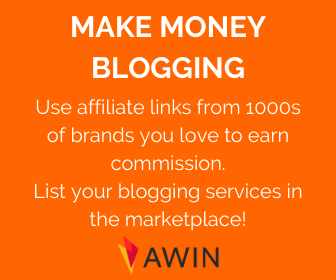 My Lylia Rose Money and Lifestyle Blog is one place you can start to explore the possibilities of making money with your blog. I share lots of tips and advice as well as my own personal experience. I do this because if other bloggers hadn't have shared this information, then I would never have known I could turn my hobby into a career! So now I share my own experience to hopefully inspire others, just like I was.
How do I get started as a lifestyle blogger?
Before getting your thoughts and ideas out there to the world, you need to learn how to set up a blog and create an effective website. There are many web design companies available to help you get started on the right track to developing an appealing and professional looking website. This is particularly useful if you are really a total technophobe, but most of us lifestyle bloggers create our own websites using online templates.
WordPress is probably the most recommended in the blogging community and you can even set up a free account to get started to see if it's right for you before investing any money. Three of my websites are hosted with WordPress and they each cost me around £36 per year which is barely anything.
This Lylia Rose website is hosted and created with a company called Create and it costs me £150 per year, plus around £30 for my domain name every two years. I did start this website as an ecommerce store originally and so the blog is very basic, but still, that just proves that you really can make money blogging from any platform, even without all the amazing blogging functionalities that using WordPress and going self-hosted and can bring!
If you want to be a professional blogger then this blog post shares everything I think you need:
Everything you need to stay organised and productive as a professional blogger
How long does it take to make money blogging?
When you are ready to start, it is important to understand that blogging is going to take time. You are not going to get hundreds of followers right away and you will need to learn patience while continuing to get content out on your blog. It is also important to not be scared off by looking at other people's blogs. Everyone has their own style and idea of what their blog should look like. Don't be intimidated. You will continue to learn and grow through the process.
In terms of making money with your blog, this will also take some time and patience. The best way to learn the tricks of the trade is to read other bloggers stories and see what they did to generate an income for their blog. That's exactly what I did and what many others did. But also, as your content grows and you put it out there on social media then you will begin to be found. Brands and agencies will start to reach out to you directly.
However, don't rely on this! I spend hours every week searching high and low for paid blog work and I put myself out there.
Here are some of the ways I search for paid blogging work: 4 ways to find paid blog opportunities
The answer to how long does it take to make money blogging is how long is a piece of string?
It's different for every blogger. On my first blog it wasn't my aim and I started making money after three years and quickly built this up to a full-time wage in less than a year. On my newer blogs it took me two months to get my first paid blog post on one of them and around a year with another of them! Even two years into one of my other blogs and it only makes me a couple of hundred a month, yet this blog can make me £1500-£2000.
It all depends on your stats, whether you appeal to brands, how quickly you are able to scale up and grow. There are so many different factors. But it is possible to make money from a blog within your first year. It just might not be enough to hand in your notice right away!
I have tons of useful articles that can help you if you want to make money as a blogger. Find them below and subscribe to my newsletter so you don't miss any of my articles. Good luck with your blogging journey.
Helpful articles if you want to monetise your blog
Make money from your blog with Awin affiliate marketing

How to make money from your blog without Google ads
How to improve your domain authority (DA)
6 secrets to make more money from your blog

All make money blogging blog posts

How I drive traffic to my blog
10 ways to make money blogging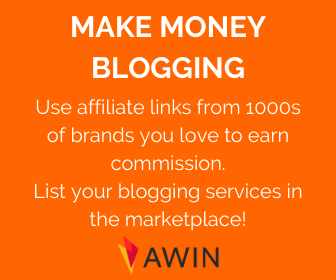 Images created with Canva