Common Boiler Problems and Solutions
Posted on
Boiler problems can be one of the worst problems in a house. Replacing a boiler can run into the thousands and being without a boiler can mean cold showers and launderette bills. If you rent your home then it's only an inconvenience until your landlord fixes the problem, but if you are a homeowner then you'll need to foot the bill for any boiler repairs or replacements.
Read on as we explore the importance of an annual boiler service, common boiler problems and how to fix them.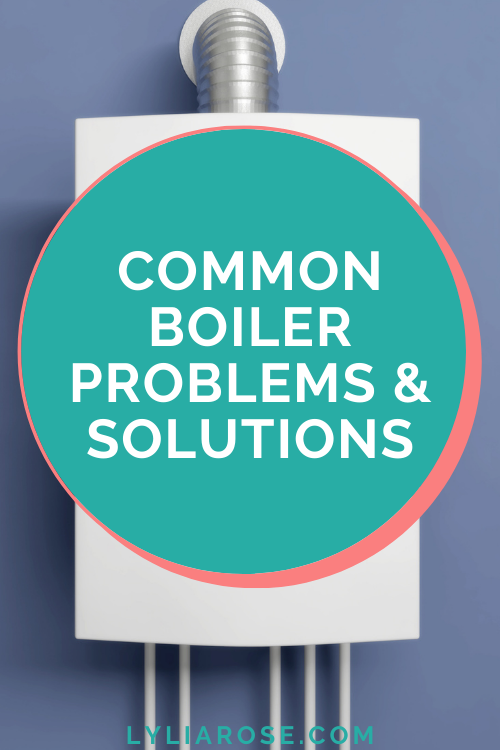 Book a boiler service
One way to keep your boiler running efficiently is to book an annual boiler service. An annual boiler service will ensure your boiler is functioning correctly and safely.
If the engineer discovers any significant problems, you may need to replace it with an energy-efficient boiler instead of paying for regular repair fees. Without this yearly check, your energy bills could skyrocket, and your boiler could breakdown unexpectedly.
Annual boiler services typically cost around £72 and although a boiler service is recommended every year, I know many of us don't always remember, so here is your friendly reminder!
Your boiler needs looking after too!
Just like all other household appliances, boilers needs proper care and maintenance. Winter, especially, can be very demanding on a boiler. It's pretty much running all the time to provide hot water to your radiators so you and your house stay warm.
For this reason, a service before the winter months hit could be the ideal time to stop a boiler breakdown when you need it most.
Whilst an annual check is one solution to help prevent boiler problems, it won't stop them all. They can frequently stop working when you need them the most!
Here are a list of common boiler problems and how to solve them.
Common boiler problems and solutions:
Boiler turning off
If your boiler keeps switching itself off then it could be caused by a variety of reasons. These include:
Low water pressure
Thermostat problems
A closed valve
Air
The pump not circulating the water properly
Invest in boiler cover for peace of mind
If you can't work out the reason why it's switching off from your own troubleshooting, then you may need to call out a professional. Call out fees can be expensive, so it might be worth investing in boiler cover for peace of mind.
Make sure you shop around for boiler cover as many offer some great deals so you choose them for your annual cover. For example you can visit this site to get an Amazon voucher when you take out cover with Corgi and at the time of writing this you can even get up to £42.50 cashback if you visit their website via TopCashback.
If you don't choose to take out boiler cover, then make sure you save an emergency fund if things like boiler repairs are your financial responsibility. You don't want to ever be caught out with a broken boiler without boiler cover or the money to pay for repairs!
If your boiler has totally had it then you'll need to buy a new boiler. This is where that emergency fund will come in really handy as boilers are costly! Check out new boiler deals to make sure you get the best price when you need to replace your boiler.
Boiler keeps gaining pressure
Boiler pressure issues can indicate a problem. If the pressure keeps rising even after the correct temperature is reached or when the heating is off, it's a sign that something is amiss.
"If you've identified that your boiler pressure is increasing, the first place you need to look to resolve the issue is the filling loop," advises Boilers Choice, experts in boiler servicing and maintenance. If the filling pipe is not closed properly, the pressure in the boiler will continue to rise.
Another potential cause is a faulty pressure gauge, "Check the gauge by relieving a little boiler pressure to see if this changes the reading. If there's no change, you'll know that the gauge needs replacing." While it's possible to replace the gauge yourself, it may be more efficient to enlist the help of a qualified boiler engineer.
Left untreated, the accumulation of sludge, debris, or rust in the pipework or heat exchanger can impede water flow and cause pressure to rise and drop irregularly.
So it's best to get a quick handle on the situation whether it's a faulty gauge or problems with the expansion vessel as they can result in increased pressure when the boiler is on and decreased pressure when it's off.
Thermostat problems
Chilly winter weather makes us indulge in long bubble baths and steaming hot showers to give us a spa-like sensation. But what if this water is suddenly constantly scorching hot or freezing cold, for no obvious reason? Or perhaps your heating is turning itself on and off when it shouldn't be.
A thermostat problem could be to blame and may even be the reason a boiler is switching itself off.
It might be time to replace the thermostat for a new one, but sometimes the issue can be fixed with a few quick checks, so don't immediately spend money as you might not need to.
Firstly, make sure your thermostat is turned on. It might seem silly, but if you live with other people then perhaps someone switched it off even without realising, or it's been knocked.
Secondly, make sure the time settings are accurate. If they are not correct then this might be why your heating is turning on and off at bizarre times!
Thirdly, check your heating schedule and the maximum temperature you have set your home to be warmed to. Make sure these are as you need them and haven't been changed.
If everything seems normal then unfortunately you may have to splash out on a replacement thermostat.
Frozen pipes
In freezing winter conditions your boiler may suffer a problem if the condensate pipe freezes whilst carrying acidic water waste away from the boiler. You might be alerted to this issue by a fault code displayed on your boiler or some sort of warning light.
It might be possible to solve this issue by yourself by supplying your pipes with warm water or even using heat packs or hot water bottles on the outside of the pipes to melt the water inside and get everything up and running again.
The boiler may have switched itself off, so once the freeze has gone, try switching your boiler back on to ensure everything works as normal.
Some boiler covers don't include frozen pipes in their plans, so make sure you check this before taking out a plan as otherwise you'll have to foot the bill if you need any damage repaired by a professional.
To prevent frozen pipes it's recommended to insulate the condensate pipe.
Leak
If any of the boiler pipes are leaking then they can cause your boiler to malfunction and stop working. It is not recommended to fix a leaking gas boiler yourself and you must call out a registered engineer.
If your boiler is leaking water then it can lead to serious damage and needs immediate attention to find and fix the issue. The leak can be caused by a variety of reasons such as corroded pipes or a poor installation.
Not only can a leak prevent your boiler from working, but it can also cause damage to your property and belongings.