Organic Aromas diffuser review + giveaway
Posted on
Welcome to my Organic Aromas diffuser review and giveaway. I was kindly sent the Organic Aromas diffuser featured in this blog post in exchange for my honest review. They have also offered to give a diffuser to one lucky reader in a giveaway! Read on to learn more.
If you're looking for a natural way to scent your home and office, then you really should be looking at pure essential oils diffused into the air through a stunning nebulizing diffuser.
This is exactly what Organic Aromas sell: the most beautiful selection of wooden and glass diffusers to suit all styles of home décor.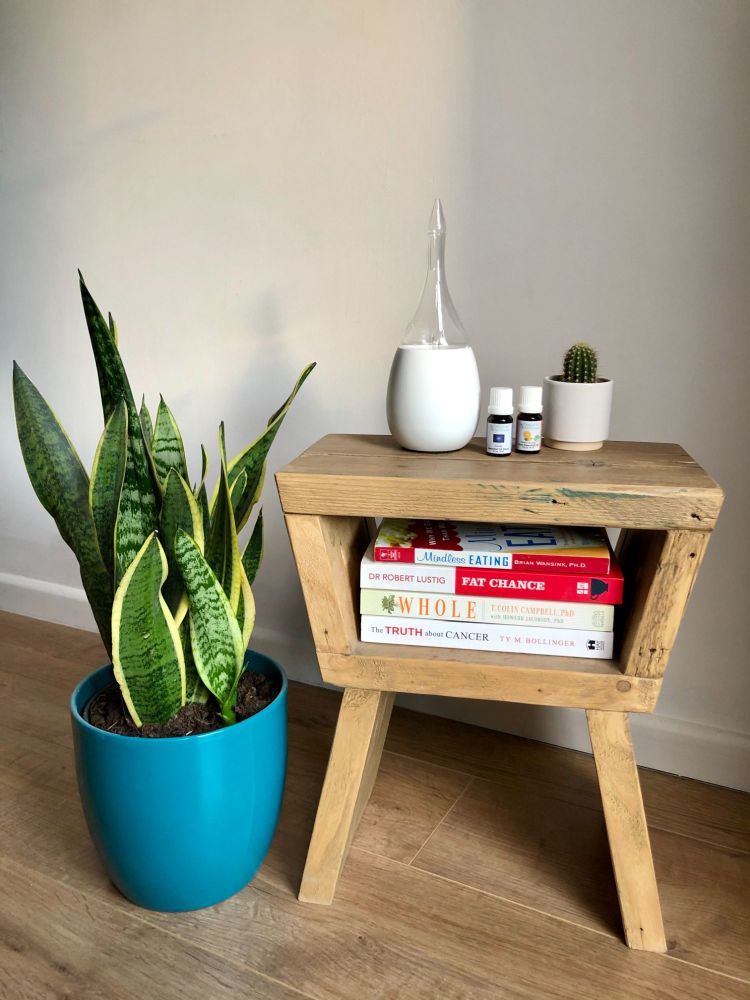 What is a nebulizing diffuser?
We all want our homes and offices to smell great, but this often comes at a cost to our health and planet when we choose an artificially scented air freshener or plug in, full of toxic chemicals and questionable ingredients.
Sure, the most natural way to freshen up our rooms will be to open the window for a blast of fresh air, and of course you should do this daily anyway to refresh the air and improve circulation, but it's not possible to leave the window open in the coldest months for a long period of time. It would waste energy too!
So what is the solution?
A nebulizing diffuser!
These amazing contraptions diffuse pure, natural essential oils into your home or office. They instantly fill the room with amazing scent and also have aromatherapy benefits.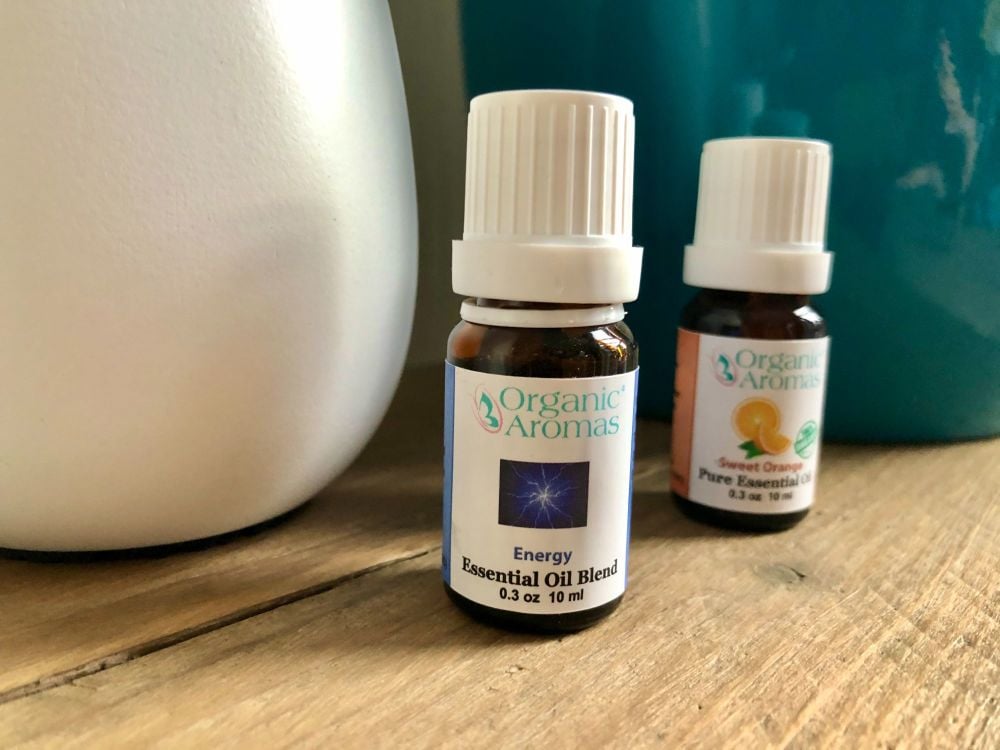 A nebulizing diffuser has the additional benefits of requiring no heat or water. Nebulizing diffusers are the best choice for those concerned with health as the diffuser simply uses the pure essential oils and air to spray a fine mist into the room.
No additional substances are needed and only natural essential oils are used - no chemicals or questionable ingredients in sight!
Organic Aromas explains exactly how it works: "It works by using pressurized air and oil. A stream of air blows across a small tube, creating a vacuum that pulls the oil to the surface of the tube where it is blown away in a fine mist."
Not only is this great as it reduces the need for additional materials or synthetics to scent a room, but it's also the perfect scenting solution for those concerned with all aspects of their health.
Organic Aromas goes on to explain: "For those who use essential oils for their physical and mental health and wellbeing, or those who practice aromatherapy, this is the type of essential oil diffuser to purchase because it can put a large amount of oil into the air when you need it the most."
Organic Aromas Raindrop Nebulizing Diffuser review
I was kindly sent the white Raindrop Nebulizing Diffuser to sample for this review. I love the slick shape of the diffuser, yet also its elegance. It's a shape that can suit so many home decors and though I picked the white version to match my home décor, you can also choose a natural wooden base if preferred.
If this shape is not to your taste, then do check out the rest of their nebulizing diffusers for aromatherapy as there's a huge choice of designs.
The diffuser is really easy to set up and within minutes I had plugged it in and was enjoying the energising scent of their energy blend which filled my living room.
As a bonus, the diffuser also has a light which can be switched on or off when in use, ideal for creating an extra air of ambience if you choose to use the diffuser in the evenings.
Not only is the diffuser perfect for your living space, but with so many of us now working from home as the norm, it's ideal for creating an energising burst of scent to see you through a busy working day.
Essential oils can of course be used to soothe the mind and relax near bedtime, but they can also be used to motivate and energise. There are lots of blends available to satisfy whatever mood you need to create, even during your busiest working day!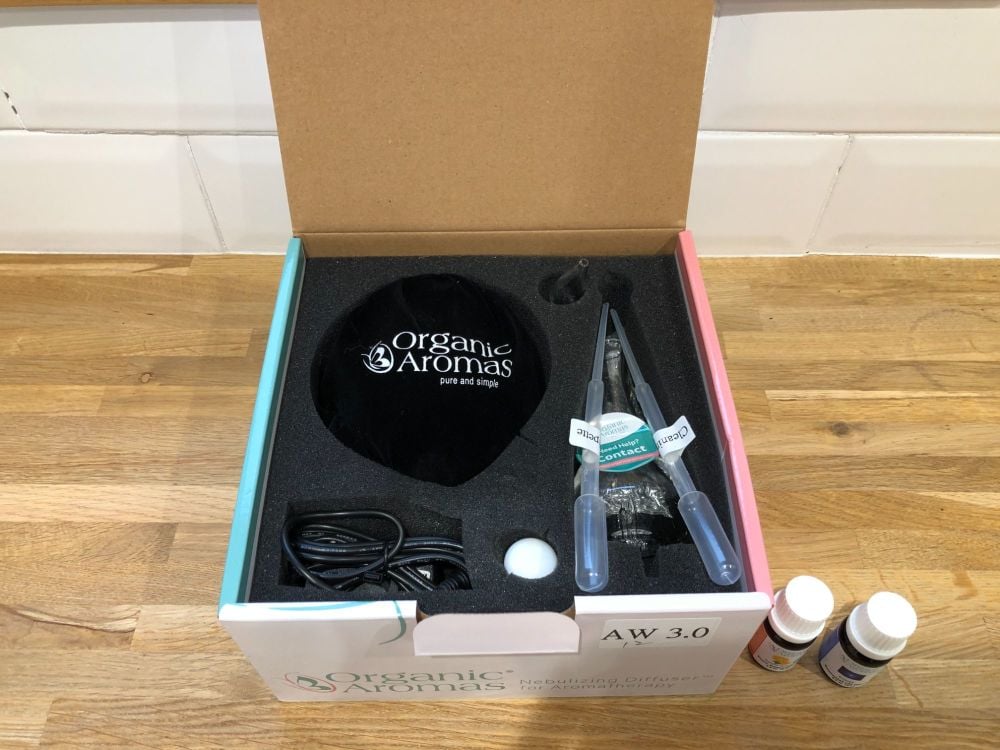 No fuss with Organic Aromas diffusers
One of the best things about the diffuser is it doesn't continuously blow a stream of mist into the air. It stops and starts on its own integrated timer.
This means you can simply add the essential oil, switch it on and go.
It won't instantly use all the oil up in one big burst and run out.
Instead, it will run for two minutes and then stop for one minute. After two hours, it will completely switch itself off.
There's a control switch to adjust how much oil is diffused when it's running.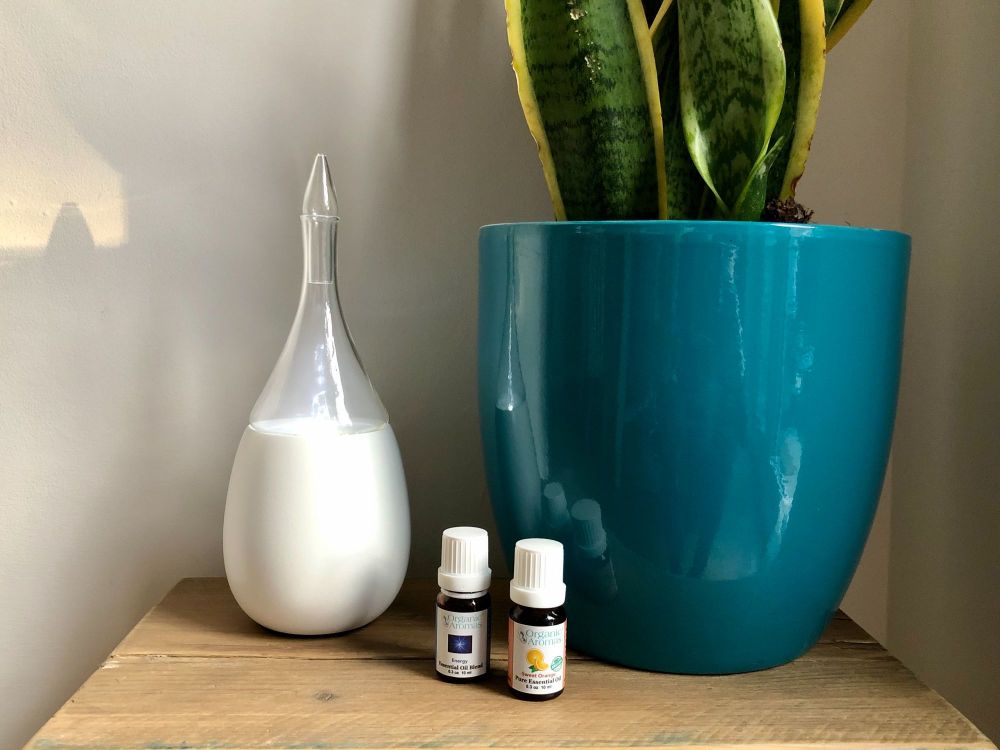 How to use a nebulizing diffuser
It's really simple to get started with your nebulizing diffuser. The raindrop version came in a secure, padded box, in three separate pieces which easily attached to one another.
Once set up and in position, I simply added the power cable, popped a few drops of my chosen essential oil to the chamber and switched it on.
Organic Aromas have lots of easy to follow guides to get you started such as: How to get started with your new diffuser
How to clean your nebulizing diffuser
They are easy to clean too, as this video shows:
The benefits of using a nebulizing diffuser
As already mentioned, there are many benefits to using a nebulizing diffuser above other diffusing methods, or other home scenting methods.
Here are several of the benefits of using a nebulizing diffuser:
Scents a room with pure essential oils. No nasties.
No heat or water needed. Only pure essential oils diffused.
The diffuser can be styled with your home décor.
A little goes a long way - a few drops offers a powerful scent
Aromatherapy benefits - different oils can be used to create different moods and to help with various ailments
Set and go - will scent a room when you're not there
Safe to leave - not like burning an incense or candle which requires your presence
And here are Organic Aromas own explanation of some of the benefits and essential oil blend suggestions:
"Start your day on a high note, every single morning. A few drops of wild orange and peppermint in an essential oil diffuser can help you smile all the day through.
Welcome people into your fresh smelling home. People will love coming to visit when the lemon, spearmint, grapefruit and lavender aroma greet them at the door.
Cut through the odors. Did you cook fish for dinner? Or maybe your teen just came home from football practice. Either way, you'll stanch the stench with lemon oil, teat tree, cilantro, and lime.
Send a message to mosquitos: get out. Flies and other bothersome bugs will head back the way they came when you diffuse a blend that contain lemongrass, thyme, eucalyptus, and basil oil."
By now you can hopefully realise the many benefits to scenting your home and office with a nebulizing diffuser, for both your pleasure and your health.
Win an Organic Aromas Raindrop Nebulizing Diffuser for yourself
For the chance to win your very own nebulizing diffuser, courtesy of Organic Aromas, simply submit your entries in my free to enter giveaway!
It's very easy to enter. Simply follow the instructions on the Rafflecopter widget for your chance to win.
There's even a bonus entry option so you can double your chances of winning!
This giveaway is open to the USA and UK only.
Good luck!
Enter here:
GIVEAWAY HAS ENDED. http://www.rafflecopter.com/rafl/display/ee07d1b3186/