Auron self cleaning water bottle fully funded on Kickstarter in 5 minutes!
Posted on
I must have been off-grid as I have only just discovered there's such a thing as a 'smart' water bottle! These clever bottles can do all sorts of wonderful things like tell you the temperature of your drink, remind you to take a sip every hour and now they can even clean your water and keep it fresh.
That's right - it's now possible to buy a bottle that actually cleans itself and the water inside!
Today I am going to share with you possibly the only smart water bottle you'll ever need - the Auron self-cleaning water bottle.
This bottle was launched on Kickstarter in February 2021 and they reached their funding goal in FIVE MINUTES!
Pretty incredible!
What an amazing start to this brand's story and a sign of a great idea, right? Let's take a look in this blog post to discover all the benefits of this water bottle and why it could be your water bottle for life!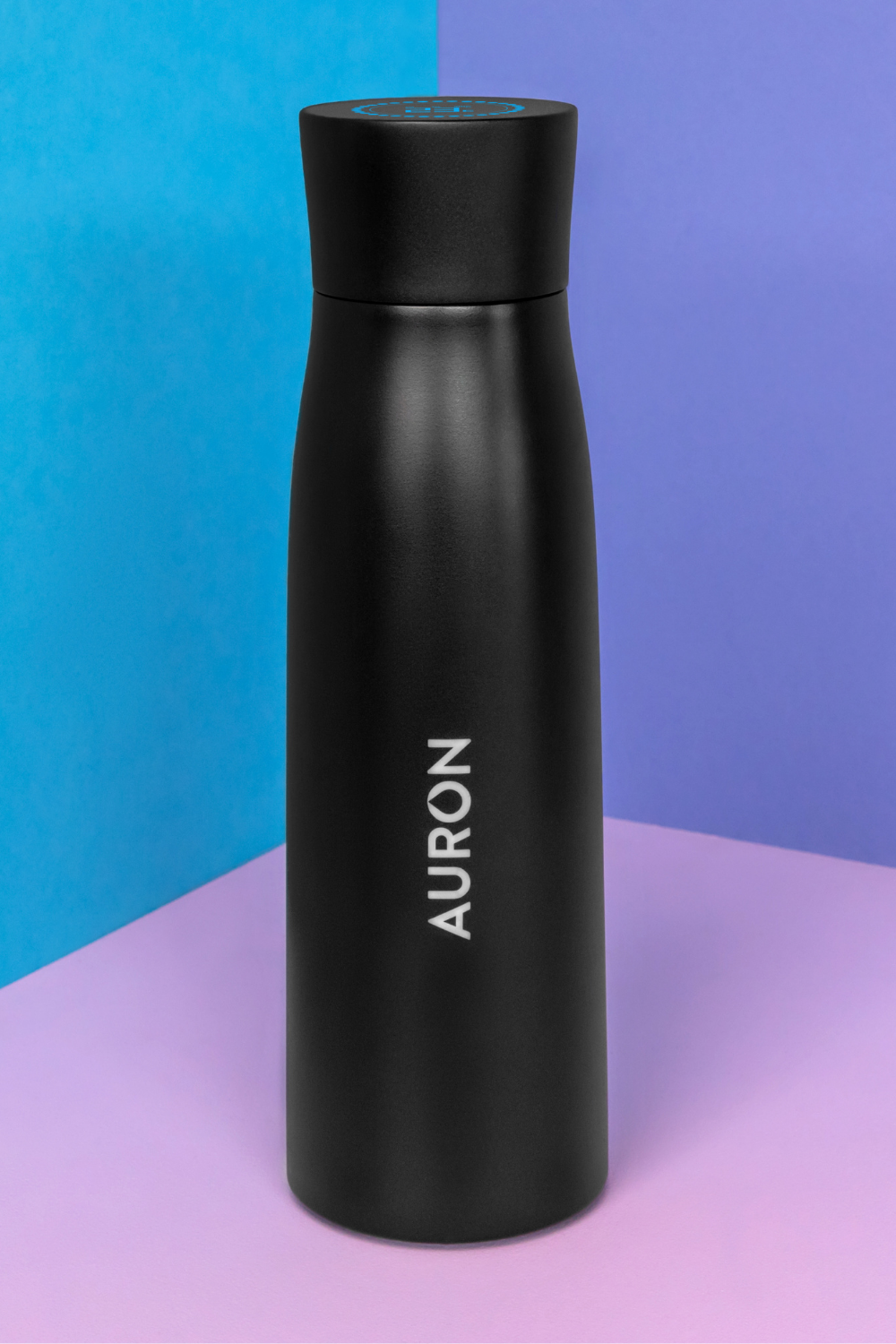 What is the Auron self-cleaning water bottle?
Love videos? Let Auron show you exactly why this bottle is so great in their rather cool explainer video:
Support Auron on Kickstarter for a 57% discount on the retail price!
If you can't watch the video right now or you want to learn even more, then read on. I'll cover the many benefits of the Auron water bottle below and why you might want to fund this Kickstarter project yourself to get your own Auron bottle at a special launch price.
Auron are currently offering their Kickstarter backers a great discount!
You can get your hands on one of the very first Auron bottles by supporting them on Kickstarter where they're selling Auron at $65 which is around 57% off the retail price!
Purify water effortlessly with Auron smart self-cleaning bottle using power of UV-C to eliminate 99.9% of bacteria for fresh clean water all day!
Find out more and get yours at www.auronbottle.com
10 benefits of Auron self-cleaning water bottle: a look at why their Kickstarter was fully funded in just 5 minutes!

1. Less plastic waste
Whether you're travelling around or on holiday, there are sometimes moments when you feel the need to purchase bottled water. Many of us have our own reusable water bottles today which we take to work, the gym and even use in our own homes, but if you're in a new place, how can you trust the water is clean and safe?
We usually don't, so we buy bottled water to know it's safe to drink, but this creates the problem of more plastic suffocating our planet.
1 million plastic water bottles are still purchased every minute and this is crazy!
Now, with Auron water bottle, you can enjoy pure water without continuously paying for plastic bottled water, no matter where you are.
2. Eliminates 99.9% of bacteria
Auron is a self-purifying flask that turns any water into 100% pure drinking water in 60 seconds. It uses the power of natural UV-C light purification at the press of a button.
Whether you want to purify your tap water, the gym fountain or water on your travels, Auron makes it simple and easy to do so.
You can even purify river water!
Not only does the purifier make water fresher, but it also cleans the bottle to keep bad odours and bacteria at bay. So you can crack on and refill it when you're ready.
PLUS, if that's not enough, it automatically cleans itself every four hours, so you don't even have to remember.
3. Reminds you to stay hydrated
If you're terrible at remembering to drink water then switch on the smart LED water reminder by double tapping the lid and it will remind you to drink by lighting up the LED lid display once every hour!
4. Keeps drinks cool for 24 hours
Auron has double insulated walls to keep your drink cool for at least 24 hours. With its smart lid you can even check the temperature of your drink.
5. Keeps drinks hot for 12 hours
Auron isn't just for water. It's for any cold or hot drink.
Fill it with your favourite cuppa and it will stay hot for 12 hours.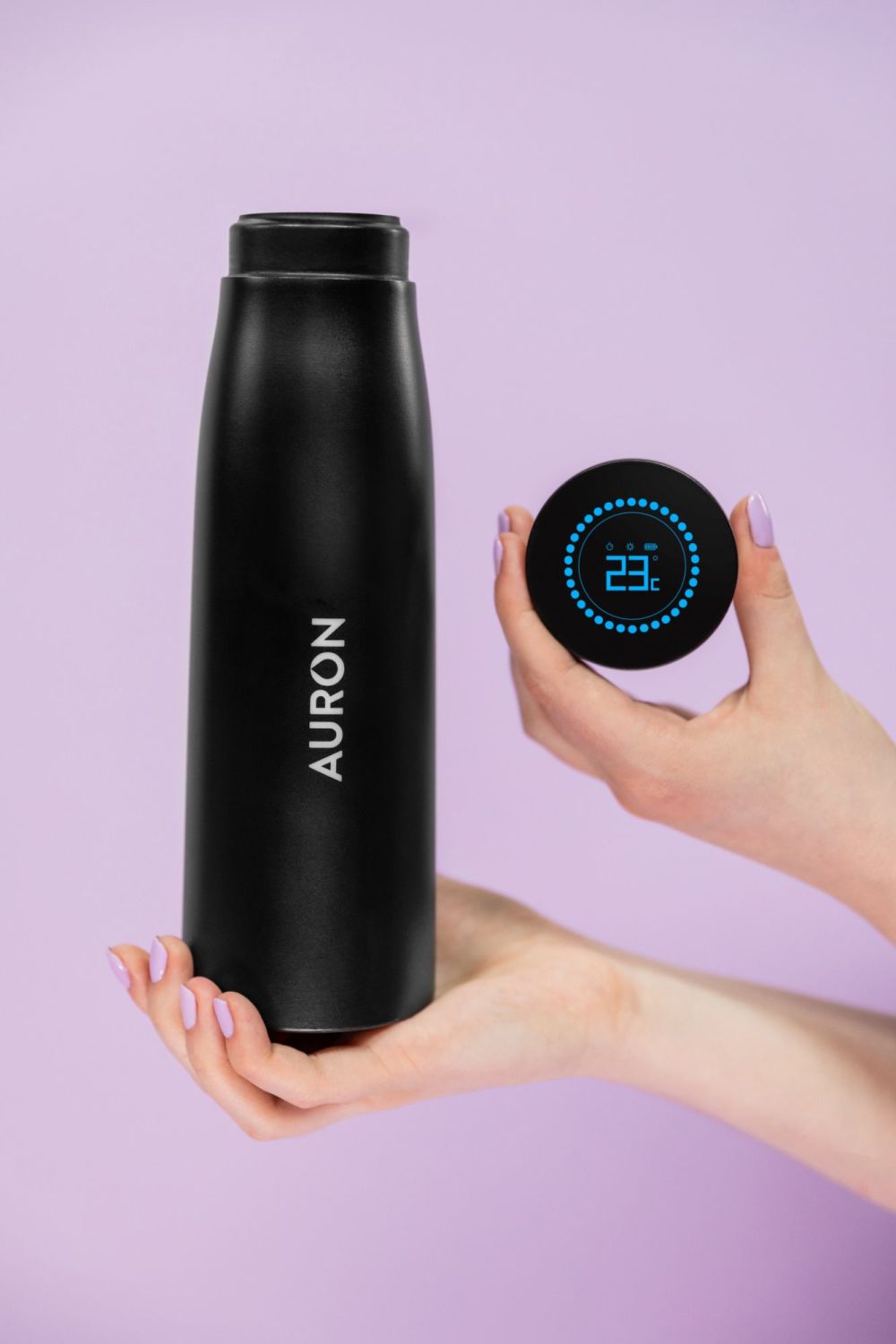 6. Spill-proof
The Auron bottle is sweat and spill proof so you don't have to worry about leakages in your bag. It has an air-tight seal and double walled insulation and heat transfer prevention.
7. Unbreakable
You won't need to replace any parts or batteries with Auron. This is where it becomes your bottle for the rest of your life! It has enough power for 300,000 automatic cleans which would last you 137 years when purifying the water every four hours.
It's also resistant to rust and corrosion as it's made from high-grade 304 stainless steel.
8. Easy to clean
It's also easy to clean. Of course it can clean itself and is mainly the whole point of this bottle, but if you want to dip it into a bowl of hot soapy water every now and then, you can. Simply swill the water about, empty and leave to dry. There's no need to scrub and it's wide mouth makes it quick to fill with water and empty.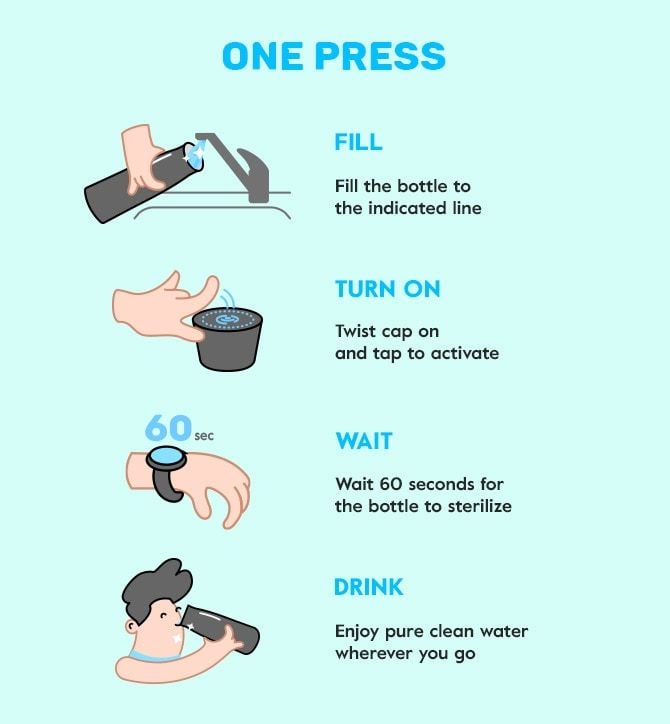 9. Easy to use
Sometimes the latest smart technology can seem quite intimidating, especially if you're not very tech savvy, but the Auron smart water bottle is really straightforward to use.
Simply press the button on the top to activate the UV-C light to activate the cleaning and bacteria zapping and that's it. Wait 60 seconds and it's done.
All the features are touch activated:
Single tap - check the temperature of your drink
Double tap - manually activate the UV-C cleaning cycle
Triple tap - activate the water reminder cycle
It will need charging, but it will last up to two whole months before it needs a charge!
10. Money saving
By investing in a bottle that can last a lifetime, you'll clearly be saving money on subpar bottles that regularly need replacing and buying no-end of plastic water bottles when travelling.
Purify water effortlessly with Auron smart self-cleaning bottle using power of UV-C to eliminate 99.9% of bacteria for fresh clean water all day!
Find out more at www.auronbottle.com