How oVice virtual offices + spaces make remote working easier
Posted on
With the rise of remote working in recent years, accelerated by the recent pandemic forcing many offices into remote working even if they had not considered it before, one challenge has been how remote teams can communicate effectively from all their independent locations. Not only this, but how can other businesses such as events or teachers adapt their methods to an online model.
One promising solution designed to engage remote working teams as naturally as possible is via an oVice virtual office. oVice, Inc. is a 2D virtual spatial platform based in Japan providing a virtual space for your remote working team where you can move around a virtual office and talk as if in-person.
Not only do oVice virtual spaces offer many benefits for business teams, but they can be used to host virtual events and more. Read on to discover how oVice may be the solution to all your remote working needs.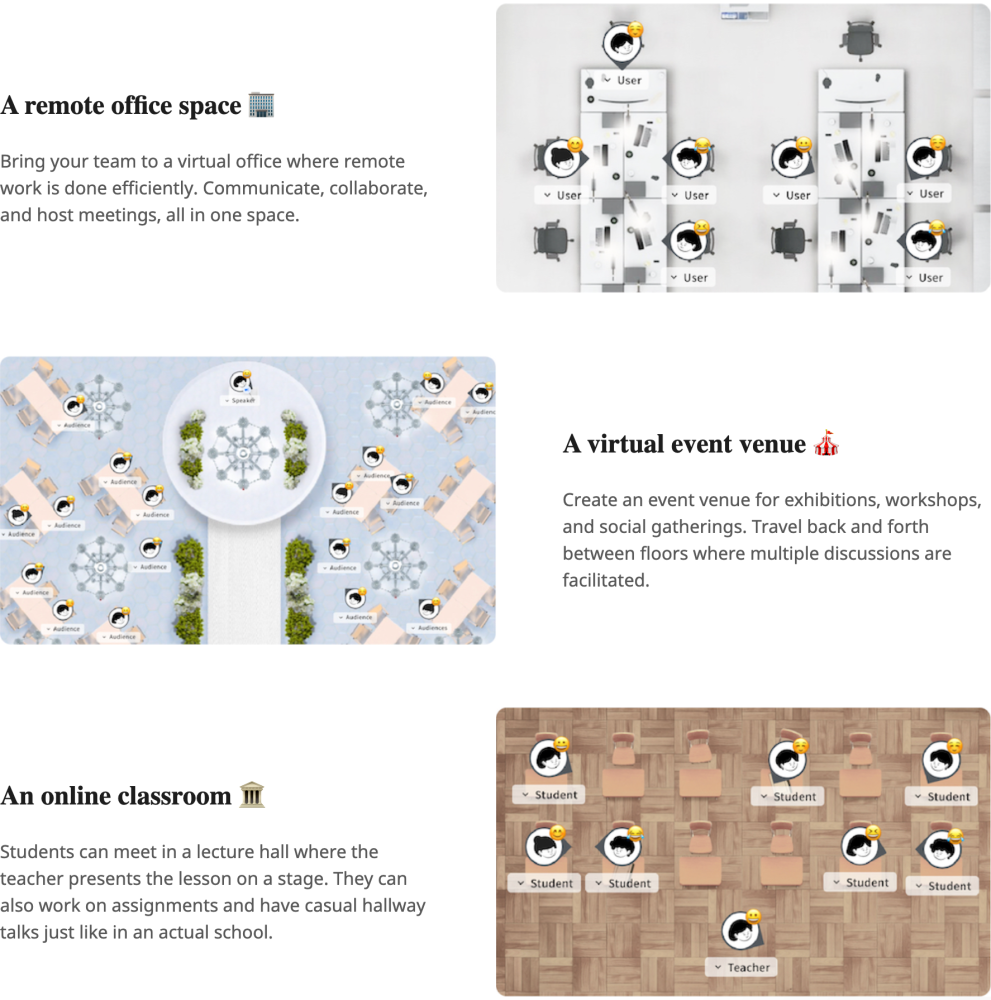 What is oVice?
The oVice platform allows you to create a virtual space where you can talk to others like you would in-person. It can be used by businesses to create a virtual office to improve communication and collaborations between team members, by event leaders to host virtual events with ease and even by schools for effective communication between pupils and students when working remotely.
oVice provides a 2D virtual space online where people can meet and interact as avatars. You can move around the virtual space, for example a virtual office, to get closer to your colleagues and hear their conversations. The closer you get the louder the conversation becomes, allowing you to walk in and out of conversations as you would in an actual office environment.
oVice is not only suitable as a virtual office, but offers virtual spaces suitable for hosting online events and even for teaching in virtual classrooms. All the designs can be customised with ease on the oVice platform to create the exact virtual space you need.
The aim of oVice is to make online communication easier and more natural. It makes it as natural as can be whilst being remote.
Here's what Maya from oVice says:
"Let me tell you the backstory of how oVice was born!
2020 has been a challenging year forcing most people to adapt to the new remote-work reality. Working in a multicultural company made it more difficult to reach each other and achieve both formal and informal communication at the same time. We started using Zoom just like most people did but having to arrange daily 45-minute video calls was exhausting and anxious. So we decided to replicate our normal office life in a virtual space and make it more fun and productive.
Your physical space but at oVice. A virtual space where everyone can virtually walk around, have side-conversations, and collaborate just like in the real world in one click of a button! Easy and quick!
Everyone is loving oVice, and we're sure that you'll love it too "
How oVice can improve remote working communication for businesses
oVice allows you to create and design your very own virtual office space. Just like in a real office, you can create various zones such as meeting rooms, chill out areas, office desks and more.
All staff members can access the office and be present for the working day. Meetings can take place within meeting rooms and if private then the room can be locked so no one else can enter or listen to the conversation.
In the collaborative areas, team members can move closer to each other virtually to hear the conversation and join in. Simply move away to leave the conversation and stop hearing the audio.
If team members are busy working on projects, taking a phone call, or unavailable for another reason, they can remove themselves outside of the office area and leave a note for the rest of the team to say what they are working on or why they are too busy to communicate right now.
Not only can the virtual oVice office be used for important work discussions, but to ensure remote working team members have a connection with their fellow colleagues on a more interactive and human level. In the break room areas, colleagues can hang out in their coffee breaks and lunch breaks and have conversations with one another just like in a real office environment. Thus keeping staff morale high through normal social interaction during the working day.
It's not all audio either. You can speak through video chat or even a chat box. You can ask for help if needed, share videos, ideas, GIFs and whatever else is appropriate between you and your colleagues.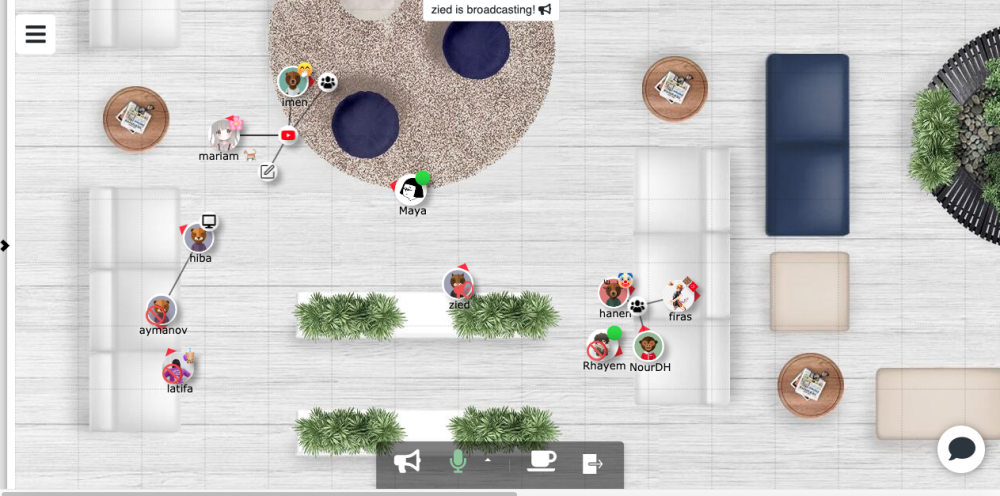 Here are some of the benefits of oVice for remote team communication:
Reach anyone from your team quickly - rather than relying on phone calls or individual conversations, you can quickly see your team and who is available for a conversation. You can strike up a conversation instantly with anyone who is available in the virtual office.

Join in with conversations - you can join and leave office conversations with ease, helping to share ideas and improve collaborations even when you are not together in-person.

Be present at work, but with flexible availability - a virtual office allows you to see the rest of the team is present during the working day and to allow improved communication. However, it doesn't mean you need to be continuously available throughout the day. If you are busy with work then add a badge, move to a certain area or go into a silent working room so others know you are now focused on work.
How oVice can satisfy virtual event requirements
oVice is not only useful for remote working teams to create an office space online, but their platform allows for various types of virtual spaces to be created, such as a virtual event venue.
Suitable for online exhibitions, virtual workshops or even social gatherings, multiple floors and discussions can take place at the same time if required, allowing users to move around an event just like they would in real life.
oVice works great as an online classroom too
Allowing group discussion, but also a predominant speaker, oVice can satisfy requirements for schools and online learning. An online classroom can be created with students and a teacher, as well as less formal areas such as break rooms and hallways where pupils can chat in between lessons.

Replicate real spaces online with oVice
Whether you need a virtual online space for your staff members, for an online event or even to teach, oVice provides a platform for you to replicate real spaces online. Here's how:
oVice enables you to move your avatar closer to other people to talk to them, just like having a conversation in real life in an office.

oVice allows you to easily share information and documents with others. You can share your screen, camera, noes and other documents in real time with your colleagues.

With oVice you can have private meetings, group meetings or entire team meetings with ease.

For virtual events oVice allows you to create different floors, different areas and different speakers, all happening at once so the attendees can move through the event and choose what they do, just like at a normal event.

As a classroom, oVice lets you create a teaching space with the teacher on stage, as well as allowing group discussion and separate areas for students to interact and socialise outside of lesson time.

oVice has multiple layouts and themes, in fact hundreds, so you can design your virtual space exactly how you like.
Learn how oVice can benefit you and your business needs
Find out more about oVice
Check oVice here: https://ovice.in/
Read about oVice here: https://medium.com/@ovice
Use oVice for free for 30 days
To get the full experience from oVice to see if it's right for you and your business needs, you can try oVice for free for 30 days. Create your own virtual space and check out the platform and its benefits at no cost for 30 days. Find the link to the free trial on their homepage.
How to use oVice
You'll find a guide book on their website and lots of information to help you get started with how to use oVice and its advanced features.
There are also lots of helpful videos on the official oVice YouTube channel: