Zebra ZSB Series ZSB-DP14 Thermal Label Printer Review + Giveaway
Posted on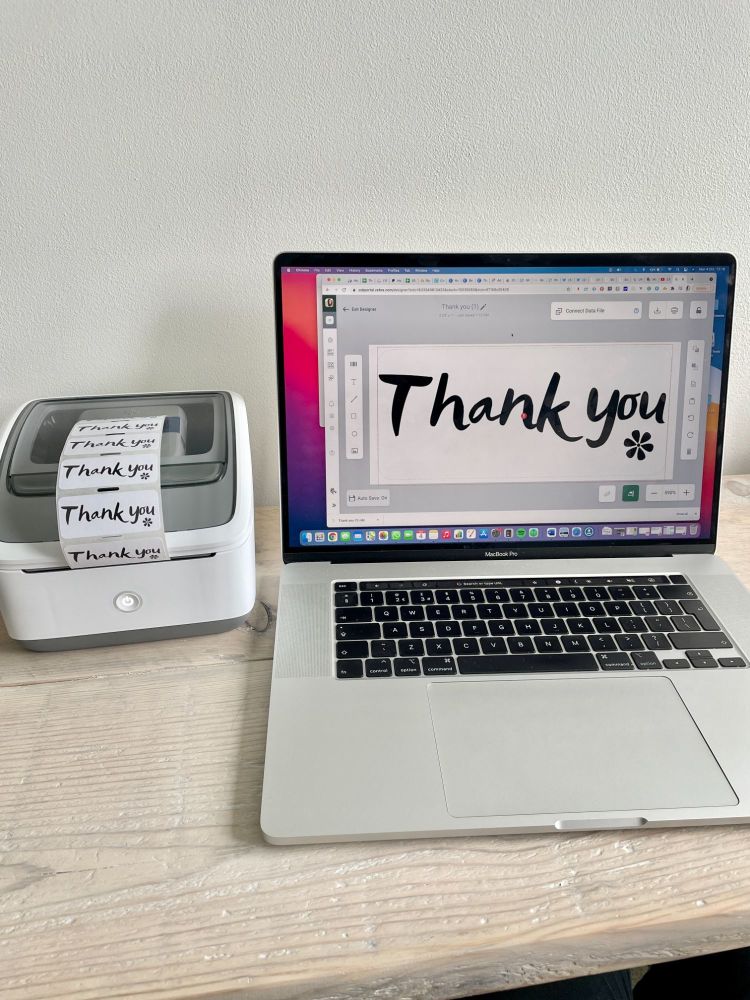 #Ad. I was recently contacted by Zebra to test and review their ZSB Series thermal label printer. For the purpose of this review I was gifted the ZSB-DP14 design.
Got a small business, home office or do you work from home?
Read on to see how these thermal label printers can help organise your life, save time and keep your home office eco-friendly at the same time!
Is the Zebra ZSB Series the best thermal label printer for small businesses?
If you have a small business then you will likely be very interested in these label printers and how they can save you much time and effort with your labelling needs and organisation. You will be amazed at how many uses these Zebra label printers have for your small business from shipping labels, barcodes, products labels, name tags and so much more.
Not only are these amazing for small businesses, but they are perfect for home businesses, kitchen tabletop business ventures and even for organisation within the home office and rest of the family household too. This could, quite possibly, be the best thermal printer for small businesses and I'll explore why below.
You can find out more at the ZSB website here: https://www.zebra.com/content/smb/gb/en.html
An introduction to the Zebra ZSB Series
How can small businesses and home offices use the ZSB Series label printers?
There are so many ways these label printers can be used for small businesses whether in an office or at home. They can even be used around the home for so many different organisational purposes. Firstly though, let's take a look at how you can use the ZSB Series label printers for a small business or within a home office.
Perhaps the most obvious use - to print shipping labels! You can even print shipping labels directly from popular platforms such as Amazon, eBay, Royal Mail and UPS. Don't stop at shipping labels though... there are many more uses for the Zebra label printers:

Address labels

Name labels

To label files and folders

Barcodes

Product labels

Price tickets

Product information i.e. instructions, ingredients

Warning labels

Thank you stickers

Logo stickers

Custom stickers

QR code stickers

Return address labels

Custom messages for customers
Perfect for small businesses and home offices
Zebra's ZSB Series label printers are perfect for small businesses and home offices. The biggest advantage of these printers is that they offer the flexibility to print labels of various sizes, shapes, and quantities. Labels can be printed in batches or one by one. Labels come in many different widths and lengths.
They have money saving benefits for businesses too, by being able to only print the labels in the quantities needed, without outsourcing any label or sticker printing tasks. There is also less waste because there is no need to buy extra paper rolls and ink cartridges for a machine that will only use them sporadically.
Many small businesses and home offices are looking for ways to cut down on paper usage. The ZSB Series label printer can help to do this. Only need one label? That's fine. With the ZSB Series label printers you can print one label at a time without creating any further waste.
The printers come in two sizes, one capable of printing up to 2" labels, the other which I reviewed can print up to 4" labels. The smaller is more affordable, so if you don't need the larger labels then your small business can save even more costs by buying the smaller version.
You can find out more at the ZSB website here: https://www.zebra.com/content/smb/gb/en.html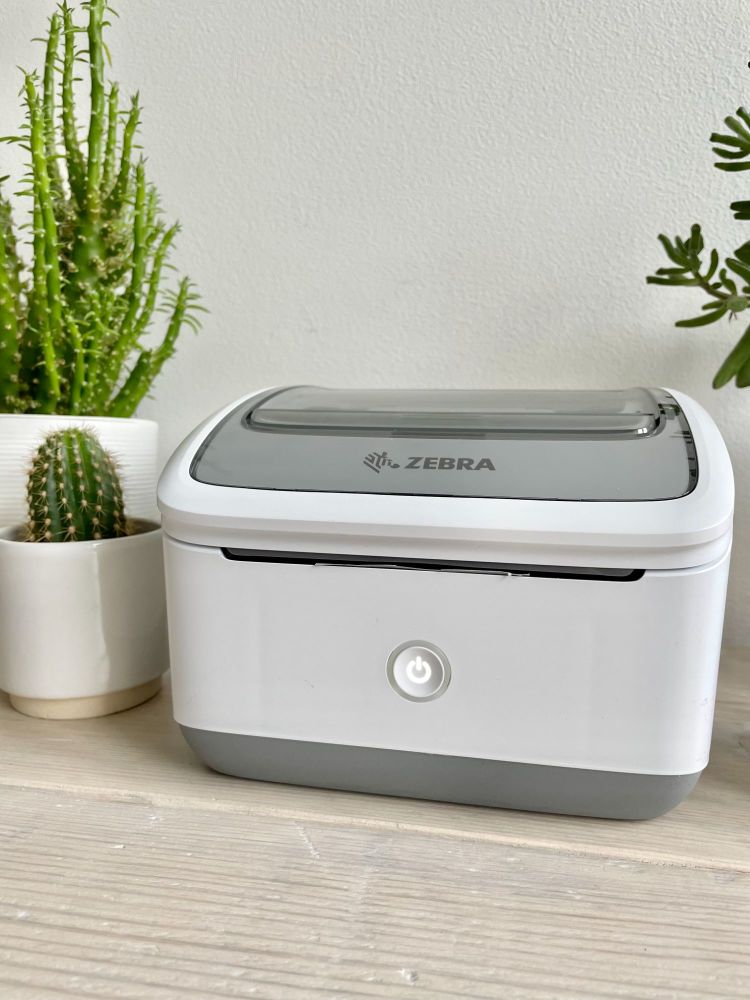 How can the ZSB Series label printers be used in the home office and rest of the home?
Whilst testing the label printer at home, I was continuously coming up with ideas for how useful these will be in the home office as well as the rest of the home! With a busy family household, there are often occasions where I buy stickers online for various purposes which the ZSB Series label printer will suit perfectly.
Here are a few examples:
Labelling files and folders in the office

Address labels for letters and post

Gift tags for birthday and Christmas gifts

Labelling food jars or homemade food containers

Labelling children's school books and equipment

Labelling homemade gifts such as jam jars

Labelling storage boxes in the garage or attic
Ultimately, having an easy to use label printer in the home office can prove useful for both business life and personal life.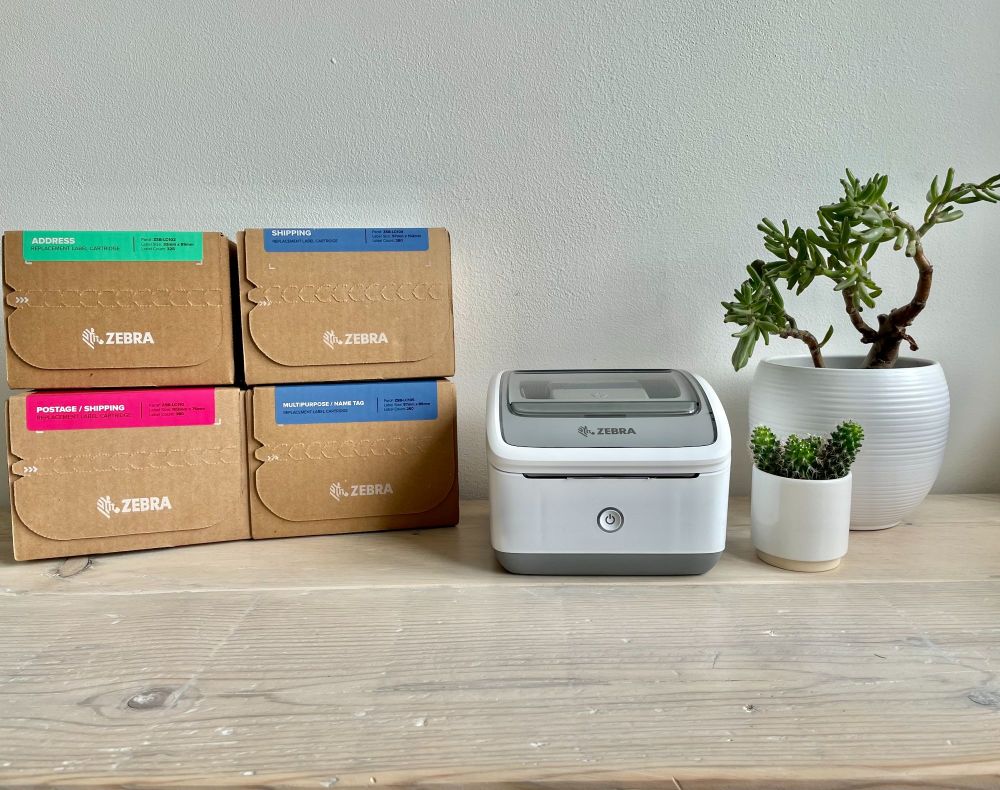 What are the benefits of the Zebra ZSB Series label printers from my own experience?
The Zebra ZSB label printers are designed to make your life easier with fast label printing you can access from all your devices. Here are the benefits of the ZSB Series label printers from my own experience.
They are small printers which fit neatly into your small business space or home office with a slick design. They are plenty small enough to sit neatly on your desk, even if you have limited space.
The cartridges are really straightforward to install. Simply pull the first label out and drop it into the printer. Job done. The printer usually spits out one label and then you are good to go. There's really no way to get this wrong. No faffing around with ink on your hands or rolls of labels you have no idea which way round they go. Simply drop the Zebra cartridges in, pull a label, and go!
Check out the Zebra YouTube video to see just how easy they are to load:
Eco-friendly cartridges that can be recycled or composted
Printing can often create a lot of waste with plastic cartridges that are often thrown in the bin, however the Zebra label printer cartridges are made from potato starch and can be recycled! They do have a small chip which needs to be removed and thrown in the bin, however the rest of the packaging is cardboard and can be recycled. You can even compost the empty cartridge if you like!
The labels shoot out so fast! You won't be hanging around for a lagging printer as this printer is so speedy! There was even a warning if I picked a different font on the Zebra Workspace design portal that said printing will be slower on certain fonts, but I didn't notice. If that's slow printing, then I have no idea how they can make it any faster!
No cables needed for printing
The printer is a WiFi printer so there's no need to be anywhere near the printer when printing, or to have to plug in cables from a laptop to the printer. Hit print and the label prints in an instant!
Amazing instant support via chat
Whilst on the design page, I couldn't work out how to do something. I was trying to import my design I had made in Canva as a JPG or PNG, but it wouldn't let me. I asked on chat how I import my own designs and discovered I need to start designing a label first, and add them as a picture. I was instantly connected to someone on chat and offered the assistance I needed. The chat disconnected, but the operator emailed me to confirm if I needed any more help.
Wow. Such good support and customer service!
And, I haven't tried either, but there's a phone number for the UK, a phone number for the US and a contact form, so there are multiple ways to get support if needed.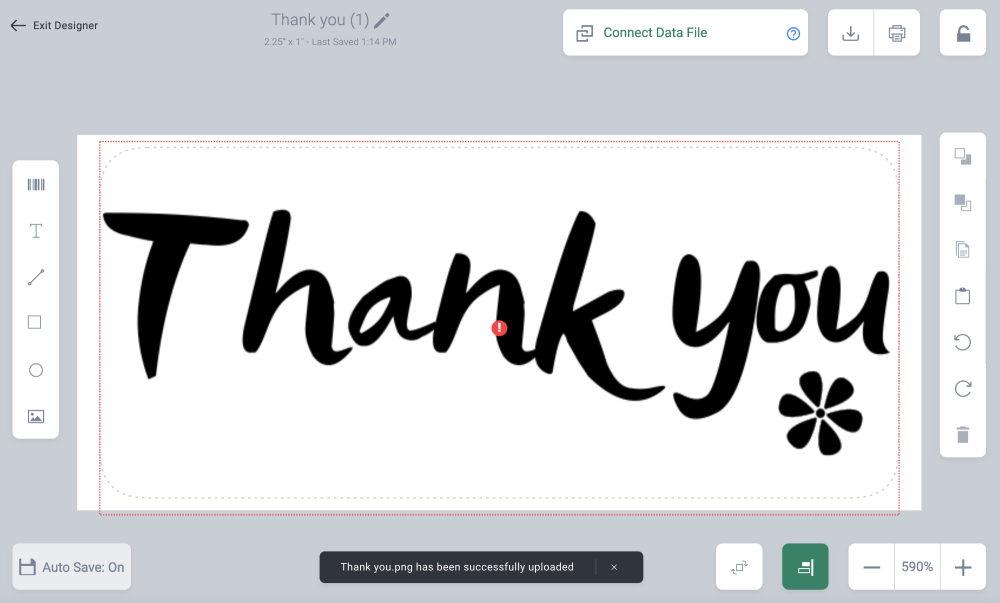 Infinite designs with clear print
I was able to upload my designs from Canva, after downloading them from Canva first, to create labels in all sorts of fonts and styles. The print quality was clear and perfectly legible even when I printed a return address on the smallest available label.
Recognises the label inserted
The printer knows the size label you have entered, so the design screen will automatically show the right sized label ready for you to design. Your Workspace will also tell you exactly how many labels you have left, so you know when you need to order more.
Much easier than using paper for shipping labels and address labels
Usually, when printing shipping labels or address labels for eBay parcels and similar, I would use an A4 sheet of paper, fold it into four, and place in a clear documents enclosed pouch. This is really wasteful and time consuming too. It's so much quicker and easier to print one shipping label, as needed, from the ZSB label printer, stick and be done!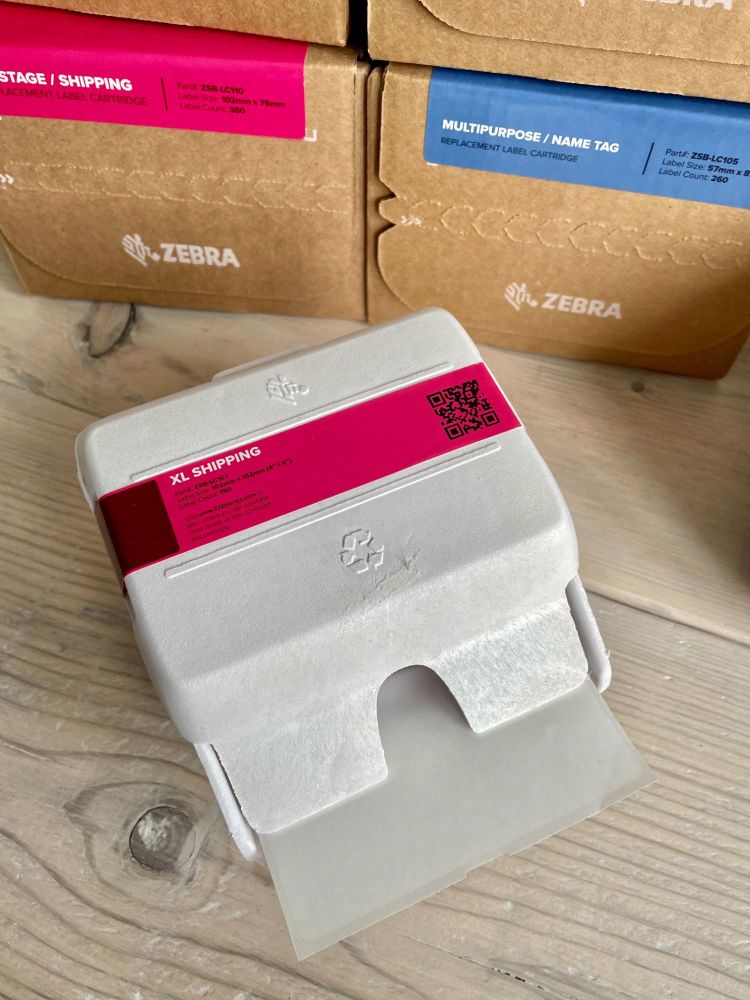 How would I improve the Zebra ZSB Series label printer?
The Zebra ZSB Series label printers tick a lot of boxes: They are neat enough to fit on a desk or in a tight space. The cartridges and packaging are eco-friendly. There are a range of label sizes to satisfy all business label printing requirements. It's easy to design labels or add your own designs with super-speedy printing. So what would I change or improve?
Firstly, I would add the ability to design a label on the app itself. Currently you can only design labels on the desktop. They are then transferred via the cloud to a smartphone for future printing.
Next I would improve the design screen on the ZSB Series portal. When adding text, for example, the popup text box appears constantly and cannot be moved around the screen, so it covers the design. It would be better to move this box out of the way, to see the design as it's being edited.
However, when it came to the design of the labels, I found it much easier to design my labels using a free design tool online such as Canva and then print them onto the Zebra labels. To do this, I created a custom size label design in Canva using the dimensions of the Zebra label. Then I went to design a new label in My Designs on the Zebra portal, clicked to add a picture and uploaded my Canva label design, resizing it to fill the label. This worked well and gave me many more fonts as well as graphics to use on my labels.
Zebra do also have many readymade design templates that you can edit with your own information if they suit your needs.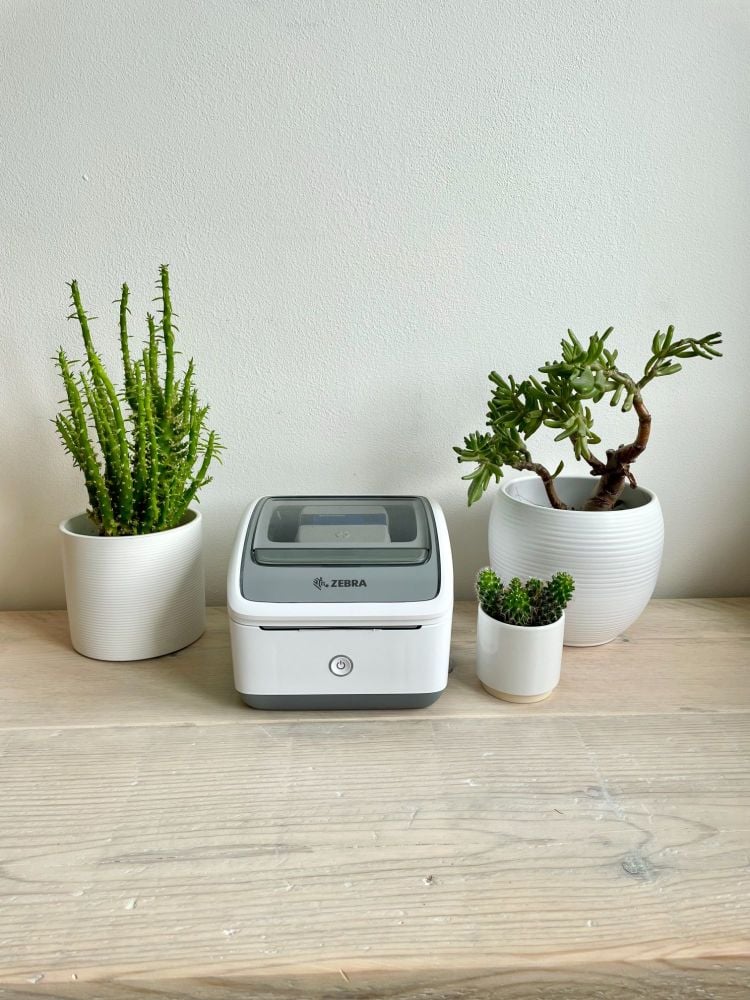 Is it easy to set up the ZSB Series label printers?
Yes, it's very quick and easy to set up the Zebra label printers. I used the 'Quick Start Guide' which was a small booklet that came with the printer. From this booklet I scanned a QR code with my phone which took me to the correct app to download, then I simply followed the instructions to get setup.
It was pretty much a case of connecting the printer to Bluetooth on my phone, connecting to WiFi and connecting to the cloud (this is so labels created on desktop can be transferred to all other devices linked to the printer and user).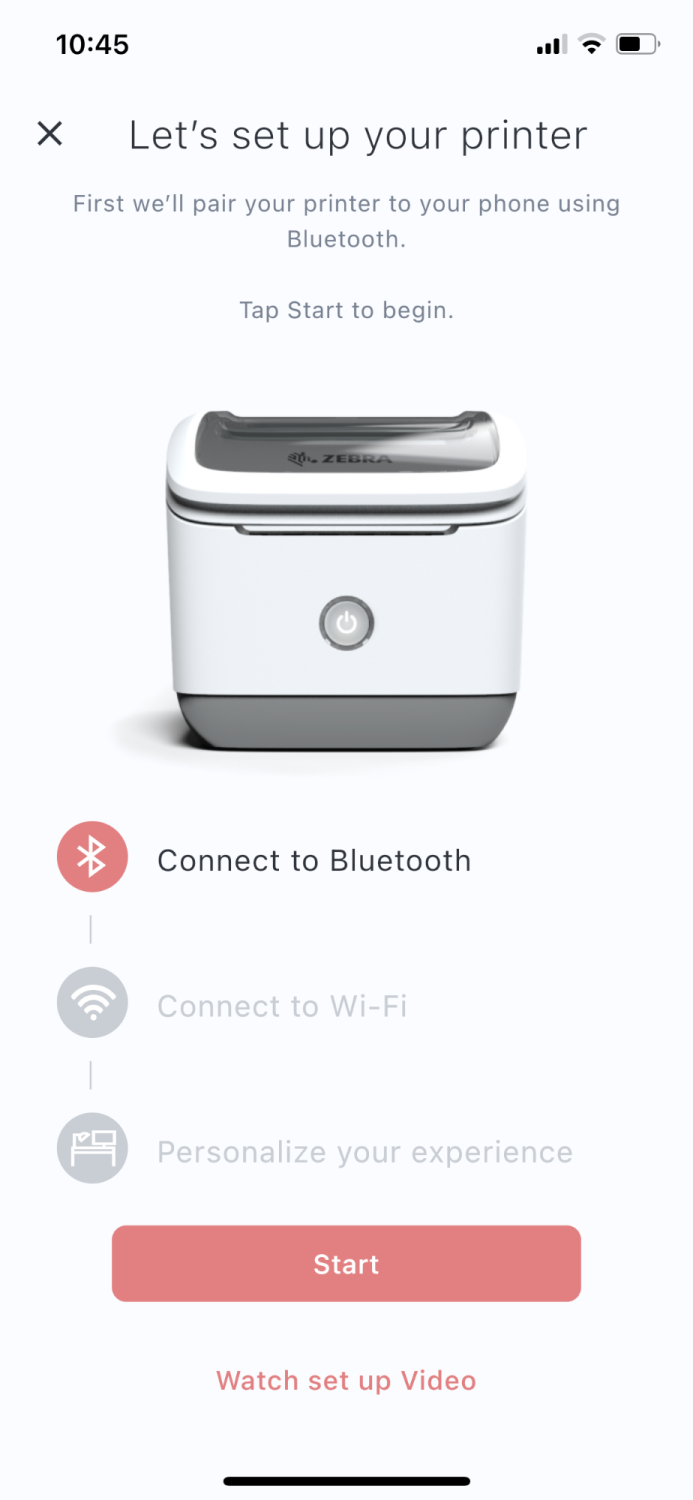 And of course, inserting the label cartridge. There's just one button to open the printer and the label cartridge can only be inserted in one direction. One label needs pulling through to the tear line to get started.
Once setup you'll need to use the desktop Workspace to design labels. Here's a look around Workspace and how to use it:
How much do the ZSB Series label printers cost?
At the time of writing the ZSB-DP14 has a RRP of £199 and the smaller ZSB-DP12 has a RRP of £99.
Check out this link to see the latest pricing and for more information about authorised retailers: https://www.zebra.com/content/smb/gb/en/how_it_works.html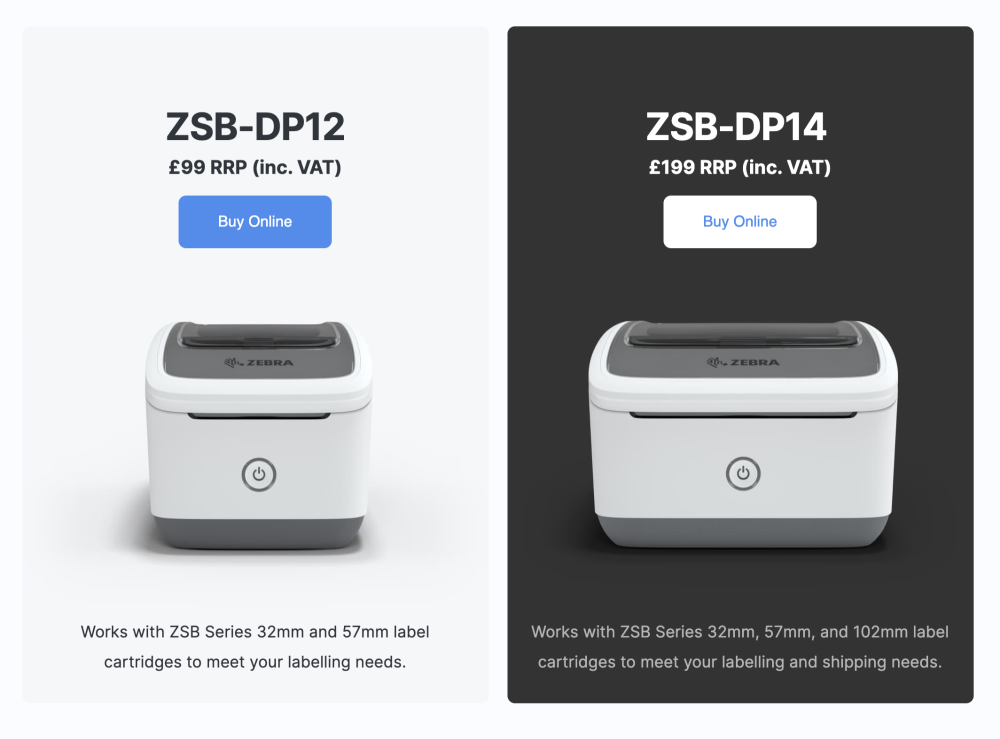 Are the ZSB Series label printers eco-friendly?
If you're looking to reduce your waste and be more eco-friendly in your office, then the ZSB label printers can help you to reduce printing waste and plastic. Here are their eco-friendly credentials:
Recyclable packaging made from cardboard

Recyclable or compostable cartridges made from potato starch

Only print the labels you need on the size label you need
How do the ZSB label printers print without ink?
The ZSB label printers do not require ink! They are thermal printers which use specially coated thermal paper that change colour when exposed to heat.
This offers many benefits, especially for shipping labels, as there's no ink to be ruined or smudge in bad weather.
You can also print and use the labels instantly as there is no ink that requires any drying time.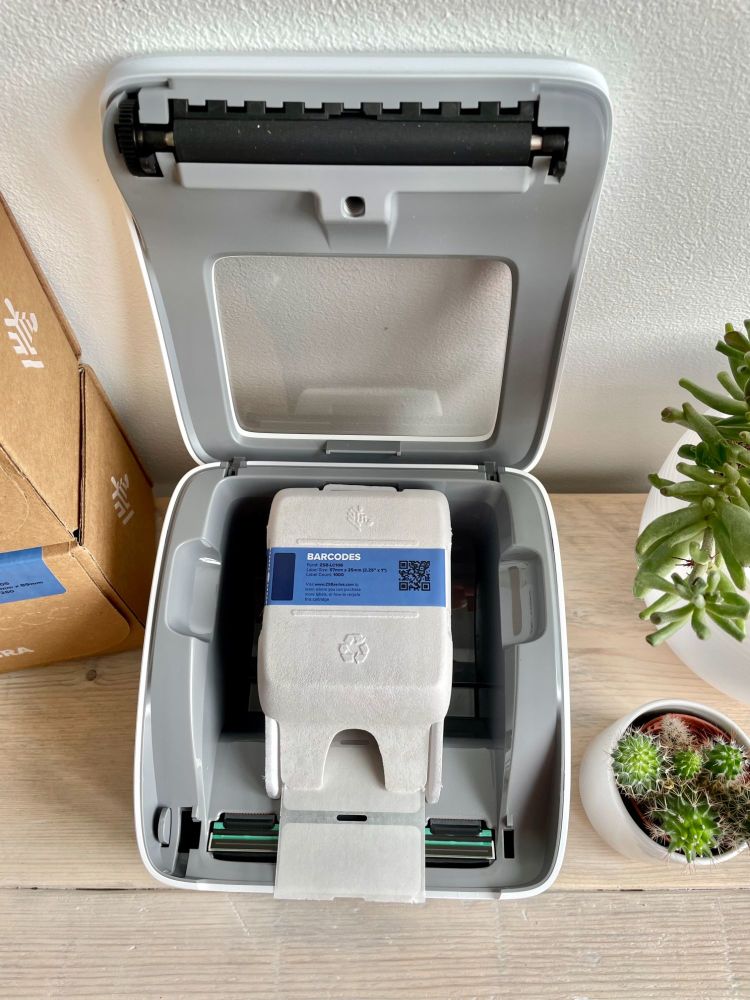 Final review thoughts of the Zebra Series ZSB-DP14 label printer
Overall I am very impressed with the label printer and my testing of it so far. It's really straightforward to use and doesn't take long to set up. I like the handy QR code for getting started so I didn't have to spend time finding the app myself. In today's world we are all busy and Zebra obviously want to make things as easy as possible for small businesses and those who work from home with limited precious time.
I was sent the larger sized printer which accepts a huge range of label sizes, perfect for every aspect of running a business from printing return address labels, shipping labels, price tags, instructions, fragile stickers for packages, right down to organising files and folders within the office. I love the multi-use aspect of the labels and how I can further make use of them in and around the home, making it a great investment for both mine and my husband's home businesses, but also useful for organising our family home too.
The label printing speed was so fast and I like not having to faff around with sheets of stickers, ink cartridges or wasting excess paper. Usually I waste a whole piece of paper for a shipping label, as well as needing to buy whole sheets of stickers and fiddling around with the design to ensure I get my logo stickers in the right place, wasting time and money in the process. The Zebra thermal label printers have taken away any hassle of printing labels and stickers in our home office.
ad. I've been testing this @ZebraZSBSeries thermal WiFi label printer & it's fab!

Perfect for address labels, organisational labels, thank you stickers & more!

Speedy printing & eco-friendly cartridges which you can compost or recycle after!https://t.co/YnRsvWQZ0n#smallbiz pic.twitter.com/YHKJwkqUEF

— ✨ Victoria ✨ UK Blogger ✨ (@LyliaRose) October 4, 2021
Our normal office printer is mainly used to print shipping labels and it's big and bulky. It takes up a lot of space and is pretty unsightly. Now we can pack it away and replace it with the Zebra printer which takes up minimal space and blends in with our white walls and modern interior.
I do wish there was some more design functionality on the design screen as well as the mobile app, but I am equally happy to create my own label designs on Canva and upload them as pictures to the Zebra portal to create great looking labels. I have been told from a member of the Zebra team that a software update will be "released within October which increases the functionality available to users for printing from a mobile amongst other things".
Overall this is a great piece of kit that has a multitude of uses for small businesses and those who run a business from home, particularly if you sell goods online.
You can find out more at the ZSB website here: https://www.zebra.com/content/smb/gb/en.html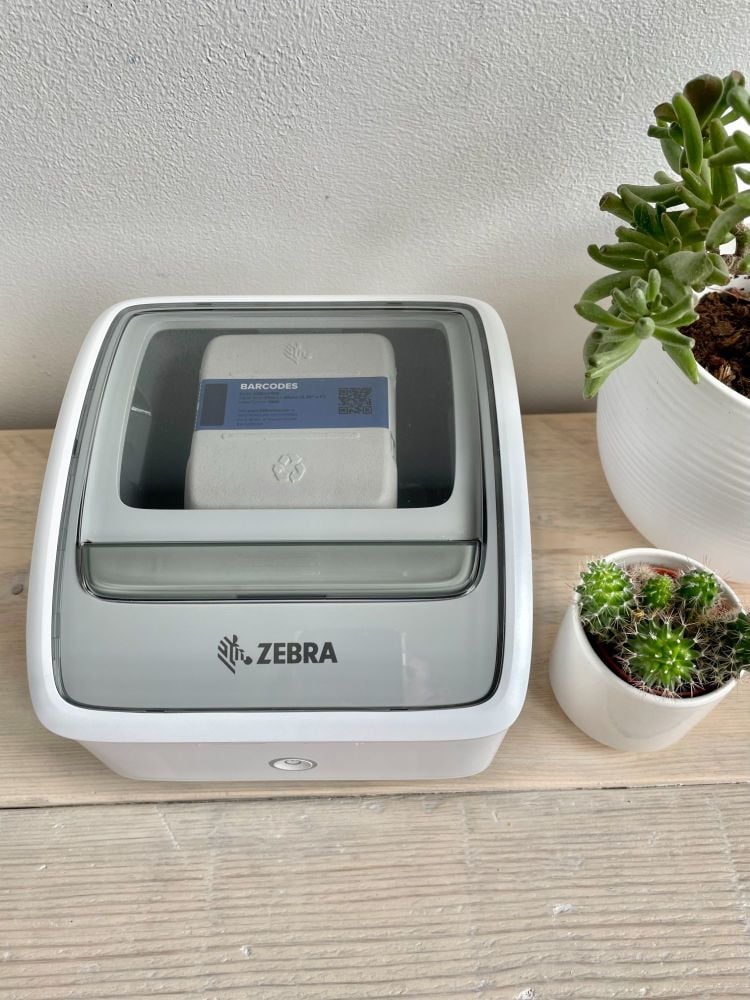 **GIVEAWAY HAS ENDED**
Win a Zebra ZSB Series ZSB-DP12 thermal label printer worth £99 for your small business or home office!
I am very lucky to have received two extra thermal label printers from Zebra to give away to two lucky readers. The printers I have to give away are the £99 ZSB-DP12 versions. They are absolutely perfect for small businesses and small home offices for printing labels and organising your space (and even home).
Find out more about the prize at https://www.zebra.com/content/smb/gb/en/tech_specs.html - just look for the 2" version, model number ZSB-SP12.
Want to enter for your chance to win one of the printers? It's free and easy to enter. Simply follow the instructions in the Rafflecopter widget below.
Good luck!
GIVEAWAY HAS ENDED. http://www.rafflecopter.com/rafl/display/ee07d1b3197/
PLEASE PIN ME! THANK YOU :)
Giveaway terms and conditions
For the purposes of this competition, the "Promoter" refers to www.lyliarose.com. The "Prize" refers to Zebra ZSB-DP12 worth £99.

By entering the competition, you agree to be bound by the competition terms as set out herein. The competition is subject to English law and the entrants / Winners agree to be bound by the exclusive jurisdiction of the English courts.

All entries must be received by 23:59 on Sunday 31st October 2021. Two (2) winners in United Kingdom will be selected at random by the Promoter using Rafflecopter on Monday 1st November 2021 and the winner will be notified within 28 days of this date via email. If the winners cannot be contacted or do not claim the prize within 28 days of notification, the prize will be forfeited, and a replacement winner will be selected.

The Promoter's competition is open only to residents of United Kingdom aged 18 years or over. Two (2) winners will be chosen at random from all eligible entrants and the prize will only be shipped to a UK delivery address.

No purchase necessary. Winners will not be required to pay to enter the competition. Where the Prize constitutes a taxable benefit, all tax liability lies with the participating entrant / Winner as the case may be.

Employees of the Promoter or Zebra Technologies Europe Limited are not eligible to enter.

Entrants may enter the competition by completing activities on the Rafflecopter widget on Promoter's Blog/Website, including correctly answering specific entry questions.

There are no restrictions on the number of times one person can enter. Follow instructions for multiple entries.

The Promoter will not be held responsible for any failure of receipt of entries. The Promoter takes no responsibility for any entries which are lost, delayed, illegible, corrupted, damaged, incomplete or otherwise invalid.

To the extent permitted by applicable law, the Promoter and / or Zebra shall not be liable under or in connection with this competition, or any Prize for any indirect, special or consequential cost, expense, loss or damage suffered by an entrant / Winner even if such cost, expense, loss or damage was reasonably foreseeable or might reasonably have been contemplated by the entrant / winner and the Promoter and whether arising from breach of contract, tort, negligence, breach of statutory duty or otherwise.

Prizes are non-negotiable, non-transferable and non-refundable. No cash alternative is available. Where a Prize becomes unavailable for any reason, the Promoter reserves the right to substitute that prize for a prize of equal or higher value.

The name, address, email address and phone number of the Winner must be provided to the Promoter if requested and will be shared to enable fulfilment of the Prize.​

In the event of unforeseen circumstances beyond the Promoter's reasonable control, the Promoter reserves the right to cancel, terminate, modify or suspend the competition or these terms and conditions, either in whole or in part, with or without notice.

The Promoter's decision is final. No correspondence will be entered into.

You are providing your information to the Promoter and its sub-contractors for the purpose of administering this competition. The Winner's name may be posted on the Blog/Website of the Promoter after the Winners have been selected. The Promoter is responsible to comply with and ensure its sub-contractors (e.g. Rafflecopter) also comply with current data protection legislation.

This competition is in no way sponsored, endorsed or administered by, or associated with, Facebook, Instagram, Twitter or any other Social Network.