IMOU Cell 2 wireless smart security camera review
Posted on
Today I'm going to be reviewing the 'Cell 2' from IMOU, a 4MP QHD security camera designed to protect your home, office or any other property type. We've been testing this product over the last few days to see how well it performs, what features it has and how it can help secure our home. We have experience with similar products on the market so it's going to be interesting to see how this compares.
Protecting your property with the IMOU Cell 2 camera
Firstly, I'd like to touch on why someone would consider installing a product like the Cell 2. What's it going to offer in terms of protection for our homes?
Whether you have a professionally installed system or a DIY security system, research suggests that the presence of a camera can actively deter opportunists from committing crime. This is a great starting point, but how does a smart device like the Cell 2 provide further protection? Smart security cameras not only offer a visual deterrent for criminals but also give you control over a situation from any location. Notifications on your smart phone can alert you to intruders, allowing you to notify the police (silently) in a hope to catch a thief in the act. The added bonus with the Cell 2, you can further deter a criminal with the built in spotlight and siren. These can be configured to activate manually or automatically. I'll go into a little more detail further down.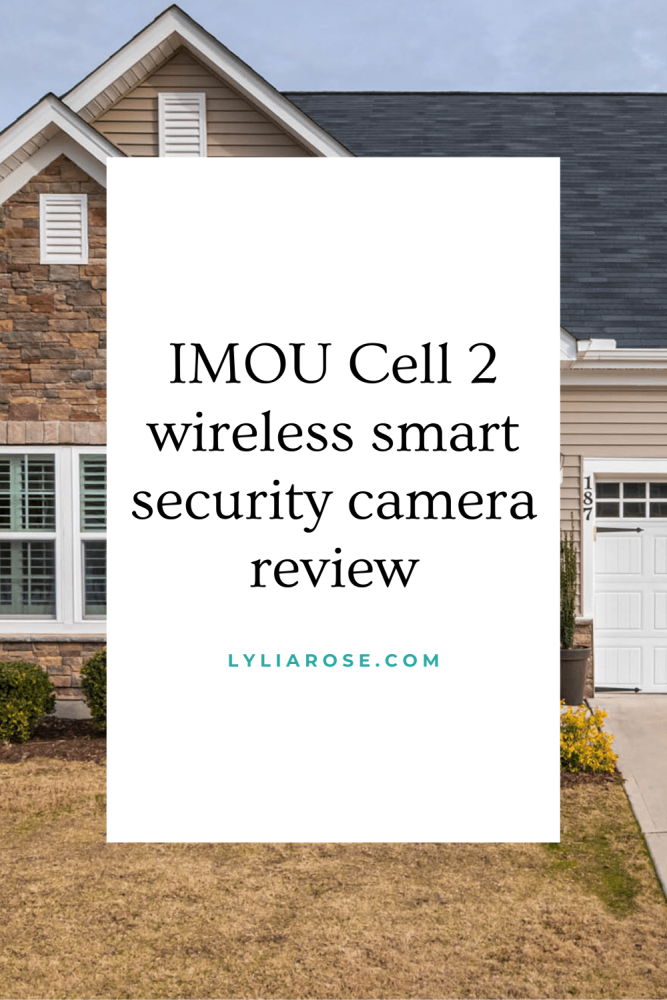 Where to buy the IMOU Cell 2 security camera
Want to get your hands on this camera to protect your property and belongings? Here's the Amazon purchase link and direct store link:
IMOU store discount code: 20% off
Your exclusive 20% OFF code is LYLIAROSE1
(This code applies to all regular price products of IMOU store and is valid till 31, Dec, 2022.)
About the IMOU Cell 2
The Cell 2 is a security device from IMOU that offers a number of unique features. It's more than just a security camera. It's an all-in-one security system wrapped up in a compact little box. You can view live video streams, record video (both manually and automatically), take pictures, turn on the spotlight, sound the 110DB siren and have a 2-way conversation.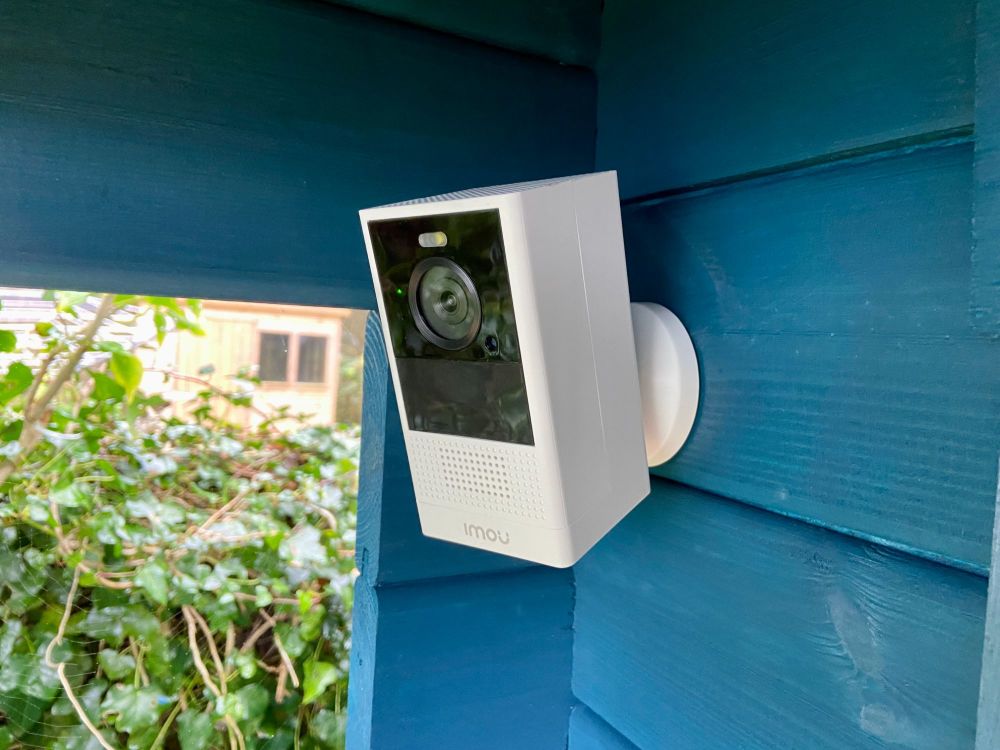 Here's a full list of features for the IMOU Cell 2:
1. 4MP QHD Video
2. 6-month of Battery Endurance on A Single Charge (*based on 10 events per day)
3. Replaceable Battery
4. PIR and AI Human Detection
5. Smart Colour Night Vision
6. Two-way Talk
7. Built-in Spotlight and siren
8. IP65 Weatherproof
9. 2.4GHz/5GHz Wi-Fi Supported
10. Diversified Storage
11. Alexa and Google Assistant Supported
12. GDPR Complied
Let me quickly talk about some of these features in a little more detail.
4MP QHD Video - Camera quality
The standard resolution on the device is set to 1080p. This is fine for most applications but you can choose between 3 different resolutions. Go up to 4MP QHD (1440p) for the best quality or select 720p for improved battery life and storage. We've left ours on 1080p for the best of both quality and battery life.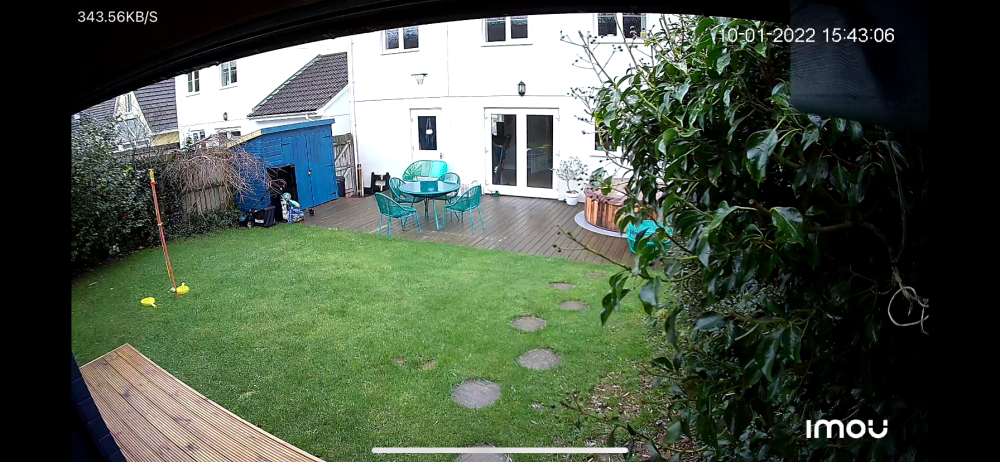 6 months battery
As we've only owned this device for a few days we've not had the chance to test this fully yet. However, battery life is going to depend on how often the device is used. For example, if the camera is located in a high traffic area, then the motion detection is going to be recording more often. This in turn will use more battery. Likewise, if the light and siren are in use more often this will also consume more energy. We have ours installed in the rear garden where traffic is low, so I'd expect to get the quoted 6 months.
To charge the device you will need to remove it from the mount and plug it into the USB cable provided. There is no outlet plug provided in the kit but you can use an existing one (from your phone), plug into your computer or plug directly into a power outlet if you have a USB wall socket.
Replaceable battery
You can buy back-up batteries for this device allowing for a quick swap, meaning no downtime on your camera. You can then charge one whilst the other is in use. Also handy for when a battery starts to lose its charge and you need a new one.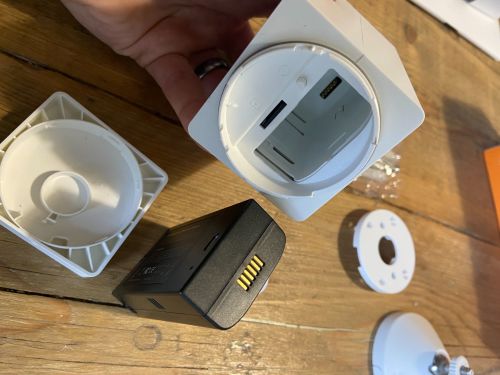 PIR and AI human detection
What is PIR? PIR stands for Passive Infrared. A technology that detects a change in the infrared spectrum. All humans radiate infrared energy from their bodies which is picked up by the camera.
AI human detection is also added to the equation so that the sensor isn't trigger when animals come into the picture. Quite clever really. This feature can be turned off in the settings to allow recording of all motion.
Smart colour night vision
This simply means that the camera has enhanced colour features when recording in low light situations.
Two-way talk
If you have your Cell 2 camera installed by your front door you can use it to communicate with whoever may be there. Maybe you have a delivery or a friend pops round unexpectedly when you're out (or don't want to answer the door). You can press the 'speak' button in the app to activate this feature.
Built in spotlight and siren
These two features can be activated manually in the app. Maybe you have received a motion notification on your phone but can't quite see, press the 'Spotlight' button to illuminate the area.
You can also set either of these features to be activated when motion is detected. This could be ideal when you're away from home and want to deter a thief even further.
IP65 weatherproof
This product has been given the rating IP65 which means it is protected against all forms of dust and low-pressure jets of water from all sides. Ideal for installation in most places outdoors. See here for a full description of IP ratings.
2.4GHz/5GHz Wi-Fi supported
Most modern routers these days come with dual band Wi-Fi. 2.4GHz and 5GHz. Each provide a slightly different experience. 2.4GHz Wi-Fi is slightly slower in terms of data transfer but can be used at much greater distances. Whereas 5GHz Wi-Fi is faster but is more limited on how far a device can be from the router.
So, it's best to connect your device to 5GHz when you are close to the router and to 2.4GHz when the device is far away. For example, we have installed our Cell 2 in the garden, some 20m away from the router. This is quite far so I connected it to the 2.4GHz. If the Cell 2 was within 10m from the router then I would connect it to the 5GHz for best performance.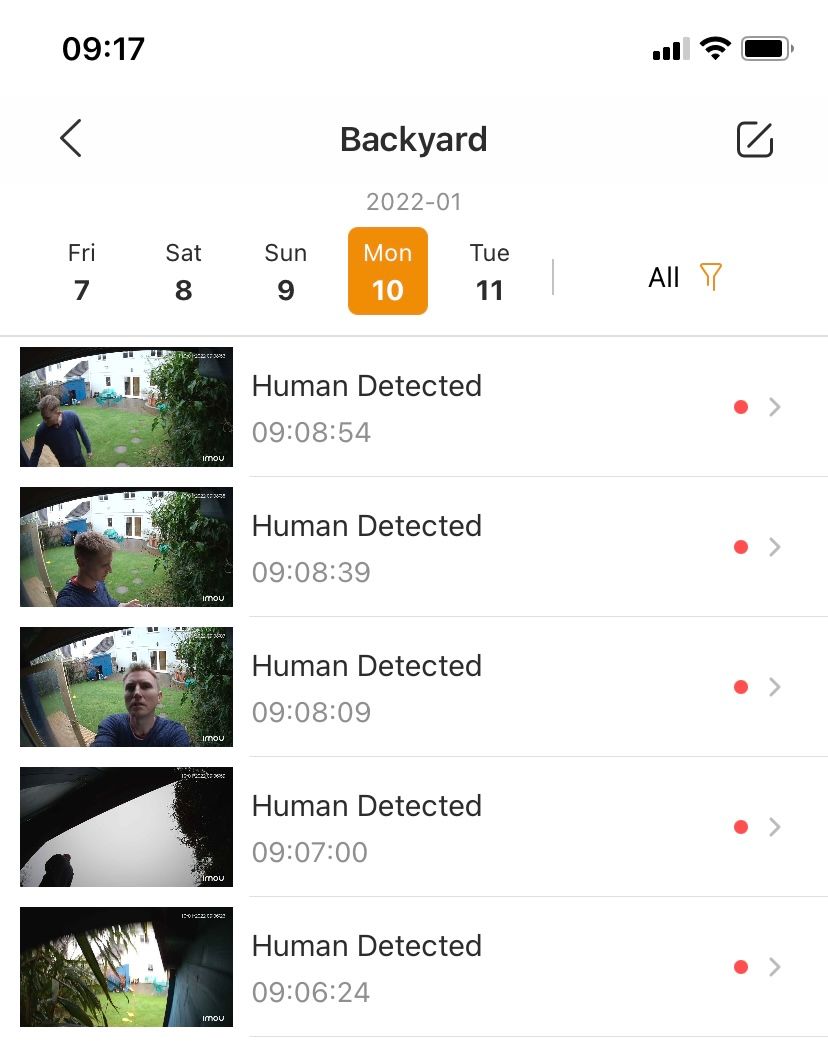 Diversified storage
As standard all data is stored locally on the device, on a 32GB micro-SD card that comes with it. This does however pose a problem if the device itself is stolen. All the recordings are gone too! That's no good. This is why IMOU offer cloud storage options. This is a subscription-based upgrade but absolutely worth it to protect your recordings. Pricing starts from as little as £1.79 per month, or £17.89 a year.
Alexa and Google Assistant supported
If you have Amazon Alexa or Google Assistant in your home then you can integrate the Cell 2 into these. Then you can view the camera via voice control from any of your smart control video devices.
GDPR complied
For those in the EU this device complies with all the GDPR regulations to keep your personal data secure.
Overview of the IMOU Cell 2 features
As you can see from this list, the Cell 2 is packed full of features. Having spent some time looking through the settings within the IMOU application I'm happy to see each are fully customisable. You have full control over camera sensitivity, resolution, storage options, notifications, Status LED, image rotation (if you need to install camera upside down), night vision mode, video length and much more. You can even setup 'Smart Rules' allowing you to control how the camera behaves depending on your location (at home, away etc.). This is great because, let's face it, you don't want the siren going off when you are just popping into the garden. There's also an option for setting schedules. This way you can make the security camera act differently on different days and times of day.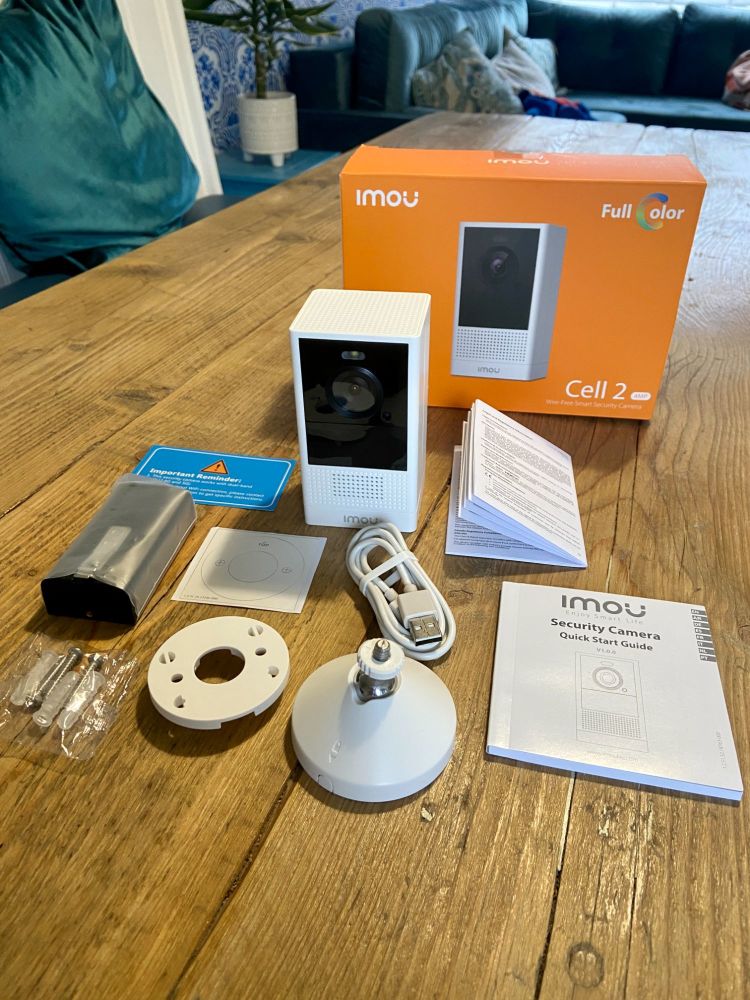 What do I love about the IMOU Cell 2 security camera?
Here's where I feel the Cell 2 from IMOU really stands out.
It was super easy to setup and install. Once the IMOU app was installed I simply followed the on-screen instructions and I was done in about 10 minutes. The installation was also very easy. The wall mount was self-explanatory and overall took me about 5 minutes with a power driver. It did take much longer to configure the device settings, but the setup and installation in total was about 15 minutes.
I love how feature rich this device is. The Cell 2 is packed full of features and is fully customisable so it really should appeal to most people out there.
With this device being wireless it makes it very practical for installation in so many places. You're not really limited on its application. Put it in a tree, on a boat, in your front garden, in the back garden, in the summer house, in a bedroom. The list is endless. As long as it's in range of your router it can go anywhere with very little effort.
It's a product aimed for anyone. With some very basic DIY skills this product can be installed and operated by anyone.
Cost. At just £109 you get a lot for your money.
You can add multiple cameras and link them all to the one app. See all cameras simultaneously in one place.
I love that you can select different storage options. Many security cameras normally offer one or the other. Cloud storage is obviously the most secure option.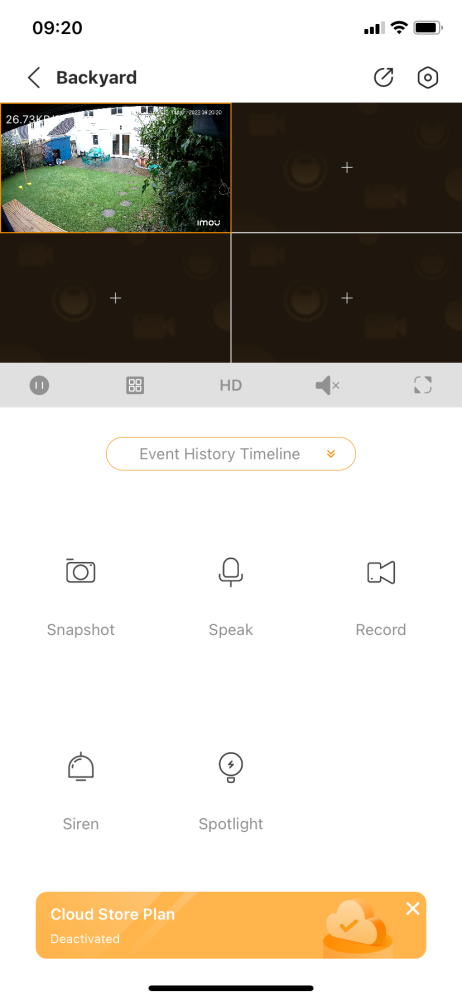 Things to note about the IMOU Cell 2. Plus, what would I improve about this product?
Installation location. First off you will need to think carefully about where the Cell 2 is installed. It can easily be removed from its mount so anyone can easily steal it, especially if its within reaching. If you only have files saved on the local storage then there is no way of seeing the footage of who stole it! To get the best from this product it should be installed out of reach and have cloud storage.
You are limited by the Wi-Fi distance. If you want to install your Cell 2 somewhere out of range from your router then you would need to look into Wi-Fi signal extenders. The signal strength does drop the further away you go. Installation in out buildings like sheds or summer houses might not be possible if you have a large outdoor space.
Installation in dark corners. I noticed when trying to find the perfect location for my Cell 2 that it didn't act well when placed in a dark corner. I initially placed it in the garden between the shed and some bushes. With it being so dark here the contrast between this and the rest of the garden made it difficult for the camera to auto adjust the exposure, making everything washed out and difficult to see. As this will be the same for most cameras and no fault of the design of this specific model, you will need to think carefully about where it is being installed. Try testing a few locations before you get the drill out.
My final criticism would be the overall design of the Cell 2. I don't think it's a particularly good-looking camera. It's very boxy. Most security cameras aren't particularly aesthetically pleasing, but do prefer a rounded sleeker looking device. Personal preference maybe? My wife actually likes the shape and the official IMOU Amazon store has a range of cameras in various shapes and styles to suit your own personal taste.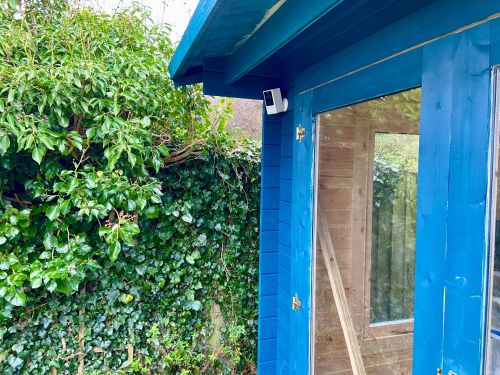 Where to buy the IMOU Cell 2 security camera
Want to get your hands on this camera to protect your property and belongings? Here's the Amazon purchase link and direct store link:
IMOU store discount code: 20% off
Your exclusive 20% OFF code is LYLIAROSE1
(This code applies to all regular price products of IMOU store and is valid till 31, Dec, 2022.)
Conclusion - would I buy the IMOU Cell 2 security camera?
So there we have it. I've taken the Cell 2 for a test drive and I guess the ultimate question now is, would I buy more of them? Simply put, yes, I would. I love the practicality and easy of installation of this camera. I love the idea of multiple views of our property and that I can keep an eye on things when I'm home or away. They are a great visual deterrent for any criminal and provide peace of mind for our home and belongings. I can tell IMOU have really put a lot of thought into this product, making it appealing to a mass market with its many features and simplified installation. My hat goes off to you IMOU.
Thanks for reading,
Ben
In house reviewer for Lylia Rose and self-confessed tech addict
Check out our IMOU Ranger 2C 4MP Indoor Smart Security Camera Review if you're looking for a more affordable indoor solution!
Or maybe you want a wired outdoor camera with better image quality? Check out our IMOU Knight review!