IMOU Knight outdoor security camera review
Posted on
IMOU's latest addition to their fleet of security devices is the 4K, full colour Knight security camera. A feature packed outdoor security camera that's set to rival some of the big brand names out there. But how does it stack up? I've put it to the test to see if this is a true contender for your smart home security system.
Grab a 20% discount on Amazon with code: LYLIAROSE1
This blog post features a PR sample. All words and opinions our own.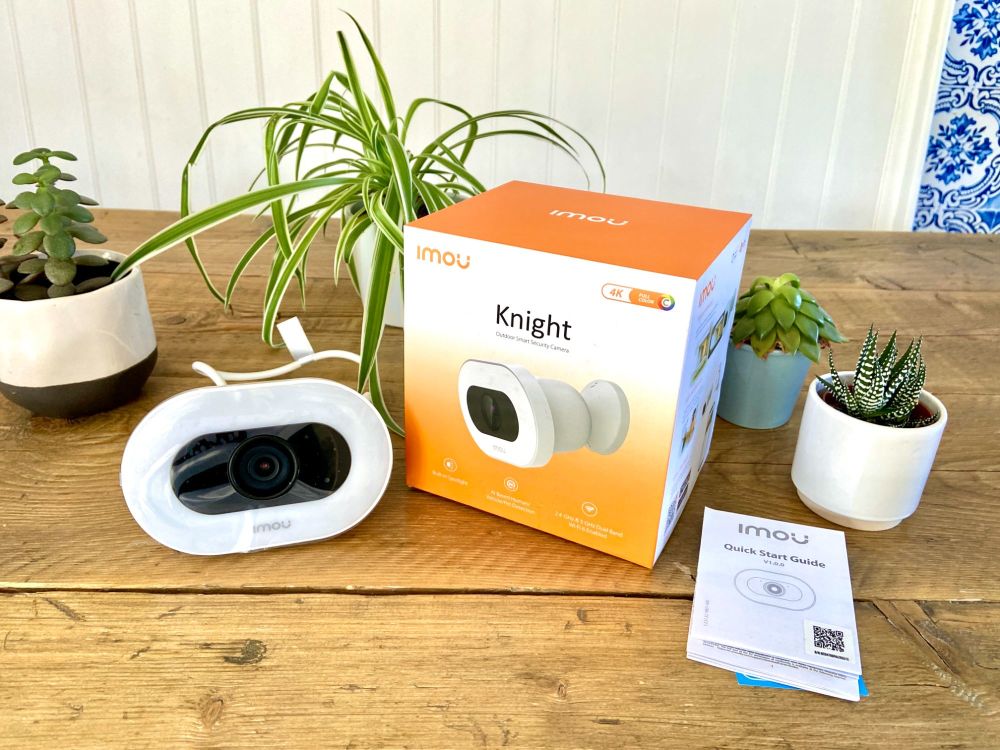 Our previous review of the IMOU Cell 2 showed some pretty good results so I was keen to get my hands on the latest model. The Cell 2 was a fully wireless model with a 1080p image quality, whereas the IMOU Knight is a wired model with a 4K image resolution. The Knight also has a few new features that I'm keen to test out.
Who are IMOU?
IMOU is a company that provides security camera solutions for homes and businesses. Their cameras are designed to be easy to install, use and maintain. They also have a wide variety of cameras that can be used for different purposes - indoor, outdoor, day/night time surveillance, etc.
The company was founded in 2015 by three entrepreneurs who wanted to make home security more affordable and accessible for everyone. They provide end-to-end video monitoring solutions for residential and commercial customers in over 100 countries around the world.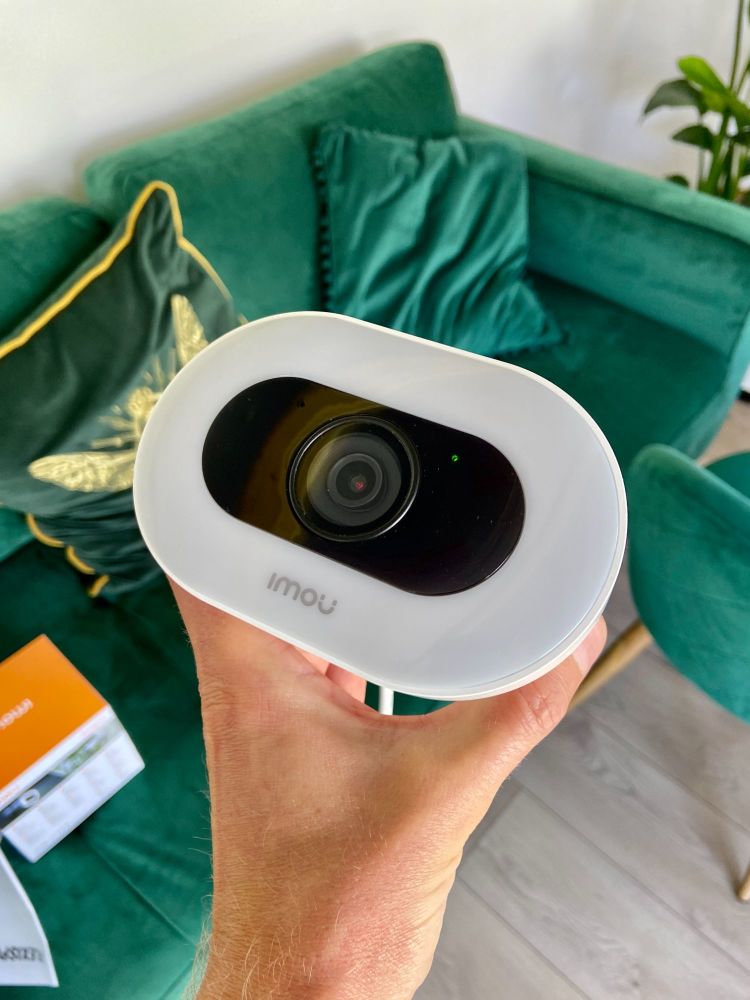 The Knight's key features
The Knight security camera is the perfect device for those who like feature packed devices, that give the user full control over their video capturing. The Knight also boasts the latest Wi-Fi 6 technology (802.11ax for the techies out there), a 4K UHD image resolution and full colour night vision. On top of this the AI motion detection can differentiate between humans, animals and even vehicles. Very handy for those looking to monitor specific things around their house.
The camera also has a built in 110bd siren, two-way talk feature and a motion activated 600 lumens floodlight. So, this really is an all-in-one security device that is going to provide protection, prevention and video surveillance for you home.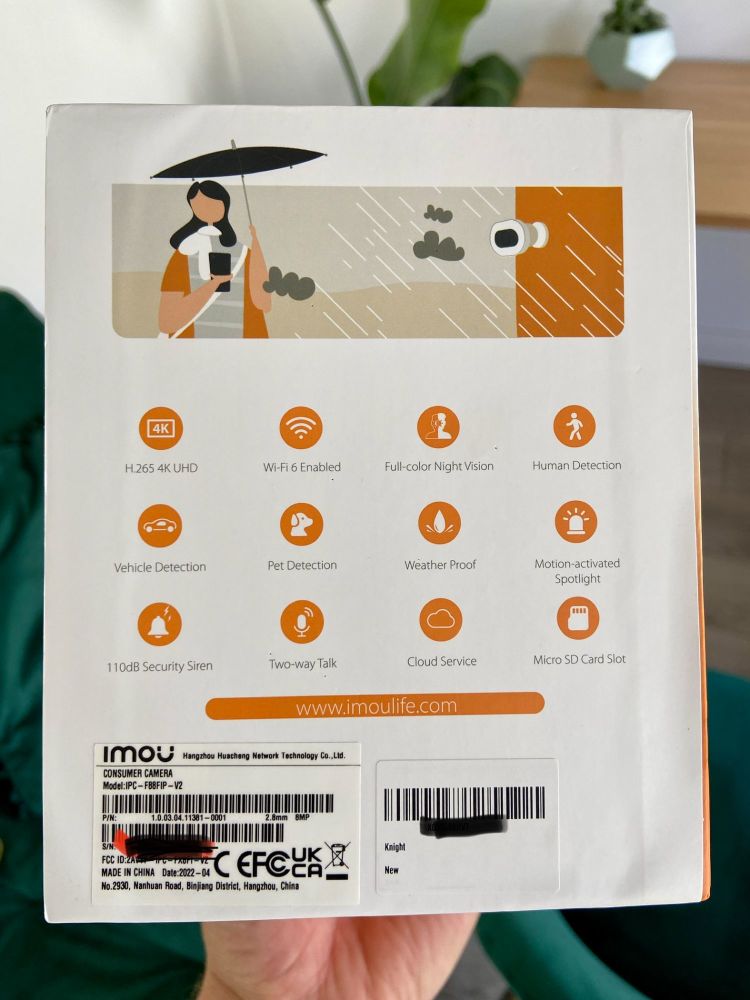 Here is a full list of features:
H.265 4K UHD
Wi-Fi 6 enabled (2.4Ghz and 5Ghz)
Full colour night vision
Human detection
Vehicle detection
Pet detection
Weather proof (IP66 weather rated)
Motion activated spotlight
110db security siren
Cross line detection
Intrusion detection
Two-way talk
Cloud services
Micro SD card slot (card not included)
Who is the Knight security camera for?
It's for anyone really. The thing I love about IMOU is the easy setup of their devices. This is the second security camera we've owned from IMOU and it took about 5 minutes to get this one rolling. Simply scan the QR code on the camera and the app takes care of the rest.
Installation
The setup was the easy part, but it's important to note that the Knight camera is a wired device, so it requires a permanent power source. This might be a little trickier to install compared to one of their fully wireless models like the Cell 2. You'll need to think about how (or where) the power cable will be installed to keep it looking neat and tidy.
The power cable provided is 2 meters long with a standard UK socket on the end. Joined to the camera there is a power terminal and an ethernet (RJ45) cable connector.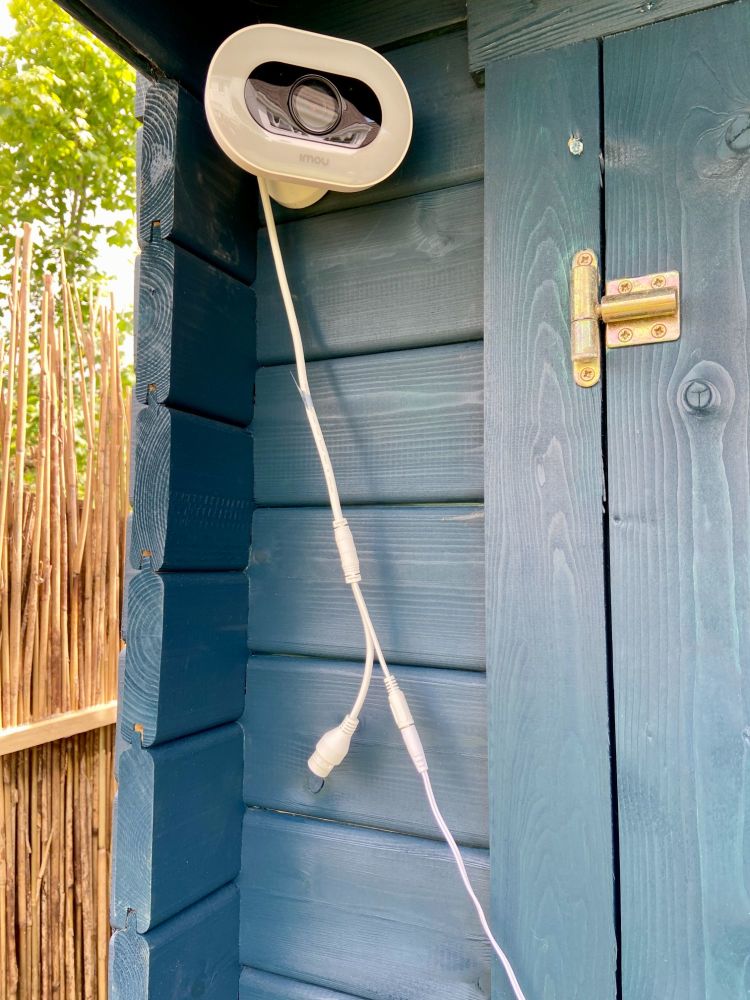 As soon as I saw this I began to think about how to install it on my garden office. The ethernet cable connection is quite large and a large hole would need to be drilled through the wall.
My initial thoughts are, this is going to be a pain to install. How can I install this device whilst keeping the cables hidden and not doing too much damage to the office walls?
The camera does come with a waterproof ethernet cable adapter but this is only useful if a cable is used or required. For example, long distance installations where the camera is out of reach from the wi-Fi.
For my installation I will be using Wi-Fi, so the need for the RJ45 cable is not required. I don't however have to option to remove it. Not without damaging the cable, and possibly the camera!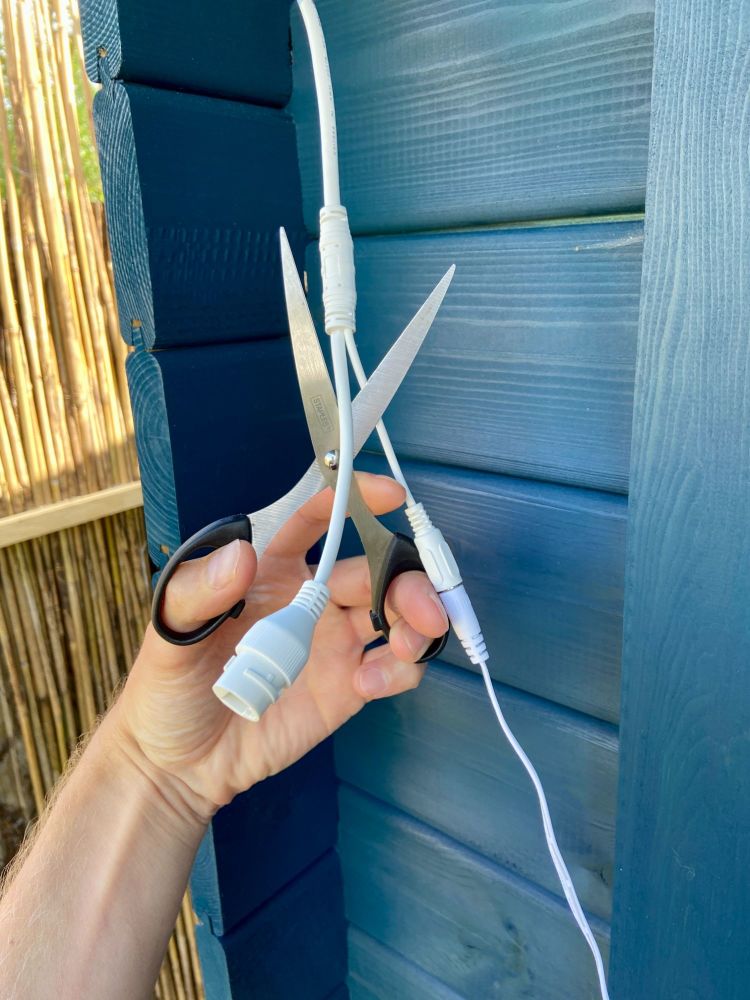 I'll need to think about this in a little more detail to come up with a suitable solution…
Whilst I deliberate the best installation method let's take a look at some of the new features introduced with this camera.
New features on the IMOU Knight
4K UHD video recording
4K video has a resolution of 4096x2160 pixels which is 4 times the size of 1080p. This is a nice resolution to have but I did question if it was necessary. Most of my viewing will be carried out on my iPhone 11 which has a resolution of 1792 x 828 and should I decide to download any of my videos, then I will play them back on my MacBook Air which has a resolution of 2560 x 1600. So for general playback 4K video isn't really required.
Where this does come in handy is when you can playback the video on a 4K resolution monitor. The detail could play an important part in providing evidence for a crime scene. So whilst this feature might not be required for everyday recordings it is nice to know it's there, just in case!
Cross line detection and intrusion detection
The latest new software feature to be added to the IMOU camera is cross line detection. This allows the user to determine a zone in which the camera can be activated. If like me you live near a public highway then you might not want your camera recording every time someone walks or drives past. Therefore, this feature will let you mark a line on the visible camera area to determine when a recording should be triggered.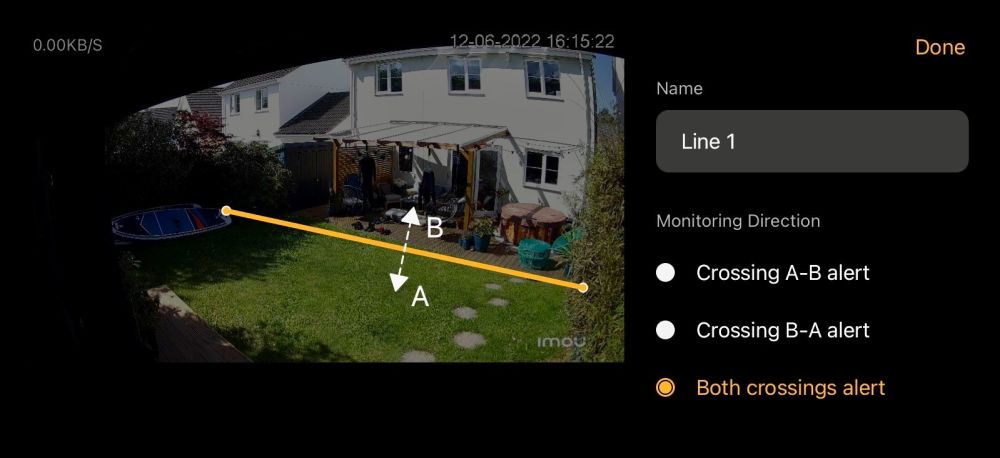 I've noticed that IMOU have also upgraded their intrusion detection software feature giving you greater control over areas within an image. Now you can draw boxes on the screen to mark out areas of interest, that you want to trigger the recording. Everything outside of this selected box will be ignored. As an example, this can be handy if you want to ignore a neighbouring boundary, or a public highway that might trigger the recording unnecessarily.

Night vision
This isn't really a 'new feature' for IMOU but it is interesting to see how it compares to the Cell 2. Here are two images showing the difference between the Knight and Cell 2. As you can see the Knight provides a superior image at night. The halo LED floodlight really does the trick and provides brilliant coverage across my garden.
Cell 2 night image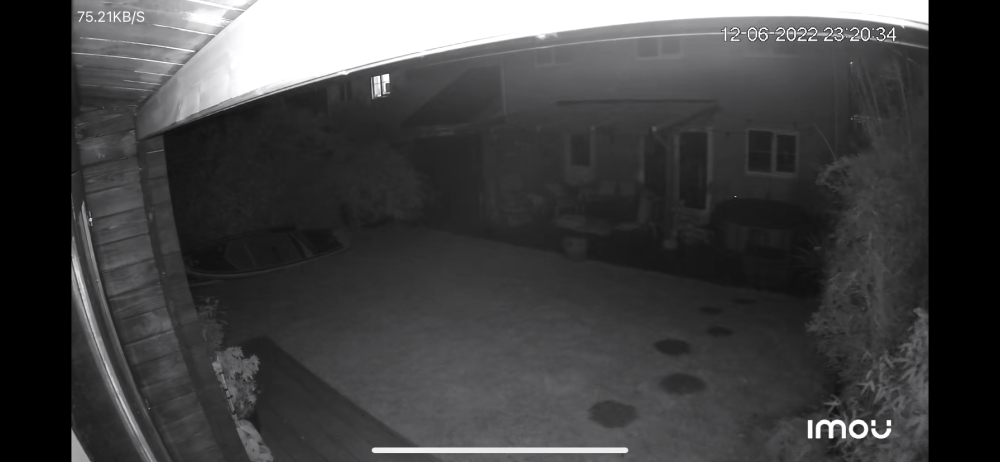 Knight night image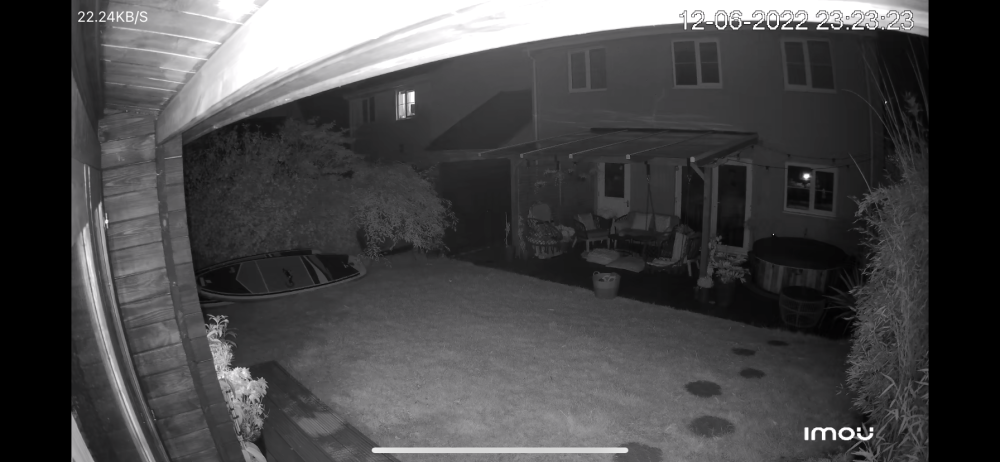 What I love about the IMOU Knight security camera
This camera does everything you should want or need from a security system. Two or three of these installed on the outside of your house should cover all bases. (For a small to medium size house)
I love how customisable the settings are on this camera. You can truly setup the Knight to your specific requirements and fine tune them for the perfect security coverage. Detection zones, cross lines, sensitivity levels and notification settings can all be adjusted to suit you and your home. This gives you a flexible all-in-one security device that will give you peace of mind whether you're at home or not.
So many customisation options.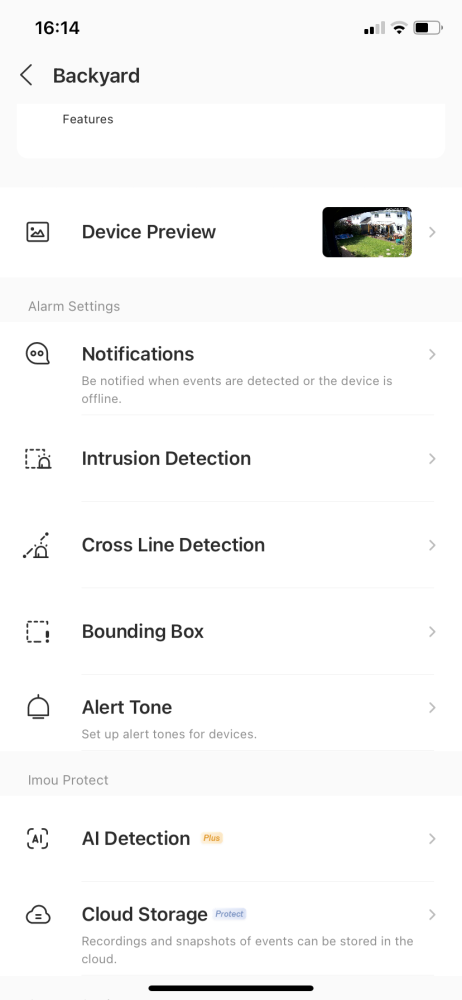 What don't I like about the IMOU Knight
There isn't much not to like about this camera. It's packed full of features and fully customisable but as you can probably tell from the above I think the cable situation needs a rethink.
I understand why IMOU have introduced this camera to the market with an integrated RJ45 connection. So it appeals to both a domestic and commercial customer. The trouble is, I like a tidy installation with minimal visible cabling and this camera has made that a very difficult task for me.
20% OFF IMOU Products
Grab a massive 20% off on the IMOU Amazon shop with this code:
LYLIAROSE1
Find the Amazon shop here: https://www.amazon.co.uk/dp/B09HZK33WY
Conclusion
The ultimate question that needs to be answered after the review of this IMOU Knight outdoor security camera is… Would I buy it again?
Despite my dislike for the cable management situation, I do think this is an outstanding product and I feel safer with it installed. With the addition of one or two more Knight cameras the whole house would be covered from front to back. I can monitor and protect my whole property and keep an eye on things wherever I am in the world. It brings peace of mind. Therefore, the answer is 'yes', I would buy it again, but I do hope an alternative option becomes available without the ethernet port, and perhaps a hardwire power option (like the IMOU wired doorbell) so I can wire in my own 12v power supply. Then I can keep everything super neat and tidy.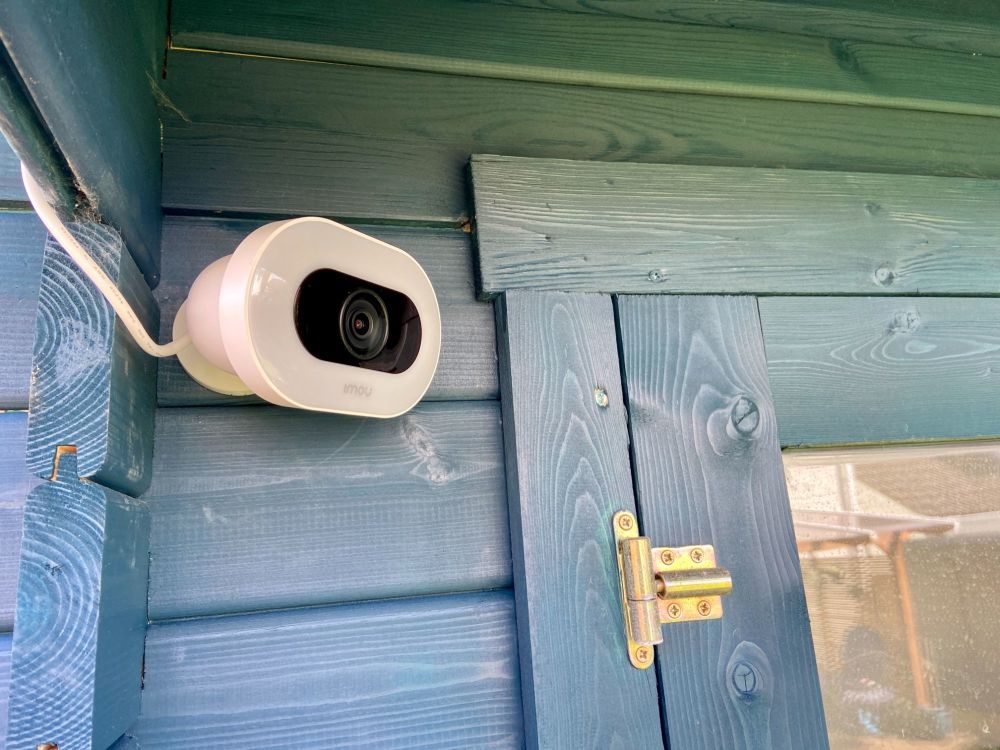 You can find the knight camera here on Amazon or here on the IMOU website.
Thanks for reading. I hope you have found this IMOU review helpful.