Lekto Woodfuels Restaurant Grade Hardwood Charcoal review
Posted on
The summer is fast approaching and the weather is warming up. It's that time of year again to get the barbecue out and enjoy some tasty food outdoors. If you're anything like us then the BBQ is an essential part of summer living, whether you're at home, by the beach or in the countryside. Lekto kindly sent us some charcoal for our summer BBQs and today I'll share our honest review. I also have a Lekto discount code so you can enjoy 5% off all products on their website.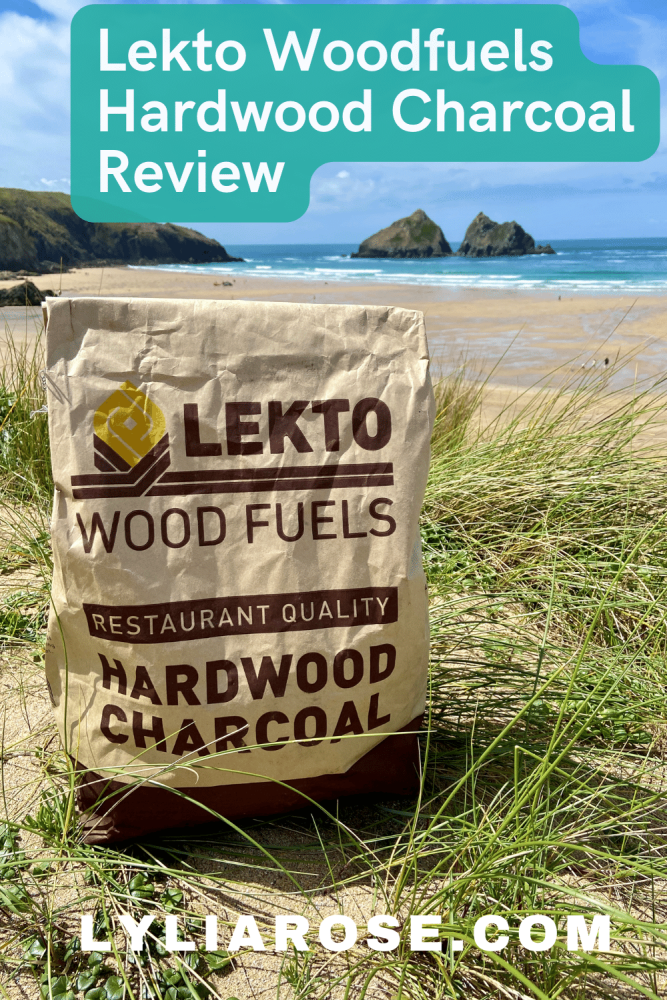 Today I'm reviewing the Restaurant Grade Hardwood Charcoal from Lekto Woodfuels. This restaurant grade lumpwood charcoal comes in 4kg bags and can be purchased in quantities of three directly from Lekto's website.
Looking for a Lekto discount code? Get 5% OFF with promo code WOODCREATE and click here to shop!
What is restaurant grade charcoal?
What makes this different from standard charcoal is the quality of the product. It's given the name 'Restaurant Grade' due to the fact it is primarily used in commercial kitchens. You'll find that this fuel type is easier to light, the heat spreads evenly, it's very hot and lasts up to 2 hours. (Depending on the size of the coals)
In general, it's easier and quicker to work with, whilst being hotter than standard lumpwood charcoal. It makes cooking a cinch.
What's the difference between briquette charcoal and hardwood charcoal?
Hardwood charcoal is the ideal companion for your BBQ for a couple of reasons. It is easy to light and has a consistent burn. Gone are the days of wafting your BBQ to try and spread the flame and heat, desperately trying to get the BBQ going.
Briquettes tend to contain additives and will produce more ash when burning. They will require more ignition fuel to get them started and can require more attention to maintain a good heat. Given the choice I would lean towards a lumpwood charcoal as a more natural product.
The first test run
With this being the first time we'd used this type of fuel on our BBQ we didn't know what to expect. Having read the description and instructions I was eager to try it out and see if it was as good as they say.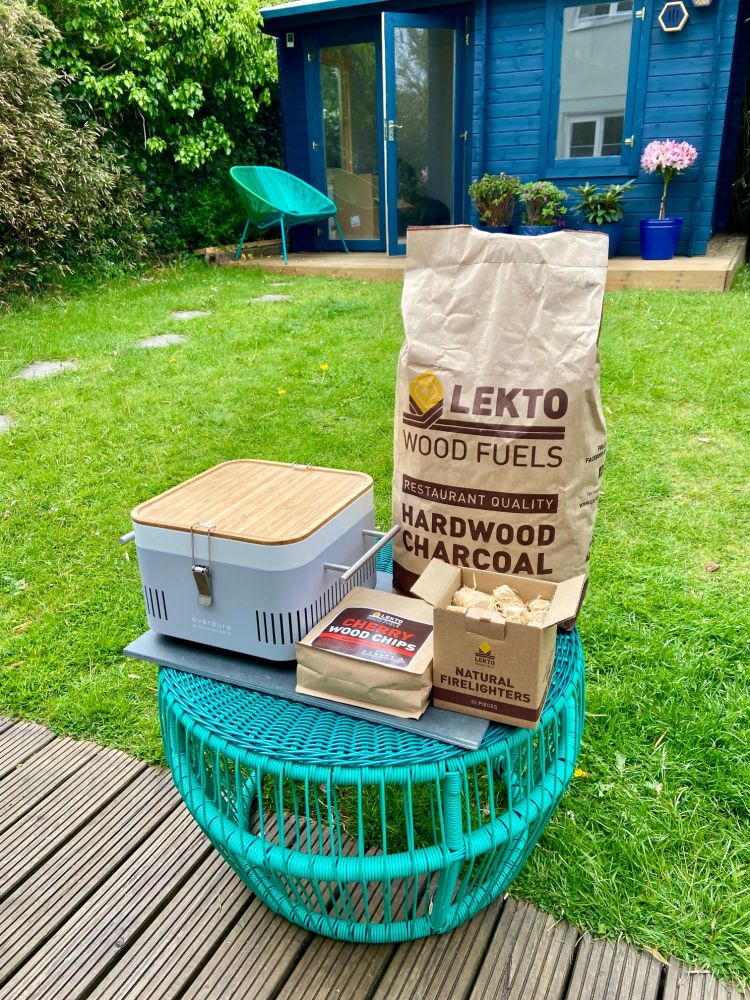 We had recently purchased a new Cube BBQ, because they are portable, functional and look cool. We tend to BBQ mostly whilst out and about in our van. We live near many beaches and love to have lunch or an evening meal whilst enjoying the beautiful seaside.
However, for this first test we decided to have an evening BBQ at home. This gave us the opportunity to learn more about 'restaurant grade hardwood charcoal' and see how well it performed before going out on the road.
My first impressions were great. It did exactly what it said it would. The charcoal size was perfect for this smaller BBQ and they were easy to light. I started by using one of Lekto's natural firelighters and carefully placed a number of charcoal lumps around it. Once these began to turn white, I added a few more, and some more. Once there were enough to cover the BBQ bed, I slowly turned the coals to ensure the white-hot areas were evenly spread out.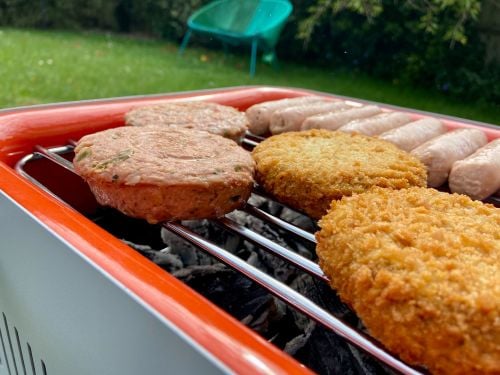 After a few minutes I could really feel the heat from the coals so it was time to start adding some food. This lighting process only took about 15 minutes to complete which was much quicker than I was used to. (I'm normally faffing around for an hour before I'm ready to start cooking!)
So far so good. The burgers and sausages were on! Cooking times were pretty normal, I just needed to keep a close eye on the food in the middle of the BBQ. The charcoal gave off a nice even, consistent heat throughout the cook so I was happy. And most importantly, so was the family. Perfectly cooked food all round.
First thoughts of Lekto's Restaurant Grade Hardwood Charcoal
I'm pleasantly surprised with this type of fuel for our barbecue. It makes a nice difference to standard charcoals as it's so much easier to use. Prep times are significantly reduced and the charcoal was easy to work with. This will definitely become our new go to fuel for our barbecue going forwards.
As we tend to BBQ whilst away from home, more often than at home, Lekto's hardwood charcoal will be the perfect addition, mostly because it is very lightweight. We can easily store it in the van and pre-load the BBQ before we set off.
Second test
For our second test we're down at the beach. It was a beautiful sunny day and this time it was just me and my wife Victoria. We decided to take the BBQ out for a romantic lunch time meal whilst the kids were at school. We packed everything into the van and headed for our favourite spot.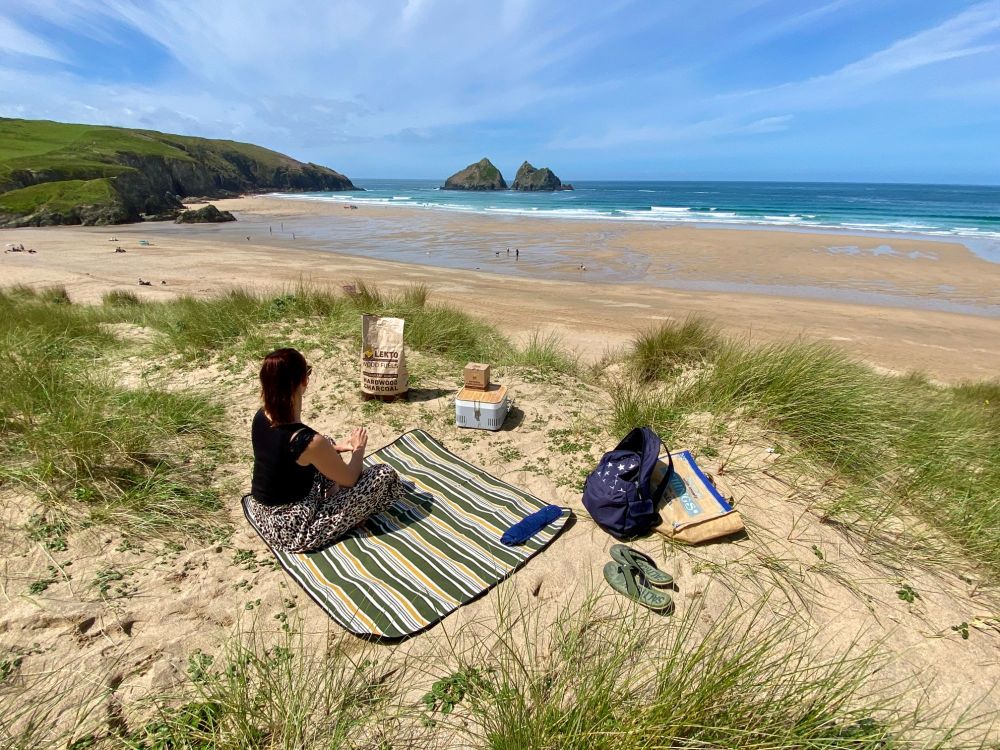 With the wind being a little stronger this time it would be interesting to see how the fuel would act differently, if at all. Thankfully there was no difference in the charcoal's performance. We were able to easily light the BBQ and cook comfortably whilst on the sandy dunes.
Our favourite spot was a 15-minute walk from the van but everything was easily carried, especially the charcoal. The BBQ was up and running within 15 minutes and the food took another 15 minutes to cook. Then we could relax, enjoy the views and each other's company.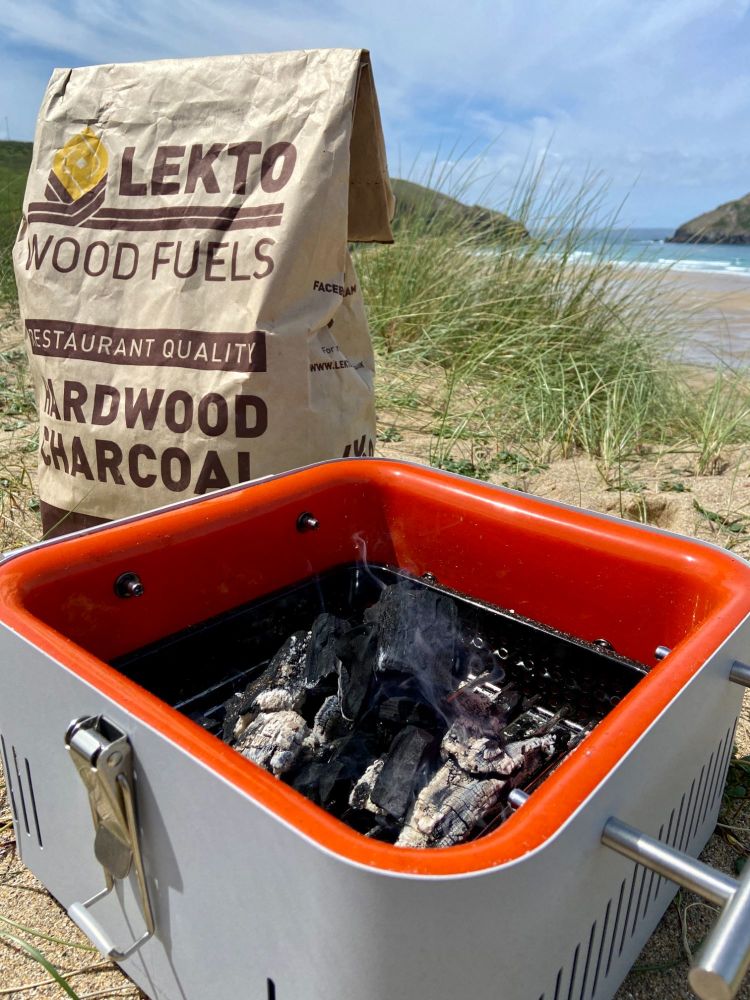 Final thoughts on Lekto Hardwood Charcoal
Lekto's Restaurant Grade Hardwood Charcoal is a good product in my eyes. It might be a little more expensive than a standard bag of charcoal from the local supermarket but there is a huge difference in quality. As they say, you get what you pay for. Even if you are unsure about this product, I'd recommend trying it just so you can see the difference.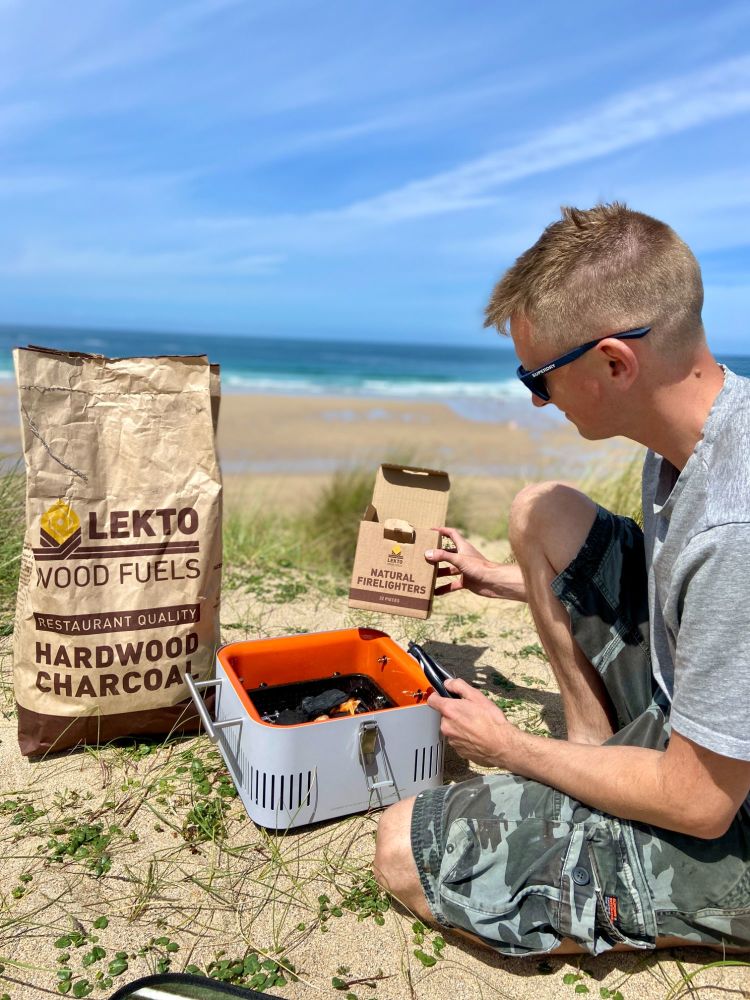 I also noticed that the charcoal was completely smokeless. No more sitting by the BBQ with smoke blowing in my face! Which normally happens to me every time, even when I move to another side, the smoke seems to follow me!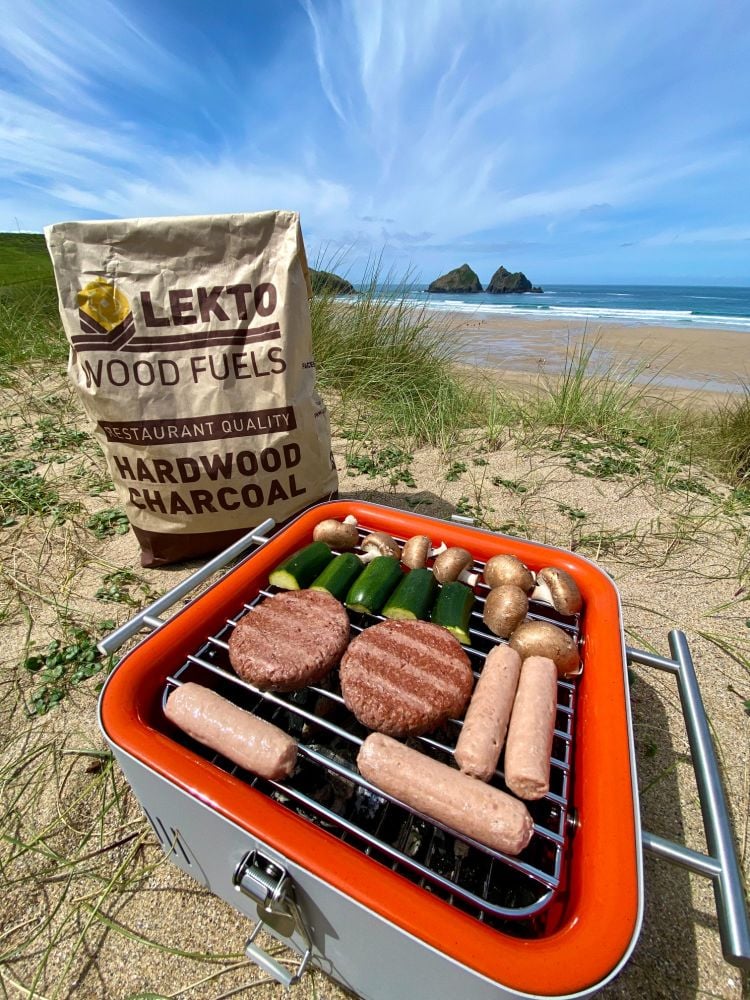 If, however you want some smoky flavour on your BBQ, or have a smoker, then Lekto also sell flavoured smoking wood chips. Add and handful of these to your BBQ to add a flavoured aroma to your food.
If you like the idea of a hassle-free barbecue then this is the perfect product. It's easy to order, easily stored and easy to use. It's restaurant quality cooking fuel. It's also ideal for using in wood fired pizza ovens. (Which is next on my shopping list)
Lekto discount code
Looking for a Lekto discount code? Get 5% OFF with promo code WOODCREATE and click here to shop!
Thanks for reading. We hope you found this review useful. You can find out more about Lekto's products on their website or you can read more honest Lekto reviews about more of their product range!
Happy barbecueing!
Ben & Victoria