Flexispot adjustable standing desk review
Posted on
PR sample. Thank you to Flexispot who have sent us a gifted desk of our choice for our new garden office - all words and opinions our own.
We've recently received our Flexispot L-shaped standing desk which is a bit of a game changer for us. In this article I'll tell you a little bit about why this has made such a difference to the way we work and how it has helped us both physically and mentally.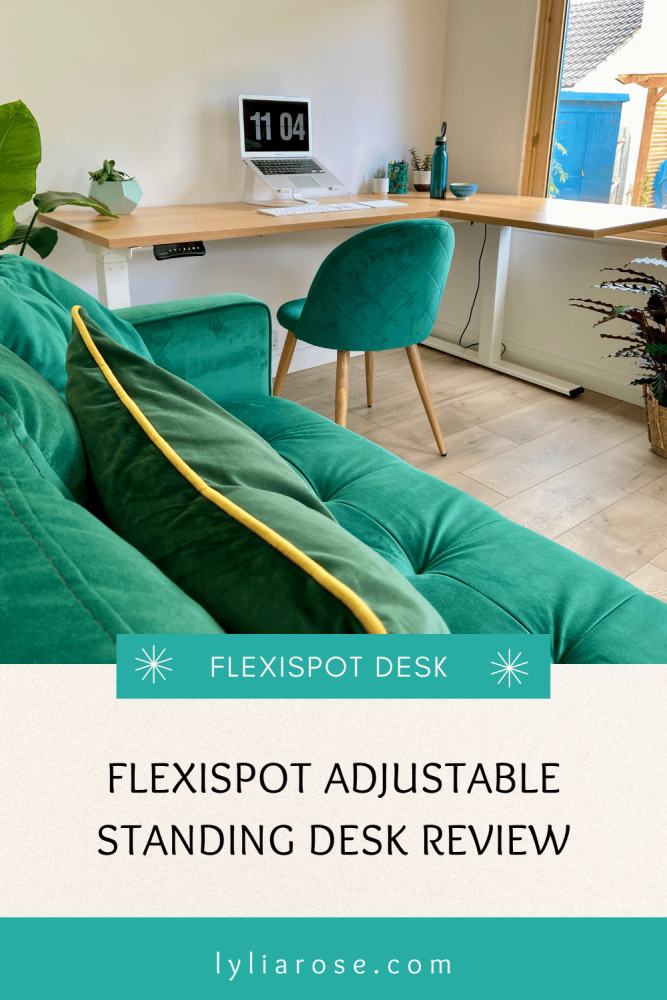 Who are Flexispot?
Before I get into the details of the desk, here's a little about the company, Flexispot. They design and manufacture ergonomic and sustainable office equipment, including desks, chairs, desk stands and related office accessories. Their innovative designs focus on flexible workspace furniture to help people find a more comfortable working environment.
The Flexispot statement:
"FleixSpot is committed to help our clients achieve new heights of wellness and strike the perfect work life balance through innovative and ergonomic solutions."
And their goal is to produce:
"Ergonomic solutions for a heathier and happier life"
Flexispot was founded in 1998 and started producing their first height adjustable desk in 2015. They now have a huge range of products aimed at delivering a more comfortable, healthier work environment for both a domestic and commercial setting.
Our work environment
We ordered the Flexispot desk for our new home garden office, which has only recently been completed. Both my wife and I work from home so this dedicated office was a much-needed addition, especially when it comes to finding the perfect work life balance.
We needed a space that was separate from the distractions of everyday family life. A space we could go to focus on our work, interruption free. It's a dual-purpose space which is big enough for both of us to work and also exercise. That's why we opted for a large desk, comfortable seating and a treadmill.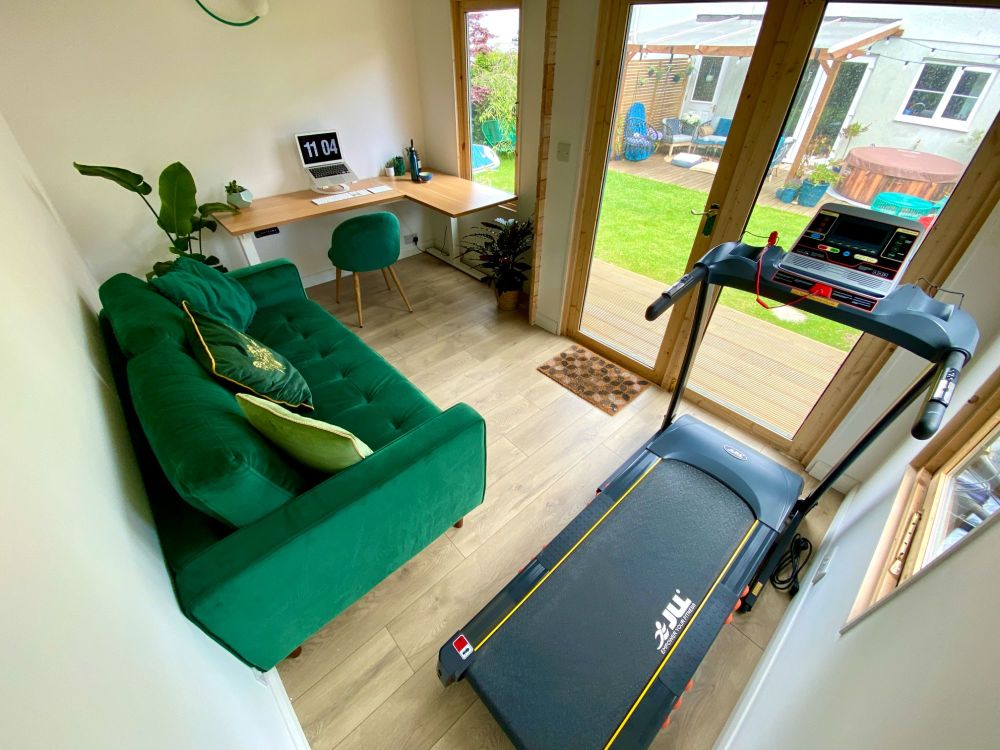 Some may think exercise and working don't really go hand in hand, but it's the perfect environment to be productive whilst staying fit and healthy. That is where an adjustable desk helps. We needed a desk large enough for us both of use simultaneously but also wanted the ability to work whilst standing. We spend many hours at our laptops during the day and sitting can become very uncomfortable. Lower back pain, shoulder pain and general fatigue would set in and has become worse over time. We couldn't continue.
As we spend half our lives working behind a computer screen, we needed a flexible, healthy work environment. That's where the Flexispot adjustable desk comes in.
The Flexispot E1L L-Shaped Adjustable Desk
We ordered the Flexispot E1L L-Shaped Adjustable Desk with white legs and a 180x120cm maple top. Our new desk arrived in three separate packages and required assembly. My first impression, as soon as I opened the packaging was, this is a quality product. Even the packing was good quality, not to mention sustainable. It's probably a bit of a strange thing to notice but I picked up on the rigidity of the cardboard and how the product was packaged. 99% of the packaging was cardboard. A lot of thought had gone into this to ensure the products are delivered safely whilst remaining fully eco-friendly.
Once I had all the pieces unpacked, it was time to assemble the desk. The legs are made from metal which has been powder coated for a tough, durable finish. Each piece fitted together perfectly and the instructions were very clear. I could tell this wasn't any standard piece of office furniture. It was real quality.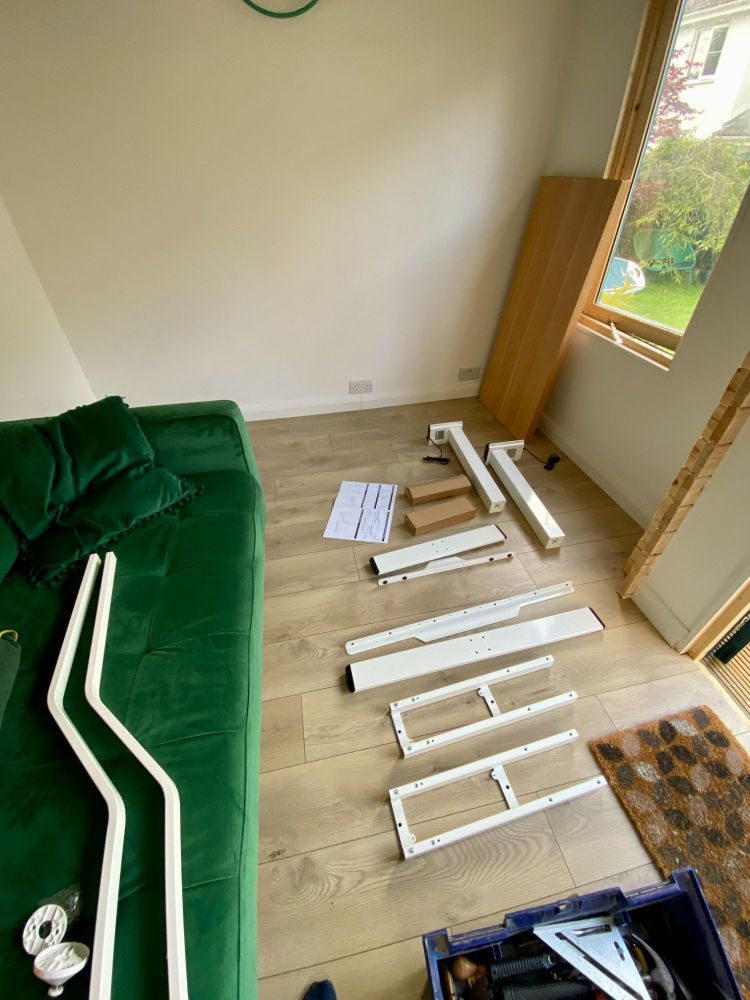 I was excited to try out the desk and see how the motors performed lifting and lowering the table top. The desk is pretty heavy but was easy to move into position by myself. The soft rubber feet protected our new laminate flooring from being scratched.
After wiring everything up and tidying the cables, it was time for the first test. The motors glide perfectly smooth and are pretty quiet too. The up and down functions are easy to adjust on the control panel which I fixed on the left hand side. The panel can be mounted where you like but the desk top comes with some pre drilled hole on either side. Starting from 71cm the desk can then rise to 120cm. A standard desk height is about 75cm and if you decide to stand, the perfect height will be different depending on your own height. For me (6ft or 182cm) it's perfect at about 105cm and for my wife (5.7ft or 170cm) it was about 100cm.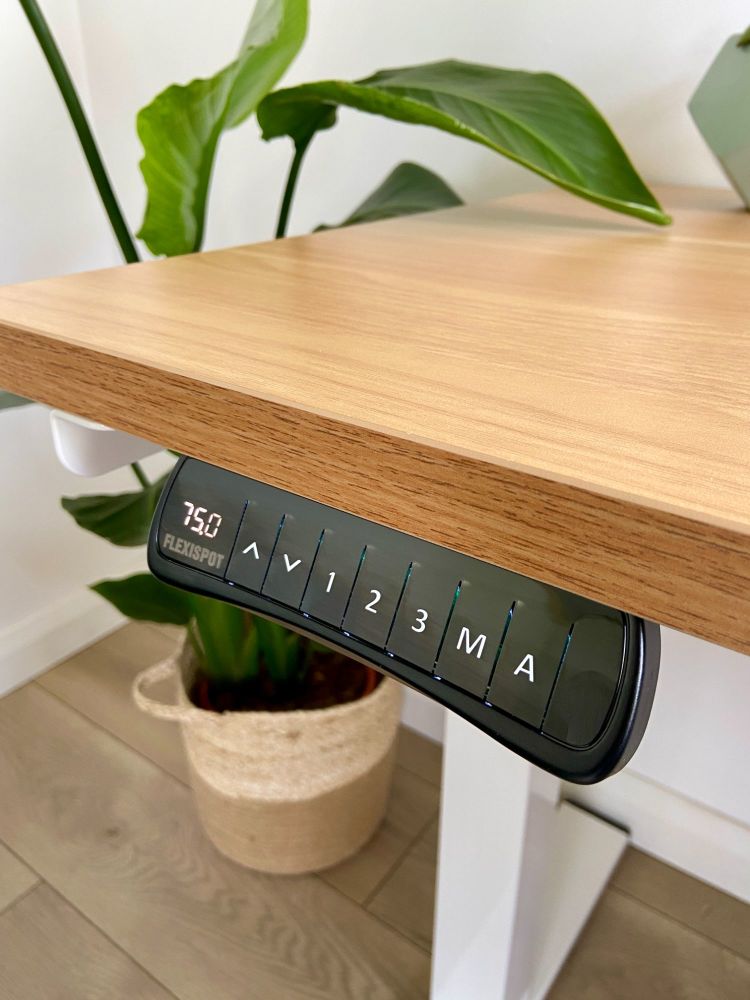 There are 3 memory settings on the control panel so we decided to set number 1 to 75cm, the perfect sitting height, number 2 at 100cm and number 3 at 105cm. This meant we could both quickly adjust the desk height for our ideal sitting or standing positions. A great feature of this desk.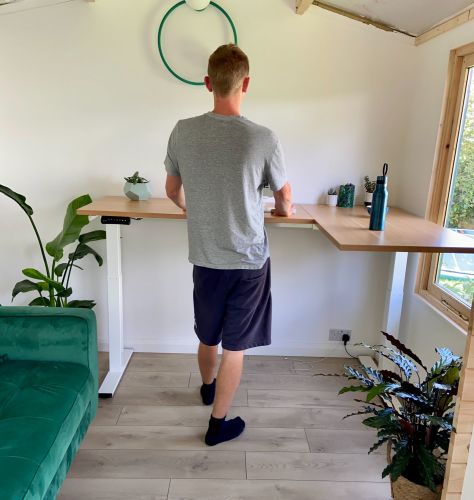 More great features of the Flexispot adjustable desk
Here are a few more great features that I love about this desk.
Reversible panels
The L-shaped desk can be configured as a right or left hand shape so you can set it up either way round to suit your room. Then, if you need to move it to another room or location in the future you can easily switch it around.
Anti-collision safety feature
Don't worry about crushing your hand, drink or something else fragile. The motor sensor can quickly detect an obstruction and reverse the motor direction to avoid injury or damage to items.
Durable and stable construction with dual motor lifting
I mentioned above about the build quality of this product. It's made from and industrial-grade steel and a tough powder coated paint. This product should really stand the test of time. It also has a dual motor lifting system which makes for a really smooth motion when lifting and lowering the desk.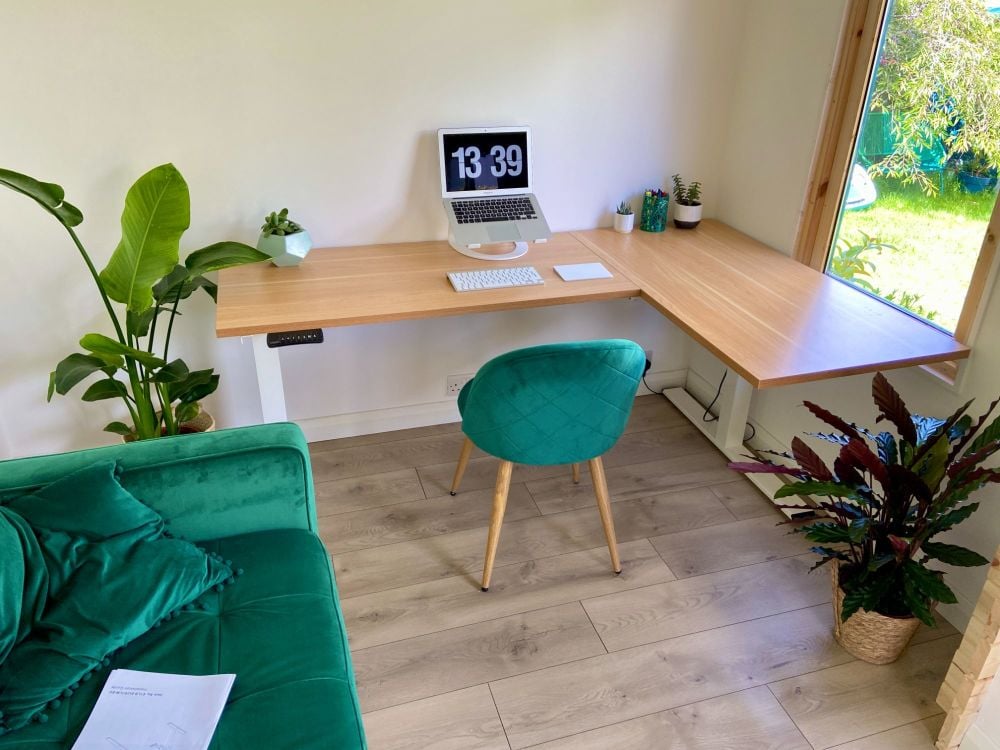 Conclusion
Flexispot have nailed it when it comes to ergonomic office furniture. The design and build quality are superior to any other desk I've used before and the motorised lift function is smooth and efficient. Standing to sitting is super easy which is ideal in our busy lives. Back and shoulder pains are quickly becoming a thing of the past.
Not only does this desk help us physically, but mentally as well. It looks great in our new office, is super easy to use and is very sturdy. It brings peace of mind for our calming work environment. We no longer need to be concerned with discomfort whilst working long hours in front of our computers. It's the perfect addition to our new home garden office.
There isn't much I don't like about this desk, however is would be nice to have a few more colour options on both the legs and desk tops. I also really like the Flexispot website. It is very user freindly and easy to navigate. There are loads of customisation options and accessories for the desks so whether your an office worker, a creative type of a gamer, you're bound to find something suitable.
Flexispot are currently running a sale of up to 38% until the end of June so grab a bargain whilst you can.
Thanks for reading. Check out our lastest review of the FlexiSpot E8 motorised standing desk.
Ben