FlexiSpot E8 Motorised Standing Desk Review
Posted on
Standing desks, also known as sit-stand desks or height-adjustable desks, have gained popularity in recent years due to their potential health benefits and improved productivity. Unlike traditional desks that only allow sitting, standing desks offer the flexibility to switch between sitting and standing positions while working. I this article I'm going to be reviewing the FlexiSpot E8.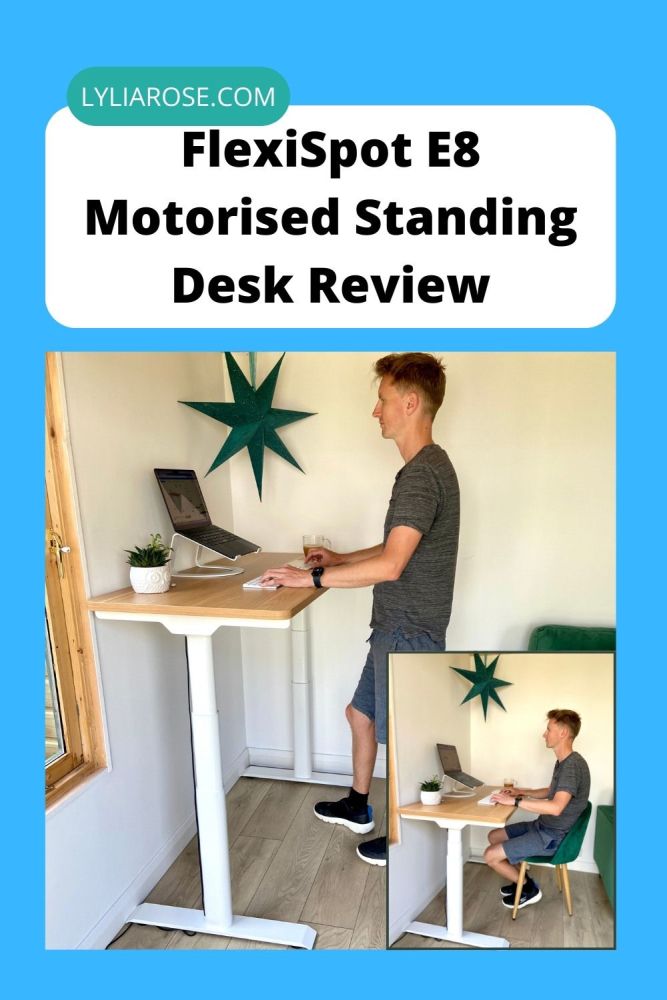 What are the benefits of using a standing desk?
The primary benefit of standing desks is their ability to promote better posture and reduce the amount of time spent in a sedentary position. Prolonged sitting has been linked to various health issues, including obesity, cardiovascular disease, musculoskeletal problems, and even increased mortality risk. By alternating between sitting and standing, users can engage different muscle groups, improve circulation, and reduce the strain on their backs, necks, and shoulders.
Standing desks are also known to boost energy levels and concentration. Standing encourages movement and increases blood flow, which can help combat fatigue and enhance alertness. Many users report feeling more focused and productive when using a standing desk, especially during tasks that require cognitive engagement.
Standing desks offer customisation options to suit individual needs. They typically feature adjustable height mechanisms that allow users to find their optimal sitting and standing positions. This adaptability caters to different body types, heights, and ergonomic preferences, ensuring a comfortable and ergonomic workspace.
Research suggests that using a standing desk can lead to various health benefits. Studies have shown that standing desks may help reduce the risk of weight gain and obesity, lower blood sugar levels, alleviate back pain, and improve overall well-being. However, it is important to note that standing all day may not be ideal either, and finding the right balance between sitting and standing is crucial.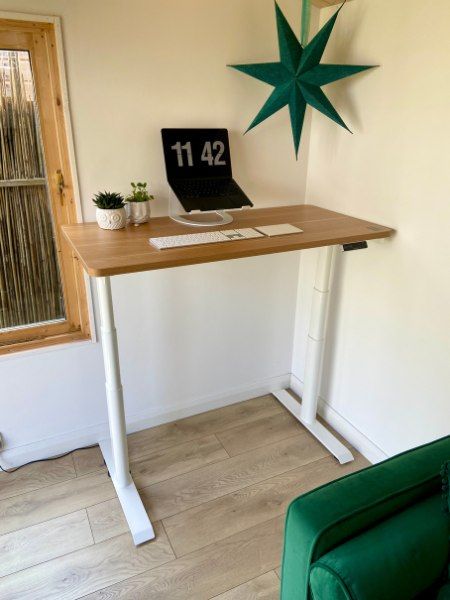 The FlexiSpot E8 standing desk review
In this review, I turn my attention to the FlexiSpot E8 desk, a height-adjustable standing desk that aims to provide users with a versatile and ergonomic workspace. As the demands for flexible working environments continue to rise, the FlexiSpot E8 desk has emerged as a popular choice for individuals seeking a balance between sitting and standing while working.
The FlexiSpot E8 desk boasts a range of features designed to enhance productivity, improve posture, and promote overall well-being. With its motorised height adjustment mechanism, users can effortlessly switch between sitting and standing positions at the touch of a button. This allows for seamless transitions throughout the workday, empowering individuals to find their ideal ergonomic setup.
One of the standout features of the FlexiSpot E8 desk is its emphasis on user customisation. The desk options available offer a generous workspace and a sturdy desktop surface that can accommodate multiple monitors, laptops, and other work essentials. Its adjustable height feature caters to users of varying heights, ensuring that each individual can find their optimal positioning for comfortable and productive work sessions.
Beyond its functional design, the FlexiSpot E8 desk incorporates thoughtful features to enhance the overall user experience. These include memory presets that allow users to save preferred height settings, eliminating the need for manual adjustments each time. The desk offers practical solutions for cable management, ensuring a clutter-free and organised workspace.
Throughout this review, I will delve into the design, functionality, user experience, and value for money of the FlexiSpot E8 desk. By exploring its key features and analysing real-world user feedback, I aim to provide you with an in-depth understanding of the desk's strengths, weaknesses and overall suitability for various work environments.
Read on to find out about the FlexiSpot E8 desk's build quality, adjustability, workspace, assembly process, user comfort and more. By the end of this review, you will have the information necessary to decide whether the FlexiSpot E8 desk is the right choice for your standing desk needs.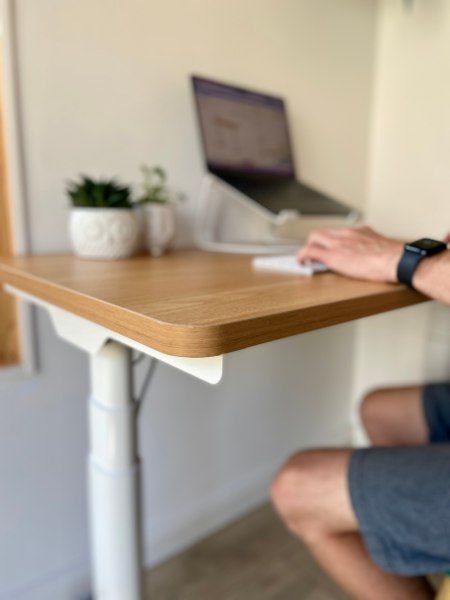 Design & build quality
The FlexiSpot E8 design
The Flexispot E8 desk combines a robust and durable construction with a sleek and slim profile, catering to both compact workspaces and more spacious office setups. Its standout design feature is the motorised height adjustment mechanism, enabling seamless transitions between sitting and standing positions. Available in black or white, the legs and frame exude a modern aesthetic, while the desktop offers a range of colours, styles, and sizes for customisation.
The desk's design options and functionality are aimed at providing users with their ideal ergonomic positioning, promoting better posture, and reducing the risk of discomfort or strain during long working sessions. With its versatile design and customisable features, the Flexispot E8 desk not only enhances the visual appeal of the workspace but also ensures optimal comfort and productivity.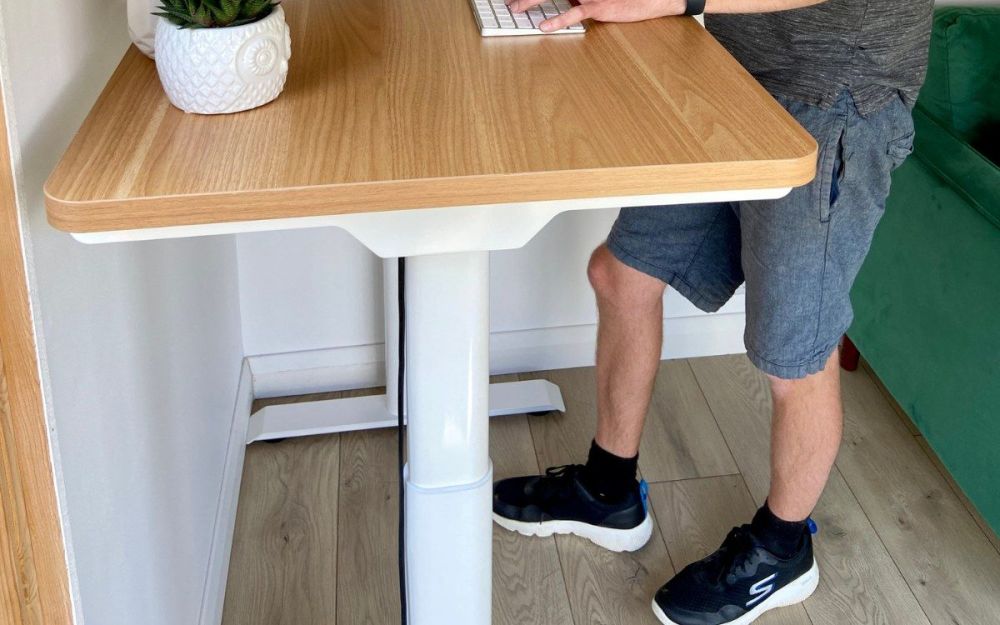 The FlexiSpot E8 build quality
One notable aspect that sets the Flexispot desks apart is their exceptional build quality. The manufacturing process utilises materials that surpass the competition, evident in the desk's weight, welding joints and overall finish. The attention to detail and craftsmanship is evident, ensuring a sturdy and durable construction that will withstand the test of time.
Moreover, the electronic motors of the Flexispot desks operate smoothly, quietly, and with impressive strength. Transitioning from sitting to standing positions takes just a few seconds, providing convenience and flexibility without any disruption to your workflow. The motor's efficiency and reliability make working both comfortable and more enjoyable.
The Flexispot E8 functionality and features
This feature-packed electronic height-adjustable desk has a number of unique features that help it stand out from the rest. Let's take a quick look at each of these in a little more detail:
Desktops available in widths between 120 – 200cm
Whether you need a small desk or something with more space, this desk caters to most requirements. If you need something a little larger or an L-shape desk, the E8 might not be right for you. Instead, take a look at the FlexiSpot E3L, E1L or EG1-L.
Height range between 60cm – 125cm
The electronic legs have the capability of height adjustments between 60 and 125cm which is a great range for those who want to quickly sit or stand whilst they work. The FlexiSpot E7 has a slightly different range of 58cm – 123cm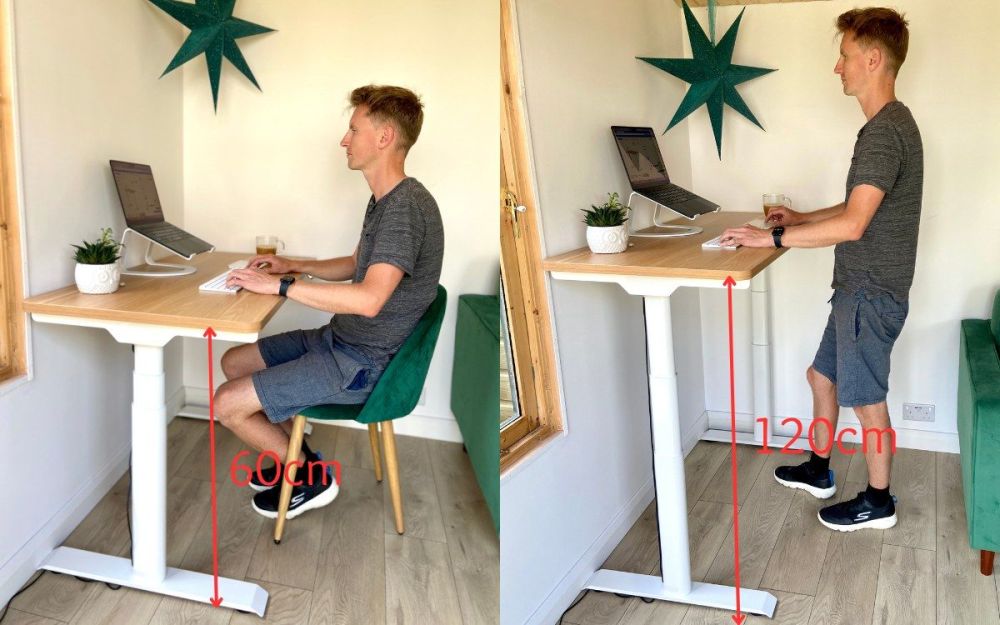 Load capacity up to 125kg
Well, I'm pretty sure no one out there is going to need to put anything heavier than a few kg on their desk but be rest assured this desk can handle up to 125kg. Wow!
Premium keypad
The keypad is the control unit for the height adjustment on the E8 desk. But what's the difference with the premium keypad?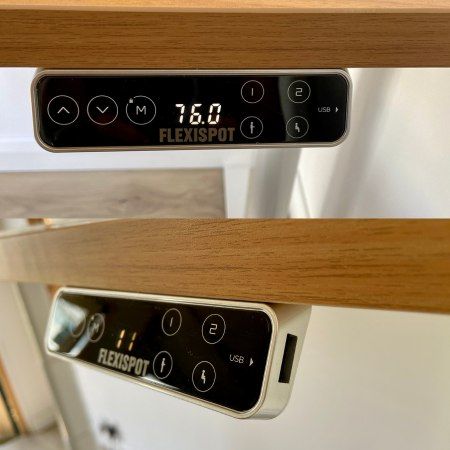 It comes with an anti-collision system that will prevent damage to items above or below. The desk will simply stop moving up or down if it meets any resistance whilst being adjusted. It also has a built-in USB port for charging devices, a child lock button, four preset height buttons and a digital display so you can quickly see the height of your desk.
Dual motor legs
The E8 is a dual-motor desk which makes it a little more expensive but it also offers better stability, improved usability and support for bulkier setups.
Cable management
The E8 comes as standard with a cable management tray underneath which is ideal for hiding all the operating cables underneath and out of sight.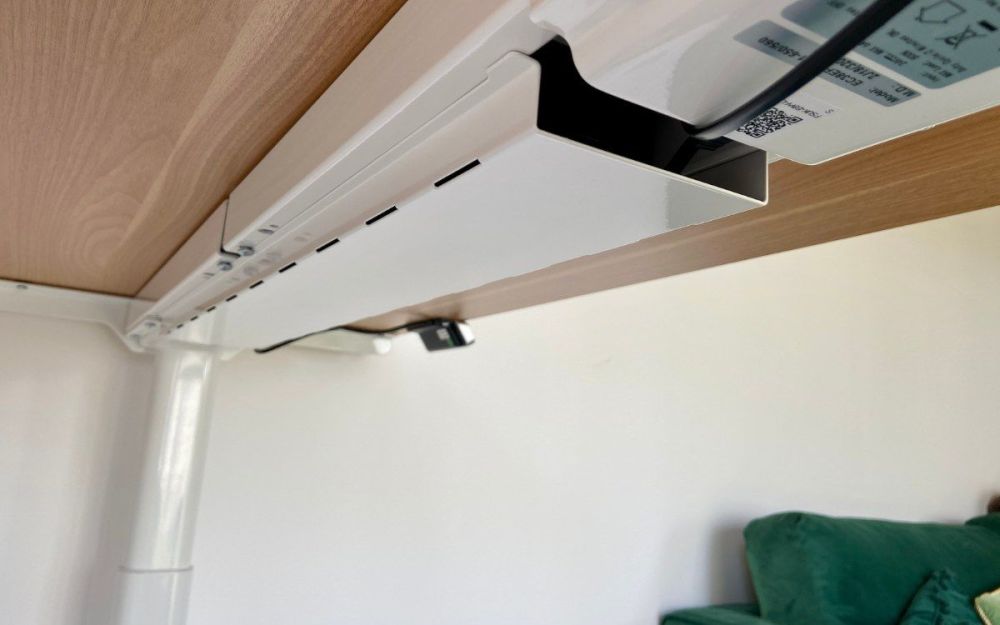 Accessorise your desk
The E8 comes with a host of options for customisation. Maybe you require a dual monitor fixing point, require storage or need the ability to easily move your desk. Here are just a few options available with the E8:
Keyboard tray
Castor wheels
Monitor arms
Under desk drawer
Pegboard
Cable management duct
Workspace and surface area
For our small garden office, we opted for the E8 desk with white legs and a maple worktop measuring 120cm x 60cm. This compact desktop size perfectly suits our limited space and provides an ideal shared workspace away from the distractions of our main family house. In fact, this is our second Flexispot desk, allowing us to enjoy the best of both worlds.
Flexispot offers a range of desktop sizes for the E8 desk to accommodate different preferences and workspace requirements. Currently, the available sizes include:
120x60cm
120x80cm
Curved 140x70cm
140x80cm
160x80cm
180x80cm
The maple desktops we ordered are constructed with 1-inch thick chipboard, providing a sturdy and reliable surface for work. The durable laminate covering not only adds to its resilience but also offers a smooth and pleasant working experience. Additionally, the surface is easy to clean, ensuring effortless maintenance and a clutter-free workspace.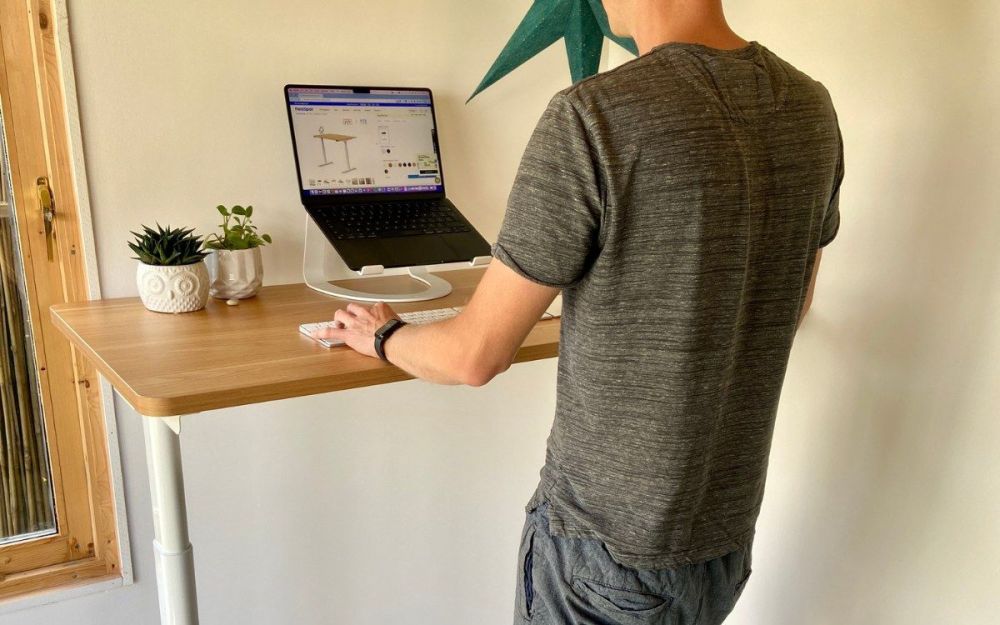 While the chipboard construction is available in various colour options, those looking for a more natural look can choose from bamboo or rubberwood options. These materials add an organic touch to the desk's design and provide an alternative aesthetic that complements different office or home environments.
Overall, the Flexispot E8 desk's range of size options and choice of materials allow users to personalise their workspace according to their specific needs and style preferences. Whether you require a compact desk like ours or a larger surface, FlexiSpot offers a variety of options to create an efficient and visually appealing workspace.
Assembly and installation
The assembly and installation process of the FlexiSpot E8 desk proved to be straightforward and user-friendly. When the desk was delivered, I was pleased to see that it was well-packaged, clearly demonstrating the care taken to protect the components of the Flexispot E8 desk during transit. Each component was carefully wrapped and protected in its own unique packaging. The desktop even had cleverly designed sponge corners to protect edges and the worktop was carefully covered with a foam sheet.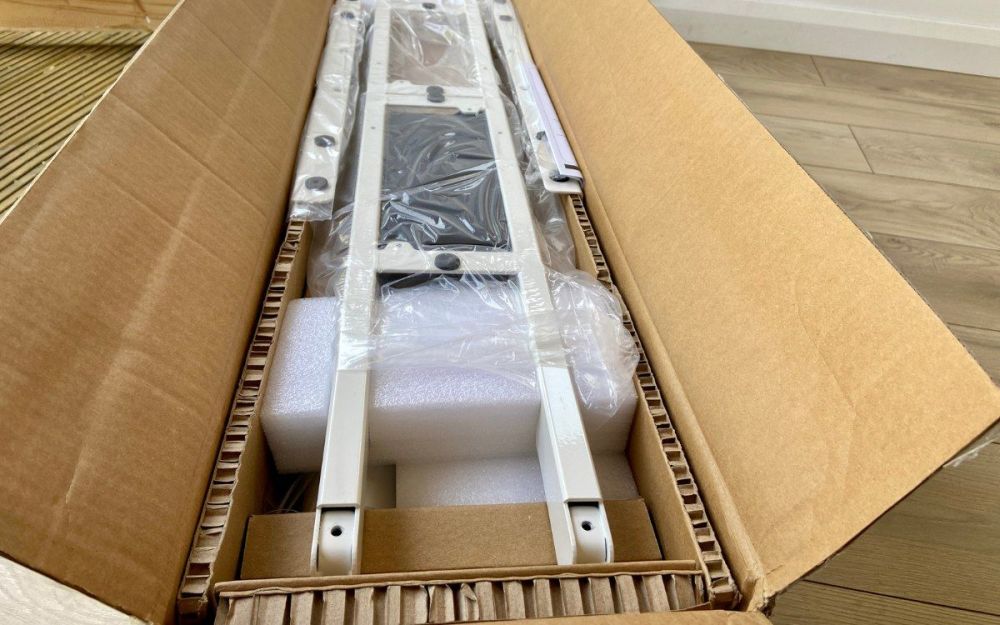 One notable aspect was the clear and concise instructions provided by the desk. The instructions were written in plain English and were easy to follow, making the assembly process hassle-free. With the help of basic tools, such as an electric screwdriver, the majority of the assembly was a breeze.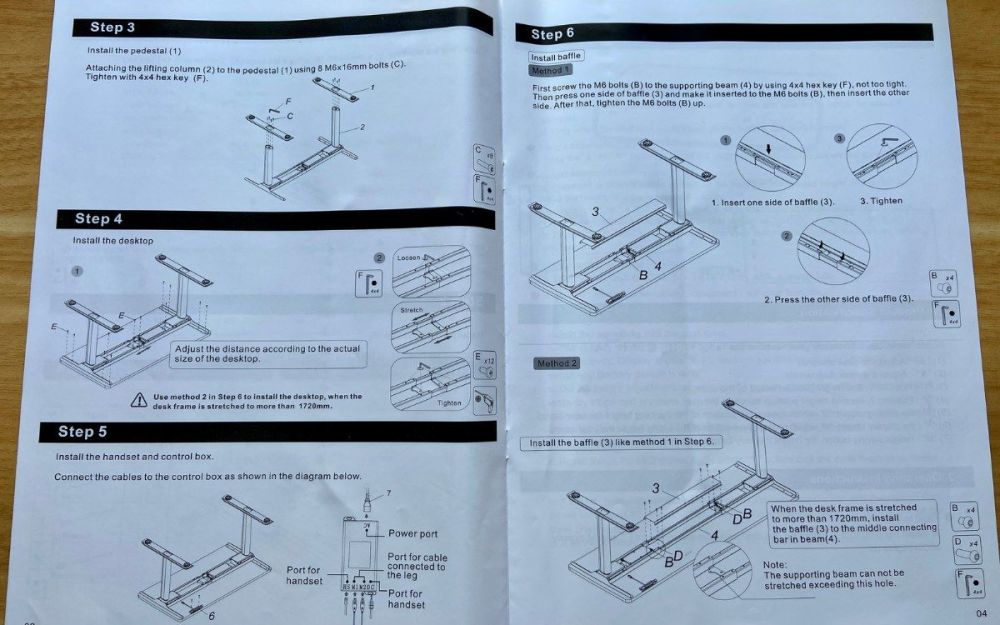 While the overall assembly was easy, one minor challenge encountered was finding a suitable way to hide the power cable as it ran down from the desktop to the floor. This aspect required a bit of creative thinking and problem-solving to ensure a clean and organised workspace. However, I used some white electrical tape to tie the cable to the back of the leg.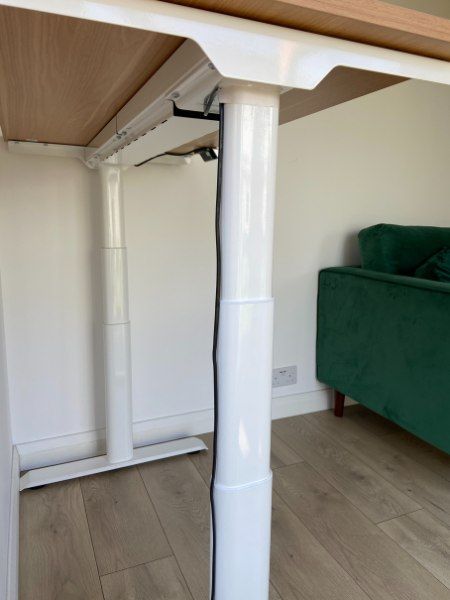 The assembly time for the FlexiSpot E8 desk was impressively quick. It took approximately 20 minutes to assemble the desk from start to finish.
It's worth mentioning that during the assembly process, assistance was required to turn the desk over once the legs were attached. This step involved lifting and flipping the desk, which may be challenging for some individuals due to its weight and size. Having an extra pair of hands can make this task easier and safer.
Overall, the assembly and installation of the FlexiSpot E8 desk proved to be a hassle-free experience. With well-packaged components, clear instructions, and the use of basic tools, the desk was easily built within a short timeframe. While some challenges were encountered, such as hiding the power cable, they were overcome with a little creativity.
How to assemble a FlexiSpot desk
Here is a quick look at the individual pieces and a basic overview of the build process:
1. Open packaging and layout components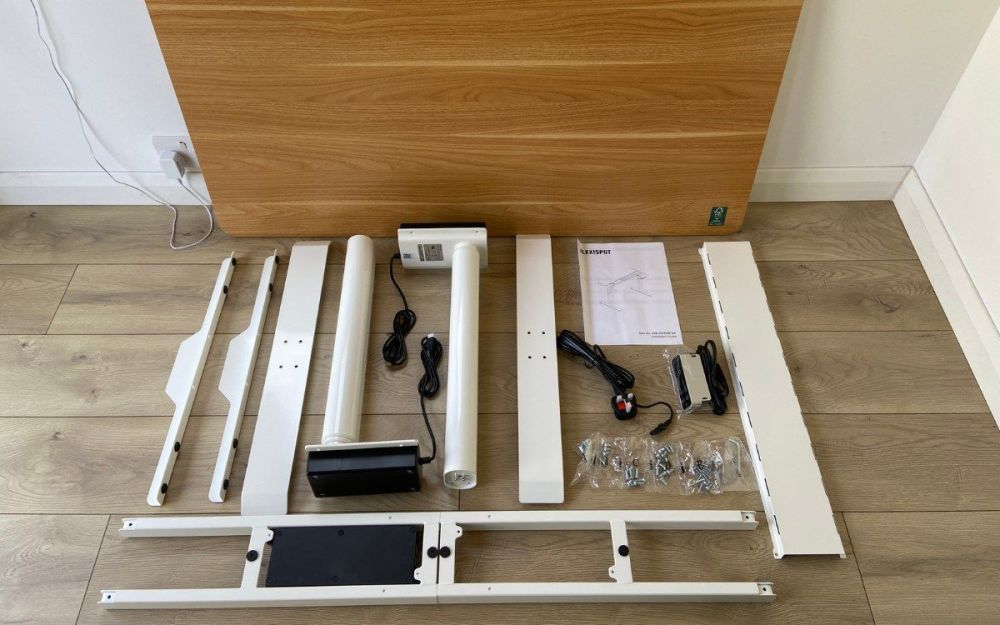 2. Attach desktop supports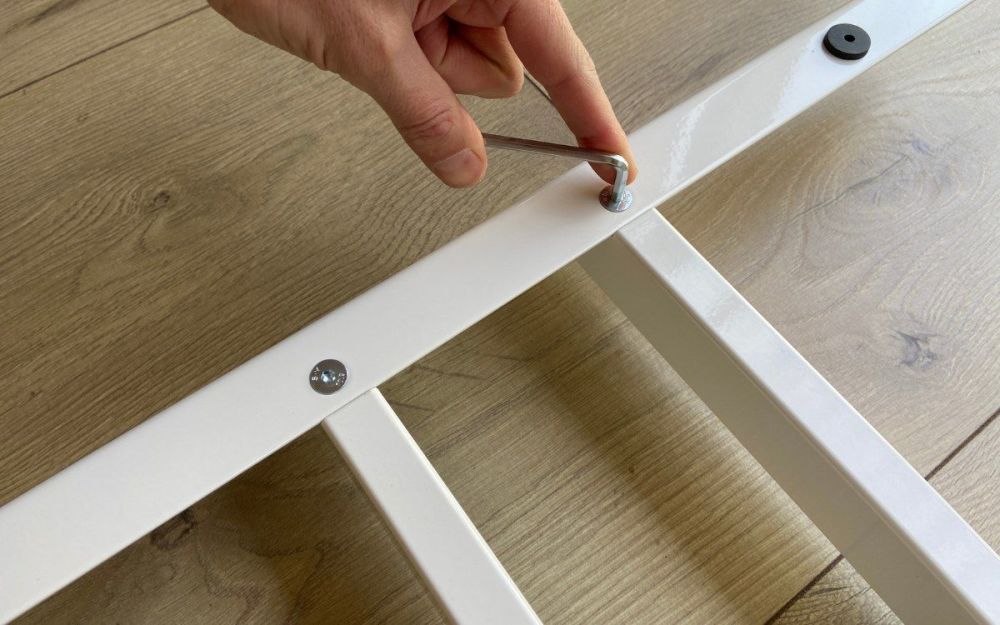 3. Fix legs in place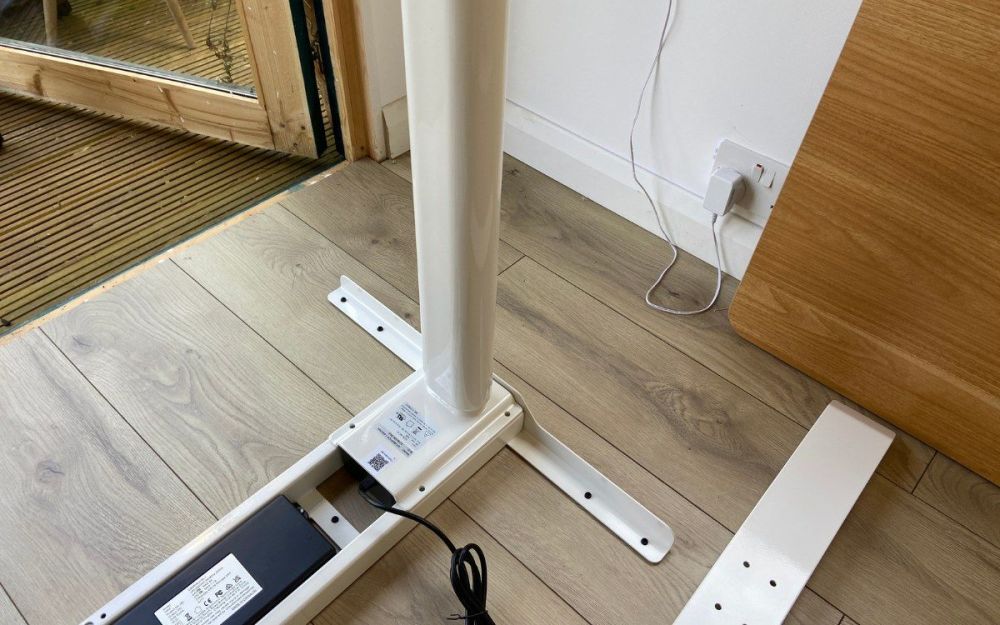 4. Bolt feet on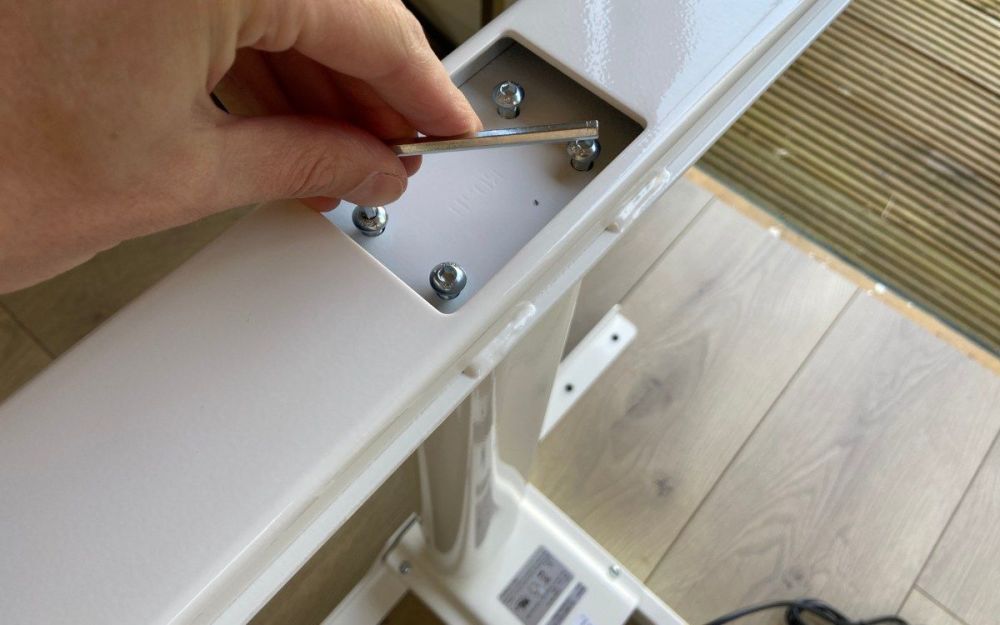 5. Secure desktop to legs and frame. Fix control panel inplace (left of right)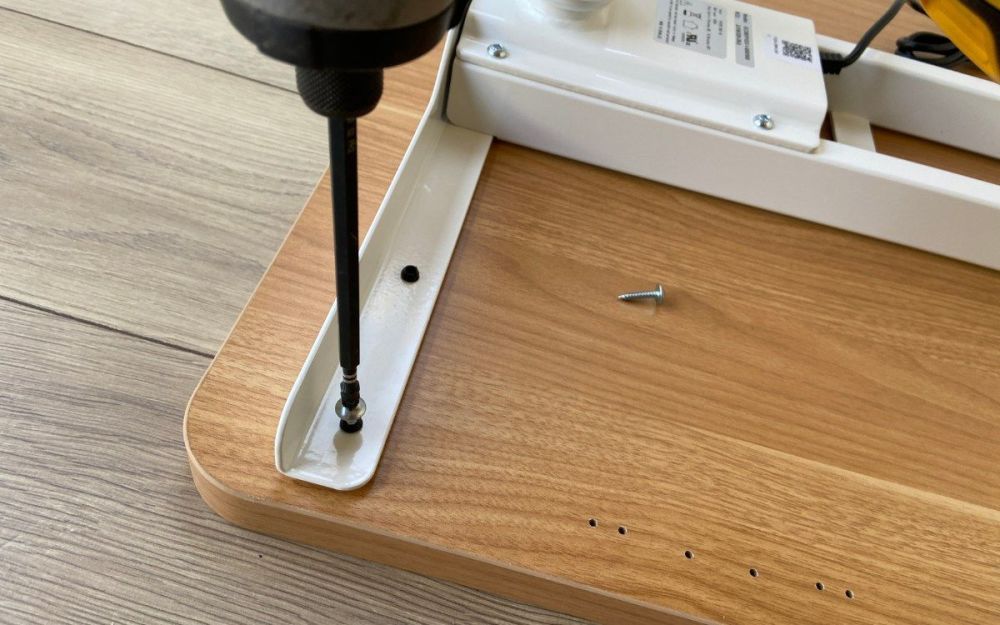 6. Plug in cables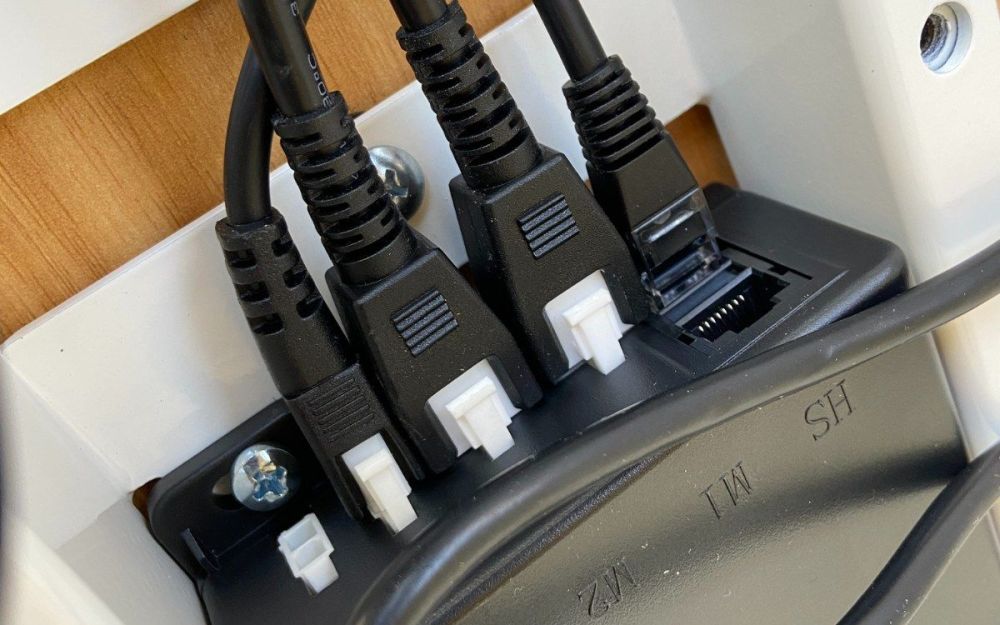 7. Fit cable managemnt cover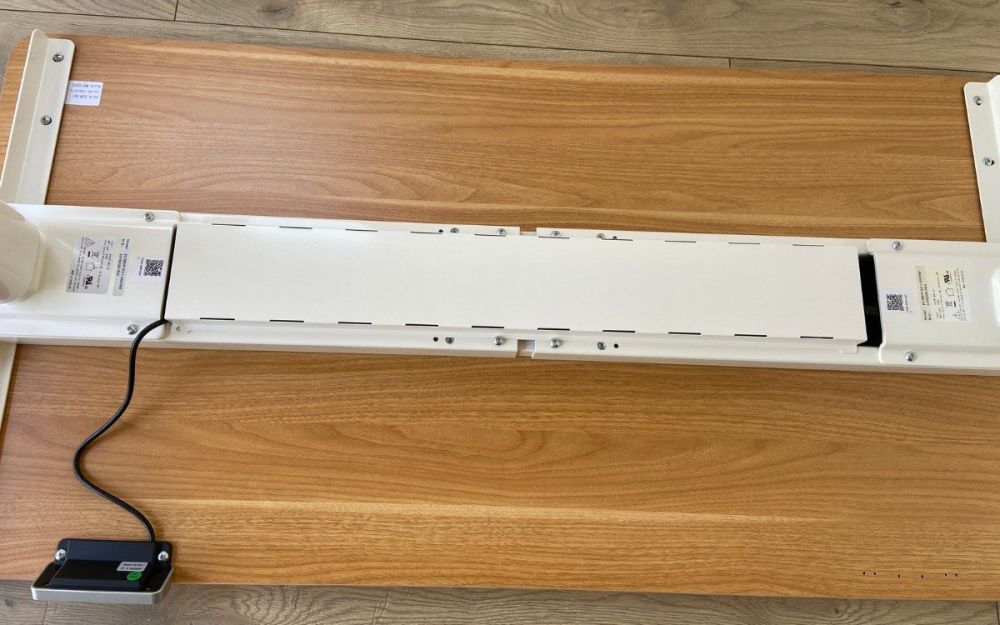 8. Done!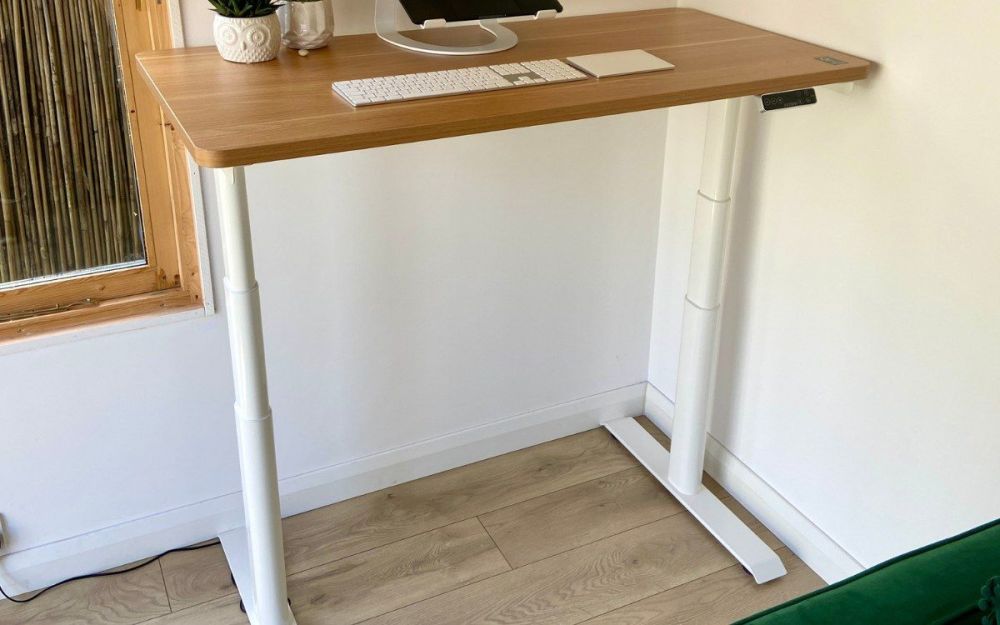 So easy to build!
User experience and comfort
Whilst I've been trying to find something negative to say about this desk, FlexiSpot are making it very difficult for me. There isn't much I don't like about the overall experience when using and operating the desk. It's both comfortable and practical. I love that I can quickly switch between sitting and standing and my friends all think I have the coolest desk in the world.
There are however two things I would like FlexiSpot to think about with any future developments in their products.
I'd love it if the power cable could somehow be integrated into the leg. We hate unsightly cables dangling behind or to the side of desks and think it would be great if you could feed the power cable up into the table leg. Whilst it is possible to hide excess cable under the table leg you still need to find a way of taping it to the back of the table leg, which then changes as the desk moves up and down.
Customisable desktops. Whilst there are a number of different-size desktops available, I'd love to see FlexiSpot offer a custom-size worktop service. We have a gap in our garden office which is 158cm wide and would love to fit a desk from side to side. The options available for this through their website are either 160cm or 140cm. The 160 won't fit and the 140cm is a bit too small. The great thing about the flexiSpot motorised leg systems is you can in fact install your own custom-made desktops to any of their legs. Therefore you can go elsewhere for a bespoke desktop but I think it would be amazing if FlexiSpot offered this service and option via their website.
Price and value for money
FlexiSpot has won a number of awards for its standing desks and innovation in this market space. Their desks have consistently proven to be reliable, durable and cover essential features that you'd expect from any standing desk. Their price points are extremely competitive in the market and I think you'd struggle to find a better desk for the price. I've looked at similar desks from Yo-Yo, Fully, Ikea and a few unbranded products on Amazon but the FlexiSpot E8 always seems to stand out in terms of functionality, design and price.
One thing that FlexiSpot could offer in the future to stay in line with their competitors would be a desktop with cable management holes in the top. Fully, also offer a power bank option which seamlessly sits in the desktop cable management hole for an all-around tidy finish. This does however add quite a lot to the price.
The FlexiSpot E8 desk demonstrates strong value for money. It compares favourably with other standing desks in a similar price range, offering competitive features, quality construction, and customisation options.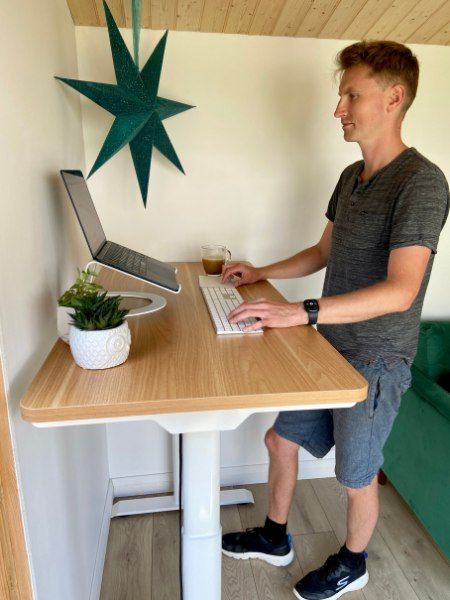 Conclusion
Throughout this review, we have explored the Flexispot E8 desk in detail, examining its design, functionality, assembly process, and value for money. Let's recap the key points covered:
The Flexispot E8 desk features sturdy and durable construction with a sleek and slim profile, making it suitable for various workspaces.
Its motorised height adjustment mechanism allows for seamless transitions between sitting and standing positions, enhancing user comfort and ergonomics.
The desk offers customisation options in terms of size and materials, ensuring users can find their ideal ergonomic setup.
The assembly process is straightforward, aided by clear instructions and well-packaged components.
The Flexispot E8 desk provides excellent value for money, offering competitive features and quality construction in its price range.
Final thoughts on the Flexispot E8 desk and its suitability for different users
In conclusion, the Flexispot E8 desk proves to be a reliable and functional standing desk option. Its thoughtful design, including the motorised height adjustment mechanism and customisable features, promotes a comfortable and productive workspace. The desk's sturdy construction and attention to detail, such as the smooth operation of the electronic motors, contribute to its overall quality and durability.
The Flexispot E8 desk is suitable for a wide range of users. Whether you work in a compact office, a home office or a shared workspace, this desk can accommodate your needs. Its versatility in size options and material choices allows for customisation to match individual preferences and aesthetics.