5 things you need to know about car finance
Posted on
Did you know that car finance is the most popular way to buy a car in the UK? With over 90% of us taking the plunge and taking advantage of affordable, flexible deals, it's no surprise.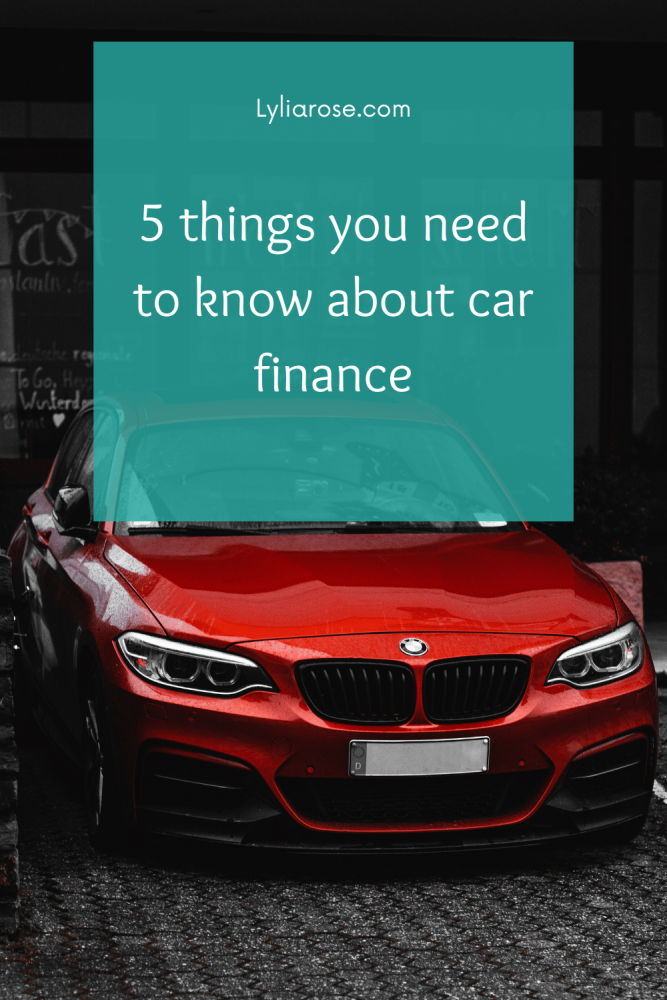 Finance deals are a major source of profit for the motor industry. They are available from lenders, dealerships, car supermarkets and brokers. But why are they so attractive to motorists?
Whether you're looking for a new or used car, here are 5 things you need to know about car finance:
Car finance makes buying a new car affordable
Back in the day, drivers were expected to pay the upfront cost of a vehicle or, at a push, apply for a bank loan that could take weeks, if not months before getting approved. Fast forward to today, and you can get your car loan approved within minutes.
Instead of worrying about dipping into your savings, car finance removes the need for immediate payment and allows you to pay low, fixed monthly instalments.
Budgeting is recommended ahead of any vehicle purchase, so you spend within your means and don't blow your budget at the forecourt.
There are 3 main types of car finance
Getting your head around all the jargon and finer print is quite the challenge. But, all you really need to know is what the 3 main types of finance are on offer:
Hire Purchase (HP)
One of the best ways to work towards owning a car outright is to take out a hire purchase loan. It is secured against the vehicle itself, so you don't need to worry about any of your assets being caught up in the line of fire if you miss any payments.
Typically, you pay a 10% deposit followed by fixed monthly instalments until the end of your loan period. Once you've made your final payment, the car is yours.
During your contract, you cannot sell the car without the lender's permission, but you can return it. Servicing is often included, but make sure you read all your terms and conditions ahead of the sale.
Personal Contract Purchase (PCP)
Like HP, a personal contract purchase requires an initial deposit (usually 10%), followed by low monthly instalments over a fixed period.
The overall cost of the vehicle is based on the guaranteed future value of the car and can work out cheaper than an HP loan. The catch? At the end of your contract, you can either pay a large lump sum if you want to own the car, return it, sell it or use the equity towards a new vehicle.
PCP is great for people who like to change their car regularly and like a flexible car loan.
Make sure you read your terms to see what your mileage limit is and keep the car in good condition throughout the duration of your contract.
Personal contract hire or lease
If you like to switch up your vehicle with no strings attached, then a lease may be the best option for you. There is no option to buy the car, but low monthly payments make this an affordable loan.
Unlike other finance deals, a lease usually requires a hefty three-month rental in advance. Mileage limits and servicing may be included, but make sure you compare deals and keep the APR down to a minimum.
Poor credit history doesn't exclude you
Traditionally, good and excellent credit scores automatically make you more "creditworthy" to lenders. It shows that you can borrow money and make your payments in a timely fashion.
But, that has often excluded individuals with a poor credit history. Your circumstances may have changed, you've missed the odd payment, or you have a CCJ, IVA, bankruptcy or default on your report. In short, you don't look as good on paper as those with an excellent score.
Fortunately, it's not the end of the road. Specialist lenders offer bad credit car finance to help you rebuild your credit score and get you behind the wheel of your dream motor. You may have to pay a little bit more than other car finance deals, but the point is, it helps you build for the future.
0% deals exist
But, it doesn't make them more affordable than other finance deals!
If you've ever driven past a dealership, then you will have noticed the 0% finance billboards screaming for your attention. They are often offered to shift slow-selling or end-of-line models and have no interest attached to your monthly repayments.
While they look good at first glance, you will struggle to negotiate further discounts and will have to front a larger deposit than other loans. If you miss a payment, you'll probably get switched to a different scheme with a big APR cost attached.
Additional extras
Car finance often comes with bonus features that cash alone can't buy. Servicing and repairs are usually included as standard, and of course, the holy grail: manufacturer's warranty.
But other add-on packages are worth your time:
Gap insurance:
This covers the difference or 'gap' between the current market value of your vehicle and the value of your outstanding loan/ the cost of replacing your car. Should your vehicle get written off or stolen, gap insurance is a valuable buffer to have.
Additional insurances:
With most car finance deals, you are expected to keep the car in good condition in case you need to return it. Additional insurances covering minor damages, scrapes, cosmetic damage, tyres and alloys could cost you money in the long run.
But, like all insurance and finance deals, buying independently of the dealership will get you a better deal. However, you might get a heavy discount alongside your purchase if you're lucky.
Car finance gives you more spending power than cash alone. You get more choice, can budget easier and get access to incredible discounts. But which one is best for you? If you're in the market for a new or used car, make sure you compare deals online and find the best loan that works that won't break the bank!