How to improve your chances of getting hired
Posted on
Job seekers are always looking for ways to improve their chances of getting hired. The following tips can help you to get a better understanding of what you need to do in order to be successful.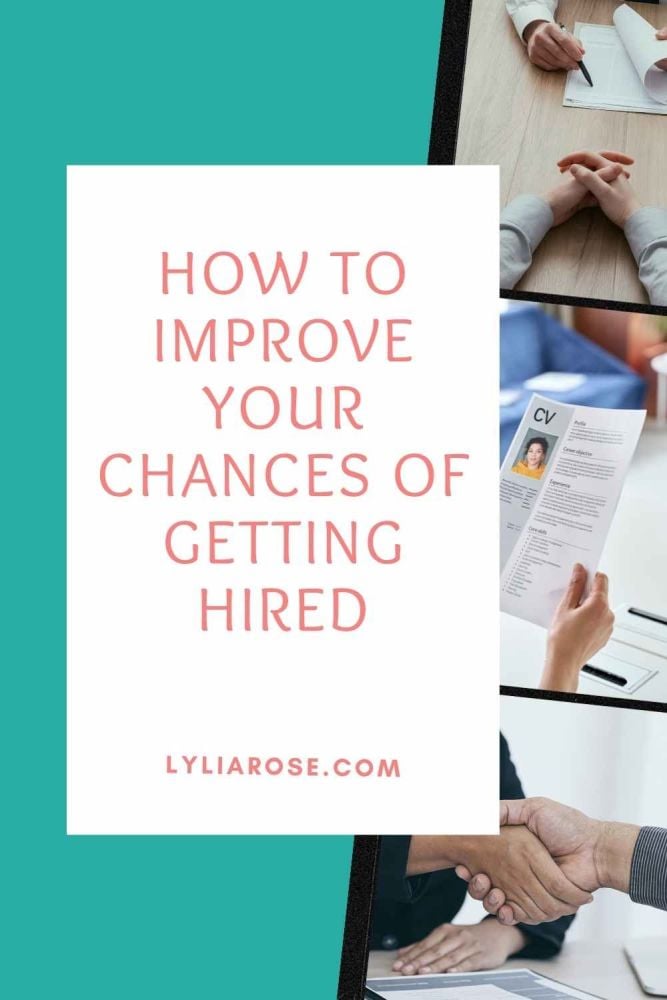 Job-seeker competition has remained fierce in recent years. According to a recent study, there are roughly 1.28 million unemployed people in the UK. Standing out and getting hired among these numbers is possible but will require some work. Therefore, it is essential to find new ways to enhance your employability. Many recruitments are conducted online, but what can you do to improve your chances of getting hired? Here are six proven ways to do that.
Tailor your CV for every job
Some job seekers send similar or the same resumes and cover letters to each employer to save time. Unfortunately, this harms their chances of getting the job. It is best to create thoughtful, well-researched and targeted materials for each position or job you apply for. Tailoring your CV and cover letter for each position will require a larger time commitment upfront. However, the time invested may soon pay off when a hiring manager recognises that you understand the position and criteria far better than the average applicant. You can use online tools and websites to create the most creative resume to help you stand out amongst the crowd. Remember to double-check for spelling and grammatical errors, incorrect information, poor format, and other common errors before sending any job application.
Network
Networking allows you to learn about career prospects through people you know and their connections. It is all about cultivating relationships with your contacts. You can use several networking opportunities, including conferences, seminars and some online platforms, including LinkedIn. You can benefit from networking since you'll learn about job openings, let your connections know you are searching for work, learn about a profession or training program that could boost your employability, and build a contact list with professionals and industry experts. You can also receive a recommendation for a job and build a support system you can turn to for advice later in your career.
Apply for jobs you truly want
Before applying for a particular job, ask yourself whether you are interested, well-qualified or genuinely like the feel of the job. The job description and company website can give you information about what may be required, making it easy to know if you'll do well there. You are not doing yourself any favours by applying for roles you don't really want since your enthusiasm, or otherwise, will show during the interview or screening. On the other hand, if you have the right qualifications or certifications, apply for jobs you are genuinely interested in since your eagerness will be an advantage.
Research the company you want to work for
In depth knowledge of the company you wish to work for is a bonus but you don't always have to go this far. A good overall understanding of the business is a great start. Most business have an online presence and you can find out enough information to show your interviewer that you have taken time to learn more about where you want to work. Make sure you understand exactly what it is they do, where they fit into their competition and how they interact with their customers. Having some questions lined up for the interview to expand on these topics will help show your enthusiasm for the job.
Look for professional growth opportunities
Having professional development on your CV will certainly excite hiring managers and recruiters. And classes, certifications, degrees, and volunteer opportunities can boost your hireability. Furthering your education or upgrading your chosen professional sector might demonstrate to a future employer that you maintain your skills and are engaged and dedicated in your work. Hiring teams will also likely consider you if you have the current knowledge in your field. For instance, you can get cert 4 fitness online in addition to your knowledge if you are interested in working in the fitness industry or offering services as a personal coach.
Allow your personality to show through during interviews
Most employers seek candidates with a positive attitude when screening job prospects. With this in mind, it makes sense to ensure your excitement for the role or company is obvious. Underline your strong and particular interest in the position in all your application materials. This may include email conversations you may have with the recruitment team. Maintain direct eye contact during face-to-face interviews and lean slightly towards the panel to portray interest through your body language. Phone interviews are common today as businesses are embracing remote work. However, don't forget to smile throughout the interview since employers can sense your cheerfulness and excitement for the job.
Clean up your online profiles
Social media screening is increasingly gaining popularity in today's job search market. 70% of employers during a 2020 survey mentioned social media as effective for screening job applicants. So before applying for a job, take a step to clean up your profile online and make it work-appropriate. Any unprofessional posting or comments on your social media account can make you unattractive to some hiring teams. Many people only consider platforms like LinkedIn when cleaning up their profiles. However, you are better off removing unprofessional remarks and contentious postings or images on your timeline, no matter the platform.
Getting the attention of employers in today's noisy job search market can be tough. However, the above tips can swing the odds in your favour to acquire your dream job.
Dress appropriately for an interview
You will want to think carefully about what you wear to an interview. The type of job will dictate what outfit is going to be suitable. Most interviews will require a formal outfit like a suit and tie but in some situations this might be a little overkill. In our example earlier a gym instructor might wear a clean and ironed sports outfit. Either way, having a clean and smart presence is paramount to the first impressions that you give off.
In the end, it is important to remember that the best way to get hired is to show how you can be a valuable asset for the company. Good luck with the next steps in your career.