The best wines Argentina has to offer
Posted on
Argentina is the largest wine producer in South America today. Winemaking was brought to this beautiful country by European settlers in the 1500s. In this article we'll explore the best wines Argentina has to offer!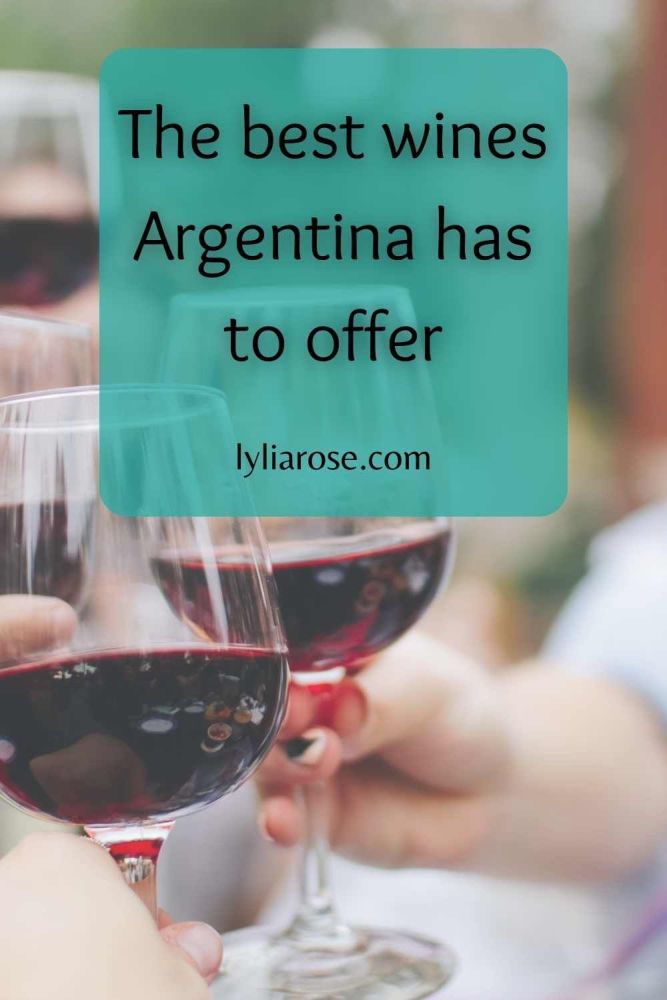 Argentinian wines are known for being both affordable and high-quality, and there are good Argentinian wines to fit all price ranges. The Andes Mountains' melted snow provides irrigation during the region's typically hot and dry summers. This contributes to the production of delicious white wines and luxurious, rich red wines that are well-liked worldwide.
Key regions
The wine-producing regions of Argentina are located in the west of the country, near the magnificent Andes Mountains, which stretch the entire length of the state. Many of the highest vineyards in the world are found in Salta, which is located in the dry north at an elevation of up to 3,000 meters. Mendoza, which includes the legendary Uco Valley sub-region, is the most famous wine area in Argentina and is located south of Salta. Much farther south, in windy, harsh Patagonia, prominent Argentine wine brands are said to consider it their new frontier.
Grape varieties
Early settlers brought French and Italian grape varieties to Argentina, which had a profound influence on the wines produced there. The most well-known grape in Argentina is the Argentinian Malbec, which predominates in Mendoza's vineyards and goes superbly with the national dish of steak and barbecued meats. The Torrontes-based high-altitude white wines from Salta are renowned for their extremely flowery and fragrant aromas. Other significant Argentinian grape varietals for both red and white wines include Chardonnay and Sauvignon Blanc.
So let's stick to the best part of this article. We present you with the list of the top five Argentinian wines you need to try.
Catena Zapata Argentino Malbec 2019
Angelica and Nicasia, the two best estate vineyards, which are located at 1095 and 920 meters above sea level and are planted at the bottom of the Andes Mountains, respectively, are used to create Malbec Argentino. While the palate offers rich dark fruit flavours, silky tannins, and a strong structure that will respond well to cellaring over the coming ten years, the nose exhibits hints of violets, cassis, and blueberries. It is best served right away and goes well with substantial foods like steak, beef stews, or grilled meats.
San Pedro de Yacochuya Torrontes 2020
The famous "flying winemaker" Michel Rolland and the Etchart family, who have been producing wine in their native Argentina since 1850, joined forces to create Bodega San Pedro de Yacochuya. The vineyard is situated in Cafayate, one of the world's highest wine-producing regions. The grapes are picked early in the morning while it is still cold to ensure they arrive at the winery in the best possible shape. A crisp, classy white wine is the end product, blooming with notes of honeysuckle, peach, almond blossom, and citrus zest. It makes a terrific aperitif and pairs well with spicy Asian cuisine, shellfish, and sushi. It is light-bodied and very simple to drink.
El Enemigo La Esperanza Single Vineyard Bonarda 2019
Many of the most fascinating wines to come out of Argentina are produced under this brand, including this outstanding Bonarda from a single vineyard. Bonarda holds a particular place in Argentina, where it is regarded as the country's second-most popular red wine after Malbec. Alejandro Vigil stumbled onto La Esperanza, a particularly remarkable 150-year-old vineyard that was ready to be removed. He was able to keep 5 hectares, from which he produces a few hundred bottles of this wine each season. With notes of dark chocolate and juicy red cherries, plums, and blackberries, this sophisticated and lively red is overflowing with flavour. This wine pairs well with recipes that contain tomatoes because of its reviving acidity, silky tannins, and vibrant fruit flavours.
Domaine Nico Histoire d'A Pinot Noir 2019
The vineyards of Domaine Nico are located between 1120 and 1500 meters above sea level, which guarantees that the vines get a lot of intense UV sunshine, warmth, and cool evenings. This climate allows the Pinot Noir grapes to reach their peak ripeness while also preserving plenty of freshness and exquisite aromatics. To preserve a lot of texture and tannins in the wine, the grapes are fermented in full clusters in the winery. The aroma of sweet strawberries, raspberries, and undertones of cinnamon, dried herbs, black pepper, and cloves defines the nose, and the first sip of the wine shows a rich, well-rounded body and silky smooth tannins. This wine pairs well with charcuterie, cheese, or a large serving of fresh pasta covered in a hearty tomato sauce.
Alma Negra Brut Nature Rose
Ernesto's Brut Nature Rosé is made with Malbec and Pinot Noir from Mendoza's Vistaflores and Galatasaray sub-regions. The heights here are 1100 and 1300 meters above sea level, respectively, which guarantees that the grapes ripen completely while preserving a lot of freshness and aromatics. With a secondary fermentation occurring in the bottle and 8 months of ageing on the lees, this sparkling wine is prepared using the Champenoise process, the same as that used for Champagne. The result is a delightful and lively sparkling wine with abundant streams of tiny bubbles and notes of rich raspberry, strawberry, and red cherry.