How does Free Prints make money?
Posted on
I have just signed up for the FreePrints app and ordered 10 6x4 photos completely free. It got me wondering, how does Free Prints make money?
It's not often you can get a service or product for free, but the Free Prints app gives new customer signups 10 free photos with free postage.
Then you can continue to get 45 photos per month for free with a nominal £1.49 postage cost.
So how can they give so many photos away for free each month?
We'll explore how Free Prints makes money in this blog post. I emailed their customer service to find out for sure and have screenshots of their responses below.
You can also use invite code vsully8315 when signing up and we'll each get some bonus prints.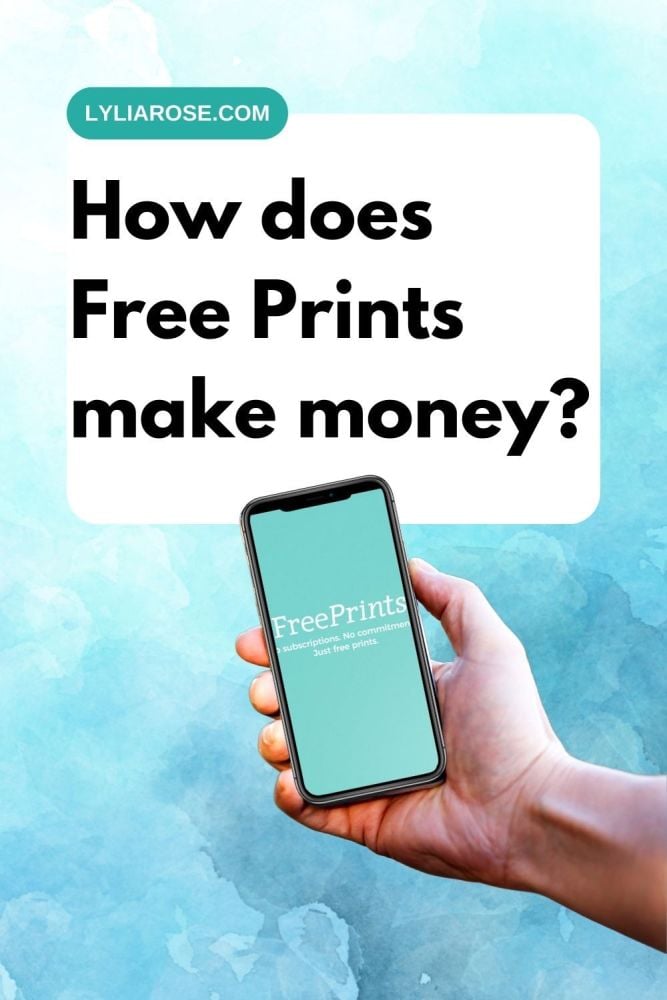 How does Free Prints make money?
There are many ways Free Prints make money, but mainly it's by upselling via their app. The free prints tempt in customers as it's such a great deal, then they make a profit by selling personalised photo products and offering upgrades on the free photo size for a small fee.
I actually emailed their customer service team to ask how does freeprints make money and this was their response: "We gain revenue thanks to offering more than 10 print sizes (only one of which is free), as well as deal items such as mugs, magnets, canvases etc. A lot of our customers also order more than 45 6x4 photos per month."
Here's a look at how their business model should make money:
Selling extra photo products
One part of their business model is to sell other services via the app which are profitable. The app has several 'deals' for personalised photo products including:
Pet portrait canvas

Custom storage box

Photo keychain

Custom photo notebook

Custom photo socks

Personalised storybook

Photo magnet set

Custom photo apron

Photo canvas

Heart-shaped photo magnet set

Custom photo mug

Photo playing cards

Photo easel

Wooden heart easel

Custom photo cushion

14x11 wall frame

Photo coasters

Photo blanket

School photo bundle

36x24 poster

Custom mouse mat

Custom photo t-shirt

Photo bottle opener

18x14 tote bag

Photo tea towel
As you can see, there are a lot of extra items they sell via the app. These items start from as little as £6 so they are attractive even if you're on a budget.
They cleverly show your previously ordered photos on the products so you can see what they'll look like as you scroll through the deals, tempting you to buy them for yourself or as gifts. It's these items that they'll make a decent profit on.
Here are some of the items for sale from a screenshot in my app. That's my son in the second picture down!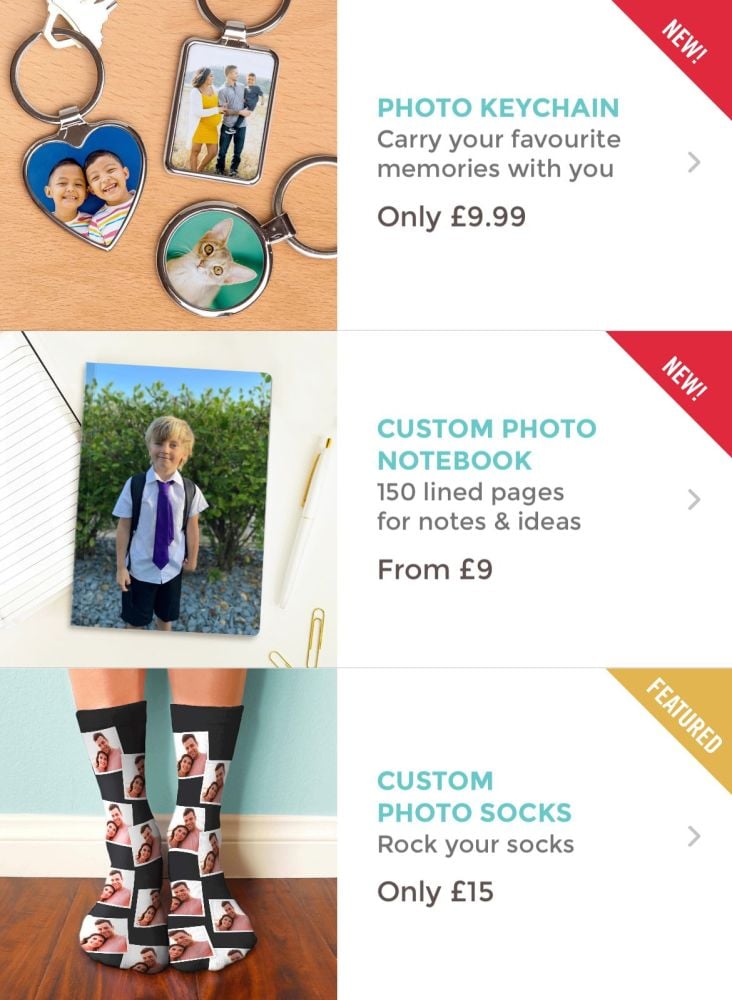 Upsizing the free photos
Another way they make a profit is by charging a small fee to upgrade the free photo size. The free photos are in 6x4 size only, but you can pay extra to choose a larger size.
Once you have selected your photos, there's an option to select sizes on the next screen. Here there are numerous size and quantity options at the bottom of the app with various prices, such as 19p to change the size to 5x5.
Keeping marketing costs low
They are easily able to increase their customer base because the free photos offer simply markets itself. It's such a good deal that it will spread by word of mouth, keeping their marketing costs to a minimum.
After getting your initial free photos with free postage, you can continue to get 45 prints per month (at the time of writing) for free, but there is a £1.49 postage cost; this postage cost might cover postage and printing as they print in huge quantities with very low cost per print and likely a deal with their courier for cheaper postage. So this could be a free marketing strategy for them and a very effective one.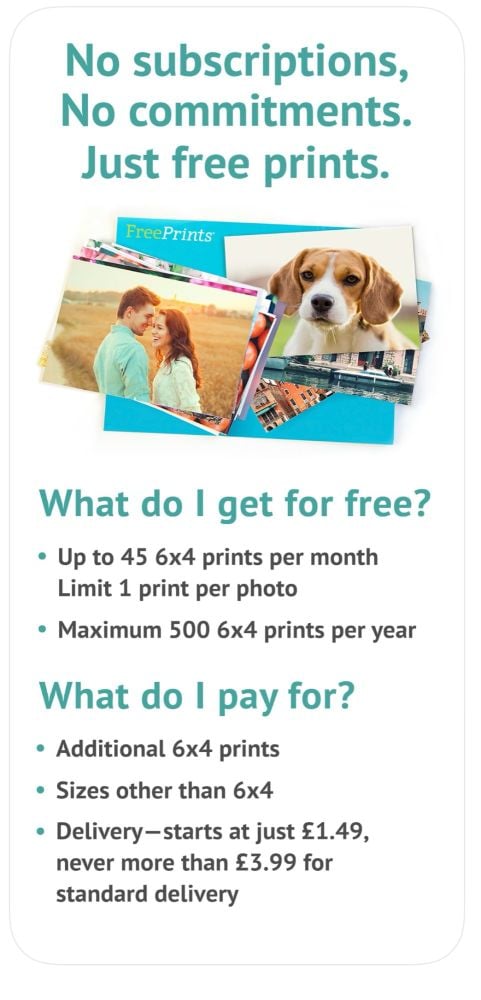 How does Free Prints work?
Free Prints lets you receive up to 45 6x4 free photo prints on glossy or matt paper each month. There is a small delivery charge of £1.49 after you've received their initial new customer signup offer with free postage.
Simply download the Free Prints app to get started. Choose the photos you want to upload from your phone or social media accounts, enter your delivery address, pay for postage and they'll professionally print and send the photos to your address.
Invite code vsully8315 will give us each some bonus prints after you've placed your first order.
This is what you're looking for on the app store: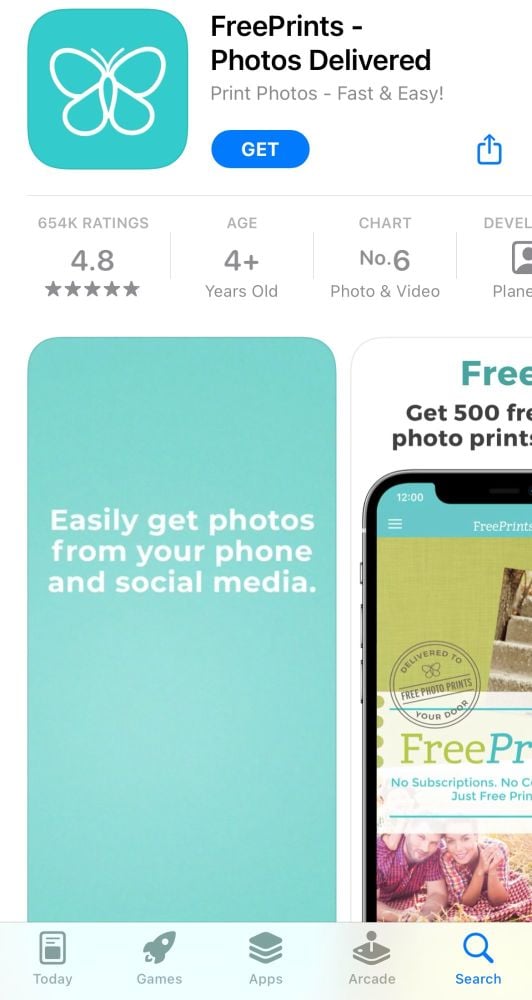 What do you get for free from Free Prints?
Up to 45 free 6x4 photo prints per month with a limit of one free print per photo (duplicate photos are chargeable).
These don't roll over if you don't use your full allowance of 45 prints per month. On the first of each new month, the counter resets to 45 free photos.
There are no subscriptions and no commitments.
Once I'd ordered my free 10 prints with free postage as part of a special signup deal, I could then see I had 35 free prints left for the month: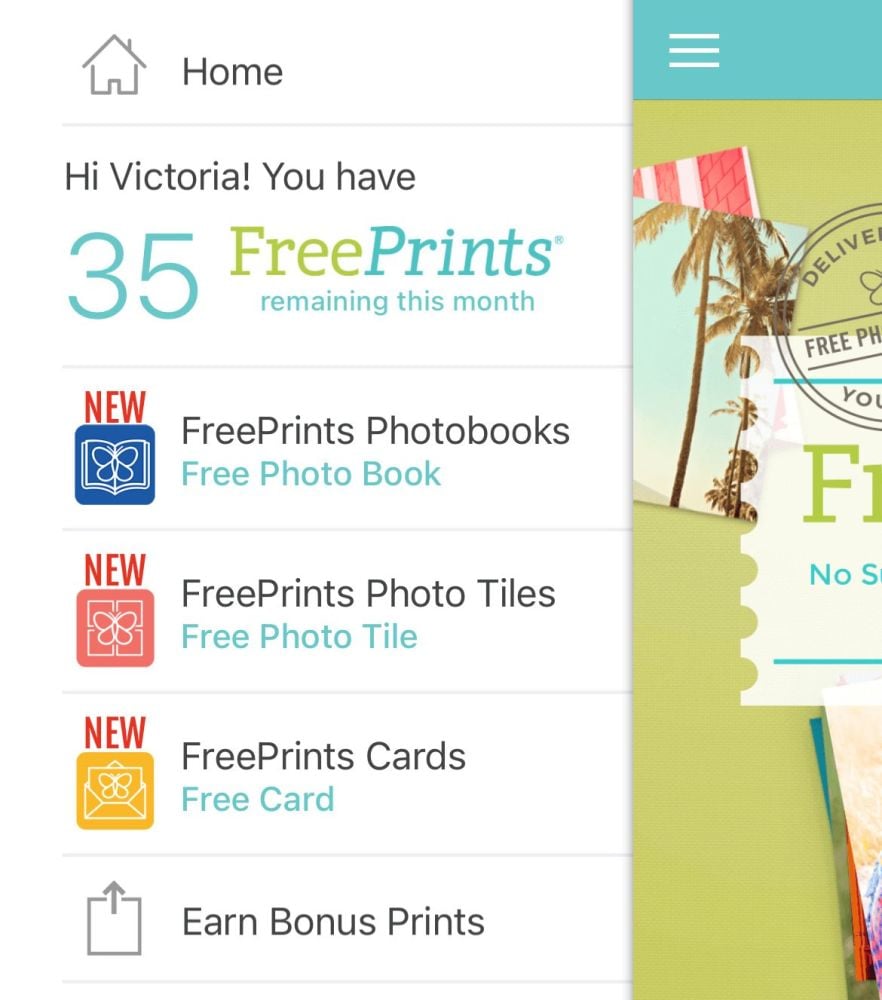 Do you have to pay for delivery on Free Prints?
When I signed up I got 10 free 6x4 prints with free postage too. After these initial free prints, there is a standard postage fee of £1.49 for up to 45 free prints per month.
Here's an image of my first order confirmation for the completely free photos: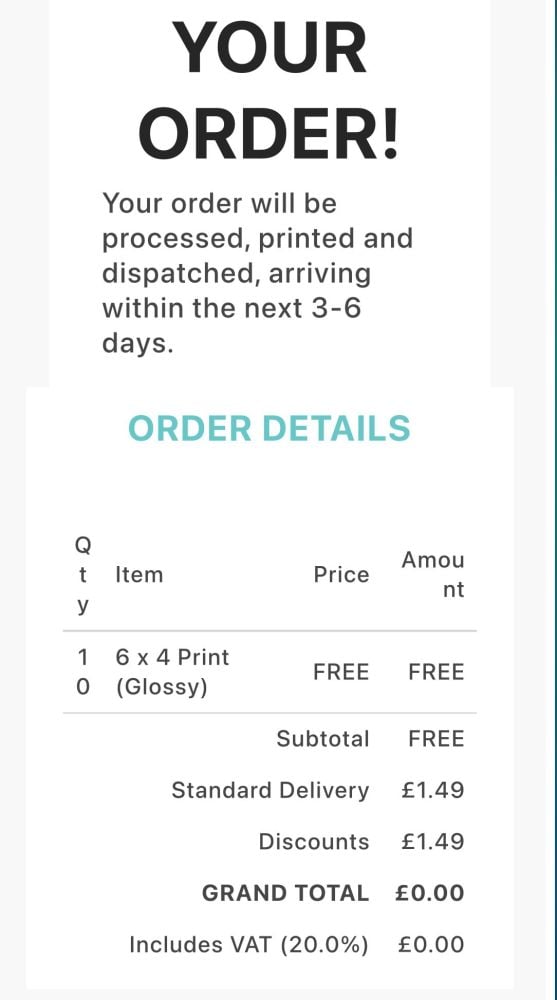 Zero pounds and ten photos for free!
Do Free Prints keep your photos?
According to the information on the app page on Apple your photos always belong to you. They store them so you can access them later if you wish. Here's what they say:
"We store your photos, in accordance with our terms of use, so that you can use them for other orders in the future if you wish, using FreePrints or our other apps. Your photos are always your photos; only you will have access to them. And we use best-of-breed security solutions to ensure that your photos are always protected."
When choosing a product, you can select to see your previously uploaded Free Print photos and it shows them by date.
I can't see a way to delete previously uploaded photos on their app.
What does Free Prints do with your photos?
There's a thread on Quora which is quite concerning, suggesting a paragraph in the terms of use means they'll keep your photos and use them as stock images to make money! So I emailed their customer service team to clarify and it's not what it means at all.
Here's the email I sent to their customer service team:
"Hi, I am trying to find out how your business makes money and I'm a bit concerned that on a Quora forum there are people suggesting if I upload my photos, you then have the rights to use them and sell them as stock images?! Surely this isn't true?
This is the part in your terms and conditions that they are referring to, which hopefully doesn't mean this and just means you need to use our images to provide the services to us only? Not that you have a right to use our images? Can you please confirm?
"By submitting Your Content to us, you grant us a nonexclusive, worldwide, royalty free, fully paid-up, transferable, sublicensable, perpetual, irrevocable licence to reproduce, distribute copies of, prepare derivative works based upon, publicly perform, publicly display and otherwise use and exploit Your Content for the purpose of providing the Services and promoting to you other services we believe will be of interest to you. You represent and warrant that you either own Your Content or have a written licence or other valid permission from the applicable rights owner(s) (for example, and without limitation, your photographer) to make Your Content available to us for use with the Services and on the Products you order.""
They reply in 1-2 days, but I didn't want to wait to find out, so I dropped them a message via their Facebook page and this was their response (within the hour):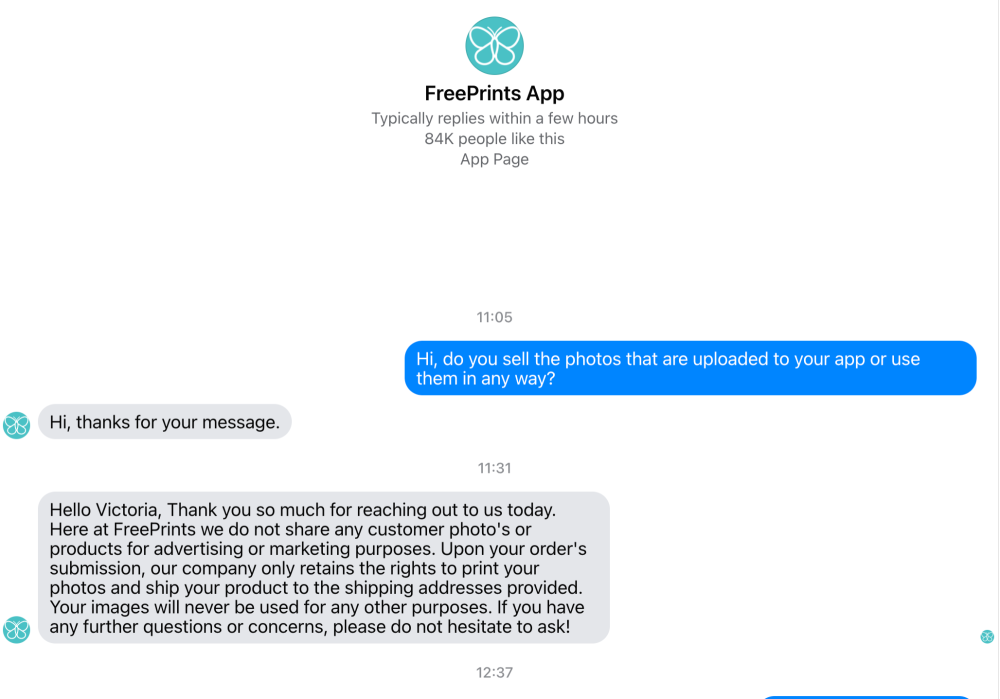 And a day later, here is their response to my email: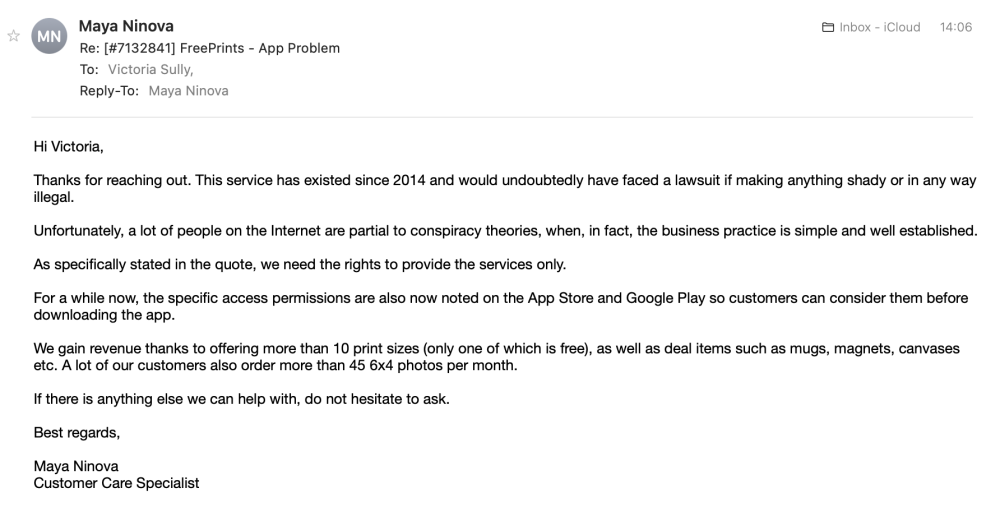 Does Free Prints sell your photos?
No, they don't sell your photos, as confirmed by my message asking their customer service team and their response: "Here at FreePrints we do not share any customer photos or products for advertising or marketing purposes. Upon your order's submission, our company only retains the rights to print your photos and ship your product to the shipping addresses provided. Your images will never be used for any other purposes!"
And in their email response they say: "This service has existed since 2014 and would undoubtedly have faced a lawsuit if making anything shady or in any way illegal. Unfortunately, a lot of people on the Internet are partial to conspiracy theories, when, in fact, the business practice is simple and well established. As specifically stated in the quote, we need the rights to provide the services only. For a while now, the specific access permissions are also now noted on the App Store and Google Play so customers can consider them before downloading the app. We gain revenue thanks to offering more than 10 print sizes (only one of which is free), as well as deal items such as mugs, magnets, canvases etc. A lot of our customers also order more than 45 6x4 photos per month."
Is Free Prints safe?
Yes, they are a legit secure website. They don't store your credit card details. They follow local data protection rules such as GDPR.
You can read their privacy policy here.
You can read their terms of use here.
Who owns Free Prints?
In 2014, PlanetArt LLC which is based in California, USA, launched FreePrints and this is where the main headquarters are based.
They say they aim to "deliver smiles" and they "believe a greeting card can form a meaningful connection, a photo can preserve a precious memory, a coffee mug can start a conversation, and a T-shirt can ignite a movement."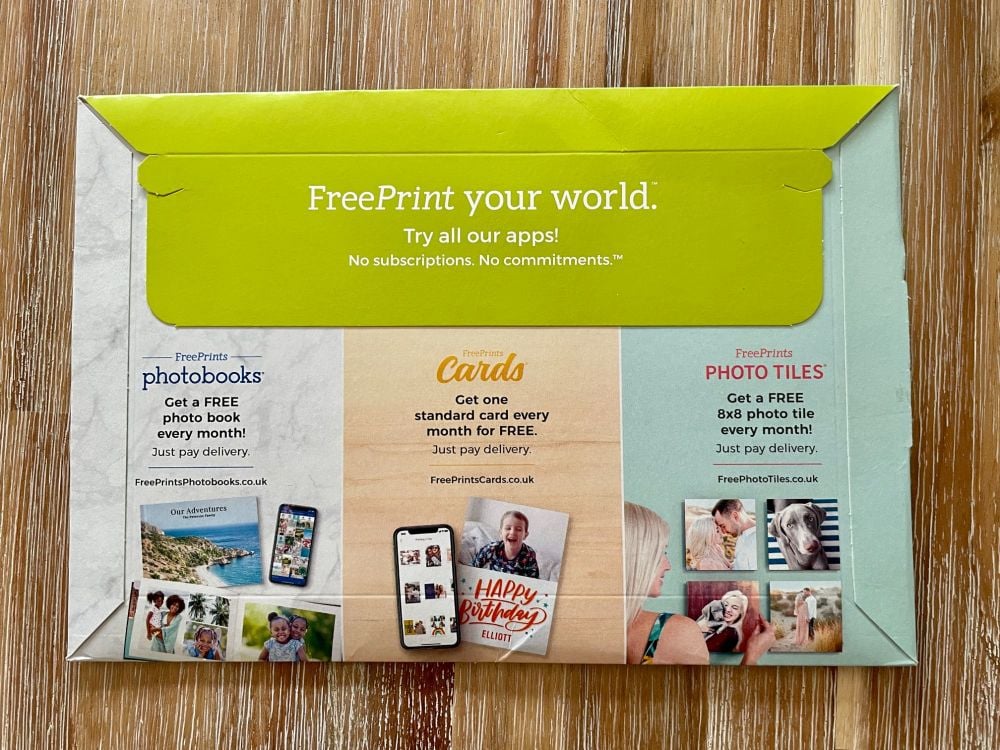 Where is Free Prints based in the UK?
In the UK they are called Planetart LTD and based in Southampton with the address:
Gateway House, Tollgate, Chandler's Ford
Eastleigh, Southampton
S053 3TG
United Kingdom
What is the Free Prints UK customer service email address?
You can contact them at [email protected] according to their verified Trust Pilot page.
You can also contact them via the contact form on their website or in the app.
Free Prints review: A peek at my Free Prints photos and the quality
So I ordered my Free Prints photos on a Wednesday and they arrived on the Sunday, so only four days later. I'm not sure why our postie was working on a Sunday, they don't usually!
I wasn't expecting the quality to be so good as they were free, but they're printed on Fuji paper which is nice and thick, and the quality is great!
But, to be honest, I have been printing my own photos at home for a few years though, so in comparison, these look amazing!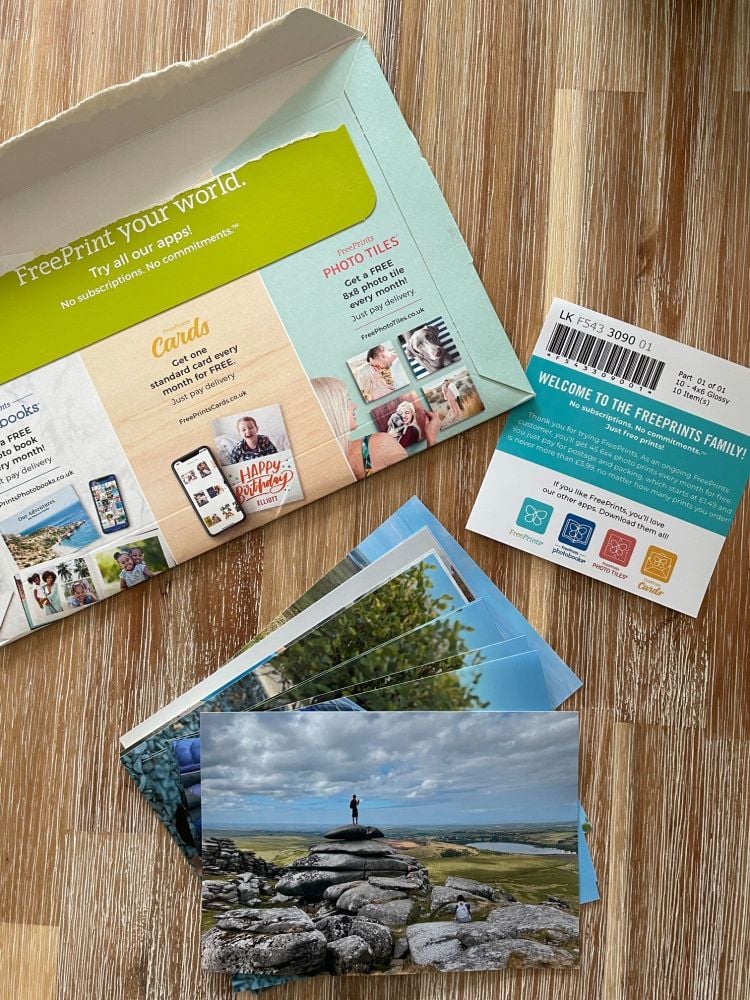 I'm really impressed with how fast these were delivered and I'd pay the £1.49 postage to receive 45 free prints each month going forward. It's an amazing offer.
I also expected the photos to have advertisitng on the back of each photo. I'm sure I read about a similar company doing such as thing before, which was their business model to make revenue from the ads. But the Free Prints photos are plain on the back with no ads. Even better!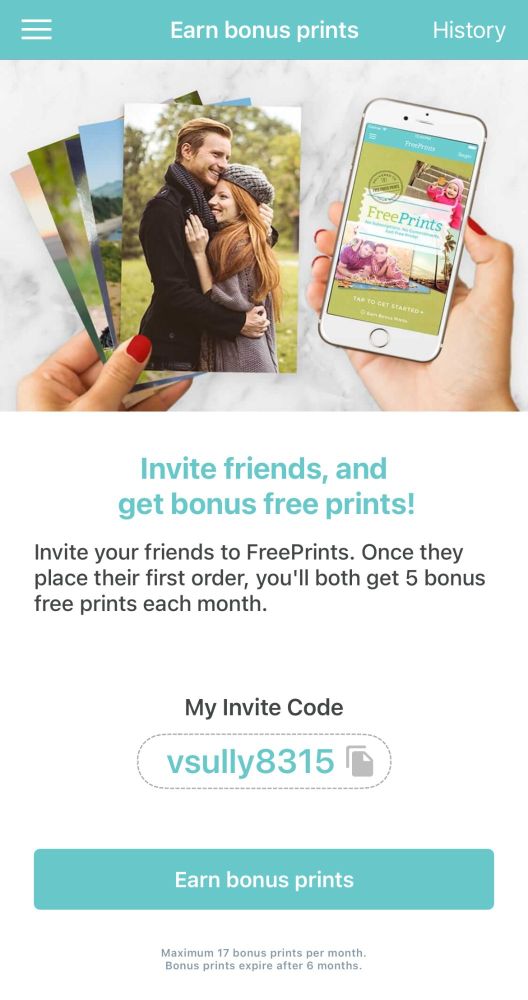 How can I get invitation codes for Free Prints?
Click here to use my referral link or enter code vsully8315 at sign up.
Once you're signed up there's an option called 'Earn Bonus Points' in the left menu on the app where you can get your own invitation code to share.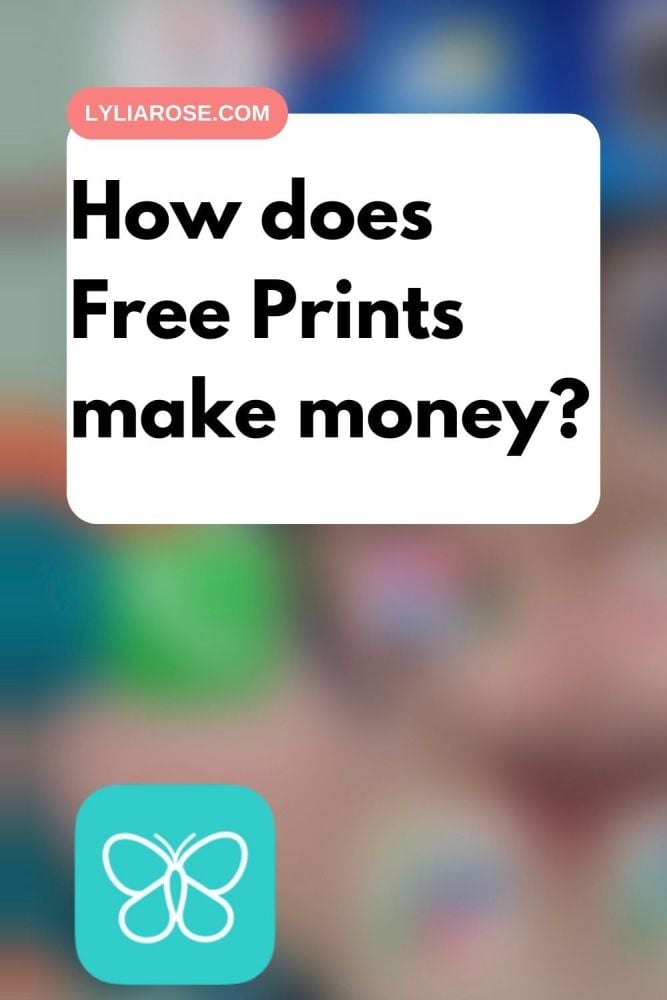 Final word
Hopefully this blog post has satisfied your curiosity of the popular question, how does freeprints make money. It's a reasonable question as a business model purely giving stuff away for free would not be successful! Free Prints makes money through various strategies. The primary source of revenue for the app is upselling. While they offer 10 free photos to attract new customers, they generate profits by selling personalised photo products and offering upgrades to larger photo sizes for a small fee.
The app features a wide range of additional items for sale, such as canvases, mugs, magnets, and more. By showcasing previously ordered photos on these products, Free Prints entices users to make purchases, resulting in decent profits.
Additionally, they keep marketing costs low by leveraging the word-of-mouth promotion generated by their attractive free prints offer. The £1.49 postage fee for the 45 free prints per month likely covers the printing and shipping costs, as they can print in large quantities at a low cost per print.
Overall, Free Prints has established a successful business model that allows them to provide free prints while generating revenue through additional product sales and upselling.
Want more freebies and free money?
Click for lots of ways for how to get free food and how to get free money.
Don't forget to subscribe to our newsletter for the best free money offers, money-making and money-saving tips we discover!