Discover free money offers in the UK and more UK freebies on this great resource page.
Learn how to get free cash, free food, free gift vouchers and more amazing freebies, such as free shares worth up to £200, instant free cash, Amazon vouchers for free and many other free money offer from the below companies.
I get really excited when I discover how to get free money in the UK and I want to share the offers with you, so you can do the same. It's not often companies give away cash or goodies for free, so hopefully you'll find a great deal on this page and get some free money. So if you've been searching online for 'I need money today for free' then you're in the right place!
If you need even more money then check out my other pages to learn how to make extra cash at home and lots of helpful money saving tips.
Remember: If you choose to use any of the investment apps to invest in stocks and shares then, as with all investments, your capital is at risk as the value of your shares can go down. These offers are correct to my knowledge at the time of writing, however they are subject to their own terms and conditions on each website, so please read these before completing. The terms and amounts are subject to change too. I will update this page as often as I can.
This page contains affiliate links, refer a friend offers and ads. Thank you for your support.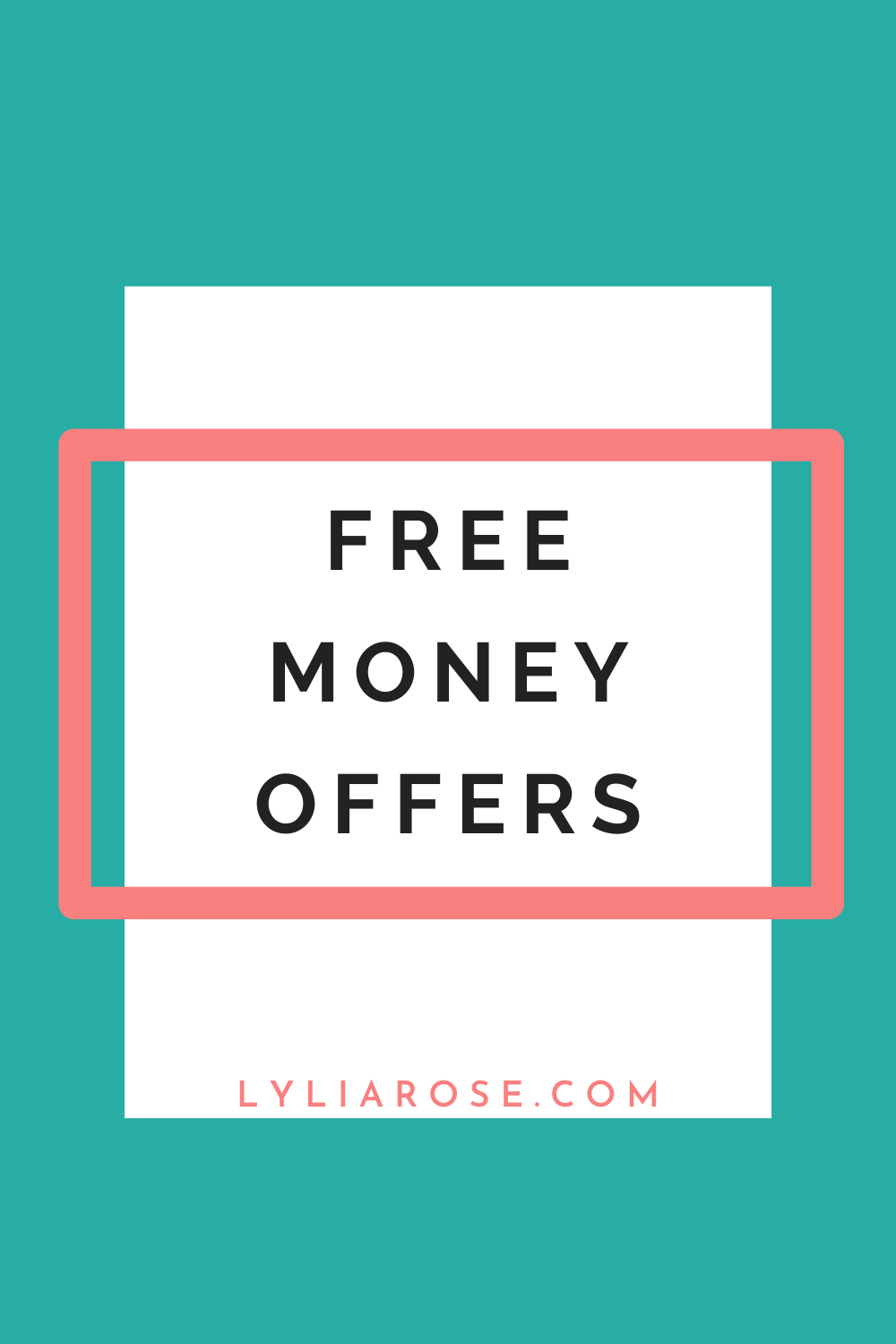 Not only can you win up to £1million each week + lots of daily cash prizes, totally FREE, but right now you can get £4 to £100 for FREE by signing up with my EverUp referral code.
You'll get at least £4, but it could be even more… up to £100 free cash!
IMPORTANT: You must enter referral code RVIC312154ATMWQZ to qualify for the free cash offer and sign up for a cash account. No need to deposit.
This offer runs 17th to 31st May 2022. Free cash will be awarded on or before 16th June 2022.
Missed the free cash offer? I've still made free cash from this app with their daily prize draws and lottos! Give it a go!
No need to deposit! I managed to make some free money without ever depositing, but then I decided to deposit just 1p to see what happened and got 250k virtual coins which I used for more entries into the £1million draw :)
Hey, want to join me at Chase UK? It's a FREE debit card with 1% cashback for your first year!
We'll both get £20 when you join and pay in £20.
Enter referral code me91uHsl in the rewards section once you've signed up.
T&Cs apply.
Quick instructions to get a free £5 share of your choice with the Shares app:
Download the Shares app on your mobile phone using this link, and complete signup and choose what stock to invest your free £5 in


Once your account is verified, you need to top-up your Shares account with £1


When the top-up has processed you will receive your free share (depending on the time of day, this may be pending until the relevant market is open)


You can sell your share, once purchased, and withdraw the money. Or keep it invested. It's up to you.

Make sure you sign up on your mobile phone using my referral link to get the free £5.
Please note, if you choose to use the Shares app to buy and sell shares with your own money then, as with all investments, your capital is at risk.
The popular online banking app Monzo is giving away £5 in free cash to new users that sign up.
How to get your free £5 cash from Monzo:
Sign up to Monzo using my referral link
Top up your Monzo account and buy something using your Monzo debit card
Your Monzo account will be credited with £5 free cash!
Make sure you click my referral link when signing up to Monzo to qualify for the free £5 cash bonus!
You can get £10 for signing up to Cash App with my referral code, plus £5 for your friend or partner!
Enter your mobile number and the Cash App referral code DHQSRZD
Go to your profile (little person in top right of the app) and scroll down to enter the referral code DHQSRZD then you'll be able to see your referral status
Link your debit card
To get your free £10 you'll need to send £5 cash to someone using the Cash App. Get your friend or partner to sign up by sending them your own referral link using the 'Invite Friends' button.
Send your friend £5 using the app and ask them to send the £5 back.
You'll then get your free £5 from my referral code, plus another free £5 for referring your friend/partner. Your friend/partner will also get £5 from using your referral code!
I did this offer with my husband and I had £15 in total in Cash App to cash out. £5 free cash from signing up with someone's referral link, £5 of my own cash I used to send to my husband and he sent back, and £5 extra free cash because my husband had used my Cash App promo code.
To cash out, I clicked the £15 at the bottom left corner of the app and had to confirm my sort code and account number to cash out.
For my husband, he had to confirm his full name, date of birth and address to cash out his free £5 for using my referral link.
Cashouts can take 1-3 days. Mine took around 30 minutes.
Get £5 free Bitcoin which you can instantly trade for cash with my Bottlepay referral code.
There are some small fees, so I ended up with £4.69 free cash on the day I completed the offer.
Enter referral code FGT99M8NO7 when signing up
Complete the signup process
Once verified, fund your account with £10 and trade for Bitcoin
£5 free Bitcoin will be added instantly
Convert Bitcoin to GBP and withdraw

Full instructions here: £5 free cash in 9 minutes with my Bottlepay referral code
Grab £20 free cash when you sign up to the GoHenry kids pocket money card as a new customer.
Simply sign up for a one month free trial using my referral link for a GoHenry card. Top up your parent account with £20 and transfer to the kids cards.
When your kid's GoHenry card arrives via the post, simply activate it and your GoHenry account will be topped up with £20 free cash within 24 hours! Amazing!
You can then transfer the money from the parent account to your kid's card, spending the free £20 wherever you like.
(Important: GoHenry is a subscription and you will get one free month trial using my referral link and topping up with the £20. You will be charged after one month if you decide to continue with the subscription.)
Sign up to the free app Snoop and connect at least one bank account to qualify for a free £5 Amazon gift voucher. You must stay signed up and with a bank account connected for at least 14 days, otherwise you won't qualify for the reward.
The voucher will be paid within 28 days of a successful bank or credit card connection by a new Snoop user.
This offer is currently valid until 31st March 2022.
Use my referral link by clicking here to qualify: https://click.snoop.app/M2Tu/97cf45af
Get instant discounts when shopping online with the Slash browser extension!
Plus, get a £10 bonus to apply to your shopping at checkout if you sign up with my Slash invite link.
Read my Slash browser extension review for more information.
Check out my Tulipshare review to learn what Tulipshare is and how to get £10 free credit to invest. The free £10 must be invested for at least 90 days.
I've just signed up to Twig where I can get between £2 and £5 for free, and you can too by using my referral code!
Twig is an interesting concept where you get a Twig debit card and using the free app you can convert your unwanted things (top brands only) into cash instantly. They are offering up to £5 free cash if you sign up using my Twig invite link lyliarose
You can sell your items immediately by accepting their valuations and also use the card as a regular debit card to buy things online and in-store. They also have an option to carbon offset your lifestyle such as planting trees.
Quick Twig instructions for up to £5 free cash. Here's how you can get a free £5 from Twig:
Download the Twig app, enter Twig referral code lyliarose and request your Twig card (earn £2)
Sell an item to Twig successfully and complete cash out (earn £3)
Receive your free £5! Spend, withdraw or transfer.
Disclaimer: I've just signed up 17th March 2022 and I'm waiting for my card, so let's hope this works! It's been shared by other bloggers I trust. Full T&Cs can be read on their app.
Here's my invite link: https://twigapp.app.link/get?code=lyliarose
👋 Hey! I invite you to get a free ZELF card 💳 and up to €20 back from your first purchase!

ZELF is super-fast banking in messengers⚡️get your card in 30 seconds

Join me and save money with ZELF!👇😉

https://zelf.co/en/s/BRYTXKBWPJ
Quick ZELF signup instructions:
Choose your fave messenger service (I chose Whatsapp)
Send the prefilled message containing my referral code
Follow the instructions to preorder your ZELF card
€20 welcome bonus will be added to your ZELF account
Refer your own friends and family to get more bonus cash
Please note: in the UK, this is a preorder card currently, so although I have received my bonus, I haven't been able to spend it yet. It only takes a few seconds to do the offer though and hopefully the cards will be released soon :)