Japanese food 222% more popular in UK post-pandemic
Posted on
Did you know the UK eating out habits have changed post-pandemic? Find out the latest trends in the industry and which cuisine the nation is most obsessed with right now!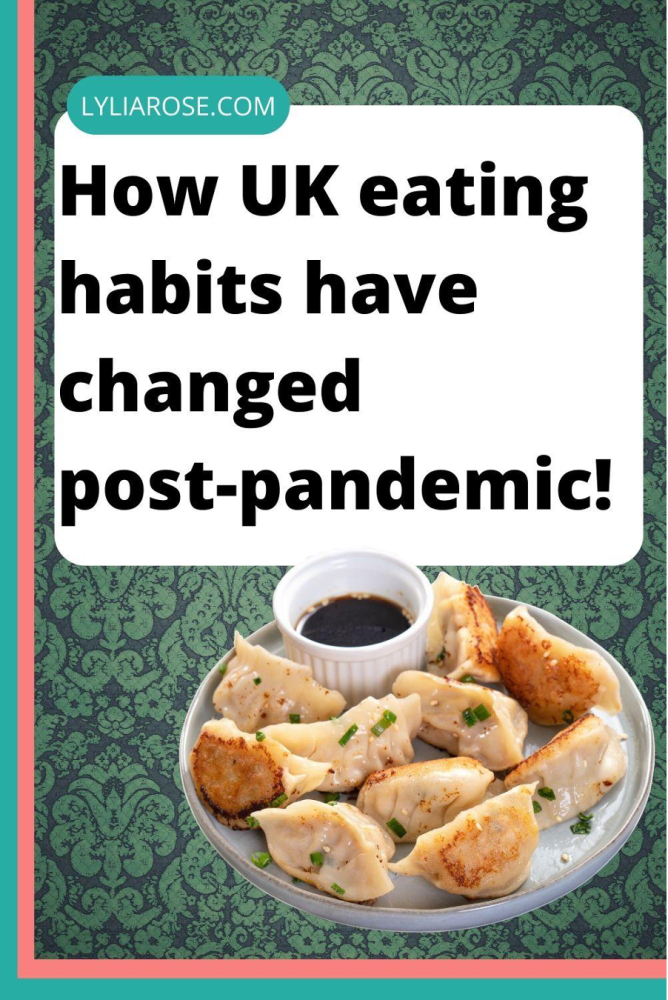 How UK eating habits have changed post-pandemic
It feels great to be able to enjoy life again following on from the pandemic and the disruption to our daily lives during the Coronavirus outbreak. We're quickly forgetting what it was like living under harsh restrictions and getting back into the swing of things. We like to treat ourselves from time to time to a family meal out, something that wasn't easy during the pandemic. Thankfully, things have normalised this year and we're back on it with eating out at our favourite restaurants.
It's nice having a home-cooked meal but when you're cooking and cleaning daily it can become a bit much. We feel it's important to take a break sometimes and enjoy a hassle-free meal out with friends and family. Whether this is weekly or fortnightly it's nice to let someone else take care of everything for a change and have a much-needed break.
Even post-pandemic the world is changing fast as the economy tries to recover. We have become cautious with our spending habits and budget carefully each month to ensure we can continue to enjoy the little treats in life. We normally pre-plan our meals, look at restaurant menus before we book and search for deals online. As a vegan family on a budget, we also like to check if there are suitable options available. It's always nice to find new places that have a number of great vegan options on the menu.
We're always keen to find and take advantage of any deals or promotions. It's always nice knowing your money is going a little further. Eating out or getting takeaway can cost more than 4 times that of a home-cooked meal so it's sensible to make the most of a good deal when it's available. Promotions from Dominos, Pizza Express and tastecard are some of our favourites as they all offer a BOGOF deal, meaning we can feed the whole family for half the price.
Our favourite places to eat normally revolve around Italian, we're suckers for a tasty vegan pizza. We are however limited on choices where we live in Cornwall, but when we're in the right town, a Japanese restaurant, such as Wagamama is high on the agenda. While our eating choices don't vary very often it's interesting to see what the rest of the nation is up to. This leads me to the next section of this post.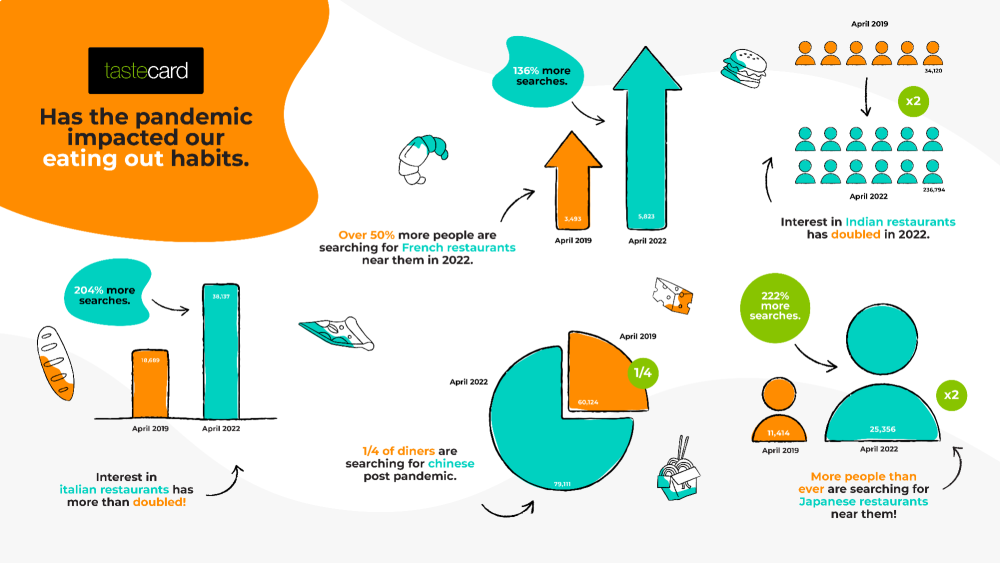 Japanese food 222% more popular in UK post-pandemic
It's interesting looking at the data behind the UK's eating out habits in 2022. Even more people are searching for restaurants near them than in pre-pandemic life. In some cases, for example, searches for 'Japanese Restaurants near me' volumes have increased by 222%. That's staggeringly more. But why? It's hard to say but I would agree that Japanese cuisine offers a vast selection of delicious, fresh and tasty options. In our experience, they can also offer a wider variety of delicious vegan food too, a growing lifestyle and dietary choice in recent years.
'Indian restaurants near me' is still the most searched term. Amazingly the volumes have increased from 133,532 in April 2019 to 236,794 in April 2022. That's a massive increase.
Search volumes during 2020 and 2021 were just a fraction of this at just 34k and 69k due to the pandemic. Between 2019 and 2022 (skipping pandemic data) there was a 77% increase. Between 2020, when search volumes were at their lowest, and 2022 the increase was a staggering 596%.
There's also been a rise in Italian, French, Spanish, Chinese and Vegan restaurant searches. It's interesting seeing the differences when plotted on a graph.

Now let's take a look at the overall volumes for the search term – restaurants near me.
From this, we can see an increase from 692,103 in April 2020 to a massive 1,222,729 in April 2022. That's a healthy 177% rise in search.
So good news for restaurant owners. Not only has the number of people looking for places to eat returned but it has rebounded with a boom!
Why is this? Maybe the population are making up for lost time and making the most of their freedom to eat out when they want. Lockdowns created an unhealthy physical and mental toll on us so maybe we're trying to enjoy life more and make the most of our returned freedom.
We also have to remember that food supplies and supply chains remained pretty much intact during the pandemic so people's trust in the food business has strengthened. Not only are we looking to indulge a little more, but we're also looking to make healthier food choices. A study by the European Institute of Innovation and Technology finds that 33% of people are looking to buy more fresh fruit and vegetables.
I also think we have better food delivery systems in place and availability has increased. Technology and innovations in how we book tables and order takeaways have accelerated exponentially in the last couple of years. Maybe people were ditching takeaways before, but now apps like Just-Eat have made it easier than ever to find the perfect meal and have it delivered to your door. Restaurant owners also had to quickly change their business models to offer delivery, despite never offering this before. Luckily the technology allowed them to do this relatively easily.
Final word on how UK eating habits have changed post-pandemic
We haven't personally noticed a difference in our eating habits but we usually enjoy a weekly takeaway or restaurant visit. When family and friends come to stay, we tend to eat out which has always been the case. Yes, the pandemic made it difficult for us to go to restaurants but this didn't stop us from ordering our favourite takeaway.
We will probably make more sensible, cost-effective choices in the future with living costs rising but eating out isn't something we are looking to reduce or cut out just yet.
Making smart choices and taking advantage of offers will help you save when eating out, or treating yourself to delivery or takeaway. Searching online for the best restaurant deals near me is a good way to find the best savings. Plenty of businesses are offering deals to entice you to buy their products, so why pay full price?
How do your own habits compare to this? Do you feel your desire to eat out has increased post-pandemic or are you looking to cut back on your spending? These are all interesting questions that I now think about in more detail having explored the data.
This post is in conjunction with tastecard but all thoughts are my own.