Mistakes to Avoid When Renovating Your Outdoor Space
Posted on
Learn from the mistakes of others and avoid these 7 common errors when renovating your outdoor space. From choosing low-quality materials to failing to plan, these tips will help you create an aesthetically pleasing and functional garden that you can enjoy for years to come. Don't overlook the importance of setting a budget and considering the proportions of your space. Read on for more insights.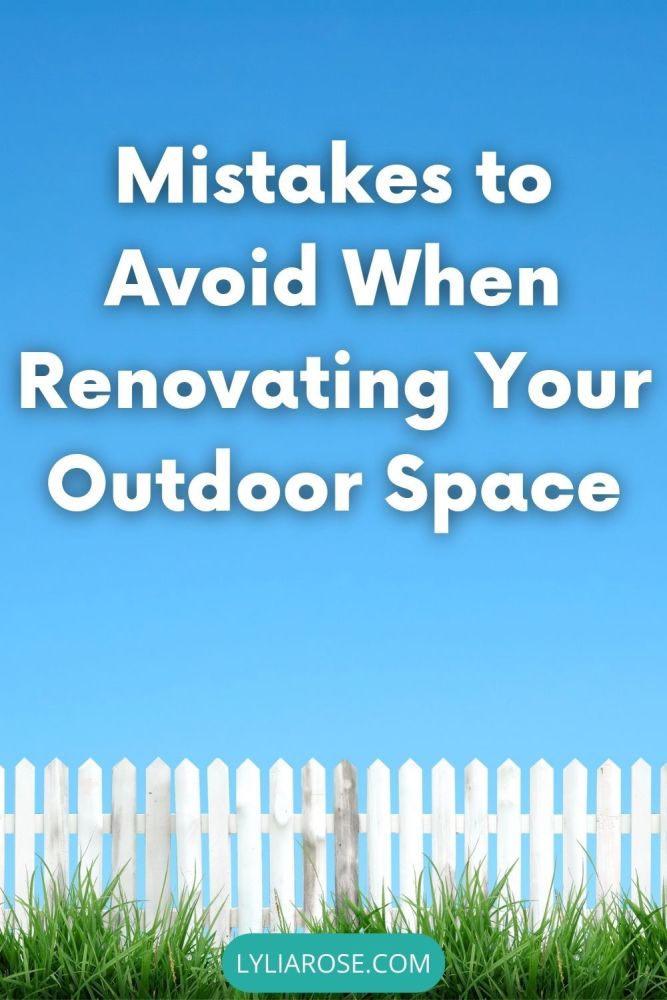 Mistake #1: Choosing low-quality materials
One of the main mistakes homeowners make when renovating their garden is not buying quality materials from a reliable outdoor product supplier. Choosing poor-quality materials for features such as decking, cladding or fencing will not only reflect on the appearance of the space but can cause issues in the structural integrity of the products leading to costly and timely repairs. We understand that you may be on a budget. Still, you must be careful when prioritising cost over other aspects, as there is usually a reason for low cost and poor quality can lead to many issues down the line. Low-quality decking's appearance will deteriorate much quicker and require more maintenance. This also applies to exterior materials for extensions or outhouses, as you must remember that these materials are an investment and will save you money over time.
Mistake #2: Choosing high-maintenance products
One mistake to avoid when renovating your garden or outdoor space is using high-maintenance materials you will regret purchasing down the line. When choosing these types of materials, you will either be unable to stay on top of the maintenance, which will affect the appearance of your space or will have to spend a lot of time and money in maintaining the material just to retain its appearance and longevity. For example, choosing wood decking is a high-maintenance option. It will require more money to be spent on upkeep or repairs over its lifespan than composite which is low maintenance.
Mistake #3: Situating features in the wrong location
An easy mistake to make when renovating your outdoor area is choosing the wrong locations for features within your garden. For example, situating seating areas or decking in sections that don't receive any sunlight throughout the day can be a frustrating mistake leading to the lack of use of your decking, which is a huge waste of money. Another reason that location is super important, along with the aesthetic of the space, is that it can affect other aspects, such as maintenance and longevity. If you choose to locate your decking or patio underneath lots of trees and bushes, this will lead to an increase in debris on the surface and, in turn, increase the maintenance needed. Therefore, the location of features such as decking or seating areas is an important factor to consider before any renovation project.
Mistake #4: Not having a budget in place
A significant mistake to avoid is failing to have a garden budget in place when completing your renovation projects. Many homeowners don't set a budget for their renovation project and can overspend and then be unable to finish the renovation, leaving a half-completed space. Having a budget in place is important so you can plan accordingly and choose the right materials and features that will stay within your price range. Although aesthetics and quality should always be considered alongside cost, your budget is a priority within your project and must be kept within. If you hire landscapers or designers to help you with the renovation process, they must know your budget to stay within the right price range. You should also allow a contingency budget to allow for extra costs that might not be realised until the project begins.
Mistake #5: Failing to plan
By far, the most important aspect of any renovation process is the planning process. Many homeowners fail to properly plan their renovation process and end up running into issues along the way, which disrupts the renovations, increases the completion timeframe, and can even create a higher cost. It is imperative to check any planning regulations that may be necessary with your project before any renovations take place to prevent any fines or legal consequences. If your renovation requires planning permission, you will need to apply for a planning permission application with your local authority. Features that may need planning permission are raised decking, extensions and large decking areas.
Mistake #6: Not having a seating area
Another mistake to avoid when renovating your garden is the failure to make it functional and aesthetically pleasing. There is no use in a beautiful garden where you can't spend time as there's no area to sit and relax. When enhancing your outdoor space, ensure you add the feature of an outdoor seating area to relax and spend time with friends and family. Having a place to retreat to in your garden will make sure you utilise the space more often and can create spaces for dining outside or entertaining guests. This also incorporates the aspect of the location, as you must choose the correct location within your exterior area to put any tables or chairs to suit the space. You may want a seating area in the corner of the garden that receives the most sun or a table underneath a shaded area to allow for dining throughout the summer.
Mistake #7: Proportions
A hugely significant aspect to consider when renovating your garden is ensuring accurate proportions. If you have a smaller garden, you will need to be savvy with your space and choose features that are proportionate to the rest of your landscape. Having a huge garden space with a small dining table might look strange and will alter the appearance of your garden. Additionally, if you install a smaller decking or patio and choose to add huge garden furniture on top, it will look disproportionate to the space. Therefore, when choosing to add any features when renovating, you must consider the aspect of proportion to retain an aesthetically pleasing space that flows and complements the surrounding landscape.
Final word
In conclusion, renovating your outdoor space can be a great way to improve the appearance and functionality of your home. However, it's important to avoid the common mistakes that many homeowners make. By choosing quality materials, selecting low-maintenance products, planning carefully, and considering the location and proportions of your features, you can create an outdoor space that you will love for years to come. So take these tips to heart and get started on your renovation project today!